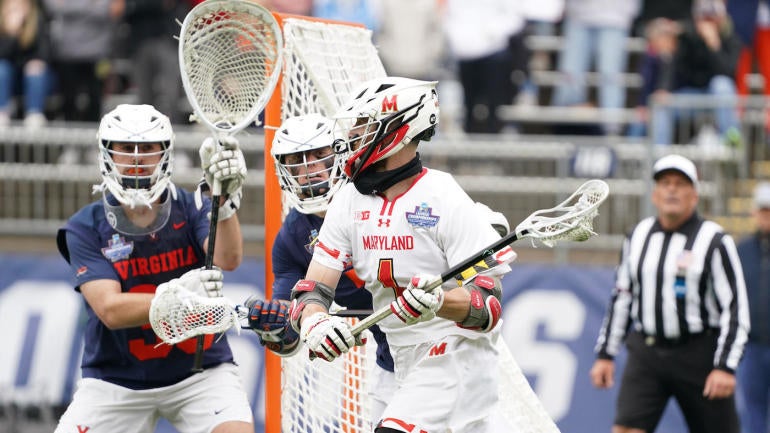 David Butler II-USA TODAY Sports
NFL stars don't only come from Alabama or Georgia, they can come from anywhere. Davante Adams hailed from Fresno State, Darius Leonard played his college ball at South Carolina State and Deacon Jones played at Mississippi Valley State. NFL players also can come from different sports, as Antonio Gates was a star basketball player at Kent State and Julius Peppers played some basketball at UNC. Could we soon have an NFL player that boasts a strong lacrosse background?
On Wednesday, the Denver Broncos hosted former Maryland lacrosse star Jared Bernhardt for a top 30 visit, per NFL media. He's projected to be a wide receiver/kick returner in the NFL. Bernhardt also served as a graduate transfer quarterback for Ferris State in 2021, leading the Bulldogs to an undefeated record and the program's first Division II national championship with a win over Valdosta State. In the 58-17 victory, Bernhardt rushed for 148 yards and three touchdowns.
The 2021 Tewaaraton Award winner, given to the best player in college lacrosse, ended his career as Maryland's all-time record holder in career points (290), goals (202), single-season points (99), single-season goals (71), goals in a single NCAA Tournament (18) and points in a single NCAA Tournament (24), per Maryland's official website. He also helped the Terps win the national championship as a freshman in 2017, starting all 19 games.
You won't see Bernhardt in any NFL mock drafts, but he could get a shot with a team like the Broncos as an undrafted free agent. George Paton and Co. are clearly interested in him as an athlete. Bernhardt would hardly be the first professional football player with strong ties to lax, as legendary Cleveland Browns running back Jim Brown is actually in the Lacrosse Hall of Fame, and Chris Hogan returned to the NFL this past season after a stint in the Premier Lacrosse League.