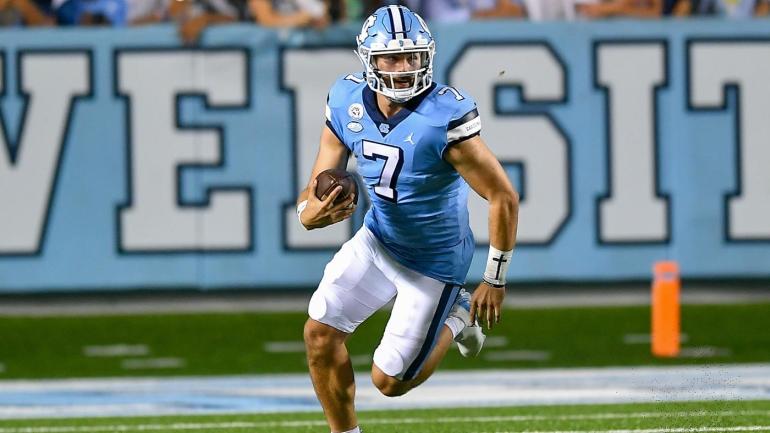 Getty Images
When the NCAA opted to grant every college football player an extra year of eligibility due to the COVID-19 pandemic, it completely rewrote the pathway to the 2022 NFL Draft. Now, players from recruiting classes ranging from 2015-19 can all declare for the draft at once — with eligibility remaining.
With the season coming to a close, we are tracking every college football prospect who has declared for the 2022 NFL Draft, from Heisman finalists like Pittsburgh's Kenny Pickett to less-heralded recruits like Western Kentucky's national receiving leader Jerreth Sterns. Unlike most years, our list will include a number of senior players who could have returned for another year of eligibility but opted to pursue their NFL dreams instead.
Be sure to bookmark this page to keep tabs on all the underclassmen who declare for the draft. The first round of the 2022 NFL Draft is schedule for April 29, 2022, at Allegiant Stadium in Paradise, Nevada. It will continue on through April 30 with 259 total selections over seven rounds.
Players are listed in alphabetical order
Declared for 2022 NFL Draft
Tyler Allgeier
RB
BYU
Matt Araiza
P
San Diego State

Brian Asamoah

LB

Oklahoma

Malasala Aumavae-Laulu
OL
Oregon
Calvin Austin
WR
Memphis
Amare Barno
EDGE
Virginia Tech
Daniel Barker
AT
Illinois
David Bell
WR
Purdue
Stanley Berryhill III
WR
Arizona
Nik Bonitto
LB
Oklahoma
Max Borghi
RB
Washington State
Jaquan Brisker
DB
Penn State
Ellis Brooks
LB
Penn State
Kennedy Brooks
RB
Oklahoma
Leddie Brown
RB
West Virginia
Treylon Burks
WR
Arkansas
Zachary Carter
DL
Florida
Jashaun Corbin
RB
Florida State
Matt Corral
QB
Be Miss
Britain Covey
WR
Utah
Charles Cross
OT
Mississippi State
Damion Daniels
DL
Nebraska
Ty Davis-Price
RB
LSU
Dawson Deaton
OL
Texas Tech
Jahan Dotson
WR
Penn State
Mataeo Durant
RB
Duke
Martin Emerson Jr.
CB
Mississippi State
Kingsley Enagbare
EDGE
South Carolina
Akayleb Evans
CB
Missouri
Erik Ezukanma
WR
Texas Tech
Nick Ford
OL
Utah
Cole Fotheringham
AT
Utah
Chase Garbers
QB
Cal
Allan George
CB
Vanderbilt
Tyler Goodson
RB
Iowa
Danny Gray
WR
high school
Kenyon Green
OL
Texas A&M
Breece Hall
RB
Iowa State
Kyle Hamilton
S
Our Lady
Cam'Ron Harris
RB
Miami
Changa Hodge
WR
Virginia Tech
Brock Hoffman
C
Virginia Tech
Sam Howell
QB
North Carolina
Jermaine Johnson II
EDGE
Florida State
Jacoby Jones
EDGE
Texas
Kerby Joseph
S
Illinois
Cameron Jurgens
C
Nebraska
Kekaula Howerton
CB
Boise State
George Karlaftis
EDGE
Purdue
Jaxson Kirkland
OT
Washington
DeMarvin Leal
DL
Texas A&M
Isaiah Likely
AT
Coastal Carolina
Drake London
WR
USC
Jordan Mason
RB
Georgia Tech
Sincere McCormick
RB
UTSA
Trent McDuffie
DB
Washington
Micah McFadden
LB
Indiana
Jalen McKenzie
OT
USC
James Mitchell
AT
Virginia Tech
K.D. Nixon
WR
USC
True Wisdom
DL
UCLA
Chigoziem Okonkwo
AT
Maryland
Chris Olave
WR
Ohio State
Leon O'Neal
S
Texas A&M
Cade Otton
AT
Washington
Neal Pau'u
WR
BYU
Isaih Pacheco
RB
Rutgers
Jayden Peevy
DL
Texas A&M
Ricky Person Jr.
RB
NC State
Nicholas Petit-Frere
OL
Ohio State
Kenny Pickett
QB
Pitt
TJ Pledger
RB
Utah
Charleston Rambo
WR
Miami
Reggie Roberson
WR
high school
Avery Roberts
LB
Oregon State
Delano Robinson
LB
high school
Justyn Ross
WR
Clemson
Brandon Sebastian
DB
Boston College
Nephi Sewell
LB
Utah
Drew Singleton
LB
Rutgers
Brandon Smith
LB
Penn State
Isaiah Player
RB
Texas A&M
Chris Steele
CB
USC
Jerreth Sterns
WR
Western Kentucky
Carson Strong
QB
Nevada
Alontae Taylor
CB
Tennessee
Luke Estate
OT
Virginia Tech
Kayvon Thibodeaux
EDGE
Oregon
Isaiah Thomas
DL
Oklahoma
Juanyeh Thomas
S
Georgia Tech
Deven Thompkins
WR
Utah State
Josh Thompson
CB
Texas
Jalen Tolbert
WR
South Alabama
Khalan Tolson
LB
Illinois
Cole Turner
AT
Nevada
Three Turner
WR
Virginia Tech
Mike tverdov
DL
Rutgers
Kenneth Walker III
RB
Michigan State
Jermaine Waller
CB
Virginia Tech
Bryce Watts
CB
UMass
Rachaad White
RB
Arizona State
ZaQuandre White
RB
South Carolina
Devon Williams
WR
Oregon
Jordan Williams
DL
Virginia Tech
Kyren Williams
RB
Our Lady
Garrett Wilson
WR
Ohio State
Jordan Wilson
AT
Florida State
Perrion Winfrey
DL
Oklahoma
Jelani Woods
AT
Virginia
Mykael Wright
CB
Oregon