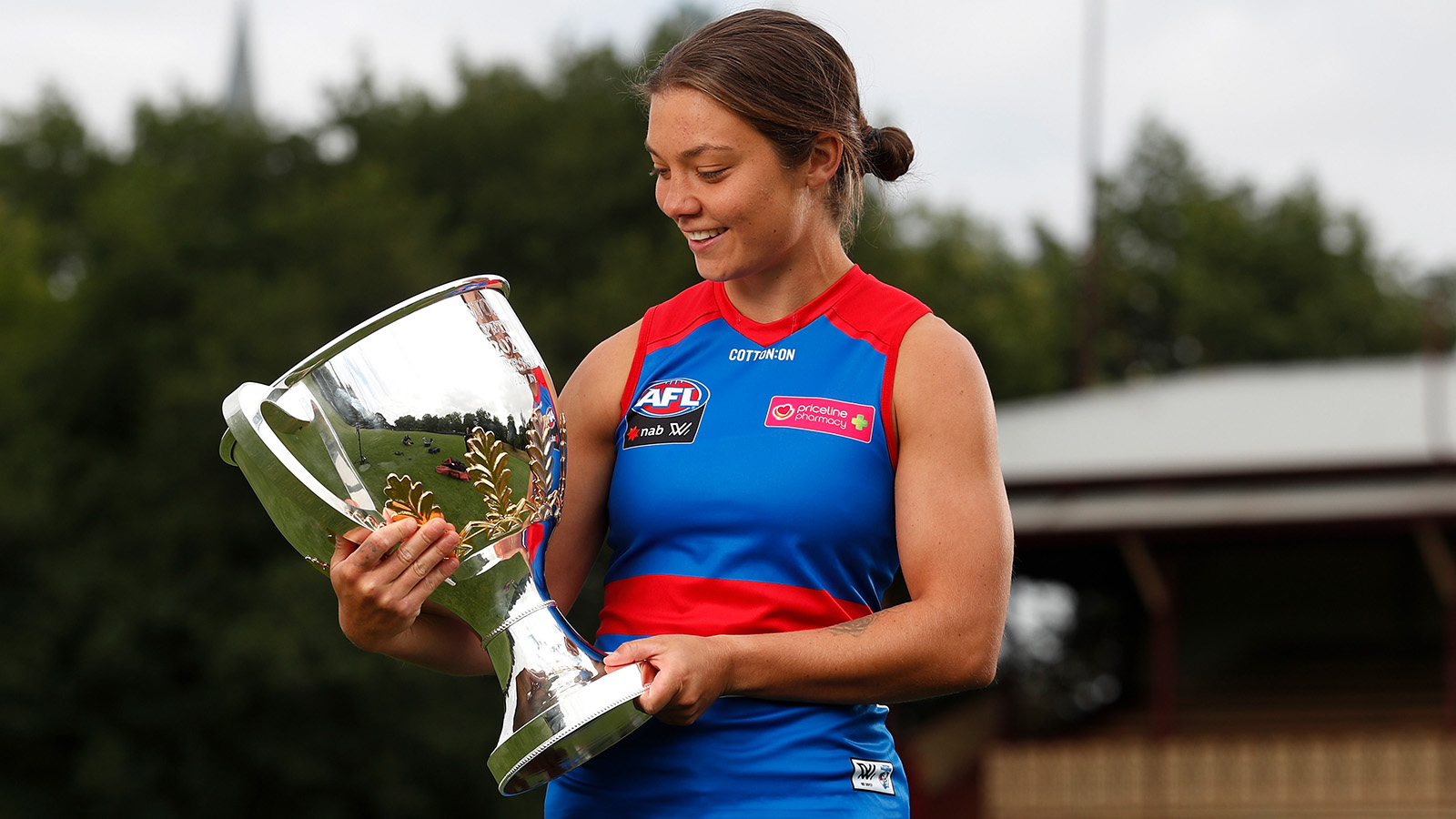 1. Bonnie should change her name to Toogreat.
With a name like Toogood, the puns write themselves. The forward has plenty of footage on the highlight reel already, but her performance in this game was special. She finished with three goals, the most amazing of which was her third – a ball sent deep in towards the pocket which Toogood gathered, steadied and shrugged an opponent, went on a bouncing run to within 25m of home and nailed the drop punt finish from a near impossible angle.The crowd went wild and the kicker stood cool as a cucumber.
That a goal close to being in the conversation for best of the year could have been slotted so nonchalantly speaks to the talent and temperament of the Bulldogs' 23-gamer, attributes that will be crucial as the Bulldogs seek to transition from hunter to hunted in the back end of the season.
2. Last week it was Collingwood turning heads – when will the Bulldogs do the same?
Sure, they are a young side and regularly do silly young side things when under real or percieved pressure. But it's becoming increasingly evident that those lapses in concentration and skill execution are outweighed by the positives in the Western Bulldogs' game.
Ellie Blackburn is the clear favourite for the league's Best & Fairest, Izzy Huntington takes contested marks for fun and can kick goals almost as easily with deadly precision. Jessica Fitzgerald, Sarah Hartwig and Elisabeth Georgostathis are just some of the more assured junior players keeping up with the likes of Kirsty Lamb, Brooke Lochland and Hannah Scott in the buzzing Bulldogs machine.
The usual caveats of a team requiring a benchmark number of games played together as a core group matter less in the cut and thrust of a condensed AFLW season; they have plenty of scary competition at the top so even a finals win is far from assured, but one thing is for sure, the Bulldogs will play fun and fast footy between now and then.
3. Cora Staunton is a matchwinner…when you get her the ball.
Staunton turned back the clock a couple of seasons when she kicked four goals against the West Coast Eagles last week. Without a consistent supply of quick ball movement from her teammates, her role was reduced to that of cameo – the class and tenacity of Staunton is clear whenever the ball is near, but far too often the ball wasn't near or if it was, she was in the wrong place to apply scoreboard pressure.
If the Giants are to compete with better sides, they will need to rely less upon the boot of the almost 40-year-old Staunton and ask questions of some of their other players like attacking mid Jess Dal Pos and rebounding defender Pepa Randall, who were both notably quiet against the Dogs for prolonged stretches.
Copyright ©The Women's Game All rights reserved.