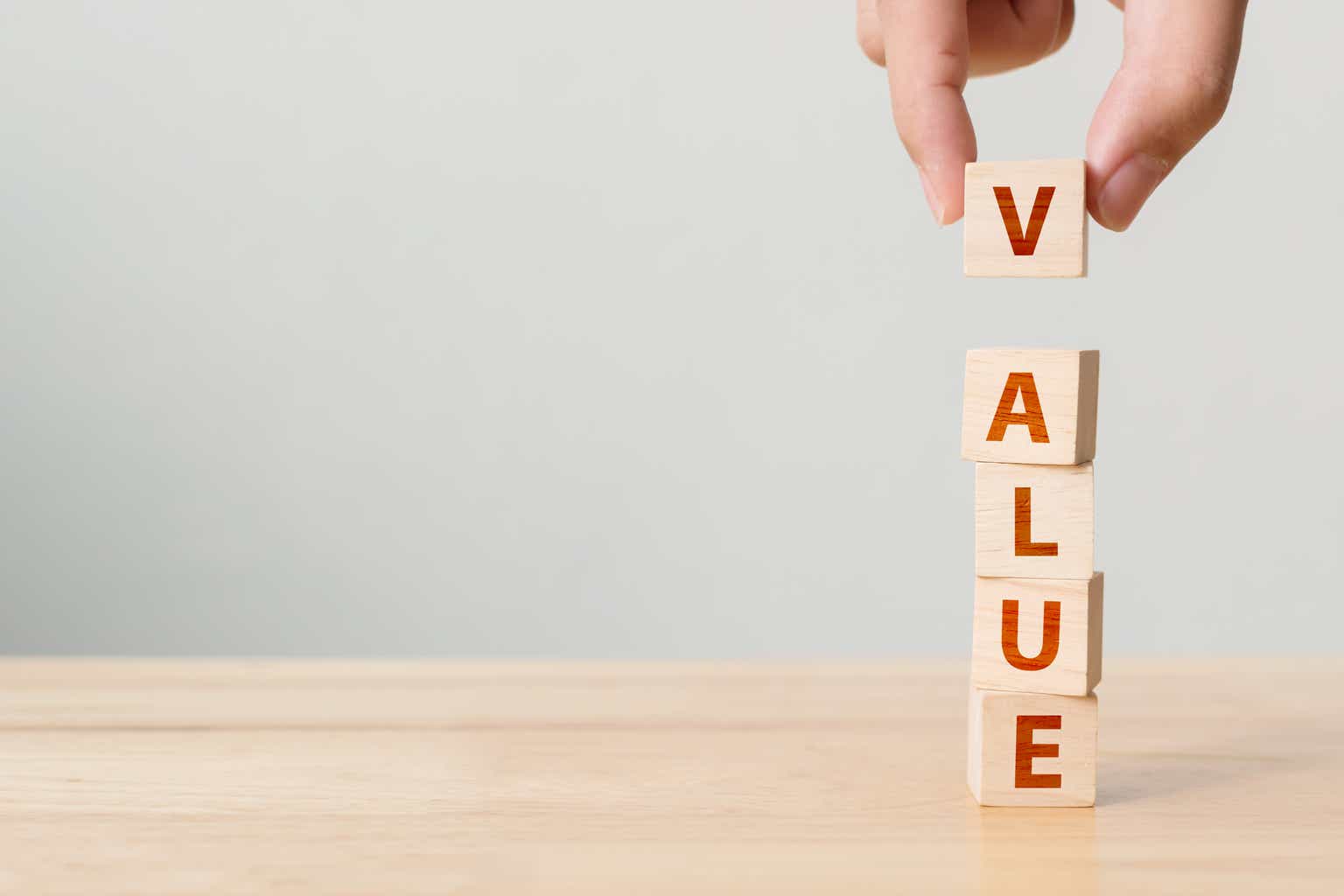 Top 5 Value Stocks In The Gold Mining Sector
While growth stocks have outperformed the market for years, value investing is now back in style: The Nasdaq is down 13% year-to-date, with Tesla (TSLA) and Netflix (NASDAQ:NFLX) both shedding more than 20% of its value. Meanwhile, European value shares (MSCI Europe Value Index) have risen 4.4%, while Canadian value shares are up by nearly 2%.
Value investing refers to the purchase of underappreciated stocks that carry low price-to-earnings (P/E) ratio, EV/EBITDA, price-to-sales, and other similar metrics. Value stocks typically pay a substantial dividend, while growth stocks rarely do so, providing a better hedge against inflation.
Now is the time for value investors to take a hard look at the gold mining sector (GDX), as it offers some of the greatest value buys of any sector.
Currently, mining companies carry a median P/E ratio of 16.24, an EV/EBITDA of 8.65, and a price-to-sales of 1.53, which is much lower compared to other sectors.
| | | | |
| --- | --- | --- | --- |
| Sector | P/E | EV/EBITDA | P/S |
| Mining | 15.34 | 8.21 | 1.49 |
| Utilities | 19.90 | 13.28 | 2.44 |
| Consumer Staples | 18.55 | 13.33 | 1.45 |
| Real Estate | 41.76 | 22.41 | 6.44 |
| Tech | 22.5 | 16.77 | 3.72 |
(Data as of 1/30/21. Source: Seeking Alpha)
The only sector with slightly more appealing valuations is energy, with an average P/E of 13.03, EV/EBITDA of 10.49, and P/S of 1.54.
Like most energy stocks at $80+ oil, gold miners are printing money at spot gold prices, and many are returning cash to shareholders (dividends and share buybacks) at record levels. But investors haven't bid up the prices of mining shares (yet).
To try to remain as objective as possible, I only used these valuation metrics to determine the top 5 value stocks in the gold and silver sector. So, my decision to include stocks on this list relies on hard numbers, not necessarily the opinions of the author.
I could argue that a gold stock is undervalued based on its gold reserves & resources or future exploration upside, but that would make this list more subjective, and that's not my goal here.
Another thing to keep in mind: Just because a stock is deeply undervalued, doesn't mean it's an automatic buy. There are, of course, other factors to take into consideration.
When it comes to mining, exploration upside is a huge one, as well as current reserves, jurisdiction risk, balance sheet strength, and management (I provide my current recommendation for marketplace subscribers).
Here are five undervalued gold mining value stocks with my commentary below.
| | | |
| --- | --- | --- |
| Company | P/E ratio | EV/EBITDA |
| AngloGold | 10.76 | 4.68 |
| B2Gold | 8.68 | 3.07 |
| Kinross | 6.55 | 4.02 |
| Dundee | 5.66 | 2.65 |
| Torex | 3.43 | 1.05 |
5. AngloGold Ashanti (AU)
AngloGold is the third-largest gold producer in the world, producing 2.5 – 3 million oz per year. The company owns and operates mines and projects in Africa, South America, and Australia.
For 2021, it has guided for production of between 2.45 – 2.6 million oz at all-in sustaining costs between $1,240 – $1,340/oz.
With a gold ore reserve of 30 million oz and mineral resources of 125 million oz, AngloGold's goal is to sustainably produce 3+ million oz per year. Its 5-year outlook estimates production growth to be between 3.2 – 3.5 million oz per year by 2025.
AngloGold has also made great strides in reducing its leverage, as its adjusted net debt position fell below $1 billion last year, down 73% from $3+ billion in 2013, and with $1 billion in cash, it's in strong financial shape.
Valuation: AngloGold shares look cheap, with a P/E ratio of under 11, and an EV/EBITDA of 4.68. The stock also yields 2.94%, which is higher than the industry average of 1.89%.
The risks: AngloGold is a high-cost gold producer, with all-in sustaining costs well above the industry average, so it has more downside risk in a gold correction.
AngloGold also has higher jurisdiction risk compared to its peers – it gets the majority of its production (55% – 60%) from continental Africa (DRC, Tanzania, Ghana, and Guinea), which are considered riskier jurisdictions.
Recently, AngloGold completed its acquisition of Corvus Gold and its Bullfrog project to expand its gold operations into Nevada, which will help reduce its jurisdiction risk as a company. AngloGold feels Bullfrog and its nearby targets (Silicon, Merlin, Rhyolite) have the potential to become a Tier 1 asset with initial production within 3 years.
4. B2Gold (NYSE:BTG)
B2Gold is a low-cost, senior gold miner operating in Africa and The Philippines. The company aims to produce 1.01 – 1.05 million oz gold at AISC between $870 – $910/oz from its four producing mines.
B2Gold is growing its gold production organically through a pipeline of development and exploration projects, including an expansion at its Fekola mine and Otjikoto mine, and development of the Gramalote project.
B2Gold has a strong balance sheet to help carry out its growth plans. The company has approximately $550 million in cash and cash equivalents.
Valuation: B2Gold is one of the deepest value plays in the mining sector, trading at a P/E ratio of just over 8, and an EV/EBITDA of 3. Its stock also yields a highest-in-sector of 4.61%, and a payout ratio of 37% indicates room for further dividend increases.
The risks: B2Gold's Fekola mine in Mali is its largest gold mine, producing more than half of its gold output in 2021.
Mali is considered a high-risk jurisdiction. The country has been under a transitional government for a while now, following the military coup d'état of August 18, 2020.
Recently, sanctions were imposed on the country of Mali by the Economic Community of West African States. The group also said it would shut borders and sever diplomatic ties, in response to Mali's delay in holding elections following a 2020 military coup.
While B2Gold's operations at Fekola haven't been disrupted by these events, it's still a significant risk investors should consider.
3. Kinross Gold (KGC)
Kinross Gold is a senior gold miner with a $7 billion market cap, producing 2.1 million gold equivalent oz per year, with a plan to increase production to 2.9 million oz by 2023.
In Q3, Kinross reported that it's on track to meet production guidance (2.1 million oz) and AISC guidance ($1,110/oz), while also reporting that its Tasiast mill has re-started at costs lower than original estimates.
Like other senior gold miners, Kinross has worked hard over the years to clean up its balance sheet, and it now has $2.1 billion of liquidity, which includes $586 million in cash (compared to a manageable debt position of $1.45 billion, most of which is due from 2027 onwards, according to most recent financial statements).
Valuation: Kinross has a very attractive valuation for a senior gold miner. It trades at a P/E of 6.5, a dividend yield of 2.29%, and a Leo payout ratio of 20.69%.
The risks: Kinross made a huge acquisition recently with the announced $1.4 billion takeover of Great Bear Resources. Great Bear's Dixie Project in Canada does not yet have a resource estimate (although it's likely to top 5-6+ million ounces of high-grade gold, based on the stellar exploration results).
While Dixie is a top-tier gold project, it's still early-stage, with no production timeline yet (it might not get to production until 2027-28, based on the typical timeframe for a project of its size). It's also unclear whether or not Kinross paid a fair price for it (since there's no resource or technical study). Overall, I think it's unclear how Dixie fits into Kinross' growth plans, although it's a great asset and we should get a better idea in Q1 2022.
Kinross also has exposure to the higher-risk jurisdiction of Russia through its Chulbatkan mine (although, it's also worth pointing out that Kinross has operated in Russia for 25 years successfully). Russia relations with the West appear to be deteriorating as risks of a Russia-Ukraine war increase.
2. Dundee Precious Metals (OTCPK:DPMLF)
Dundee Precious Metals owns three assets: a gold, copper, and silver mine in Bulgaria, a gold development property in Bulgaria, and a concentrate processing facility in Namibia. The company is producing close to 300,000oz per year at low AISC between $660 – $740/oz.
Dundee has a strong pipeline of projects: it's in the permitting stages for Loma Larga (200,000/oz per year), and the feasibility study-stage at Timok (80,000oz per year), so it has the potential to nearly double its annual output in a few years.
Dundee's balance sheet is strong and so I believe it can grow its production organically without diluting shareholders: it has $270 million cash and short-term investments, a $50 million equity portfolio, and zero debt.
Valuation: Dundee shares are dirt-cheap, trading at a P/E ratio of 5.66 and an EV/EBITDA of under 3. Its shares currently yield 2.08%, with a conservative payout ratio of 11.76%, indicating room for dividend increases. Dundee is also buying back shares as it feels its shares are undervalued.
The risks: Bulgaria is considered a second-tier jurisdiction. It ranked well on the Fraser Institute's 2019 Mining Survey, but was dropped from the 2020 survey due to a lack of responses from mining companies.
Dundee has multiple operations, but it is not as diverse of a producer compared to Kinross and AngloGold Ashanti, therefore, it carries more operational risk.
Torex Gold is a mid-tier gold miner which operates a single gold mine in Mexico called Morelos. For 2022, the company has guided for production between 430,000 – 470,0000oz, at AISC ranging between $980 – $1,030/oz.
2022 is a pivotal year for Torex as it de-risks and advances the Media Luna project, which is targeted for initial production in early 2024. Media Luna has the potential to be a multi-decade underground mine, averaging 350,000oz per year over 10 years at AISC below $700/oz, according to its PEA study (a feasibility study with updated figures is due out in Q1 2022).
Torex has one of the strongest balance sheets in the mining sector: the company ended last quarter with $221 million cash and equivalents, $42.9 million in tax receivables, and zero debt, as of the last quarter.
Valuation: With a P/E ratio close to 3, and an EV/EBITDA just over 1, Torex is the deepest value play in the gold mining sector today.
The risks: The reason for Torex's undervaluation is at least partly due to it being a one-mine company, which makes it a big riskiest to own than a miner with multiple operations. It has no other source of cash flow other than its Morelos mine.
There's also the risk of its current expansion plans at Media Luna. The success of the company is riding on including Media Luna into its mine plan. While the PEA was positive, the report was released a few years ago; the feasibility study in Q1 2022 will provide more updated insights into its economics using current metals prices and factoring in inflation.
Finally, for U.S. investors, Torex trades on the OTC, and its shares have very low volume (avg. volume 34,753), which makes it harder to buy and sell the stock.
Despite the risks, Torex looks like a good value buy, and its low valuation, strong production, low financial leverage, and profitable operations make an M&A candidate.