April 22, 2021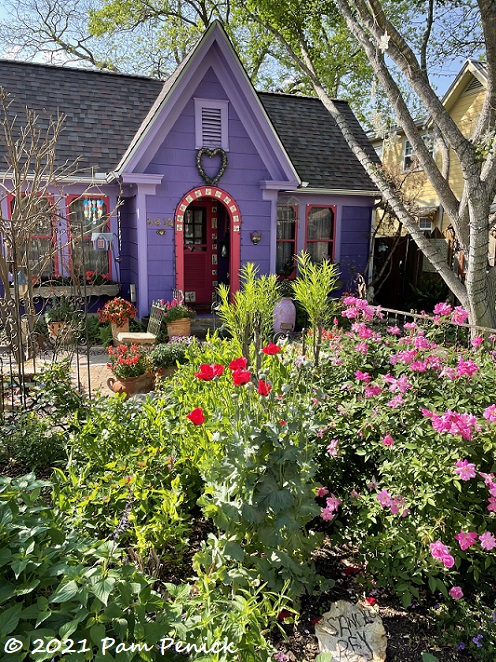 Reveling in the flowery, herb-scented beauty of Lucinda Hutson's garden is always a delight, but especially this spring, after the devastating February freeze that set back every Texas garden. Lucinda's garden was hit hard too, but thanks to her own nonstop cleanup and replanting, twice-weekly gardener assistance, and an influx of generosity from friends, two months later her garden looks as colorful and festive as ever.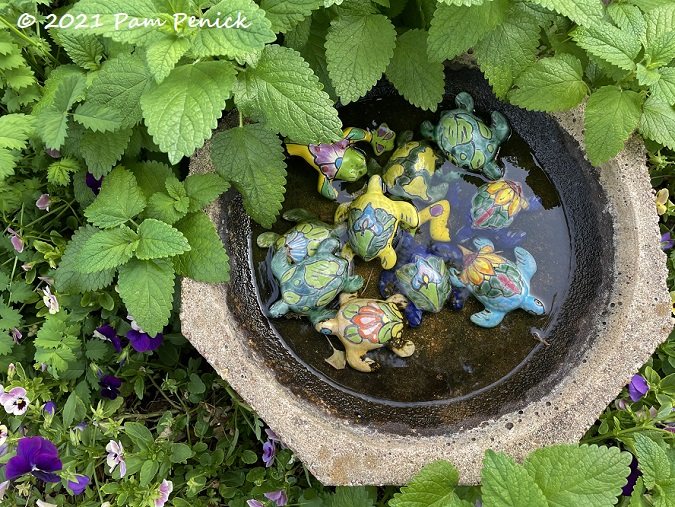 Last week I was delighted to receive an invitation to a small (and covid-cautious, of course) gathering in her garden.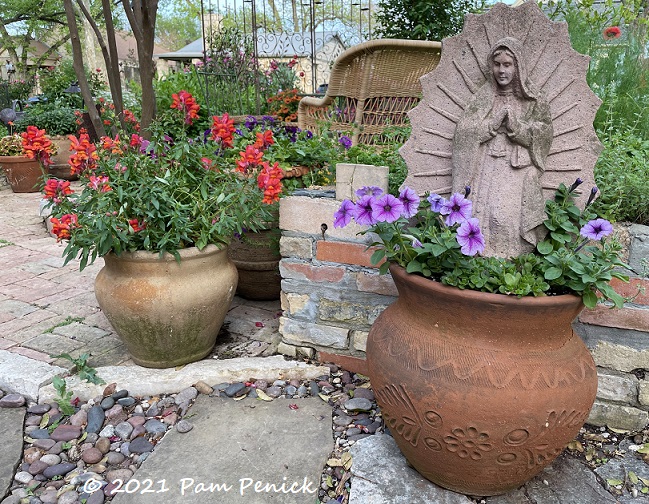 Annual flowers in her favorite purple and other festive colors brighten a brick patio in the center of her lushly planted front garden…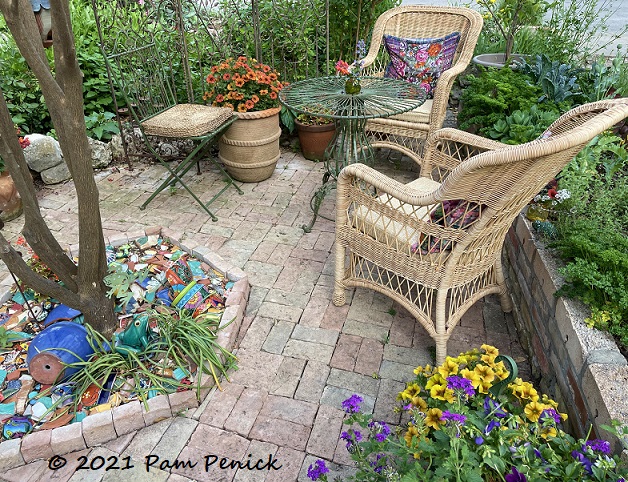 …where you can relax half-hidden from the street.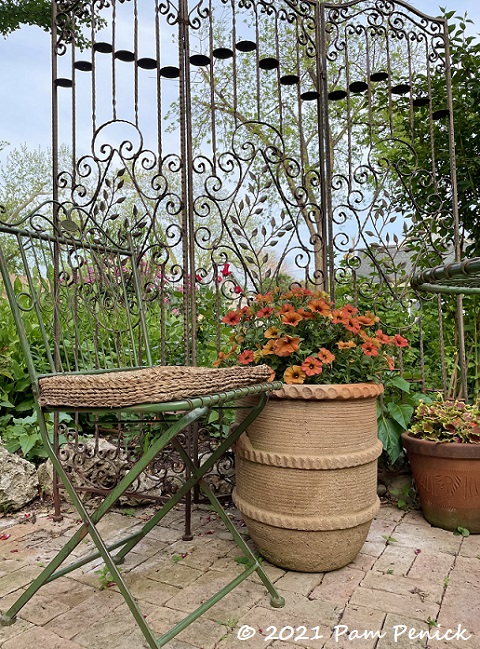 Pretty screens define the space as plants grow larger.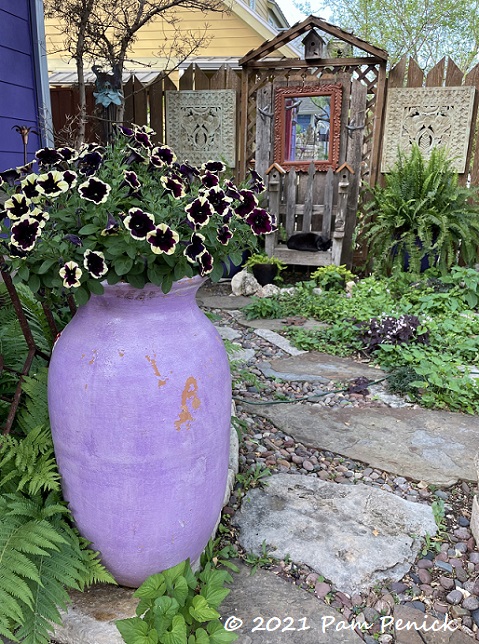 Views across the garden reveal more purple and a focal-point arbor along the fence.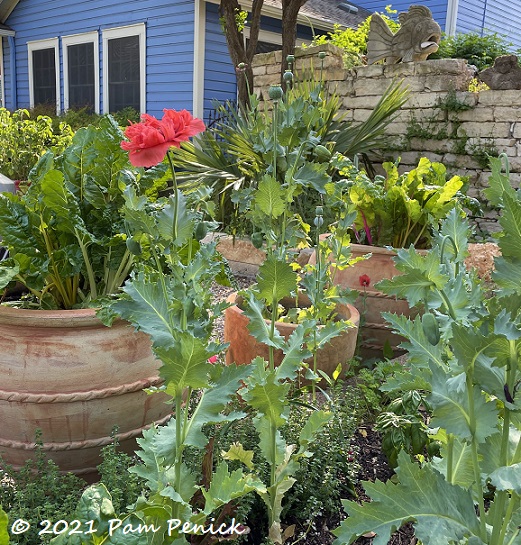 Edibles in terracotta pots, along with red poppies, soak up the sun on the other side of the garden.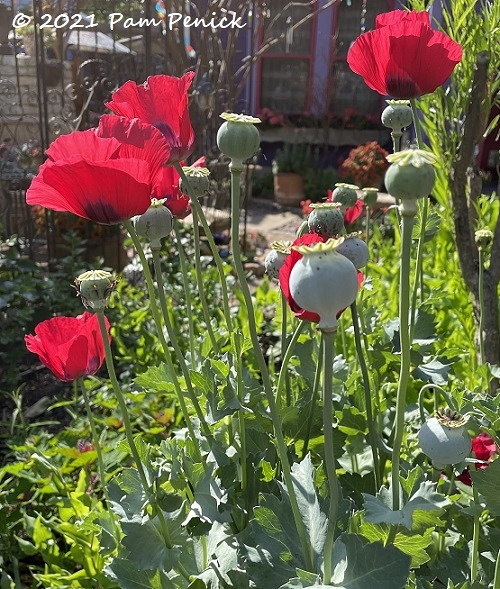 Ah, those glowing poppies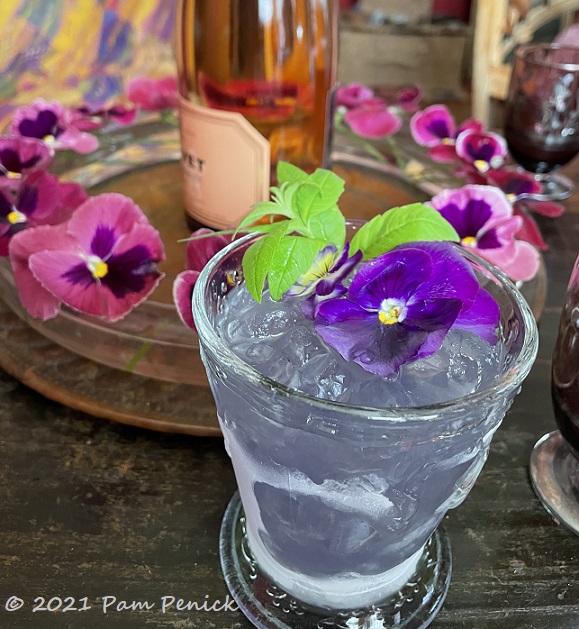 Lucinda whipped up a beautiful cocktail she calls Purple Passion, consisting of dry gin, fresh lemon juice, and crème de violette liqueur, with a lemon verbena sprig and pansy garnish. Delicious!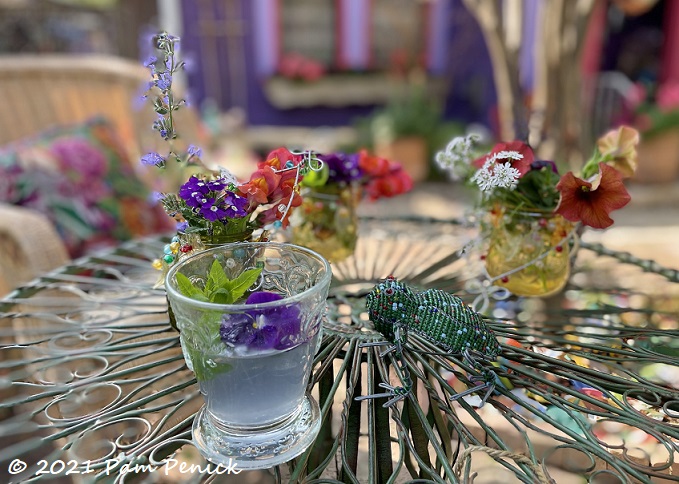 Tiny glass vases of posies from her garden made the table beautiful too.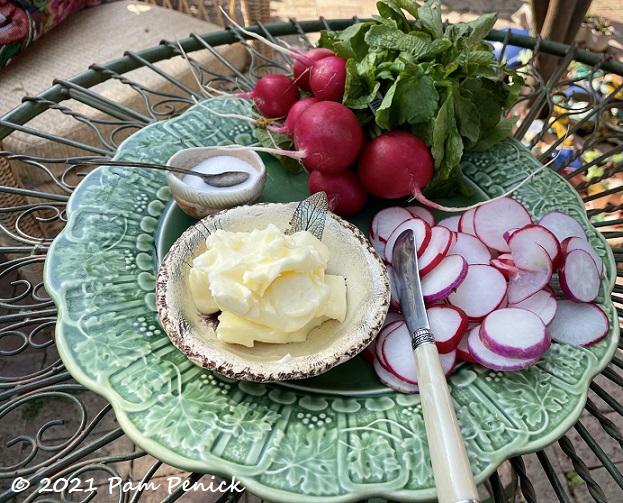 Lucinda brought out several beautifully arranged dishes, including crusty bread for topping with butter, radishes, and salt. Yum!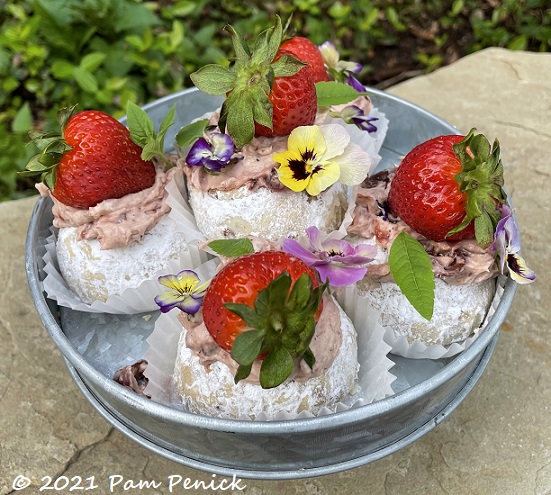 And these Mexican wedding cookies topped with strawberries and a creamy spread and garnished with pansies. It was like falling into a lovely dream of the Before Times for a few hours.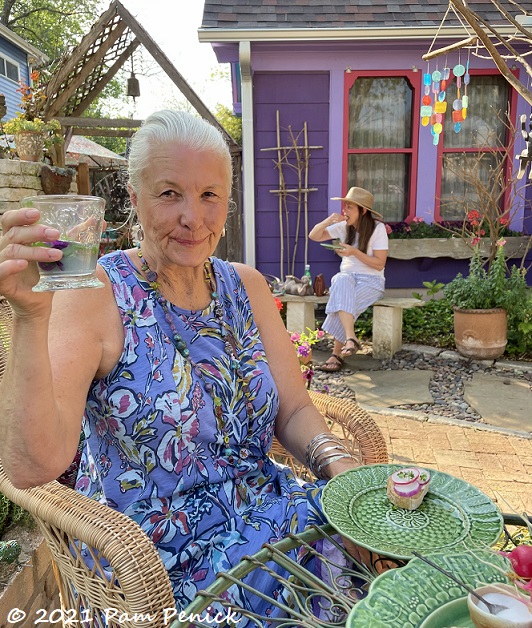 Thank you, Lucinda! Here's to the charming hostess and the enchanting world she's created at her purple casita. Thank you for sharing it with me.
I welcome your comments; please scroll to the end of this post to leave one. If you're reading this in a subscription email, click here to visit Digging and find the comment box at the end of each post.
_______________________
Digging Deeper: News and Upcoming Events
Do you love ponds as well as gardens? Grab your sun hat and attend Austin's 26th annual Pond and Garden Tour on June 5 and 6. Sponsored by the Austin Pond Society, the tour includes 13 ponds over two days, with admission of $20 in advance (until 5/31) and $25 on the day of (online payments only; no cash).
Join the mailing list for Garden Spark! Hungry to learn about garden design from the experts? I'm hosting a series of talks by inspiring garden designers, landscape architects, and authors a few times a year in Austin. (While in-person talks are currently on hiatus due to the pandemic, I plan to resume again as soon as possible.) Talks are limited-attendance events that sell out quickly, so join the Garden Spark email list to be notified in advance. Simply click this link and ask to be added.
All material © 2021 by Pam Penick for Digging. Unauthorized reproduction prohibited.