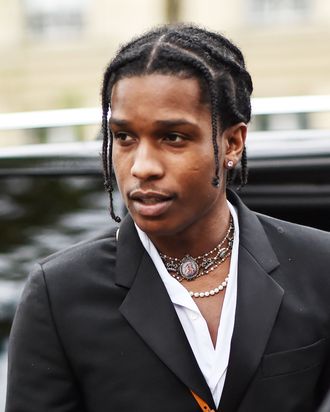 Photo: Daniel Zuchnik/Getty Images
A$AP Rocky was detained Wednesday by the Los Angeles Police Department in connection to a November 2021 shooting. A$AP Rocky, whose legal name is Rakim Mayers, was returning from a trip to Barbados with Rihanna, his girlfriend, when LAPD and ICE officers detained him at Los Angeles International Airport. Eyewitnesses told TMZ he arrived in a private jet and was handcuffed at the terminal.
Per NBC, A$AP Rocky is under investigation for a November 6 shooting in Hollywood near Vista del Mar and Selma Avenue. A news release from the LAPD refers to A$AP Rocky and the victim as "two acquaintances" and says that they got into an argument that "escalated and resulted in the suspect firing a handgun." The victim told officers that A$AP Rocky shot at him "three to four times," grazing his left hand, before fleeing with two other men. The shooting does not appear to have been reported in the press at the time.
A$AP Rocky and Rihanna reportedly started dating in late 2020, though neither confirmed the relationship until May 2021, when he called her the "love of my life" in a GQ interview. In January, they announced they were expecting a baby, and Rihanna recently told Vogue she's in her third trimester. Their recent trip to Barbados came on the heels of rumors that they had broken up after A$AP Rocky cheated with shoe designer Amina Muaddi, though those rumors were promptly dispelled.
A$AP Rocky has had several run-ins with the law in the past decade, including two assault charges following public altercations. In July 2019, he was arrested in Sweden after he and three members of his entourage got into a scuffle with a man in the street. Both parties claimed they acted in self-defense. A$AP Rocky was detained in Sweden for six weeks and after a trial was convicted of simple assault and required to pay $1,270 in damages.
NBC reports that Rihanna was with him when he was arrested, and law-enforcement officials have searched A$AP Rocky's L.A. home. According to court records, he was released on bail hours after being detained and has a court date set for August 17.
This post has been updated.