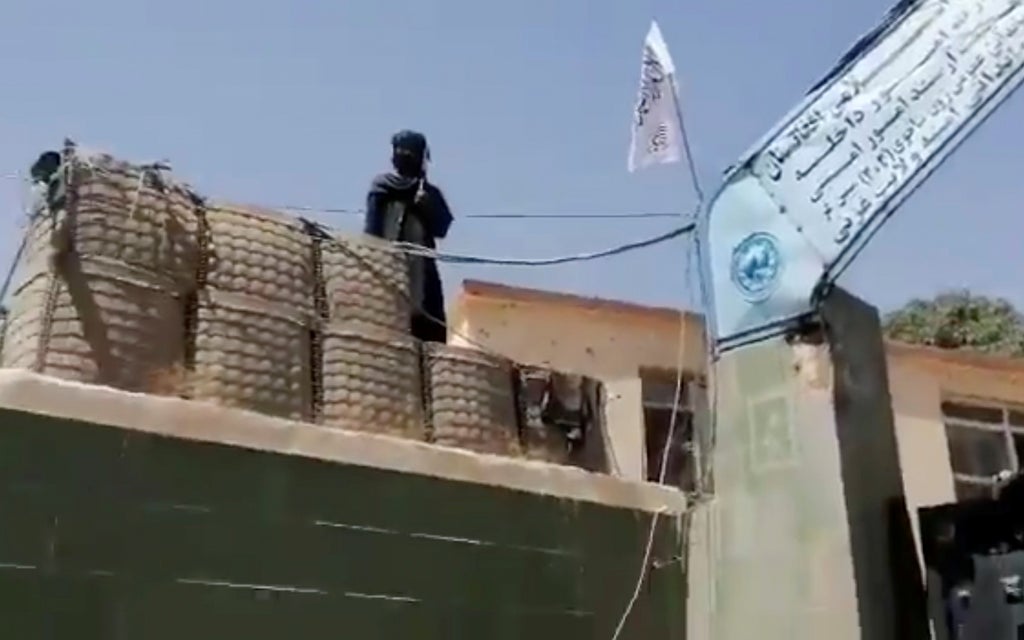 Afghanistan's president vows to prevent 'achievements' of last 20 years going to waste
The Taliban now controls more than two-thirds of Afghanistan's provincial capitals and, after a further assault on Saturday morning, Kabul is within its reaches.
Pul-e-Alam – around 40 miles from the capital city – was overtaken with minimal resistance from residents, a local provincial council member told Reuters. Earlier today, all of Logar was also captured and its officials detained, Hoda Ahmadi, a lawmaker from the province, said.
It comes as American soldiers arrived to help evacuate embassy personnel and other civilians. In a televised address, Afghanistan's president vowed to prevent the "achievements" of the last 20 years going to waste.
Meanwhile, a former head of the British Army has encouraged Boris Johnson to launch a humanitarian aid operation to alleviate the growing refugee crisis in Afghanistan. Lord Dannatt said the south Asian country was facing a "tragedy in the making" amid a rapidly increasing number of displaced people arriving in Kabul.
1628942103
Children throw stones at escaping Afghan National Army
Here's some footage of young boys, in the Assadabad city of Kunar, throwing rocks at the Afghan National Army as officers abandon residents to the incoming Taliban.
Sam Hancock14 August 2021 12:55
1628940903
Taliban seize provincial capital bordering Pakistan
The Taliban have captured the capital of the Paktika province bordering Pakistan, an Afghan lawmaker has told Associated Press.
Khalid Asad, a lawmaker from the eastern province, says the local capital, Sharana, fell to the insurgents on Saturday. The insurgents have rapidly advanced across northern, western and southern Afghanistan in recent weeks and now control most of the country's provincial capitals.
It is thought an attempt to take Kabul will be made in the coming days, possibly sooner.
Sam Hancock14 August 2021 12:35
1628939528
Patel ends use of hotels for thousands of asylum seekers
Let's step away from Afghanistan for a moment and return to news from No 10. Up to 8,000 asylum seekers will be sent to new "basic" accommodation centres, under government plans to end the use of hotels.
Priti Patel has begun the bidding process for the new policy – first announced in March – revealing that nine centres are planned across England, but none in the rest of the UK, writes our deputy political editor Rob Merrick.
Ms Patel's plans are part of a hardline crackdown designed to stem the rise in cross-Channel crossings, which has seen more than 10,000 people make the life-threatening journey in small boats this year.
Sam Hancock14 August 2021 12:12
1628937880
Taliban rule puts women's future at risk, warns non-profit
The boss of an Afghan educational non-profit has said she is worried about the future of the country's women as the Taliban continues to seize cities and provinces.
Barak Pashtana, who is in hiding from the insurgents, told Sky News the majority of Afghan women do not have a stable income – which, she said, is only going to be made worse by the Taliban being in charge.
"Just in one day, [women] are losing their jobs and their livelihoods – it's so wrong," she said, before admitting she did not know how she would react if she was found by the regime. "Maybe I'll be furious, maybe I'll be silent, maybe they'll shoot me in the head," she said.
Sam Hancock14 August 2021 11:44
1628935765
UK must work to alleviate refugee crisis in Kabul, warns ex-Army boss
Britain should consider launching a humanitarian aid operation to alleviate the growing refugee crisis in Afghanistan, a former head of the British Army has said.
Lord Dannatt said the south Asian country was facing a "tragedy in the making" amid a growing humanitarian crisis in the capital Kabul.
"It is okay to extract our British citizens. What about mounting a humanitarian operation in Kabul to look after some of the refugees, to build some camps, bring in some humanitarian supplies?" he told BBC Breakfast.
"At least let's show to the Afghan government we are not completely abandoning them and that we still stand side by side with them. It is quite possible to do that."
He added: "There may come a moment when our last troops have got to go but until that point let us do what we can to help with the humanitarian crisis, even if we have given up helping on the military side."
Sam Hancock14 August 2021 11:09
1628934663
Images show pro-Taliban group celebrating gains
As reports of families fleeing their homes continue to dominate the news cycle, one religious group, in Quetta, Pakistan, decided to celebrate the Taliban's blitz of Afghanistan.
In striking images, leaders of the Pakistani religious group Jamiat Ulema-e Islam Nazryate distribute sweets among people to celebrate insurgents capturing some of Afghanistan's largest cities.
Supporters of the group were also pictured gathering to celebrate the Taliban's rapid advancement towards Kabul.
Sam Hancock14 August 2021 10:51
1628934142
Taliban 'only 37 miles away from Kabul,' report suggests
The Taliban are now thought to be less than 40 miles from Kabul, according to Sky News, as insurgents continue to advance towards taking the capital city.
"It's all a bit of a concern for the people of Kabul, as you might image, reports Sky's Stuart Ramsay live from Afghanistan.
Sam Hancock14 August 2021 10:42
1628933739
Afghan president distances himself from resignation rumours
Afghanistan's president appears to have rubbished rumours that he would step down as the Taliban's advancement continues.
Sources told CNN's News18 earlier that Ashraf Ghani's departure was part of an "urgent ceasefire" that the government had tried to strike with the Talibans, in lieu to bringing deadly strikes to a halt.
However, in a delayed address to the nation, Mr Ghani appeared to go in the opposite direction of announcing the end of his term – instead promising to "prevent further destruction" by Taliban insurgents.
"As a historic mission, I strive to ensure that this imposed war does not further kill the people of Afghanistan and destroy your achievements of the past five years," he said during the televised speech.
It comes as the Taliban are rumoured to be no more than days away from storming – and likely seizing – the capital city of Kabul.
Sam Hancock14 August 2021 10:35
1628932944
Ghani seeking help from 'international partners'
Ashraf Ghani has said he is speaking to local and international leaders in an attempt to get a grip on the rapidly worsening situation in Afghanistan.
The Afghan president said in a televised address he is "holding consultations with local leaders and international partners" on the Taliban's unfolding advance.
He also made clear the most important goal now is to "prevent further destruction", instability, violence and the displacement of people.
In an attempt to sooth concerns, the Afghan president vowed not to give up the "achievements" of the last 20 years – when the Taliban was rooted out from power.
The US continues to deny that Kabul is under imminent threat despite the Taliban's rapid advance towards the capital city.
Sam Hancock14 August 2021 10:22
1628932514
Afghan president issues statement on Taliban in televised address
Ashraf Ghani, the Afghan president, is reportedly delivering a televised address to the people of Afghanistan.
It marks his first public remarks since the Taliban made major gains in recent days.Mr Ghani's last public appearance was on Wednesday in the northern city of Mazar-e-Sharif, where the insurgents launched a multi-pronged attack early on Saturday.
We'll update you with what he says as and when it comes in.
Sam Hancock14 August 2021 10:15