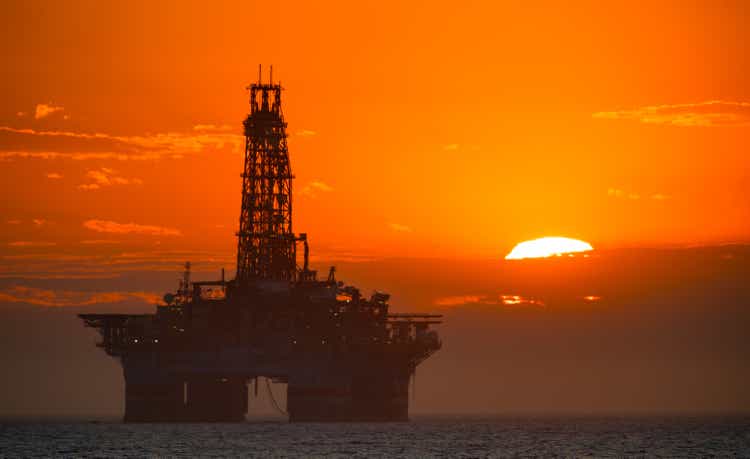 Africa Oil Corporation (OTCMKTS: OTCPK:AOIFF) is a small-cap crude oil company with a market capitalization of roughly $780 million. The company is headquartered in Canada, however, it operates primarily in Africa with an impressive portfolio of assets and incredibly strong financials. As we'll see throughout this article, the company's financials in the current oil environment might enable incredibly strong shareholder returns.
Africa Oil Corporation Credit Facility
Africa Oil Corporation recently finished paying off all debt attributable to the company, less than two years after its Prime Oil and Gas acquisition.
The company announced a positive amendment to the credit facility, removing certain assets that were used as liabilities, and enabling the company to borrow up to $100 million. It's worth nothing that this amount still comes at a 7% interest rate, so it's not an amazing deal by any stretch. However, it also clears the way for the company to borrow the money to institute returns.
We would like to see the company avoid touching the money, but it's nice to have the cash should it be required by the company. We would like to, and expect to see 2022 as the year where the company begins to undergo a significant program of shareholder return. If there's any other takeaways from this, it's that the company has a strong financial position.
Africa Oil Corporation Prime Oil & Gas
Prime Oil and Gas is the crown jewel in Africa Oil Corporation's portfolio with massive cash flow potential.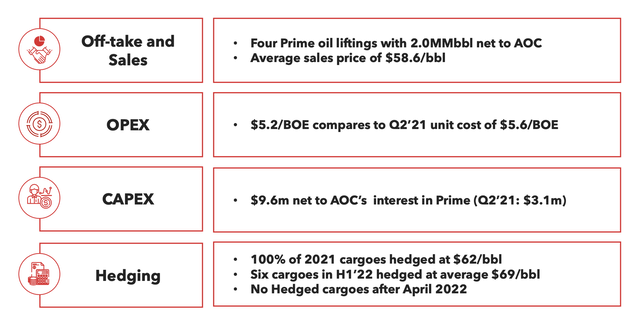 The company saw four prime oil liftings (2 million barrels) attributable to Africa Oil Corporation in 3Q 2021 with an almost $60 / barrel average sale price. Operating expenses and capital expenditures remain incredibly low for the company (<$40 million annualized) and the company has continued an incredibly rewarding hedging program.
The company has no cargoes hedged after April 2022. Annualized the company has roughly 10 million barrels of oil production attributable to the company. That means at current prices, versus 2021, it stands to see its ~$450 million in 2021 cash flow from Prime Oil and Gas become closer to $750 million.
That means a massive amount of cash flow the company can send to shareholders.
It's worth noting here that Prime Oil and Gas has its own substantial amount of debt (roughly $300 million net of cash attributable to Africa Oil and Gas). However, that debt is incredibly manageable and has already been aggressively paid down from almost $1 billion at the original acquisition time roughly 2 years ago.
We expect the company can continue to comfortably reduce this RBL / PXF debt load. A recent extension of this debt to a 7-year timeline means the company can comfortably pay it before it becomes due.
Africa Oil Corporation Other Assets
Africa Oil Corporation also has substantial "other" assets, which mainly consists of exciting exploration stage plays. We expect these assets to play out in 2030+ as Prime Oil and Gas becomes less relevant.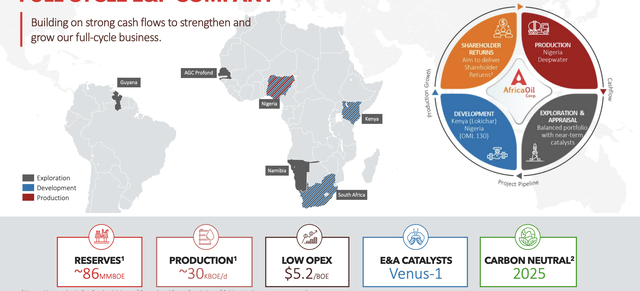 The company has a number of exciting catalysts for its portfolio of production. These are spread across South Africa, Namiba, and Guyana. The Venus-1 well in Namiba is one of the most hotly anticipated wells globally, supported by major TotalEnergies, that is expected to potentially lead to a multi-billion dollar discovery.
The company hasn't released numbers in some time, and Impact Oil and Gas is private, but from previous estimates the company's portfolio companies (outside of Kenya) is worth ~$175 million.
The company also has its Kenyan assets. These were the company's original assets, that were planned to be its original source of production. However, delays over an export pipeline expected to cost $1 billion have slowed down the production. A FID is expected this year and production could start towards the end of the decade.
This could be a valuable asset with 10s of thousands of barrels / day attributable to Africa Oil Corporation.
Africa Oil Corporation Shareholder Returns
Africa Oil Corporation has a unique ability to generate substantial shareholder returns approaching the triple digits.
As we discussed above, at current crude oil prices, its Prime Oil and Gas stake alone can generate almost $700 million in post capital spending cash flow. The company can choose to keep that with Prime Oil and Gas, however, we expect it to use at least part of that to generate substantial shareholder rewards with a dividend and perhaps more.
The company can opportunistically buyback shares. So far it has yet to give guidance on how it wants to generate shareholder rewards in 2022. Regardless of how it chooses to spend the money, we see the company as a valuable investment.
Africa Oil Corporation Thesis Risk
The thesis risk to Africa Oil Corporation is crude oil prices. The company has shown a unique ability to perform with its asset base in the $50-60 / barrel range Brent. At current prices it's dramatically more profitable. However, Prime Oil and Gas still has significant debt and with prices at less than $50 / barrel, the company's cash flow and shareholder returns will be much worse.
Conclusion
Africa Oil Corporation has a unique portfolio of assets. The company can generate hundreds of millions of dollars of annualized cash flow at current share prices. The company is now debt free and its Prime Oil and Gas is rapidly paying down debt. It's paid down 44% of debt since the acquisition and has a strong cash position.
Additionally, the company has a unique portfolio of investments. The company's Kenyan assets could see a FID this year, with strong government support, in a strong oil environment. The company has a 25% stake here. Additionally, the company has numerous other portfolio companies participating in rapid growth, which will support shareholder returns.
Editor's Note: This article discusses one or more securities that do not trade on a major U.S. exchange. Please be aware of the risks associated with these stocks.