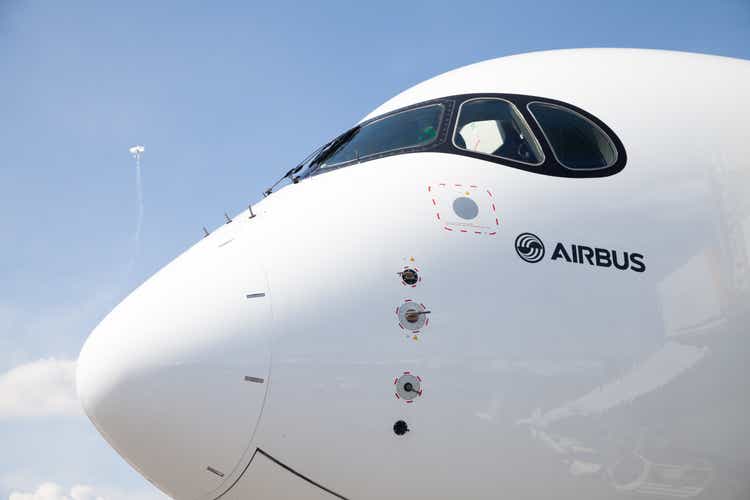 Due to the war in Ukraine, which has implications for the airline and aerospace industry, and the most recent crash with the Boeing 737-800, I had to reallocate resources and one of the consequences has been that the monthly coverage of orders and deliveries for Airbus had to be delayed. I have been running this monthly series for several years now, so knowing the value of these overviews to the reader, I do not want to skip publication of the February piece for which data is released early or mid-March. My aim is to always provide content timely, but at times we have to prioritize certain topics and developments.
Without further ado, I will be covering the orders and deliveries for Airbus in February in this report. For this analysis, data and images from the TAF Airbus Orders and Deliveries Interactive Infographic and associated monitors have been used.
Strong Month For Airbus

During the month, Airbus received a total of 113 orders consisting of 103 single aisle orders and 10 wide body orders:
Aer Lingus ordered 2 Airbus A320neo aircraft.
Jazeera Airways ordered 20 Airbus A320neos and 8 Airbus A321neos.
An undisclosed customer ordered 20 Airbus A321neos.
Aviation Capital Group ordered 20 Airbus A220-300s.
JetBlue (JBLU) ordered 30 Airbus A220-300s.
Kuwait Airways ordered 3 Airbus A321neos and 7 Airbus A330-900s.
Singapore Airlines ordered 7 Airbus A350Fs.
In February, we saw a strong gross order inflow. The Airbus A220 family gathered 50 orders during the month which is very good and reflective of the strength of the product. The Airbus A320neo family also had a good month with 53 orders. So, what we are seeing is that the single aisle order inflow was almost equally split between the Airbus A220 and Airbus A320neo family. Furthermore, we saw orders for the Airbus A350F and Airbus A330-900. Wide body orders are not coming in huge quantities, but that makes the presence of orders even more appreciable at this point.
During the month, the following changes were made to the order book:
China Southern Airlines was revealed as the customer for 2 Airbus A319neo.
All Nippon Airways converted one order for the Airbus A320neo to one Airbus A321neo.
BOCOMM Leasing was identified as the customer for two Airbus A320neos.
British Airways cancelled an order for two Airbus A320neos.
China Express Airline was identified as the customer for one Airbus A320neo.
CMB Financial Leasing was identified as the customer for one Airbus A320neo.
Scoot cancelled 15 Airbus A320neo orders.
Kuwait Airways converted an order for 6 Airbus A320neos to 6 Airbus A321neos.
Malta MedAir was identified as the customer for two Airbus A320neo.
Peach converted an order for one Airbus A321neo to one Airbus A320neo.
One or several unidentified customers converted orders for 23 Airbus A320neos to orders for 23 Airbus A321neos.
China Southern Airlines was identified as the customer for two Airbus A321neos.
Kuwait Airways converted an order for four Airbus A330-800s to four Airbus A330-900s.
An unidentified customer cancelled 20 Airbus A330-900s.
Kuwait Airways cancelled orders for three Airbus A350-900s.
Singapore Airlines cancelled orders for 2 Airbus A350-900s.
There were quite some mutations in the order book. Important to note is that the order from Aer Lingus was offset by a cancellation from British Airways and the order from Kuwait Airways for the Airbus A330-900 was at the expense of Airbus A350-900 orders while the Airbus A330-900 saw a rather big cancellation of 20 aircraft from an unidentified customer. Furthermore, Singapore Airlines scratched single aisle and wide body orders to place an order for the Airbus A350 Freighter.
During the month, Airbus logged 113 gross orders valued at $6.5 billion, but the jet had to remove 42 orders $4 billion bringing the net order count to 71 and the net order value to $2.5 billion.
A year ago, Airbus booked 11 orders and 92 cancellations bringing its net orders to -81 units. So, definitely, we are seeing a strong improvement in gross and net orders for February. Year-to-date, the European jet maker booked 149 gross orders and 55 net orders valued at $900 million. Interesting to note is that the net order value, due to mix of order inflow and cancellations, is slightly more than 10% of the gross order value. In the first two months of 2021, Airbus booked 11 gross orders and -81 net orders with a net value of negative $4.5 billion. So, we are seeing that Airbus is having a better year so far, despite higher cancellations.
Airbus Deliveries Grow Year-over-year

After pushing out 30 aircraft to customers in January, Airbus saw delivery numbers tick up in February with 48 deliveries valued at $3.4 billion consisting of 40 single aisle jets and eight wide body aircraft:
Airbus delivered four Airbus A220s.
A total of 36 Airbus A320neo family were delivered consisting of two Airbus A319neos, 14 Airbus A320neos and 20 Airbus A321neos.
Three Airbus A330 deliveries occurred.
Six Airbus A350s, five for the -900 variant and 1 -1000 variant, were delivered.
We saw an appreciable uptick in deliveries in February. I was particularly pleased with the wide body deliveries through single aisle deliveries are not yet where they should be based on production rates. Compared to last year deliveries increased by 16 units while the delivery value climbed $1.6 billion. Year-to-date, Airbus delivered 78 aircraft valued at $5.4 billion compared to 53 aircraft valued at $3 billion last year.
The book-to-bill ratio for the month was 2.4 and 1.9 in terms of value, which are good numbers. However, the industry uses a practice where gross orders are used to measure book-to-bill, when keeping cancellations in mind this metric would drop to 1.5. For the first two months of the year, the book-to-bill is 1.9 in terms of units and 1.5 in terms of value. Those numbers are obviously good, but Airbus obviously needs to maintain momentum to maintain a satisfactory book-to-bill ratio.
Conclusion
Airbus had a good February month and despite higher cancellations in the first two months of the year compared to last year, we see that the European jet maker gathered more net orders. The Airbus A330 program was the only program with a negative net order tally this month while the Airbus A220 and Airbus A320neo performed very well. Looking at deliveries, I observed that deliveries are growing sequentially but also year-over-year and that is a good sign. It means we will see operational results improve further this year compared to the same period last year. However, what I am keeping an eye on is how much further deliveries can and will improve. With some supply chain stress and the Russian market not being able to accept aircraft at this point in time, there is some pressure on deliveries and while I am happy with the delivery numbers so far they are not in line with the production rates, especially for the Airbus A320neo family program. So, I continue to like shares of Airbus and continue to be invested in the company but I do keep an eye supply chain issues as those issues might dampen the recovery in the delivery volumes and we are cautious about any weakening in air travel demand due to virtual elimination of one air travel market from the international stage.