The US have won the Women's World Cup twice in a row – wresting it from Japan in 2015 before beating the Netherlands in the 2019 final. Should they prove victorious in Sydney on 20 August, they will be the first men's or women's team to win three consecutive World Cups.
But the road is treacherous. The word "unconvincing" floats perniciously around their preparations, at a time when women's football has never been more competitive. Europe in particular is stronger than ever before.
Still, Alex Morgan, a veteran of USA's two most recent World Cup winning teams, thinks they can pull it off. "I think that this team is the best we've ever had," she says.
That's not to say she doesn't take the Americans' rivals seriously. Asked to pick the teams she feels pose the biggest threat, she names England first: "I think the Euro champs, England, are definitely a team to be watching for," says Morgan, who was speaking before a series of injuries hit the Lionesses.
The Lionesses and the Americans are no strangers on the big stage. The last time they met at the World Cup, it was the 2019 semi-final in Lyon. The US edged past England thanks to headed goals from Alex Morgan and Christen Press, and a penalty save from Alyssa Naeher. Their most recent meeting also ended 2-1, this time in England's favor, in front of a record crowd at Wembley last October.
Morgan wasn't at Wembley, but she has been watching England's rise. And she believes the Lionesses' success is thanks in part to work behind the scenes.
"I think they've definitely come a long way in the last couple of years, and I think that's credit to a lot of things," says the 33-year-old. "Number one, their domestic league, that has just gotten so much better and so much more competitive in the last five years. Their federation's increased focus on their women's program that I don't think existed more than five years ago, bringing in the best and most qualified coaches, making sure that their players are compensated fairly.
"I think that they've fought and have achieved close to equal pay and working conditions. I think also their mentality has shifted. When they came close … in the 2019 World Cup, and then winning the Euros, I think there was a huge mentality shift for them."
Individually, Morgan feels she is in the form of her life right now. Living in San Diego suits her. San Diego Wave, in their second season and with former England captain Casey Stoney at the helm, are the model of a successful NWSL expansion team. Morgan tore into opposing defenders in the Waves' debut season: she won the NWSL golden boot, and led her team on a playoff run.
Morgan says she feels supported by both club and country. Not only as a player, but also as a mother after she gave birth to her daughter, Charlie, in May 2020.
"We have a record number of moms in camp right now. We have five moms and this has never happened with any national team," she says. "No national team has supported moms in the way that US Soccer does right now. And that is something that we have worked incredibly hard for."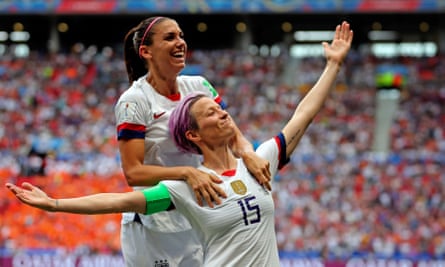 With two World Cup titles already under her belt, Morgan knows what it takes to win another one.
"We have the confidence that we need to go into a World Cup and prove why we deserve to win. I feel like we have the talent, we have the quality, we have the right coach, the right players, the right camaraderie, the right mentality," says Morgan, who has scored 121 goals for the US.
"I don't think that's different from previous World Cup teams, but I think there's a lot of different small details in place to get us to the same place that we've been able to go in 2015 and 2019 [and USA's other World Cup titles in] 1999, 1991."
The buildup to this year's World Cup has had its low points. Coach Vlatko Andonovski has introduced younger players and sought out the world's best as opponents, meaning there have been stumbles. Notably, the US lost three consecutive friendlies last year to England, Spain and Germany – their first three-match flounder since 1993.
Morgan doesn't see that run as a problem.
"For the team, we needed to play top competition at that time in the year to test the team, to throw some adversity at the team, and to show that we, regardless of being our best or not, have to compete with the other top teams in the world," she says.
"We were coming off the end of a very long season. We didn't have all of our players. But at the end of the day, you can't make excuses, and you have to compete. We didn't get the job done a couple of times. But I feel like because of those three games, we've actually grown stronger from that. We've learned a lot from that."
According to Morgan, failure is what drove the US toward their back-to-back titles in 2015 and 2019.
"I think that [losing] has really helped us in our success previously, and it's going to help us in the World Cup. Because I think that you always learn so much more from losing than winning," she says.
"2011 is one of the biggest heartbreaks, I feel like, in program history and in my career history, losing to penalties to Japan in that World Cup [final]. And I feel like we took 2015 and 2019 as: 'We're not going to let 2011 happen to us again.' We felt like we were deserving and kind of let it go out of our hands. And so I feel like you learn so much more from the games where you don't find yourself on top."
It's been more than a decade since the US last lost a World Cup game. But they've lost plenty more in that span. That includes, most recently, their in-form forward Mallory Swanson.
Even without Swanson, the US will still be among the top contenders at this World Cup. But contending isn't enough. For Morgan and this US team, anything short of winning it all is failure. And as Morgan herself points out, the US will need to prove they deserve to win, again. No matter the circumstances.