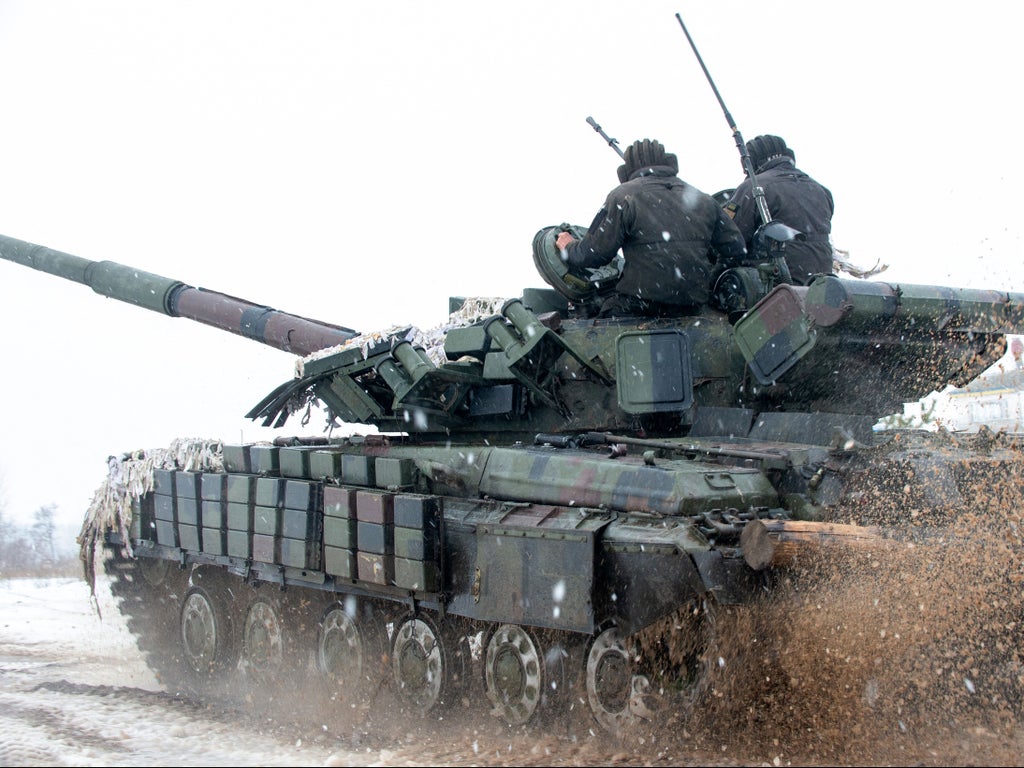 All UK troops are to be withdrawn from Ukraine this weekend as Russia could invade "at no notice", a defence minister has said.
Small numbers of British personnel have been in the eastern European country on a training mission codenamed Operation Orbital over the past decade, and others have been deployed there recently to train the Ukrainian military on anti-tank missiles provided by the UK to help deter Russian aggression.
The order to return home comes as all British nationals in Ukraine are advised to leave as soon as possible.
Some 130,000 Russian troops are massed on the Ukrainian border and US National Security Adviser Jake Sullivan warned on Friday that an invasion could be "imminent".
US president Joe Biden will urge Russia's Vladimir Putin to de-escalate the situation in phone talks on Saturday. Russia has repeatedly denied planning to invade.
Ukraine's ambassador in London Vadym Prystaiko has called on Britain to deploy troops to the country to deter president Putin from sending his armed forces across the border.


UK news in pictures
Show all 50
But UK defence minister James Heappey insisted that there will be no British troops in the country in the case of an invasion.
"All of them will be withdrawn," he told BBC Radio 4's Today programme. "There will be no British troops in Ukraine if there is to be a conflict there."
"They will be leaving over the course of the weekend."
Mr Heappey said it was essential for all Britons to leave Ukraine urgently as war could come without warning.
He told BBC Breakfast: "We are now confident that the artillery systems, the missile systems and the combat air are all in place that would allow Russia to launch – at no notice – an attack on Ukraine.
"And on that basis I think it is our responsibility to share with UK citizens our view that they should leave the country immediately while commercial means are still available."
He warned that there will be no airlift of the kind seen in Afghanistan last summer, as Russian forces – unlike the Taliban – are in a position to deploy air power and missiles which would threaten flights.
"The Royal Air Force will not be in a position to go in and to fly people out so they need to leave now by commercial means or drive out of Ukraine into a neighbouring country," he said.
Mr Prystaiko said that if the UK does not send troops to Ukraine to deter invasion, it may find itself having to fight the Russians on the soil of Nato states.
"You might not have even to fight in Estonia, Latvia, Poland, Romania or anywhere," he told The Times. "If he is stopped in Ukraine, you won't have to fight anywhere. By doing this, you can avoid sending your soldiers to defend your allies the next day."
He added: "If our nation is under full-scale attack and people have been killed and bombarded, Chechnya-style, I will have no sorrow, I will have nothing to stop me knocking at every door and telling your people, 'We have to survive, please send everything you can, tell everybody you can'."
But Mr Heappey said that sending military personnel to the country would play into Putin's hands by allowing him to present Russia as the victim of Western menaces.
"Putin and his colleagues would very much like to be able to say what they may do is a consequence of Western aggression in Ukraine," said the defence minister.
"So it's very important to us, to everybody frankly involved, that we're very clear we won't play an active part in Ukraine."
And the Conservative chair of the Commons foreign affairs committee, Tom Tugendhat, said that the Ukrainian armed forces are "increasingly capable" of defending the country from attack without direct Nato involvement.
"We're enabling them to have the ability to fight themselves, and having served in combat in countries around the world I can tell you that training local forces to fight for themselves is a significantly better defensive technique than putting troops in," said Mr Tugendhat.
"The reality is that the Ukrainians already have some 145,000 in their army, they have another … 100-odd thousand border guard reserves and people like that, so they have a significantly larger army even than we do and they are increasingly capable to defend themselves."
However, the chair of the Commons defence committee, Tobias Ellwood, said that British-led Nato divisions should be sent to Ukraine, warning that the current tensions are "our Cuban Missile Crisis moment" – in reference to the 1962 stand-off when John F Kennedy faced down Russian attempts to station nuclear missiles on the Caribbean island.
The Conservative MP told Times Radio: "An invasion is imminent. Once that happens, because of the grain the comes out of Ukraine for the world, (that will) affect food prices across the world.
"Oil and gas prices will be affected as well, and European security will then be threatened further, so we have to ask ourselves, what should we do instead?"
Mr Ellwood – who on Friday told The Independent that Boris Johnson was "more Chamberlain than Churchill" over Ukraine – said he believed the Ministry of Defence would like to send troops to the country, but was hampered by a lack of "political resolve" in 10 Downing Street.
Former UK ambassador to the US Kim Darroch warned the embassy in Ukrainian capital Kyiv will be "overwhelmed" in the coming days helping British nationals flee.
"It will overwhelm the embassy's resources," Lord Darroch told Today.
"This will occupy everyone's time for 24 hours a day for the next few days and you won't get everyone out – some people will choose to stay."