3 min read
COP26 President Alok Sharma has remarked that China and India "are going to have to explain themselves" to climate-vulnerable countries after the two states demanded a watering down of global commitments to ending coal use in the Glasgow climate pact.
Speaking on the Andrew Marr Show this morning, Sharma nonetheless described the pact as an "absolutely historic" agreement.
"We have managed to do what we set out to do, which is to keep global temperature warming limits to 1.5 degrees within reach," he told the BBC.
"That was acknowledged on the floor by the climate vulnerable countries (and) it's been acknowledged by climate NGOs," he added.
"In terms of what happened yesterday, we managed to get an enormous amount over the line. On a personal level, I've invested an enormous amount over the past two years in this.
"I've been out to see countries, to talk to people on the front line of climate change and I had about six hours sleep in 72 hours previously, so it was an emotional moment."
The Glasgow climate pact was adopted at COP26 following an intense two weeks of negotiations between world leaders and diplomats, seeking a global way forward on tackling climate change.
The international agreement includes promises of financial aid for climate vulnerable developing nations, a roadmap to limiting warming to 1.5 degrees and plans for reducing greenhouse gasses.
The UK, alongside environmental activists, had hoped the final pact would contain a promise to "phase out" coal, a key contributor to global warming.
However, at the last minute, delegates from India and China pushed to water down the language to "phase down".
"What happened, and you saw this unfolding on the floor itself, is that we had interventions from China and India in terms of changing the wording on coal from 'phasing out' to 'phase down'," Sharma said.
"At the end of the day my job was to build consensus – that's what I did. There was obviously a form of word that was read out by the Indian delegate. Before that happened, I made sure that I talked to all the groups who were represented there – the parties, the most climate vulnerable countries.
Despite the watering down of commitments to ending coal use, the Glasgow climate pact is the first ever COP agreement to name coal as a root cause of global warming.
"Over the past weeks there were certain countries that did not want to have coal language in this pact, but at the end of the day this is the first time ever that we have got a language about coal in a COP decision. I think that's absolutely historic," Sharma told the BBC.
"But at the end of the day China and India are going to have to explain themselves to the most climate vulnerable countries in the world and you saw the reaction of the climate vulnerable countries to that change.
"I wouldn't describe what we did yesterday as a failure, it's a historic agreement."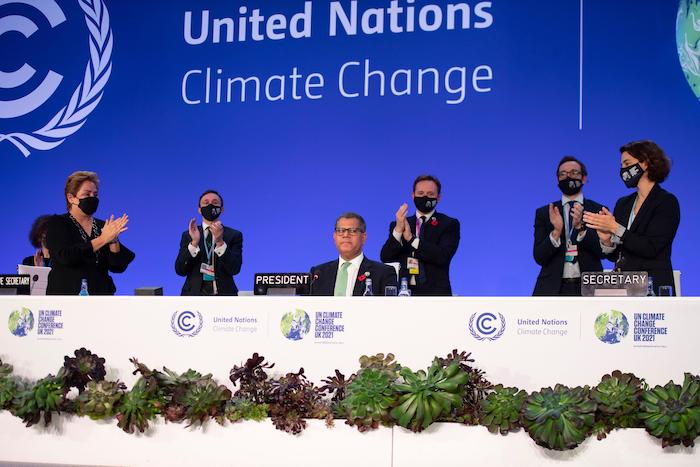 Alongside discussing coal, this morning Sharma described COP26 to the BBC as a "fragile win".
"We have to look at where we've come from," the climate conference President said.
"Before the Paris agreement six years ago, the world was on target to six degrees of global warming. After Paris it was dragged down to under four and what you've also seen is that if you take all the commitments into account, we're heading to below two degrees.
"I think that's an achievement, but as I said yesterday, this is a fragile win.
"At the end of the day, what we need is to ensure that all these commitments are delivered on."
PoliticsHome Newsletters
PoliticsHome provides the most comprehensive coverage of UK politics anywhere on the web, offering high quality original reporting and analysis: Subscribe