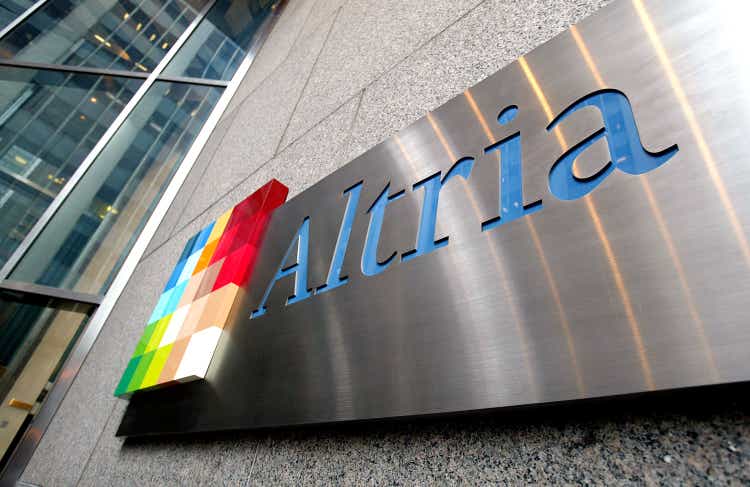 Background and History
Altria (MO) is the leading cigarette manufacturer in the world. The company has been shifting towards its non-combustible product line. However, the growth in this segment has been underwhelming. To survive the coming onslaught of regulations, it will need to find a way to gain market share in its non-combustible components. The share price has been kept down since the market sees through the company's non-combustible vision. Moving forward, I believe the low growth will continue. That is one of the fundamental reasons that the company's valuation has been kept quiet for so long. Investors are flocking to the stock now that Altria investors are getting a steady 7% dividend with a 10x FWD P/E. Further investor worry will support Altria's price fundamentals given the macro uncertainties and rampant inflation. Overall, at these prices, shares look pretty valued for future growth.
Declining Growth in Key Segments
There is declining growth across the business. From combustibles to non-combustibles, the company has been failing. The growth picture has not materialized, and many investors have abandoned the stock. Institutions as a whole have been moving away from Altria for some time. This is due to their brands' adverse effects on society and the stringent regulatory protocols to regulate these large tobacco companies.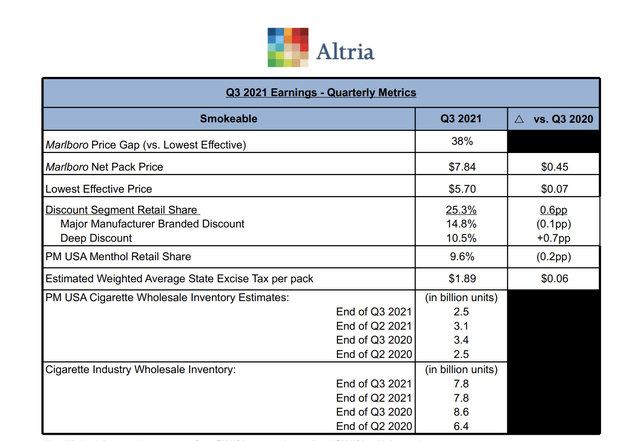 Looking specifically at combustibles, it's easy to see the possible declaration of growth. Continued pressure from governments worldwide, along with heavy taxation, will be hazards to future growth. However, investors have to realize that cigarettes are still trendy in Europe and across the globe. The company is merely reallocating capital to achieve artificial growth, not translating into sustainable momentum for shares. I believe many institutions and retail investors believe this, but it's not feasible long-term.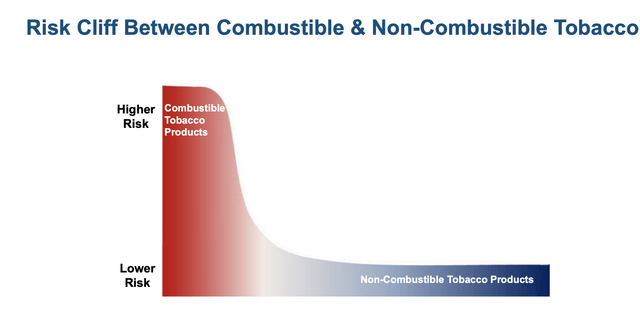 It's no secret that smoking cigarettes have serious health consequences. There are numerous side effects, such as cancer, heart disease, stroke, etc. Non-combustible products are the future. Most notably, vaping and chewing-related alternatives are healthier than cigarettes. The potential for these products already has consumer interest. One notable consumer base that has been interested in their products has been people under 18, which is the legal age to buy nicotine products. This could be called into question if the government and DOJ put more pressure on it, which would raise overall taxation. I believe that to remain solvent for the foreseeable future, the company needs to execute its 2030 smoke-free plan. These products will either make or break Altria's future.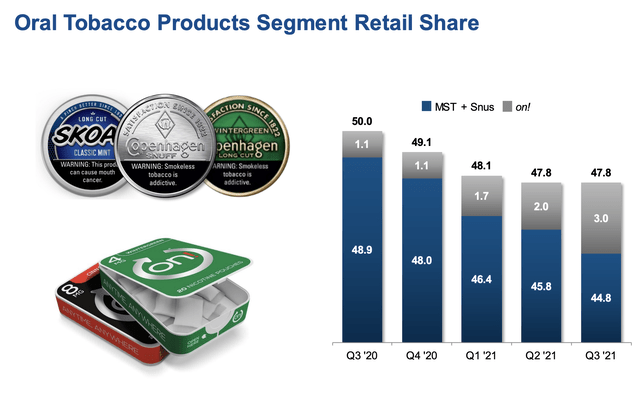 Even with the growth of non-combustible products overall, the company's brands have been declining in market share. Many companies have produced competitive products with better nicotine alternatives that people prefer. I like the future of Zyn, RLX Technologies (RLX), Myle, and other popular non-combustible options.
Operational Stagnation Will Have Ripple Effects
Operational stagnation will be a significant problem in future earnings reports. The company needs to find a way to slowly transition these operations and relationships toward a more sustainable future for their industry. Pivoting toward non-combustible products will be critical. However, to this point, the company has failed to yield positive results in this area. This is why I view any positive momentum in the stock as temporary, as there are too many long-term trends that Altria directly contradicts.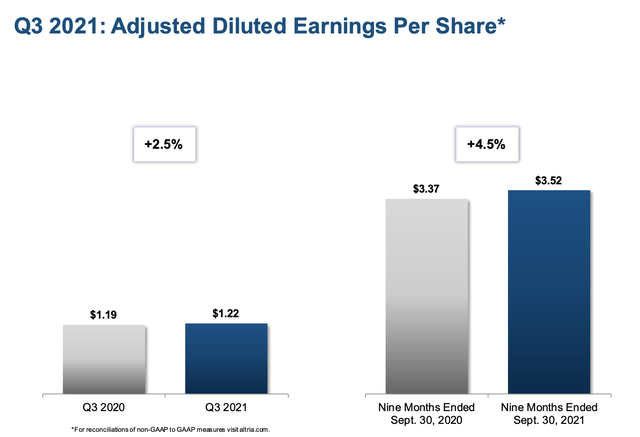 The minimal EPS growth is glaring and one of the main reasons I tell people to avoid this stock for now. While there may be positive macro fundamentals, no company fundamentals would support a higher valuation. Multiples should continue to compress as they have as earnings are stagnant. This has spilled over from operations and has infected the company. I do view Altria as a potentially growing enterprise. I view them as the IBM of big tobacco as they have failed to pivot successfully and are awaiting their demise. Many of these alternatives have failed and will continue to eat away at the company's profits.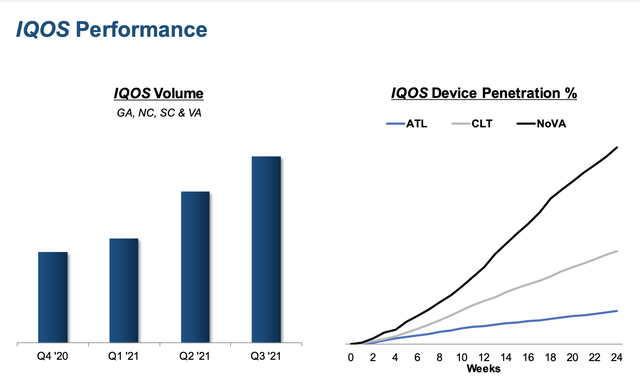 Even though IQOS has seen some early success, I believe it may be too little too late. If a product like that had been invented ten years earlier, there may have been a chance Altria could have played on the mass adoption of IQOS. However, the legislation and big lobbying firms trying to kill big tobacco have only been further incentivized to end teen smoking. This is problematic because no growing industry has government agencies dedicated to killing it other than cryptocurrency. The early data is promising, but the media's narrative about tobacco has killed any potential upward momentum and has destroyed possible market expansion in the future.
Risks are High due to Macroeconomic Tailwinds
There are many long-term risks, but the short-term looks very promising. The entire tobacco industry is contracting, and small cigarette manufacturers are either being bought out by more enormous conglomerates or closing shop. The continued attack on big tobacco will soon deliver crippling blows to the industry leaders. The government will stop at nothing to have a non-combustible future. In the short term, the company's prospects are promising. With increasing interest rates, investors will look to invest further in value. Altria continues to deliver a strong return on equity and a generous dividend. Moving forward, there will be opportunities to trade in and out of Altria this year.
Valuation is Strong at Current Levels
Today's valuation looks good on the surface. With an inflation-beating 7% dividend and potential price appreciation due to the multiple rate increases, the stock has the necessary factors in funding future investment. This may cause many dividend funds to flow into Altria due to the high dividend and margin of safety. Looking at the tobacco industry as a whole, there are only a couple of companies. British American Tobacco International (NYSE: BTI) has fast-growing non-combustible lines such as Vuse and Grizzly-dedicated consumers. Even though their growth has been somewhat stunted due to disruption in the industry as a whole. The next competitor I chose is Philip Morris (PM). This company is more focused on Europe and has solid brands in those markets. The valuation is similar to Altria's, dividend included, and is reliable to compare Altria to.

Over the past twelve months, there has been a disappointing price return for these companies. They have underperformed the market as 2021 was the story of the high-flying tech names. Now, in early 2022, those valuations have been wiped out, and fund managers are increasingly looking toward value to hold onto their gains from the year before. This is a big reason why Altria could have a good year. The dividend is attractive and will not go unnoticed by the general investing public and institutions alike. Since early this year, there has been a slight spike, and that run could continue for most of the year. This is why I support trading Altria but not holding it for more than a year.

The overall EV/EBITDA picture explains the recent price jump very well. Institutions saw the severe undervaluation in value stocks and have caused this rally over the last month or so in value stocks. This is a trend I believe could continue throughout the year, and while Altria has one of the highest prices in the group, they have the same upside as the other two. I will have my eye on Altria in 2022.
Conclusion and Rating
Altria has an exciting position in the public markets. There are possibilities of success, but the company has demonstrated poor asset allocation, which makes me skeptical of future growth. EPS and operational stagnation will hurt shares in the coming quarters. I am giving Altria a hold rating and will await future results.