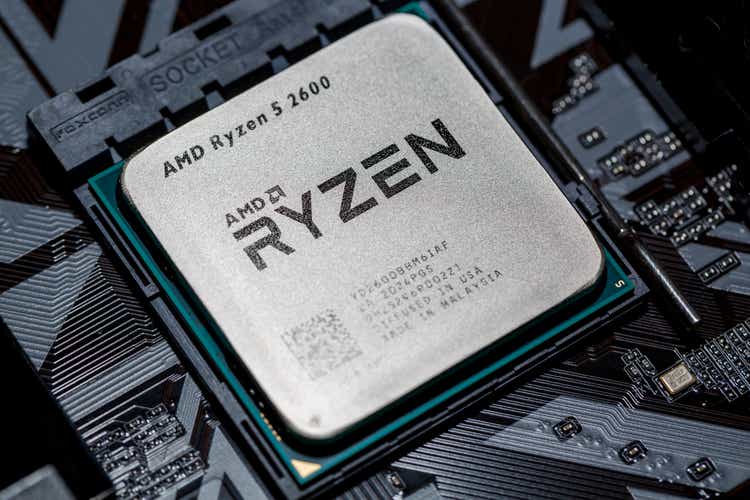 After tumbling as much as 35% from peak to trough in January triggered by mounting macroeconomic headwinds that have left investors' angst on high, AMD (Nasdaq: AMD) posted a strong rebound overnight after releasing a robust forecast on February 1st that implied further market share gains ahead. The company's annual revenues have tripled over the last five years, as it continues to eat into key rival Intel's (Nasdaq: INTC) market share. Meanwhile, AMD's gross margins have also expanded nicely the low-30% level in 2017 to now above 50% as it continues to scale new opportunities, especially on high-margin data center processor sales.
The stock's latest rebound is a testament to investors' focus on fundamental performance amidst growing concerns of slowing pandemic-era growth, especially as the economy tightens with the upcoming Federal Reserve rate hikes. AMD is showing confidence that it intends to maintain the level of blockbuster growth observed across all of its businesses in the prior year – the company predicted year-over-year revenue growth of 31% to $21.5 billion for the current year, which topped consensus estimates of about $19.3 billion.
And the upcoming acquisition of Xilinx (Nasdaq: XLNX), which is expected to close within a matter of weeks barring any last-minute changes, is likely to further AMD's market share gains, a common theme throughout the company's latest earnings call.
Turning to our Xilinx acquisition. We were pleased to announce that China's State Administration for Market Regulation approved the transaction on January 27. The only remaining regulatory approval required is FTC approval of our HSR refiling, and we expect to close the transaction in the first quarter of 2022. I am more excited than ever about the benefits of the acquisition for both AMD and Xilinx stakeholders. Customer excitement is also high as they look forward to the opportunity to deepen their strategic engagements with AMD based on our expanded technology and solutions portfolio…Turning to 2022. Demand for our product is very strong, and we look forward to another year of significant growth and share gains as we ramp our current products and launch our next wave of Zen 4 CPUs and RDNA 3 GPUs…
Source: AMD Q4 2021 Earnings Call
AMD's underlying business performance has continued to defy both macroeconomic and industry headwinds ranging from a potential growth slowdown ahead of tightening central bank policies to exacerbated supply chain bottlenecks stemming from protracted COVID outbreaks. And its upcoming merger with Xilinx is expected to be a key catalyst for further momentum in the stock, as it would enable AMD to penetrate markets in which it had little to no presence in before, including aerospace and defense, automotive, and communications infrastructure. With significant growth headroom on the horizon, and the stock still trading 22% down from its November peak, AMD remains an attractive investment pick to add at current price levels.
An Overview of AMD's Growth Trajectory ex-Xilinx
AMD rallied as much as 12% overnight last Tuesday upon the release of blockbuster 2021 results across all business segments and a "surprisingly strong" forecast on growth for the current year. The company reported fourth quarter sales of $4.8 billion, up 49% from the prior year driven primarily by robust demand in its enterprise, embedded and semi-custom business segment, which produces data center server and gaming console processors. Its computing and graphics business segment also saw strong growth buoyed by increased sales of the premium Ryzen CPU and Radeon GPU processors for higher-end notebooks and desktops. Total 2021 revenues reached a record-setting $16.4 billion, up 68% from the prior year, while net income for the year exceeded $3.1 billion thanks to AMD's fast-expanding margins discussed in earlier sections.
In addition to better-than-expected fourth quarter results, AMD also provided a sales forecast for the current period that outpaced consensus estimates. The company guided revenues of more than $5 billion for the current quarter, which exceeds the average analyst estimate of $4.3 billion. And for the full-year, management has guided revenue growth of 31% to reach $21.5 billion, which surpasses average analyst projections of about $19.3 billion.
A Strong Market Share Gainer
The outlook suggests that PC and server chip market share gains remain robust for AMD, assuaging investors' fear that the "pandemic-fuelled boom" is nearing an end. Specifically, data center sales will continue to be a primary driver of growth in 2022, thanks to continued demand from hyperscale cloud customers like Alphabet's Google Cloud (Nasdaq: GOOG / GOOGL), Microsoft Azure (Nasdaq: MSFT) and Amazon's AWS (Nasdaq: AMZN) which have helped the segment double its revenues in 2021.
As mentioned in our previous coverage on the stock, AMD has also continued to gain prominence within the high-performance computing ("HPC") space as a result of its continued commitment to innovation and development of "leading-edge components". During the fourth quarter, Microsoft Azure deployed a new HPC instance powered by AMD's enhanced third-generation EPYC "Milan-X" processors, which are equipped with "3D stack memory" and delivers up to 80% higher performance than current available instances", while also enabling better scaling efficiency and cost-effectiveness. AMD's EPYC processors are also now found in 73 of the world's "Top 500 Fastest Supercomputers" list, a three-fold increase from 2020. The EPYC processors' dominant presence on the "Green500" list, the top 500 fastest supercomputers ranked in terms of energy efficiency, is also a testament to its power efficiency for complex workloads. To date, eight of the world's top 10 most efficient computers are also powered by AMD's EPYC processors, putting the company's HPC competency on par with legacy rival Intel's.
The stellar track record underscores AMD's competency in the HPC market in recent years. And with the upcoming rollout of the fourth-generation EPYC processors, AMD's prominence in the HPC market is further bolstered with innovation at its core. The initially announced "Genoa" fourth-generation EPYC processors will be equipped with up to 96 Zen 4 cores built on the 5-nanometer process, which is currently the most advanced. AMD has also recently announced an enhanced fourth-generation EPYC processor dubbed "Bergamo", which will feature up to 128 Zen 4c cores for "cloud-optimized" applications. The Zen 4c cores are built on the same technology as the Zen 4 cores, but enables improved power efficiency without compromising on performance for cloud-specific workloads. Both types are slated for launch later this year, with initial shipments to begin in the first half of 2023. The development comes at an opportune time as the sector continues to expand at a rapid pace – HPC is expected to grow into a $40 billion market over the next five years, driven by the need for solutions to solve increasingly complex problems ranging from climate forecasting to energy security.
The wide variety of workloads that the next-generation EPYC processors are designed to support, ranging from HPC systems to cloud and on-premise servers, effectively bolsters AMD's market share expansion in coming years. The company has already put industry leader Intel on notice in recent years. As mentioned above, AMD's processors can now be found in eight of the world's top 10 fastest supercomputers, which exceeds Intel's count, despite the latter's dominant presence across the broader Top 500 list. External research estimates that AMD has seized "more than 10% of the server processor market" in 2021.
Beyond HPC, AMD is also gradually chipping away at Intel's dominant market share in lower-end PC processors. AMD's market share in PC processors grew from 23% in 2020 to 25% in 2021. As mentioned in earlier sections, AMD's client computing products, including the Ryzen CPUs and Radeon GPUs, saw strong demand in 2021 which drove "share gains in client processors for the seventh straight quarter". Continued improvements to its client computing technologies are also expected to driver further PC processor share gains, especially with continued momentum within the broader gaming industry. AMD has recently launched the "Ryzen 6000 series" CPUs for laptops, which feature Zen 3+ core and RDNA 2 architecture-based graphics to enable better compute and gaming performance and enhanced battery life capabilities. The Ryzen 6000 laptops are expected to start shipping this month, which effectively puts AMD at the "forefront of innovation in the PC industry". The "Ryzen 7000 series" CPUs, which are the Ryzen 6000-equivalent for desktops, will be built based on the 5-nanometer process Zen 4 architecture and begin shipping in the second half of the year.
In addition to CPU processors, AMD has also stepped up its efforts in graphics with the launch of the RDNA 2 architecture earlier this year. As mentioned above, the RDNA 2 architecture-based graphics promises improved graphics in PC and console gaming, and enables AMD to better capture share of the rapidly expanding gaming market. The RDNA 2 architecture has also driven adjacent revenues for its semi-custom segment where AMD collaborates with OEMs like Microsoft and Sony to co-develop tailored solutions for gaming consoles like the Xbox and PlayStation. Considering the new generation of Xbox and PlayStation consoles continue to generate unprecedented demand, AMD's semi-custom segment sales are expected to maintain robust growth in the near-term.
What Does the Xilinx Acquisition Mean for AMD?
AMD announced that it had entered into an agreement to acquire Xilinx, a leader in adaptive computer solutions, for $35 billion in October 2020. Having recently crossed the last major regulatory hurdle upon obtaining approval to proceed from China's antitrust watchdog, the State Administration for Market Regulation, the transaction is taking shape nicely with completion withing reach. The transaction now awaits approval from the U.S. FTC of its HSR pre-merger filing, the final administrative step of the lengthy process. The risk of the transaction being bounced back at the 11th hour is remote, considering a previous HSR filing has already been approved by U.S. antitrust regulators. With the review period of the refiled HSR pre-merger notification coming to an end on February 9th, the merger is expected to finalize before the end of the month.
The highly anticipated merger between AMD and Xilinx marks one of the largest transaction of its kind within the industry in recent years. Xilinx is currently a leader in the development of field-programmable gate arrays ("FGPA") and adaptive system-on-chips ("SoCs") for application across a variety of technologies ranging from aerospace and automotive to cloud and communications infrastructure. FGPAs are programmable circuits that can accommodate the fast-changing nature of modern-day technology requirements, while SoCs combines all the necessary components to run a system such as a smartphone. A single FGPA can potentially consolidate discrete components because of its versatile nature. Specifically, the circuits could be programmed and configured to facilitate a certain function and be reprogrammed whenever changes are required. FGPAs are widely used in emerging technologies like cloud data center and communications infrastructure applications considering its adaptive nature and ability in enabling low-latency AI acceleration. The global FPGA market is forecasted to grow at a CAGR of 8.5% over the next five years, as rising adoption of emerging technologies continues to bolster demand.
The merger is expected to bolster AMD's race against leading rival Intel, which already has an established foray in programmable solutions, for market share. To put into perspective, Intel's "Programmable Solutions Group", which houses its sales of programmable semiconductor products, generated revenues of $1.9 billion in the prior year, up 4% year-over-year, while Xilinx generated net sales of about $3.7 billion in the last 12 months, up 20% year-over-year. The transaction will also introduce AMD to markets that it did not previously have a prominent role in as mentioned in earlier sections, including aerospace, automotive and communications infrastructure.
Xilinx is currently a "leading provider of solutions in 5G" and boasts a strong pipeline of communications accounts. This accordingly complements AMD's growing prominence within the network infrastructure sector, underscored by its recent win from Nokia to power the latter's 5G network servers with EPYC processors. Xilinx will effectively forge a clear path for AMD into the global 5G enterprise market, which is expected to expand rapidly at a CAGR of 28.5% over the next five years towards a market value of $10 billion, marking significant growth opportunities ahead. And on the data center front, Xilinx also leads fast-growing business in programmable solutions for data centers, which will complement AMD's current leadership in CPU and GPU processors for data center application as discussed in earlier sections. With continued innovation being the core of both companies' success, the merger is expected to drive cost synergies of up to $300 million by combining their processes and talent within 18 months of deal close. The cost-savings can then be redeployed towards further innovations to enable greater share gains in the long run.
AMD Financial and Valuation Update
Adjusting our previous forecast for AMD's actual fourth quarter financial results and its growth outlook on a standalone basis (i.e. ex-Xilinx) as discussed in earlier sections, the company's consolidated sales are expected to grow from $21.5 billion in the current year as guided by management towards $46.2 billion by 2026. The growth assumption applied remain largely consistent with those discussed in our previous analysis, considering AMD's business model and operating environment has not materially changed. Much of the company's growth will continue to be led by its enterprise, embedded and semi-custom segment which houses its rapidly accelerating enterprise data center sales.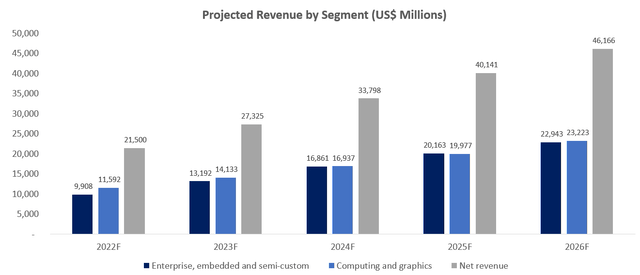 AMD_-_Forecasted_Financial_Information.pdf
Combined with AMD's projected cost structure, which takes into consideration the company's continued ability in scaling new product opportunities and increasing mix of higher-margin data center revenues, the chipmaker is expected to generate net income of $4.6 billion in the current year with further growth towards $10.4 billion by 2026.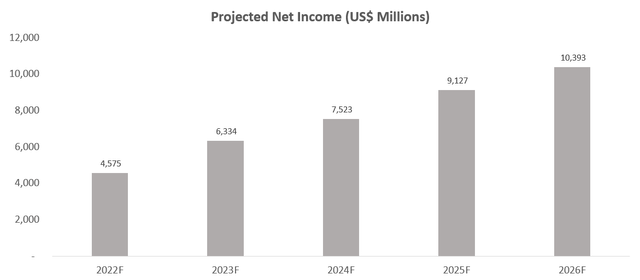 i. Base Case Financial Analysis:

Drawing on the above analysis, our 12-month price target for the AMD stock remains in the $200-range. This represents upside potential of about 60% based on the last traded share price of $123.67 on February 7th.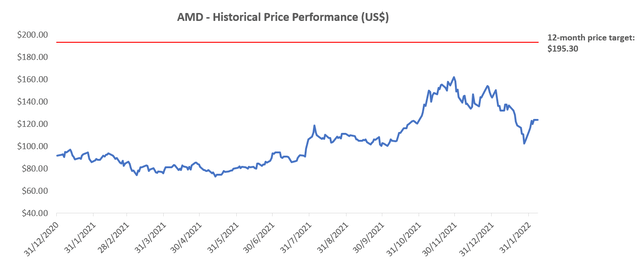 The valuation analysis considers AMD's recent developments from an operational and financial perspective, as well as its proven ability in gaining meaningful market share within an industry that has been long-dominated by Intel. The upcoming completion of the AMD-Xilinx merger is expected to reinforce the AMD stock's upside potential by furthering the underlying business' consolidated growth prospects over the longer-term. Xilinx currently boasts a market cap of more than $52 billion, which will likely boost AMD's current market cap of $150 by an additional 1/3rd within the near-term. Recall the discussion above that the merger is expected to further AMD's market share, meaning additional top-line growth in coming years, while also enabling material cost synergies that will contribute to continued operating margin expansion in the long-run. Paired with both Xilinx and AMD's already-generous free cash flow margins, the business combination is slated to deliver promising valuation prospects ahead.
i. Base Case Valuation Analysis: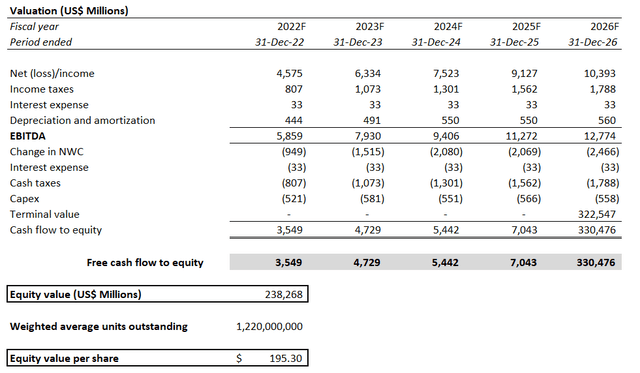 ii. Sensitivity Analysis:

Conclusion
AMD has delivered transformational results in the last five years under current CEO Lisa Su's leadership. Not only has it emerged from an "underdog in the chip industry" to now a close rival of Intel's in terms of market share, but it is also adding tremendous value to the world of computing through continued innovation of its products. AMD continues to play a critical role in enabling key emerging technologies that underpin the digital trends of this decade and beyond. And the upcoming merger with Xilinx will only further that endeavour, which bolsters the stock's prospects for further gains ahead.