3 min read
Labour leader Keir Starmer has begun a surprise reshuffle of his Shadow Cabinet.
The timing of the move has infuriated allies of the party's deputy leader Angela Rayner, however, who was delivering a major speech in Westminster when news of the reshuffle broke.
Starmer's spokesperson confirmed on Monday lunchtime that the Labour leader had started a fresh re-shuffle of his Shadow Cabinet.
Shadow Minister for Young People & Democracy Cat Smith appeared to be the first casualty of the re-shuffle, after she tweeted a letter resigning from her front bench position.
"It's been an honour to serve on the Labour front bench since 2015 but I'm looking forward to spending even more time at home here in Lancashire and standing up for my constituents," she wrote.
Smith, who was part of Rayner's shadow team, in her letter to Starmer said she had turned down his offer to stay in her job, citing his refusal to readmit the party's former leader Jeremy Corbyn as a Labour MP as a reason.
She said this position was "utterly unsustainable" and told him: "It is important that you truly understand how much damage this is causing in Constituency Labour Parties and amongst ordinary members, a number of whom are no longer campaigning."
Starmer, who has led Boris Johnson in recent opinion polls, started changing his top team as Rayner was delivering a speech on lobbying in the wake of the Owen Paterson and second jobs scandal.
The timing prompted a furious reaction from allies of Rayner, who says she was not consulted by the decision to get the reshuffle underway this morning.
"Trying to sack Angela and make her the scapegoat for Hartlepool was stupid. But doing a reshuffle when she's literally on her feet giving a speech attacking the Tories for being corrupt is just plain offensive," a friend of Rayner was reported to have said.
Her spokesperson told PoliticsHome that she knew a reshuffle was imminent but was not aware of the details.
"My understanding is that Keir and Angela had a short conversation in between her media round and her speech," they said. "She was not aware of the details of the reshuffle and she was not consulted on the reshuffle as she said herself."
However, allies of Starmer insisted Rayner had not been blindsided, with one telling PoliticsHome that Rayner was aware that the reshuffle would take place today following an in-person conversation with Starmer this morning.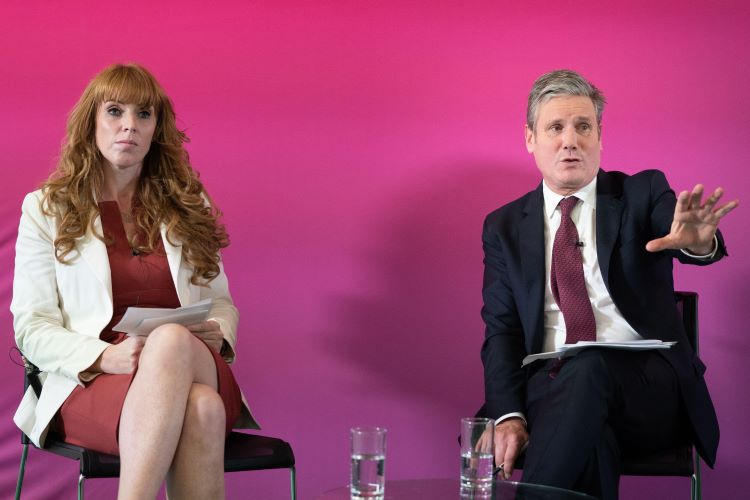 Rayner herself appeared to be blindesided by developments when questioned about the rumours during her speech at the Institute For Government think tank.
"I'm not sure of the details of the reshuffle, but I do know that what we have to do is show that we are a government in waiting and that we have to be the next government because we can't carry on like this," she said.
"We need some consistency in how we're approaching things as an opposition."
A senior Labour MP described the timing of the reshuffle as "very odd" but said Starmer needed to shake up his top team to take the fight to the Conservatives.
"Keir has wanted to cull Shadow Cabinet for sometime (and needed to, frankly). Now we are on the up, he needs a team he can rely on to do the heavy lifting in place," they said.
Current Shadow Cabinet members Bridget Phillipson and Wes Streeting are tipped for promotions, as is senior MP and Home Affairs Select Committee Chair Yvette Cooper.
PoliticsHome Newsletters
PoliticsHome provides the most comprehensive coverage of UK politics anywhere on the web, offering high quality original reporting and analysis: Subscribe