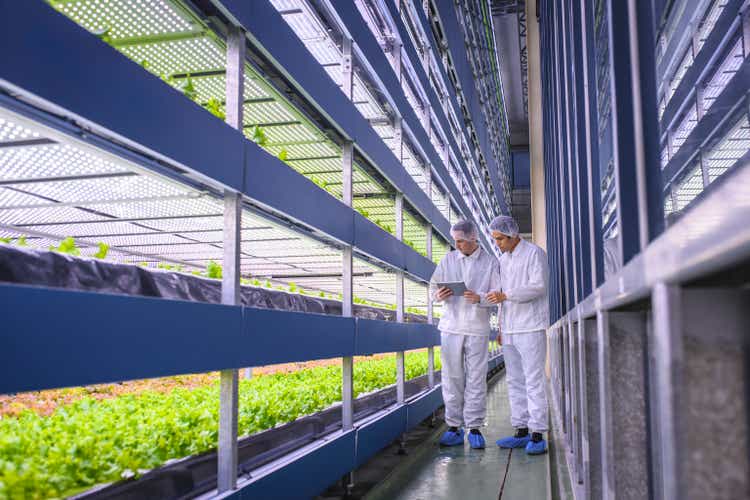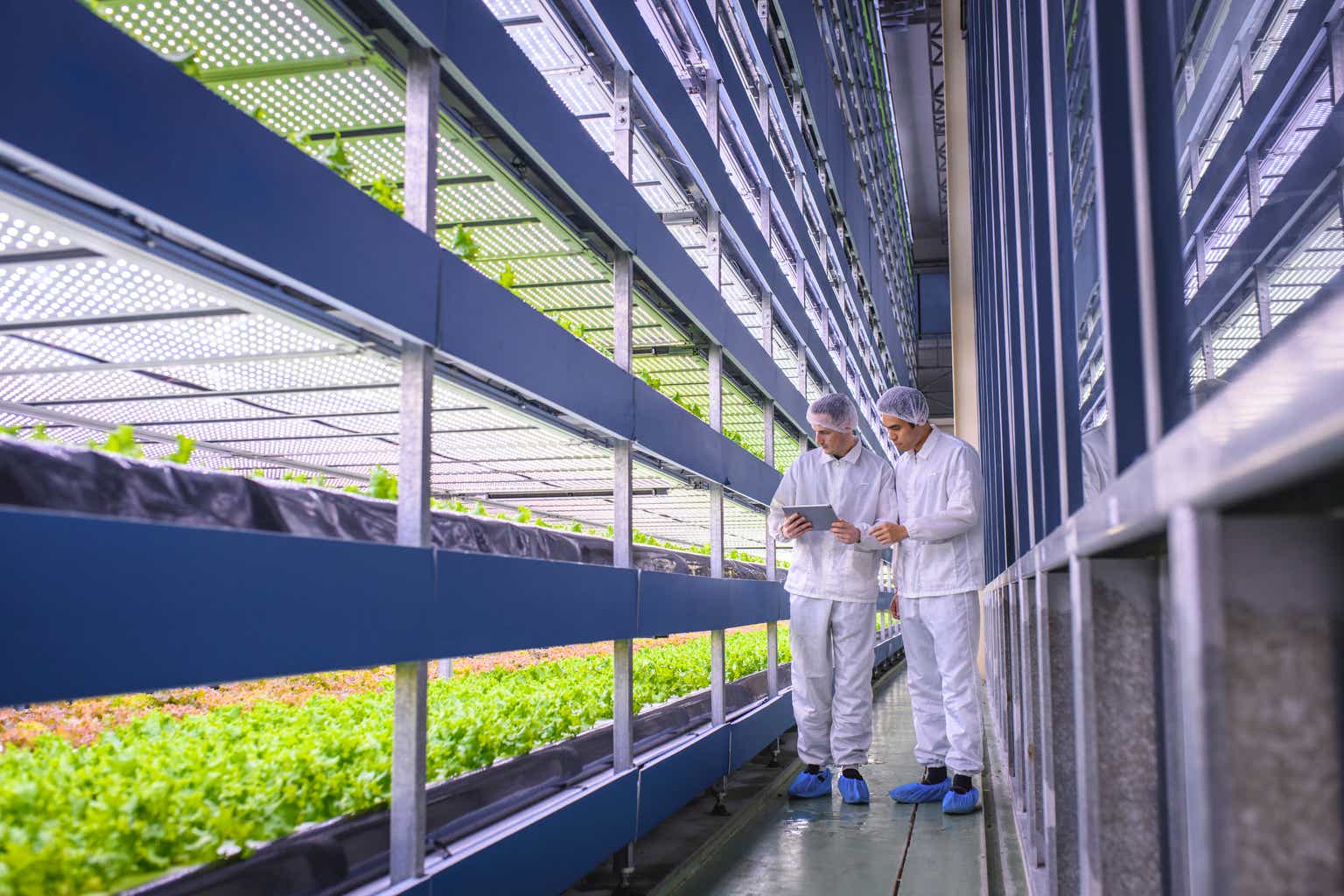 "The giant tree you see today was once a small seed that held its ground." – Amit Kalantri
Today, we take our first look at a small cap concern from an interesting niche of the economy and a market which I don't believe we have ever looked at before. A full analysis on this 'Busted IPO' follows below.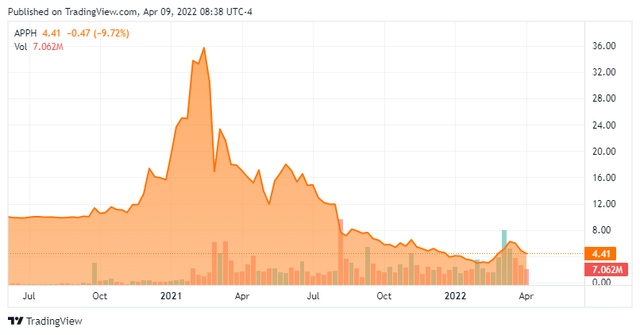 Company Overview:
AppHarvest, Inc. (NASDAQ:APPH) is a Morehead, Kentucky based controlled environment sustainable farming concern with one productive facility in Appalachia and three more due to be operational by YE22. Through its high-tech greenhouses, the company aims to reinvent the way tomatoes, salad greens, and berries are grown. AppHarvest was founded in 2018 and went public in February 2021, raising proceeds of $475 million when it merged into special purpose acquisition company (SPAC) Novus Capital. The SPAC was formed in May 2020, raising gross proceeds of $100 million at $10 per unit, with each unit consisting of one common share and one warrant to purchase another share at $11.50. The balance of the capital provided to the company came via PIPE (private investment in public equity) financing. Shares of APPH currently trade just under five bucks a share currently, translating to a market cap of $575 million.
The Opportunity for Controlled Environment Agriculture
Owing to a confluence of factors, the reliance on imported produce has more than doubled in the U.S. over the past three decades. Those reasons include a growing population, some water resource exhaustion, ethanol subsidies, ineffective farming practices that include a substantial reliance on soil-depleting chemical fertilizers and pesticides (instead of worms and compost), which have not only degraded American soil but approximately one-third of all arable land worldwide. As such, the U.S. now imports ~60% of its tomatoes, ~66% of its peppers, and ~81% of its cucumbers as of 2019, representing a nearly 50% increase in each category over the prior decade.
To address these imbalances, the concept of controlled environment agriculture [CEA] has been introduced. For the avoidance of doubt, greenhouses have been around since the reign of Tiberius (AD14 – AD37); however, CEA is different in that it employs state-of-the-art technology to grow produce at ~30 times greater output while using ~90% less water than traditional outdoor farming. Some of these advanced practices include supplementing the water with nanobubble oxygen for greater nutrient absorption, using robots to scout for pests, employing artificial intelligence to determine the optimal environment for yield maximization, and installing LED lighting to mimic the sun with approximately two-thirds less electromagnetic radiation transfer. Since CEA facilities are not typically subject to the whims of the weather – save tornados and lightning – the growing season is 365 days long. This approach to food production has allowed the Netherlands to become the second-largest agricultural exporter in the world despite being ranked 131st in total area – one-third the size of Kentucky.
AppHarvest Buildout
AppHarvest has leveraged relationships with leading Dutch agricultural and infrastructure concerns to construct a cutting-edge, 60-acre facility in Kentucky that yields beefsteak tomatoes, tomatoes on the vine, and Campari tomatoes. The plant is supplemented by an on-site, ten-acre rainwater retention pond that is constantly aerated with the aforementioned nanobubble oxygen, which also prevents algae blooms and cyanotoxins. Once the water is pumped indoors, it is run through a sand filter and sanitized with UV light. The plant opened in October 2020 and began operating at full capacity in May 2021 with its first full harvest in August 2021. The Morehead facility can generate up to 40 million pounds of tomatoes from ~720,000 plants annually. Strategically located in eastern Kentucky, AppHarvest tomatoes are within a day's drive to 70% of the U.S. population, translating into lower transportation costs and longer shelf life. Their distribution and sale are effectuated through an exclusive agreement with Mastronardi Produce, which includes a non-compete agreement outside the states of Kentucky and West Virginia that can be circumvented through off-balance sheet transactions.
The company's pipeline of facilities are all located in eastern Kentucky, with a 15-acre salad greens indoor farm in Berea, a 60-acre tomato facility in Richmond, and a 30-acre berry growing plant in Somerset all scheduled to come online by YE22.
CEA Market
With these plans in process, the opportunity for AppHarvest is significant. Approximately $1.4 trillion is spent globally on produce. Although its current farming techniques don't have applications to tree grown fruit and vegetables such as broccoli, potato, and corn, AppHarvest estimates that the total addressable domestic market for vegetables to reach ~$30 billion by 2025. The company has one publicly traded CEA competitor, although this characterization is a bit misleading as Montana-based Local Bounti (LOCL) concentrates its growing and distribution west of the Mississippi River. Additionally, Newark, New Jersey indoor vertical farmer and still privately held AeroFarms doesn't produce tomatoes, although it does sell berries and leafy greens in geographies that overlap with AppHarvest.
CEA Challenges
Longer-term, the company expects to generate FY25 Adj. EBITDA of $123 million on net sales of $375 million (based on range midpoints), from nine CEA farms, which is down from a prior expectation of 12 facilities. Management anticipates still achieving its unrevised net sales outlook through a proposed tech company that sells robotic harvesters, farm operations software, and other farming technologies.
Despite using less water and soil than traditional farming practices while generating significantly higher yields, large-scale CEA is a costly endeavor, with significant up-front capital expenditures, as well as elevated electricity and labor costs. Furthermore, food has traditionally been an extremely low margin business. These structural challenges afflicted AppHarvest in 2021.
Having gone public at the height of the SPAC craze, shares of APPH traded briefly above $42 a share in early February, which marked the commencement of a protracted decline as investors decided that paying over 150 times FY22E revenue for an highly unprofitable concern beset with extremely low tomato prices, operational growing pains resulting in fewer premium-grade tomatoes being sold in its first quarters as a public entity, an undisclosed disease impacting ~10%-15% of its tomato plants in Morehead, and downwardly revised buildout plans wasn't a particularly sound investment.
4Q21 Earnings & FY22 Outlook
Its stock bottomed out below $3 a share after providing preliminary 4Q21 results on January 31st. However, AppHarvest's formal report, released on February 24th, gave the investment community optimism. The company reported 4Q21 non-GAAP EPS loss of $0.27 and Adj. EBITDA of negative $18.3 million on net sales of $3.1 million on 4.4 million pounds of tomatoes sold. Comparisons to 4Q20 are meaningless as the company was neither public nor revenue generating at that time. For FY21, AppHarvest lost $69.9 million at the Adj. EBITDA line on net sales of $9.05 million.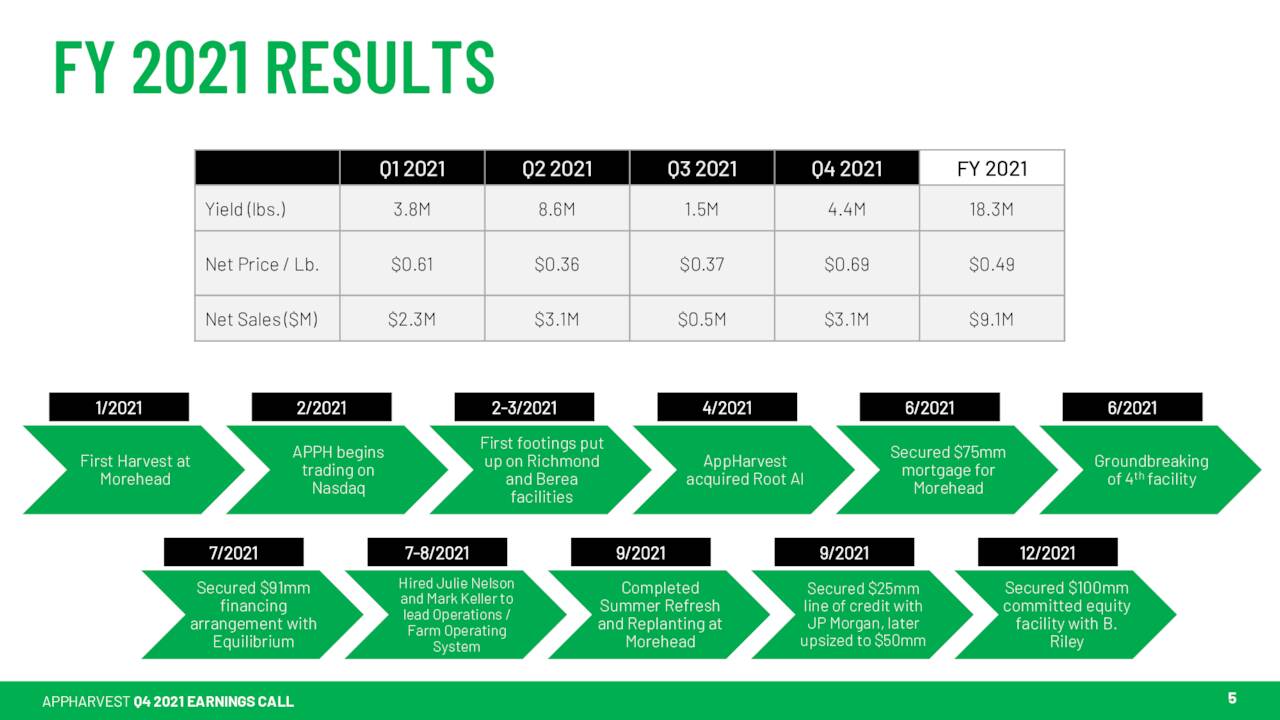 The company also announced the completion of a restructuring that will save it ~$16 million annually.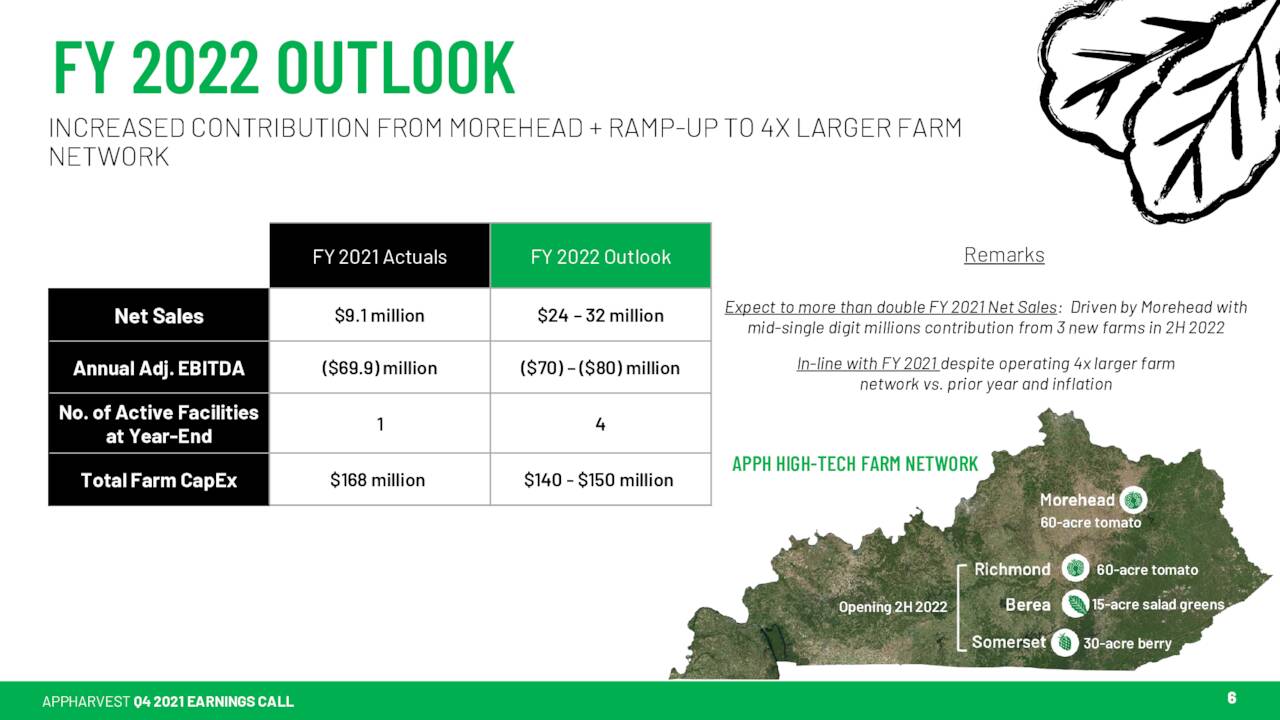 The investment community seemed excited about the company's FY22 outlook, which includes range midpoints of negative Adj. EBITDA of $75 million on net sales of $28 million based on four facilities in operation by YE22. It was also encouraged by the anticipated surge in yield to ~7.5 million pounds in 1Q22. In the firsts seven trading sessions since this report, shares of APPH rallied nearly 90%, but have since given back part of those gains. Part of the optimism is also embedded in rising harvest quality and food inflation, as AppHarvest received $0.69 per pound in 4Q21 versus $0.37 in 3Q21 and $0.36 in 2Q21. This dynamic has been further aided by a broad commodity rally spurred by the Russian war in Ukraine.
Balance Sheet & Analyst Commentary:
With that said, the company burned through a significant amount of cash in 2021: $103.9 million from operating activities and $315.4 million from capex outlays, primarily from the outright purchase of its Morehead indoor farm, as well as the property, construction, and equipment costs related to its three facilities expected to come online in 2H22. The company held unrestricted cash of $150.8 million and had access to ~$59 million of additional liquidity on a credit facility, as of December 31, 2021. Total debt was $130.7 million ($28.0 million current). With the cash bleed expected to continue and FY22 farm capex anticipated at ~$145 million, AppHarvest has entered into a stock purchase arrangement with B. Riley under which it can sell the latter up to $100 million of common stock subject to a 20% ownership interest cap.
Three Street analysts cover the CEA concern, all championing outperform ratings. Each of the prognosticators was compelled to lower twelve-month price objectives since making their initial projections. They now stand at $5.50 (Barclays), $6.00 (Oppenheimer), and $9.00 (Cowen). On average, analysts expect AppHarvest to lose $1.31 a share (non-GAAP) on net sales of $30.4 million in FY22, followed by a loss of $0.94 a share (non-GAAP) on net sales of $110.8 million in FY23.
Verdict:
Large-scale CEA for specific produce is an inevitability and certainly an uptick over current outdoor farming practices. The question becomes: is it a good investment? As it relates to AppHarvest, it is now trading at 'only' 1.5x FY25E net sales, but it will likely have to return to the capital markets – over and above its B. Riley share purchase agreement – sometime during the next 18 to 24 months to execute on its nine-facility plan. If the company can demonstrate positive EBITDA from its Morehead plant by FY23, the financing will have a greater likelihood of being non-dilutive debt. That outcome is a function of tomato prices and that is anyone's guess. Inflation (and food inflation specifically) looks like it may be here to stay for a while.
With that said, the stock is a tradeable instrument, not a long-term buy and hold, as it has not demonstrated superior economics to traditional farming, only superior yields. A pull back below $4 and closer to 1x FY25E net sales – which could happen during the next market pullback – would trigger a more bullish posture on this busted IPO for at least a 'watch item' position at that time.
"Many relationships are ruined when one is not able to admit they were wrong." ― Charles F Glassman
Bret Jensen is the Founder of and authors articles for the Biotech Forum, Busted IPO Forum, and Insiders Forum