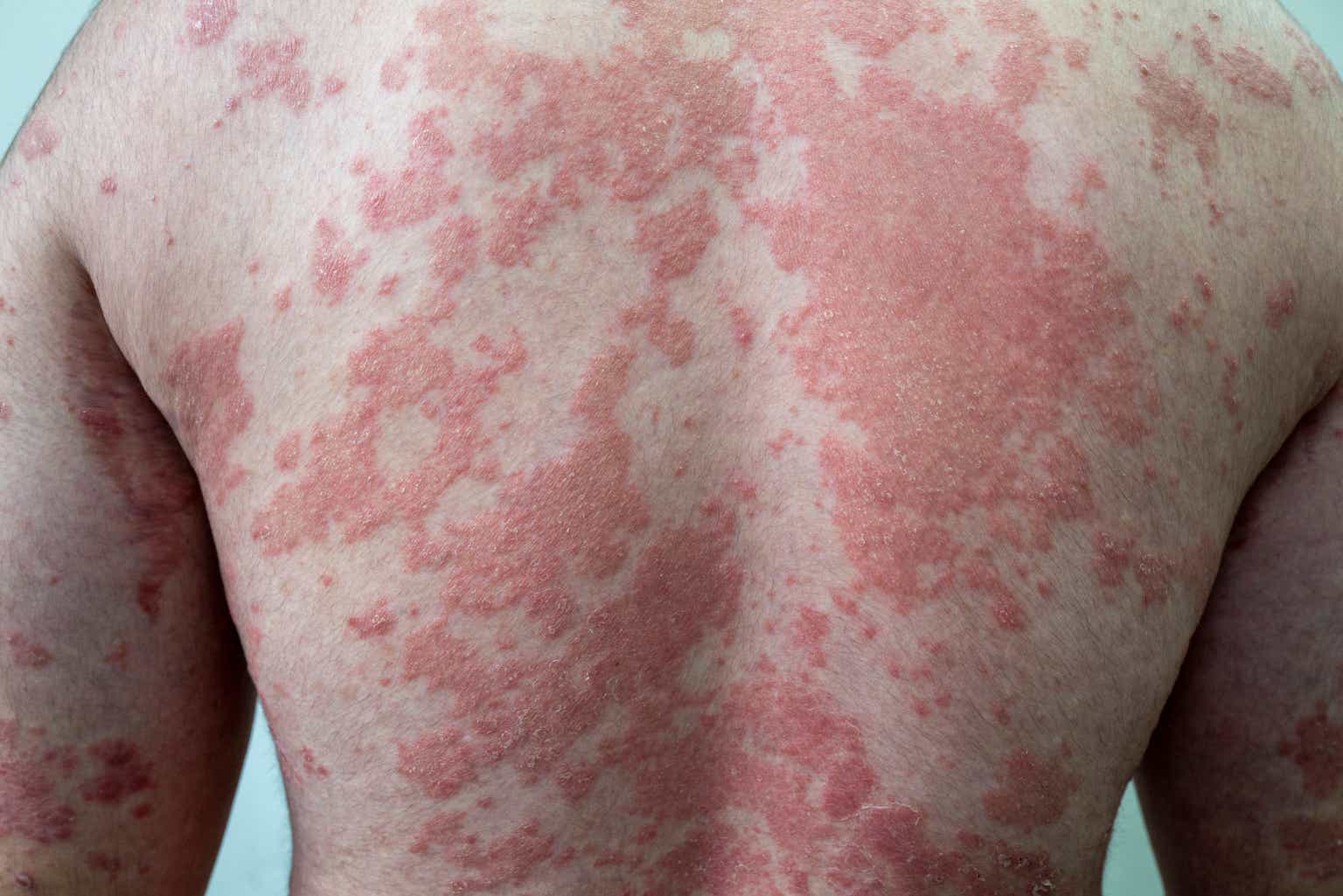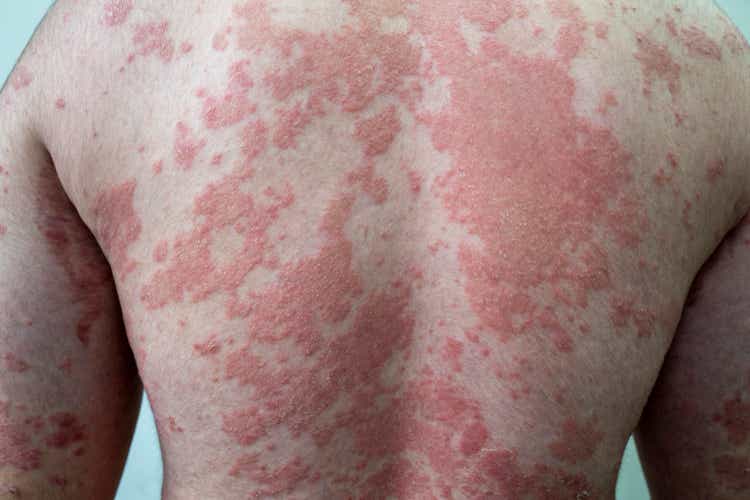 Arcutis Biotherapeutics, Inc. (NASDAQ:ARQT) has developed topical roflumilast, which has an enviable product profile with excellent efficacy and a side effect profile indistinguishable from placebo. The asset is through Phase 3 trials and has a PDUFA date in July, which if approved, could allow a 2022 launch. Given the favorable data from the pivotal trials, there is a high probability roflumilast will be approved for the treatment of psoriasis. In addition, based on the favorable profile, one billion in peak sales in psoriasis is a defensible estimate. Roflumilast is being tested in other indications such as atopic dermatitis, seborrheic dermatitis and scalp psoriasis which could offer additional upside for investors.
Psoriasis
Psoriasis is a chronic, systemic autoimmune disease characterized by skin plaques. The disease causes inflammation and in some cases can also cause psoriatic arthritis. This autoimmune disease tends to cycle through flares and remissions. When active, the skin cells multiply up to 10 times faster than normal cells resulting in thick, red, itchy, scaly patches called plaques. Lesions can also sting, burn and itch. When healed, pigment changes and scarring can result. Affected areas tend to be on the scalp, elbows, knees, and lower back. The disease is incurable and can affect small areas of the skin or large swaths of skin. Many patients find the appearance distressing.
There are 9 million US patients with psoriasis with 90% of patients currently treated with topical drugs. Roughly 90% of psoriasis sufferers have mild to moderate disease. The label mild or moderate refers to the amount of affected area but not the seriousness of a particular lesion.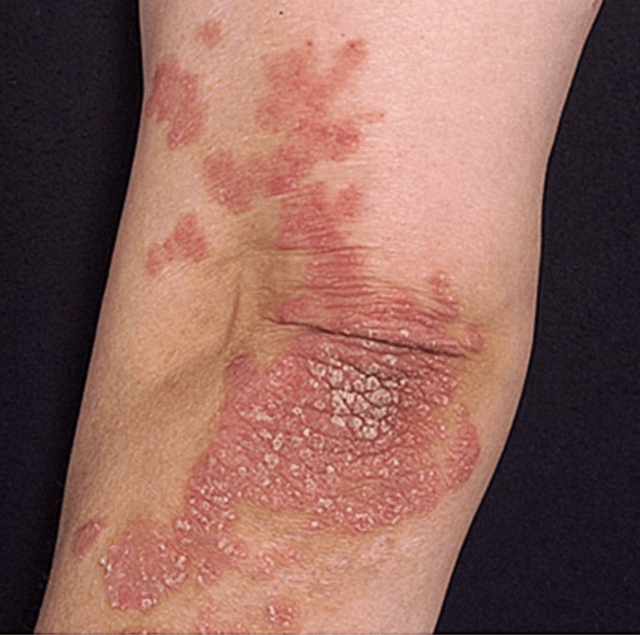 Roflumilast
Arcutis developed topical roflumilast which is a once a day extremely potent, selective PDE-4 inhibitor cream. They licensed the rights for development of a topical treatment from AstraZeneca who markets an oral formulation of roflumilast which is used to reduce the risk of COPD exacerbations.
Roflumilast was tested in patients with mild, moderate or severe psoriasis in the phase 3 Dermis-1 and Dermis-2 trials which were 8 weeks in treatment duration. The trial endpoint used the IGA scoring system which is a visual assessment made by the clinician that rates skin from (0) clear to (4) severe. Patients were deemed a clinical success it they were rated clear or almost clear and also experienced at least a 2 grade improvement from baseline. Both trials showed a highly statistically significant benefit for roflumilast treated patients versus placebo as shown in Figure 1 below. It is also notable that results show a rapid onset with improvement seen within weeks.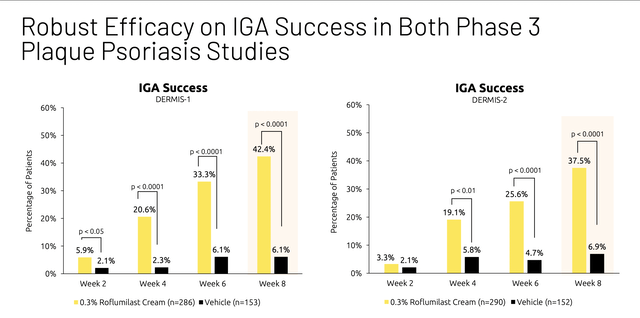 Figure 1: Highly Statistically Significant Efficacy Data
In addition, the efficacy profile is favorable when compared to Otezla which is an oral formulation but is also a PDE-4 inhibitor. Otezla sold more than $2B last year. Also note that the efficacy for Roflumilast treatment was measured at 8 weeks, and superior, to the efficacy of Otezla at 16 weeks. It is also notable that close to 20% of Otezla patients report nausea, headaches and diarrhea. So, in comparison, roflumilast offers rapid onset, superior efficacy and a better side effect profile. In addition, Arcutis has suggested pricing will be significantly lower at $400-600 per tube versus a monthly cost of $3950 for Otezla.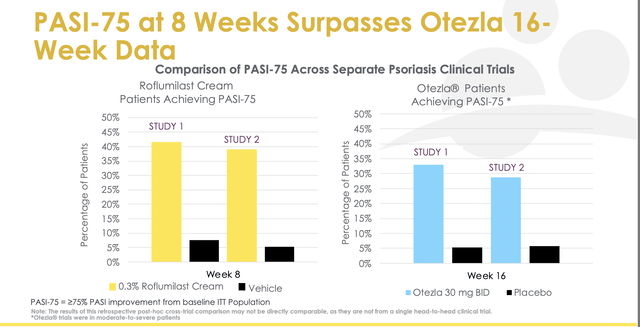 Figure 2: Roflumilast at week 8 is more effective than Otezla at week 16
When compared to other topical treatments (Wynzora, Duobrii) the efficacy of roflumilast is comparable but the use of steroids poses considerable issues. Steroids can not be used chronically due to the risk of stretch marks, skin thinning and telangiectasia. In addition, they can not be used on the face or intertriginous areas and can cause local site reactions. While roflumilast shows similar efficacy, it can be used on intertriginous areas and the face. It is notable that the roflumilast can be used chronically which is particularly important given psoriasis is a chronic disease.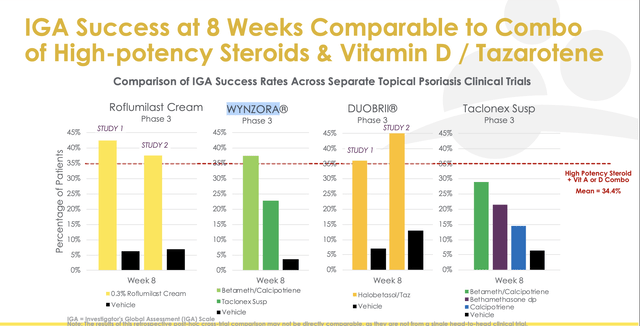 Figure 2: Roflumilast efficacy compared to steroid combination topical products
In addition, in patients with psoriasis on the knees and elbows which are particularly difficult to treat areas, recently released data showed that 49% of patients achieved an IGA score of clear or almost clear vs 8% of vehicle treated patients.
It is notable that the rate of adverse effects in the treatment cohort is essentially equal to the side effect profile observed in those patients who received placebo (vehicle). It is also notable that discontinuation rates were also virtually identical in roflumilast and vehicle treated patients.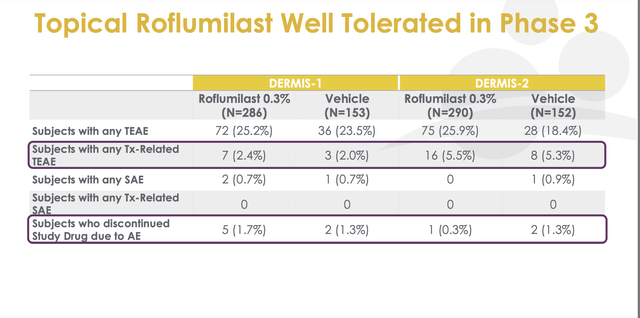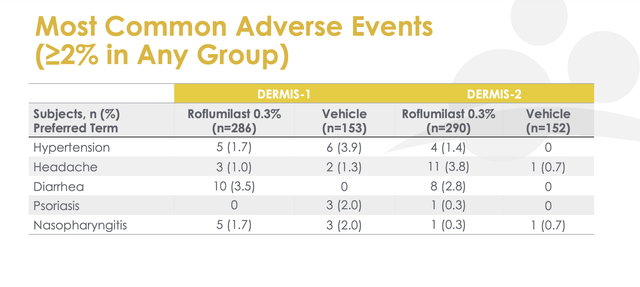 Figures 4 and 5- An excellent side effect profile comparable to placebo
In addition, a troubling symptom that 85% of patients with psoriasis experience is pruritus (itch) and many patients report it impacts quality of life and sleep. The itching can cause patients to scratch and skin to become more irritated and even bleed. Roflumilast has shown to meaningfully diminish this symptom in a variety of conditions.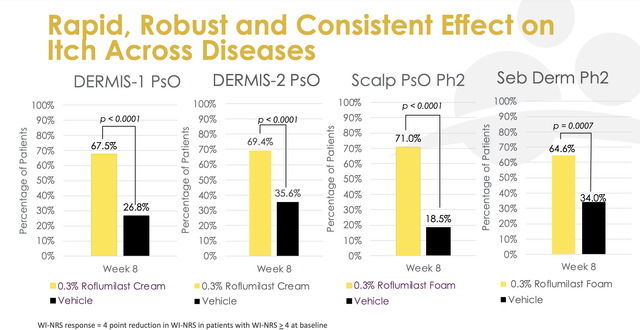 Figure 6- Impact on pruritus
Finances
Arcutis is extremely well positioned with $385 m in cash from their last financing in 2021 which raised $192 m at $35/share. In addition, they have secured $225 m in debt financing which should position them well through the launch of roflumilast.
Risks
Risks include regulatory risks, poor commercial execution, unfavorable payor decisions and difficulty obtaining formulary status.
Analyst Commentary
Goldman Sachs has a $45 price target and cited their discussions with dermatologists which confirmed the need for non-steroidal topical therapies for psoriasis. They estimated $1B in peak sales in psoriasis with additional sales in their model if data in other indications supports FDA approval. Cowen analyst Ken Cacciatore describing the data in psoriasis as 'exceptional,' and believes the ability to use roflumilast chronically is a major differentiating factor from steroids while projecting $750 M in sales in psoriasis by 2028. Mizuho analyst Uy Ear citing "blockbuster potential" for roflumilast, projects $1.4 Bn in peak sales.
Conclusions
There are two million psoriasis patients treated by dermatologists and another 1.2 million treated in other setting such as primary care. Roflumilast has both excellent efficacy and an excellent safety profile. It has meaningful advantages over existing available treatments and the company's intended pricing strategy may allow for formulary inclusion and first line use. In July, there is a high likelihood of roflumilast becoming an FDA approved treatment option for psoriasis. More importantly, the favorable profile in efficacy, side effects and pricing is likely to make it a commercial success.