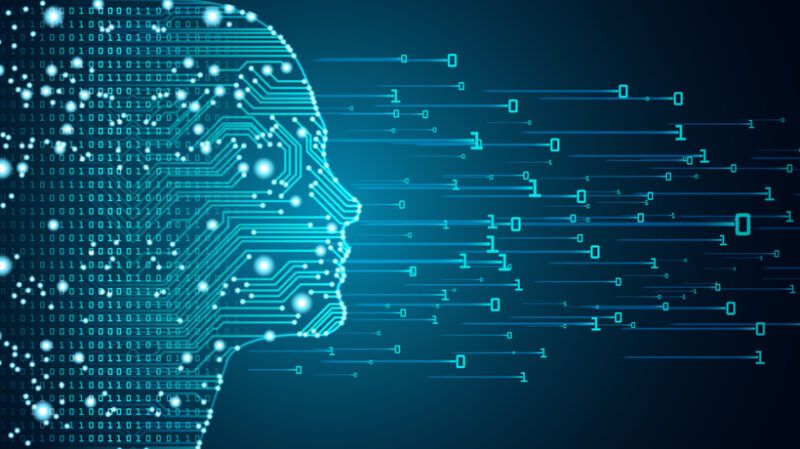 Artificial Intelligence Is Transforming eCommerce
Artificial Intelligence (AI) and machine learning (ML) are no longer just confined to scientific research and studies. They have crossed the academic boundary and are currently transforming our day-to-day lives, making them easier than ever. There have been a number of technological innovations around us in the past few years that are the outcomes of Artificial Intelligence and machine learning implementation. These have penetrated almost all sectors and eCommerce is no longer an exception. From personalized product recommendations to human-like chatbots, Artificial Intelligence is transforming the eCommerce landscape at a great pace.
AI and machine language have a lot of benefits to offer to eCommerce. The adoption rate of Artificial Intelligence in eCommerce is also increasing at a tremendous pace. According to one report, 80% of retail employees expect that their company will adopt Artificial Intelligence by 2027. The same report suggests that 51% of eCommerce businesses have implemented Artificial Intelligence to enhance sales, marketing, and customer service.
Artificial Intelligence And Extended Reality In eCommerce
eCommerce allows business owners to run their online stores in a virtual world which is available 24/7. It is a world that can be accessed from anywhere, anytime. Technological innovations, along with the power of Artificial Intelligence and machine learning, have opened doors to a new world of realities.
These novel innovations have allowed us to look beyond true reality through the eyes of technology. Augmented Reality and Virtual Reality are the aftereffects of the technological progress that is currently powering the virtual world. Extended Reality (XR) is an umbrella term that covers AR, VR, mixed reality, and other immersive experiences. Inability to physically touch or experience the product was a major drawback for eCommerce and XR is currently filling that gap through more immersive experiences. Virtual Reality can render virtual objects with reality and can provide a more immersive, satisfying, and engaging product experience to the end users. On the other hand, Augmented Reality can simulate a virtual world in which the user can interact, providing users with a more immersive and intuitive shopping experience.
Such an immersive product experience can help customers to make more solid purchase decisions. According to a survey by Google, 66% of people prefer taking help from AR when shopping online. The power of Extended Reality multiplies when it is combined with Artificial Intelligence. It can provide end users with a more immersive and personalized shopping experience with improved user engagement and conversions. However, these technologies are currently in their growth phase and are yet to be fully implemented in the eCommerce market. eCommerce leaders such as Amazon and Walmart have already started implementing AI and XR for improved customer experience.
Top Ways AI Is Transforming The eCommerce Landscape
Artificial Intelligence is propelling a drastic change and transforming the eCommerce landscape. The metaverse, virtual shopping hubs, and AI-assisted shopping are some of the expected outcomes of the usage of AI in eCommerce. Artificial Intelligence is currently benefiting eCommerce businesses in a number of ways, including through improved user engagement, enhanced conversions, and immersive product experiences, to name just a few. Some of the ways in which Artificial Intelligence is benefiting eCommerce businesses are discussed in detail below:
1. The Rise Of Voice Search
Life has become easier with assistants such as Google and Siri. They have evolved enough through Artificial Intelligence and machine learning to understand human speech and recognize it. The internet has been harnessing the power of Artificial Intelligence in voice recognition for a long time now. The voice search by Google has changed the way people search online. Just say "Hey Google, remind me about the meeting today at 4 pm" to your Google assistant, and a reminder is set, that's it. This would not have been possible without Artificial Intelligence and machine learning.
According to Google, 20% of the searches on it now use voice search. Artificial Intelligence has also improved the ability of machines to recognize voice use over time. There have been drastic improvements in speech analysis and contextual reasoning through Artificial Intelligence that has led us to more accurate voice recognition. Artificial Intelligence has also boosted the use of voice search in online shopping platforms. It has totally changed how customers search for products. It has allowed customers to have a speak-browse-purchase shopping experience online, reducing the online shopping friction. The following are the benefits for eCommerce of AI-assisted voice searches:
Time-efficient
Voice searches are time-efficient from the customer's point of view. They reduce the effort and time required to type and search for the product.
Reduced chances of errors
Using voice search can significantly reduce the chances of errors associated with manual typing. It is smart enough to understand exactly what the customer wants.
Improved customer experience
Voice searches can improve the customer experience by providing a quick and effortless way to search for products.
2. Intelligent Chatbots
Customer convenience is one of the most important parts of any eCommerce business and can impact the brand's overall reputation and customer retention. Manual customer support is very old-fashioned and is being replaced by intelligent AI-powered chatbots that can assist users with purchases and solve common problems. Chatbots are computer programs that are trained through Artificial Intelligence and machine learning to interact with customers and assist them. In eCommerce, chatbots can help businesses to improve customer engagement and support and can provide on-the-spot solutions to common problems faced by customers.
Leading eCommerce businesses are using chatbots to help users with general problems, assist users with product discovery, and more. Moreover, modern-day chatbots are intelligent enough to detect user aggression and disappointment and can escalate such users for access to assistance from human managers. The following are the benefits for eCommerce of AI-chatbots:
24/7 support
Unlike human support, chatbots can provide uninterrupted support to customers as they are not bound by any time limits.
Improves customer support efficiency
Chatbots can solve general problems on the spot and can reduce the human effort required to handle such queries.
Cost-effective
Chatbots can handle more customers at a time and reduce the human resources required to escalate these queries. It is cost-effective and efficient when compared to human support.
3. Personalized Shopping Recommendations
Artificial Intelligence is slowly filling the gaps that were created during the transition from offline to online shopping. One such gap is personalization. In offline shopping, customers are treated with a tailor-made shopping experience by the retailers. Today, Artificial Intelligence is doing its best to provide such a tailor-made shopping experience to customers, through personalized shopping. Personalization is the key to optimized conversions and sales in eCommerce. Artificial Intelligence can provide a more personalized shopping experience to customers by analyzing their shopping patterns and other data points. For example, if you are running a Magento 2 store, you can use the Magento 2 size chart to help customers choose the best fit and reduce the chances of order returns.
If a customer purchases a product from an online store at regular intervals, Artificial Intelligence can show product recommendations for that product to the customer at the most favorable times, based on previous buying patterns and product lifecycle. This can significantly improve the chances of conversions and boost the customer's loyalty toward the online store. The following are the benefits for eCommerce of AI-generated product recommendations:
Improves User Experience
Customers may find it interesting when they are recommended the product they are looking for. This can improve the User Experience.
Boosts conversions
Providing a personalized customer experience can improve the conversion rate.
Enhances customer retention
A personalized customer experience can add to the customer experience and improve lifetime value.
4. AI-Generated Product Descriptions
Product descriptions play an important role in converting visitors into customers. A good product description can help the end user understand the product and compel them to buy it. Artificial Intelligence has also started covering the creative part of writing.
AI tools can help eCommerce businesses to create a product description that can help brands to engage users. There are tools that can auto-generate product descriptions using machine learning and complex algorithms so that eCommerce store owners no longer spend a long time writing these manually. The following are the benefits for eCommerce of AI-generated product descriptions:
Saves time
Writing a product description can be a tedious task. Using Artificial Intelligence to do that can save time and resources.
Cost-effective
Artificial Intelligence can help create better content copies at cheaper rates as compared to human writers.
Reduces errors
Manual product descriptions can sometimes contain grammatical mistakes that are almost unavoidable. AI-generated content is more likely to follow strict grammar rules.
5. Image Recognition And Visual Search
Sometimes, the customer may want to search for some product online but might have difficulty finding it. This is the common scenario for most shoppers. This is where the '"search by image" or "reverse image search" functionality can help. In visual searches, complex algorithms and Artificial Intelligence can help identify the products that the customer is searching for online and provide similar results. Moreover, it can also help eCommerce businesses recognize the product images and tag them. Leading eCommerce players such as Amazon are already providing such search functionality on their online stores that allow customers to find products using pictures. The following are the benefits for eCommerce of incorporating visual searches:
Effective product discovery
Allowing customers to find products using images can improve their product discovery experience.
Improved User Experience
Implementing a visual search can reduce the efforts required by customers to find the right product and help improve the customer experience.
Conclusion
Artificial Intelligence is no longer just limited to laboratories and experiments. If properly implemented, it can greatly reduce human effort and make lives much easier. AI has been drastically changing the eCommerce landscape with more innovative and robust solutions. It is being adopted by eCommerce businesses at a great pace. The eCommerce market is currently going through an AI revolution, as businesses keep pace with AI-related market trends to survive in a highly competitive market.