June 04, 2022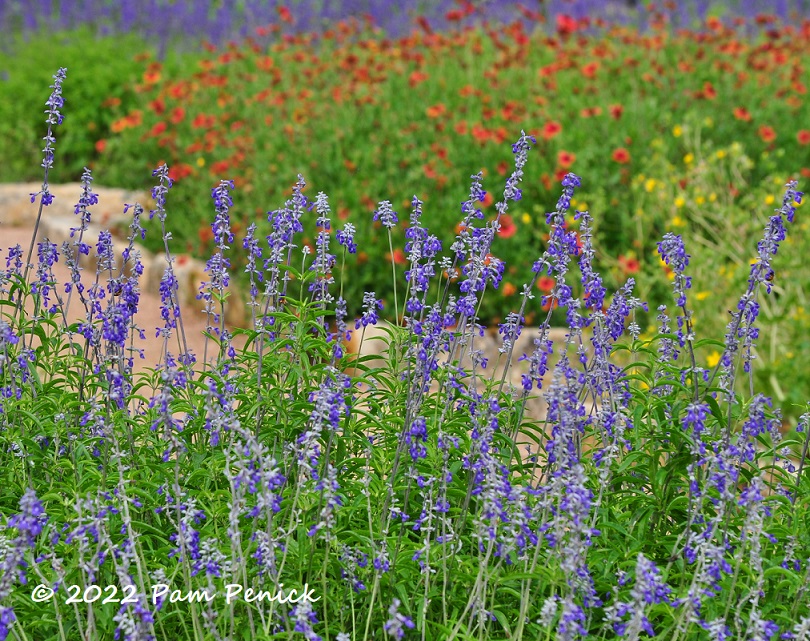 When Jennifer Jewell of Cultivating Place came to Austin a month ago, we visited the Lady Bird Johnson Wildflower Center together. I enjoy showing visitors around our state botanical garden, planted exclusively with native Texas plants. In early May, the late-spring wildflowers were in party mode.
Wildflowers in the Theme Garden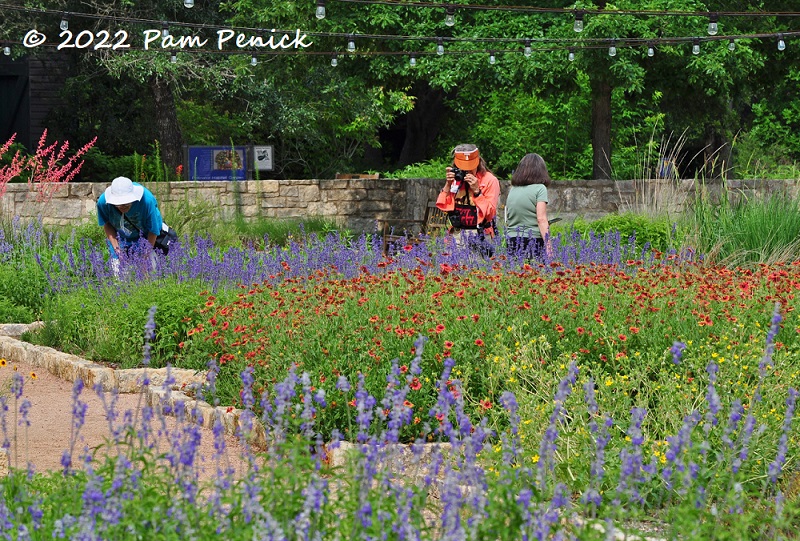 Several plots in the Theme Garden were blazing with firewheel and salvia. I wasn't the only photographer snapping pics of the vivid display.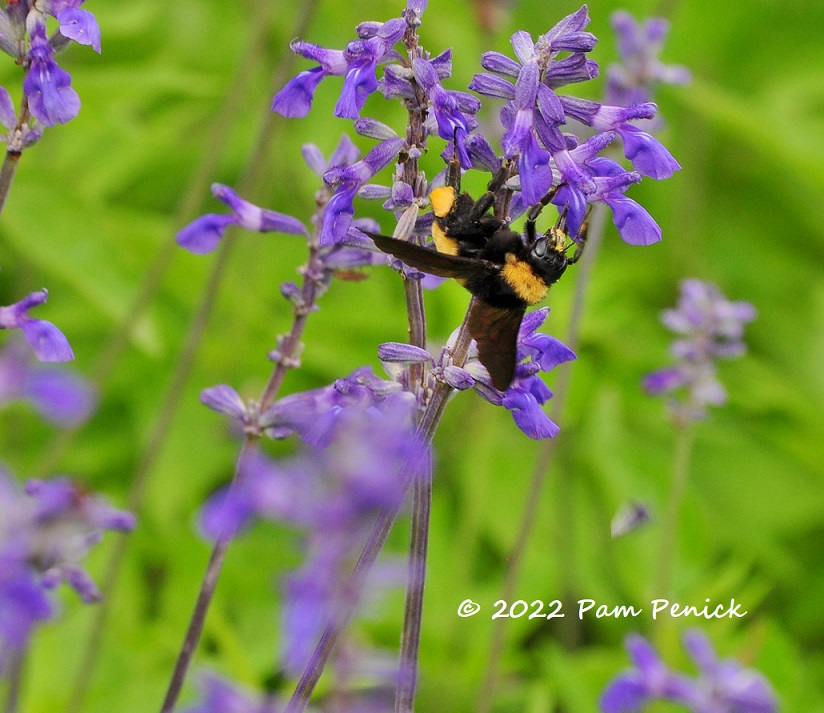 Bees were going after those salvia blossoms too.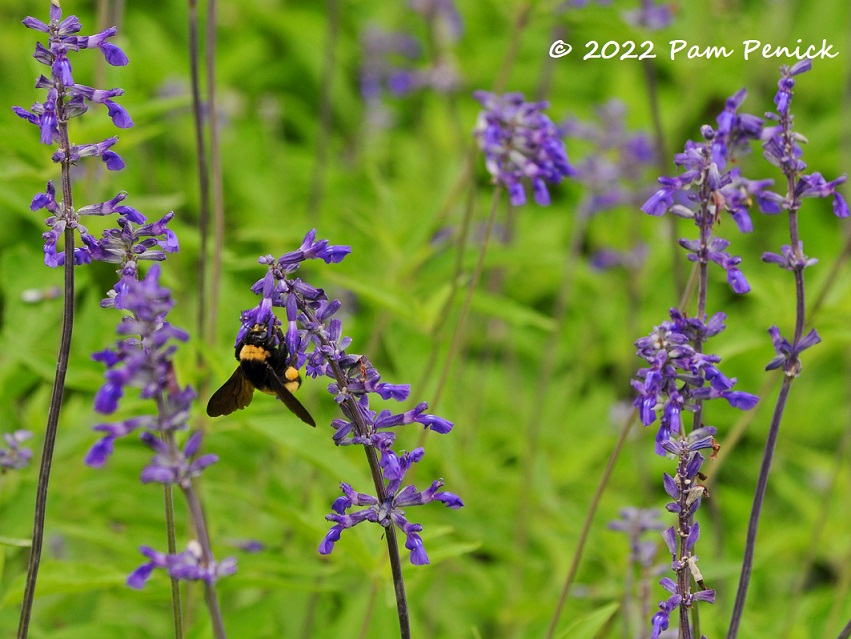 A flower tipper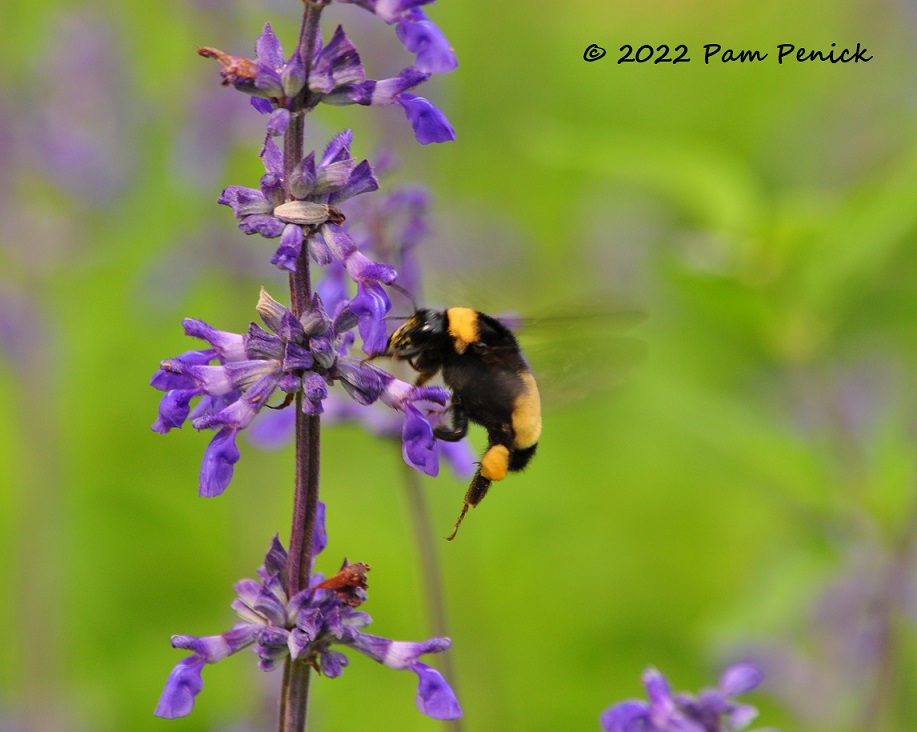 So fuzzy and cute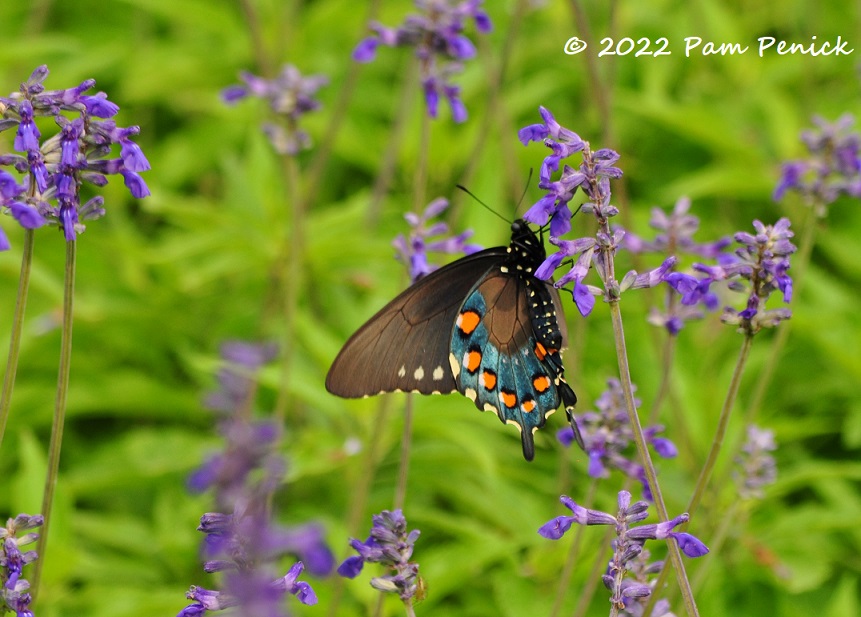 A black swallowtail butterfly found the flowers appealing too.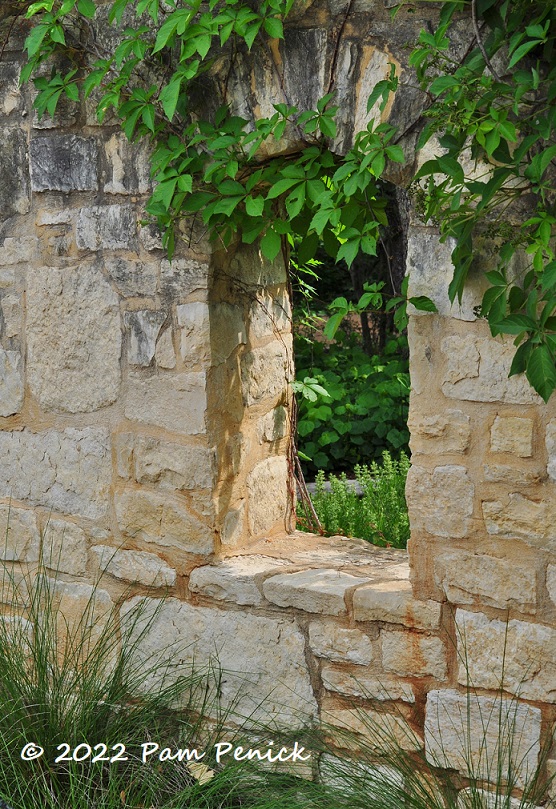 Sunlight beaming through a stone window festooned with Virginia creeper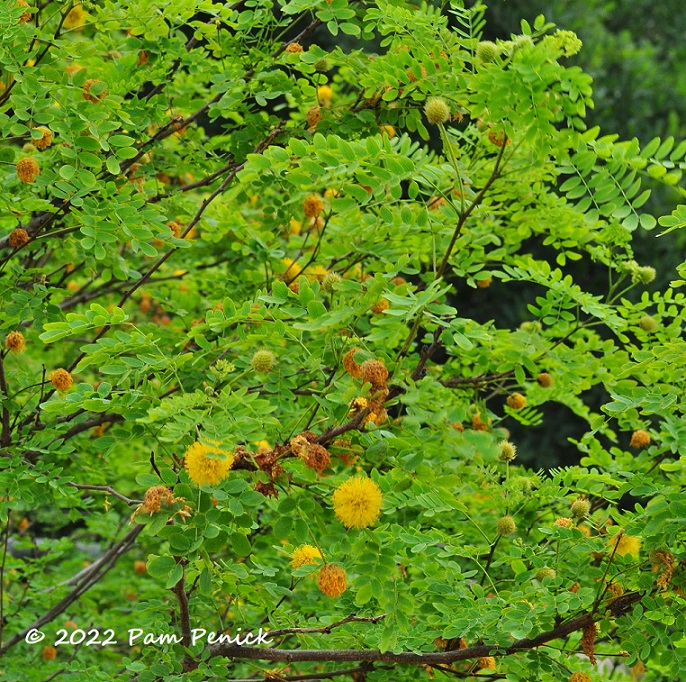 The fuzzy yellow flowers of goldenball leadtree (Leucaena retusa)
Family Garden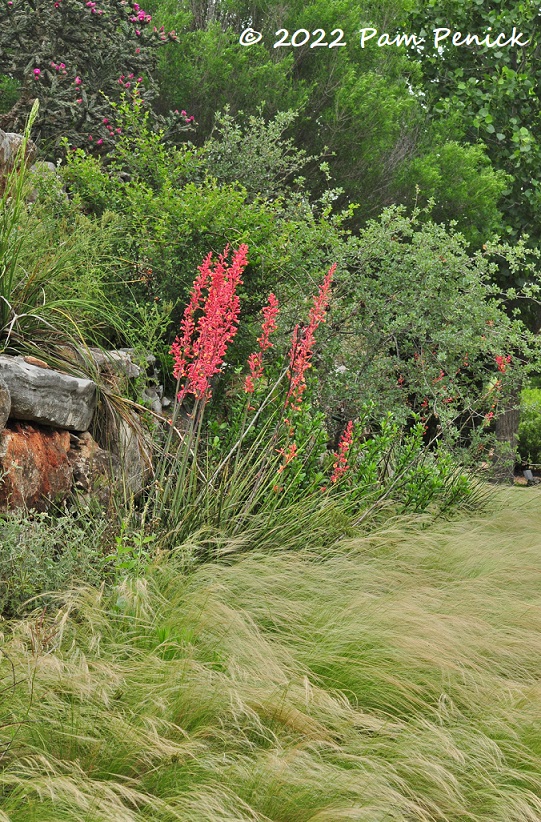 In the Family Garden, behind the rock outcropping with waterfall and caves, this beautiful scene caught my eye: red yucca (Hesperaloe parviflora) in bloom with waving Mexican feathergrass (Nassella tenuissima) in front. Simple yet gorgeous. At the top of the rocky hill, a cholla spangled with pink flowers adds more color.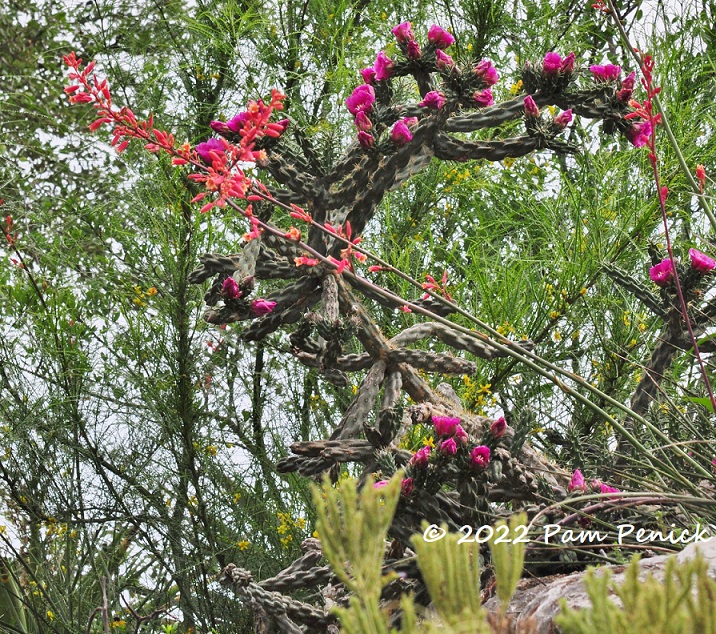 A closer look at that fabulous cholla, with red yucca bloom spikes in the foreground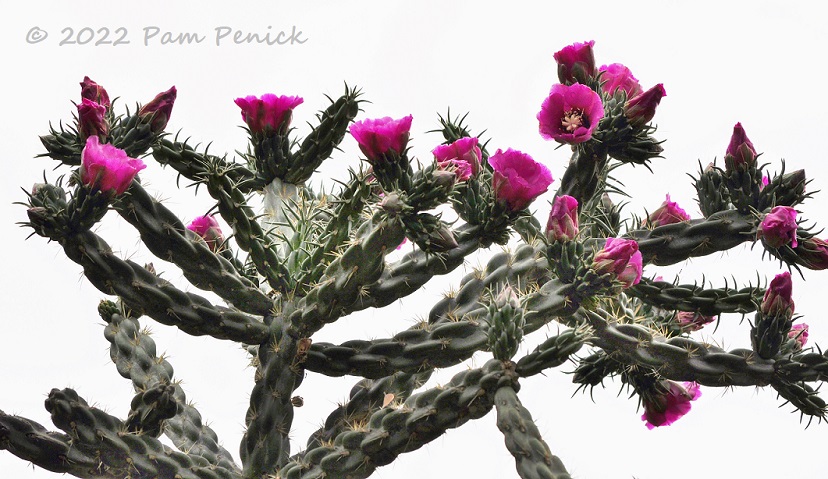 The cholla against a blown-out sky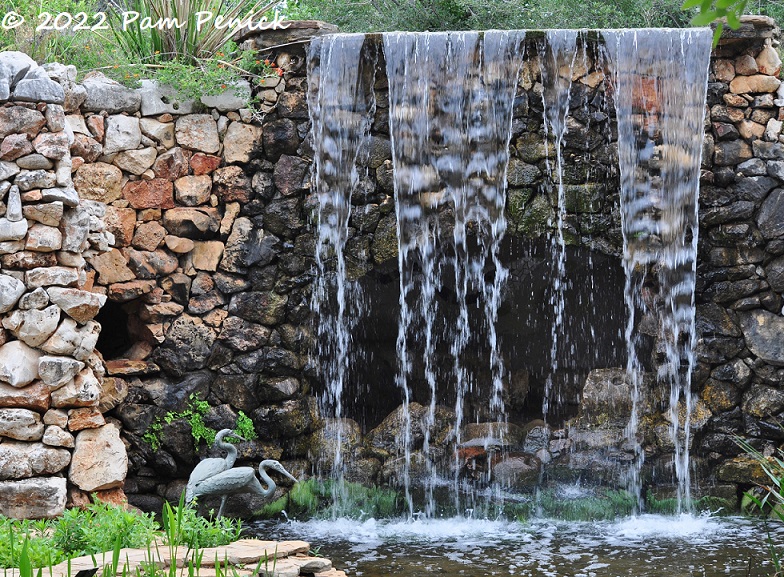 Heading around the rocky hill, I admired the waterfall, and we peeked in the caves.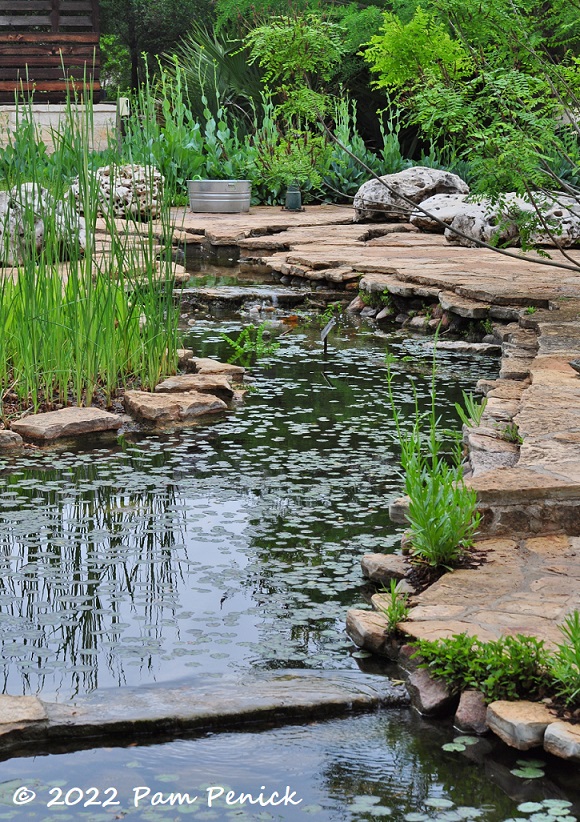 The stream was as inviting as ever, though kids were scarce this day.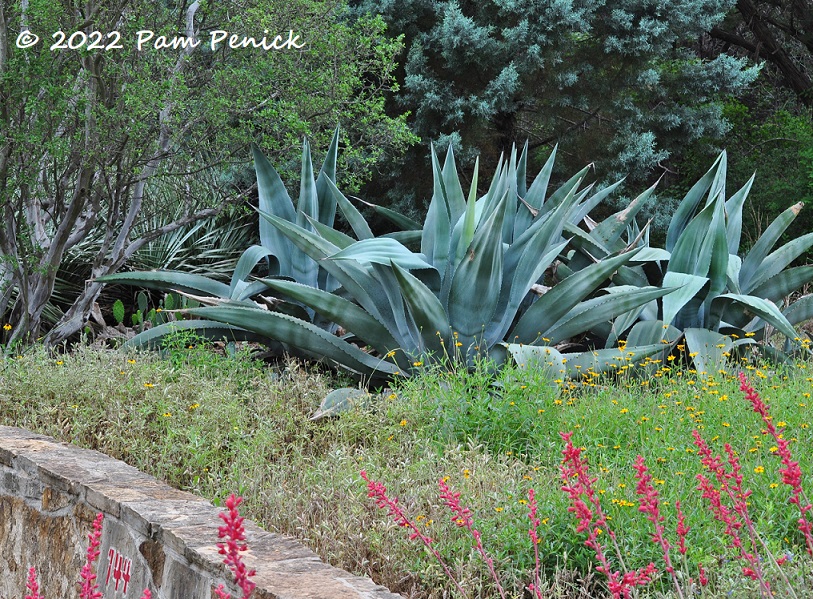 Big agave survivors of Snowpocalypse color-coordinate with 'Blue Ice' Arizona cypress behind them. Red yucca blooms in front.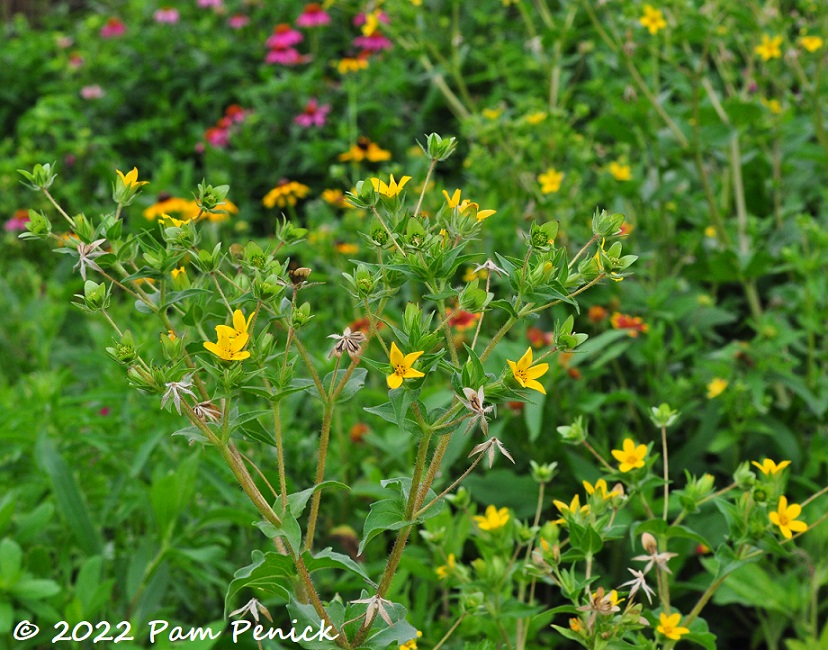 Texas yellow star (Lindheimera texana), a new-to-me wildflower and one of the many, many yellows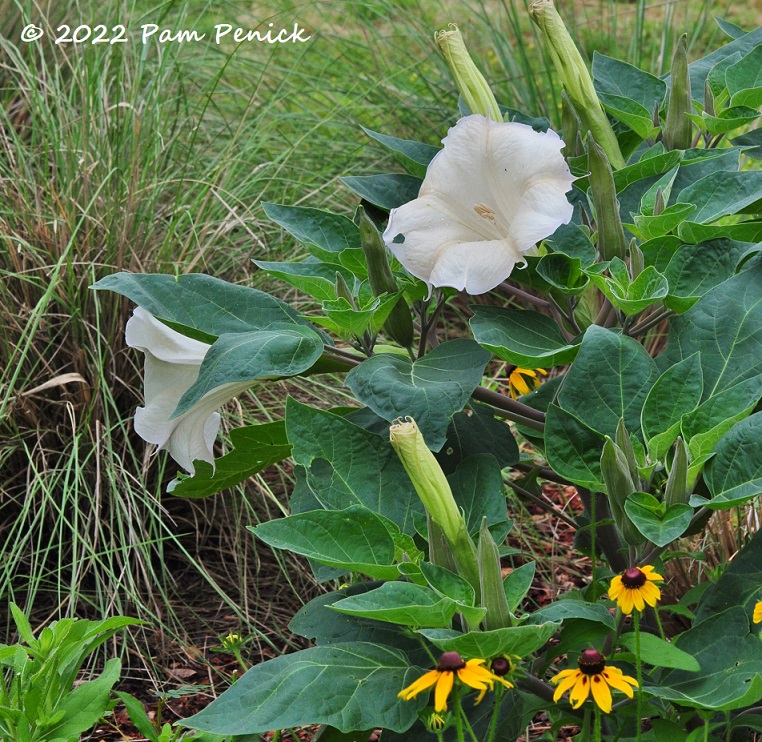 Datura, one of my summer faves
Nectar Garden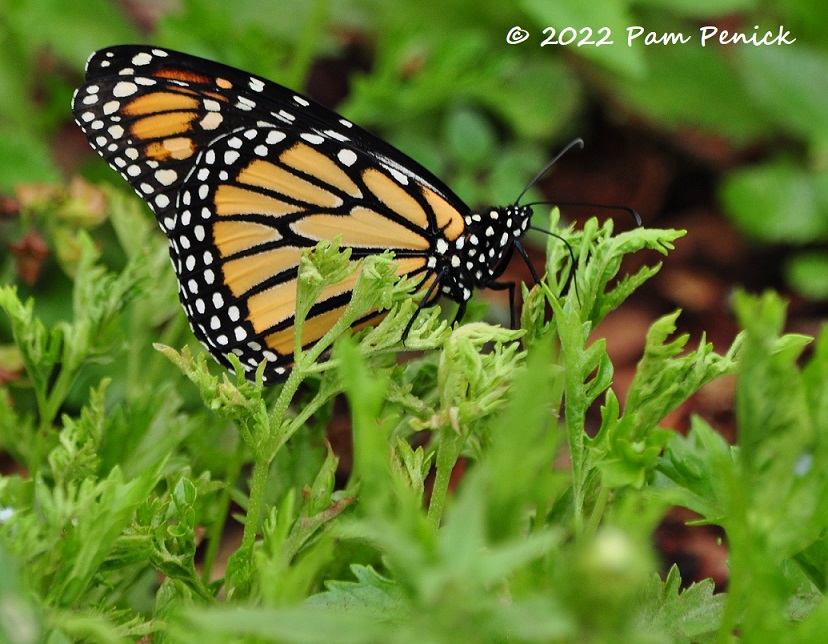 Heading back to the main buildings, we passed through the Nectar Garden and spotted a monarch looking for lunch.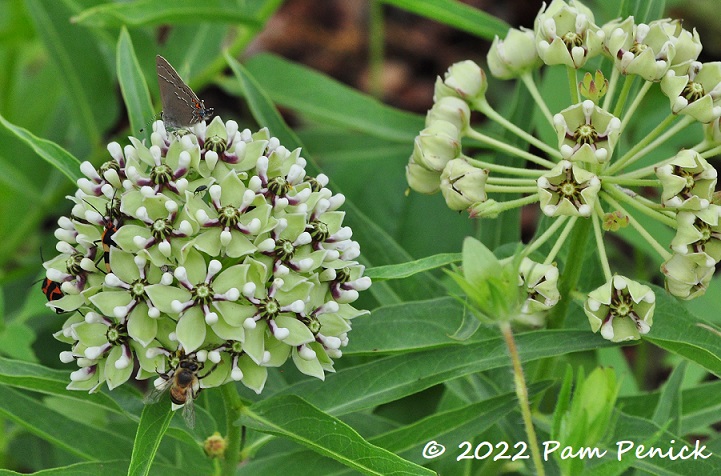 Antelope horns milkweed (Asclepias asperula) makes a popular dining spot, with a gray hairstreak butterfly, a honeybee, and a few bugs gathered around the table.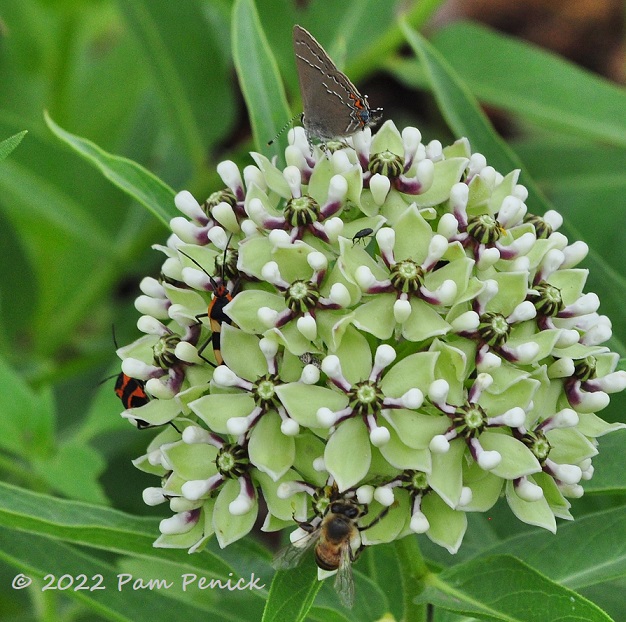 A closer look reveals milkweed bugs, the red-and-black characters on the left. They don't sip nectar but instead pierce and suck plant juices. If you have them, Missouri Botanical Garden advises tolerating the damage, which they say is typically short-lived. Whatever you do, don't treat your milkweed or other pollinator plants with insecticides, since that will also kill off pollinating bees and butterflies and other beneficial insects.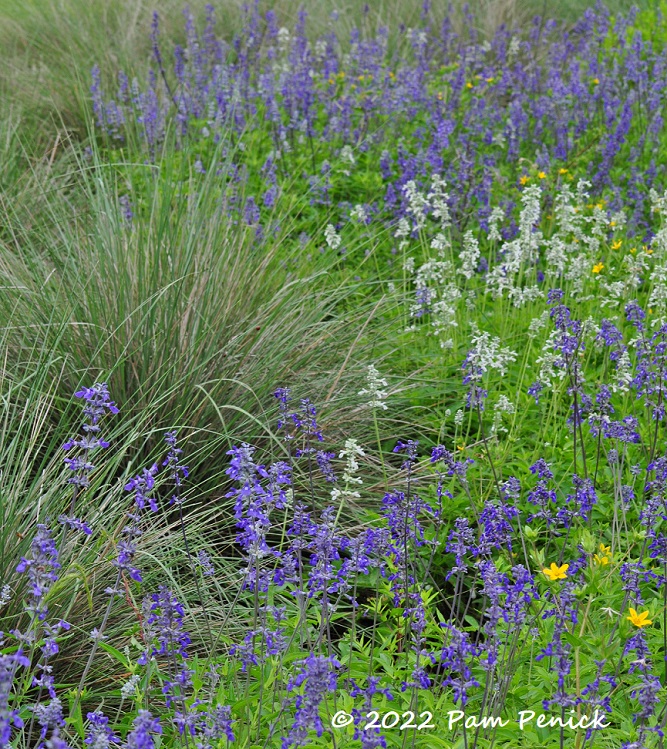 More salvias — a pollinator feast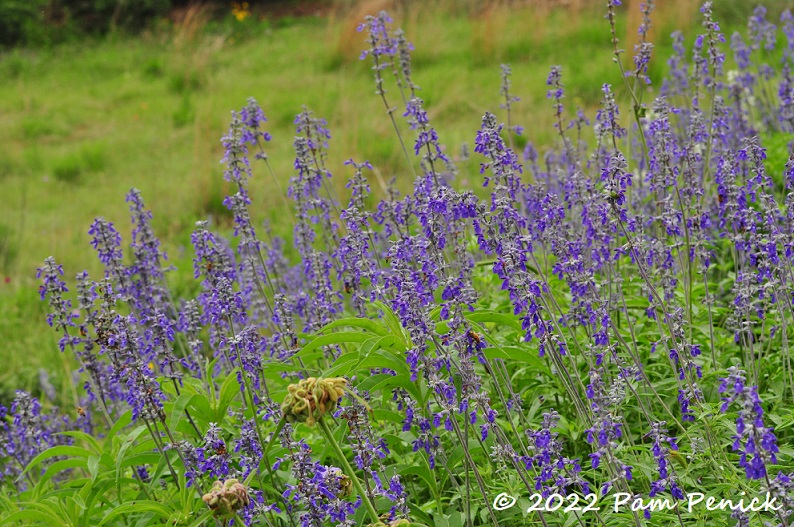 And more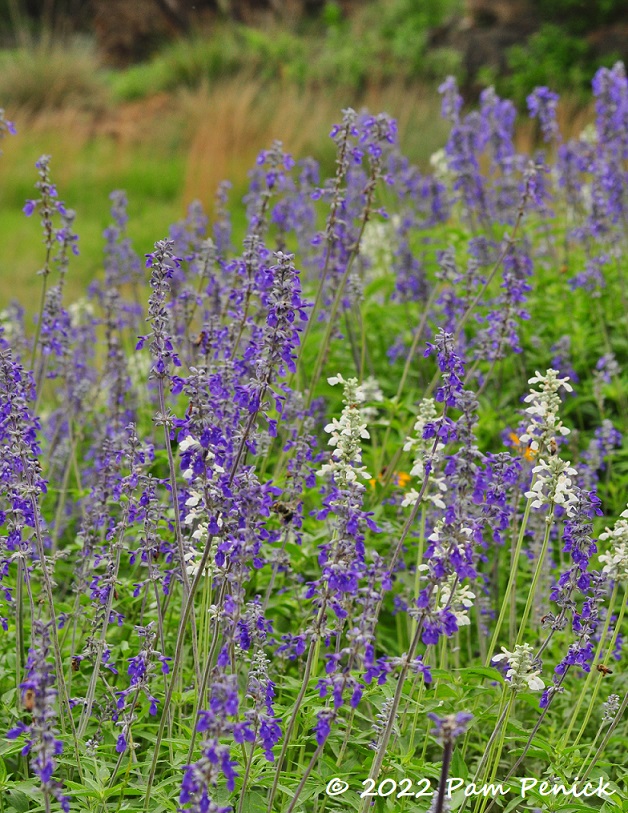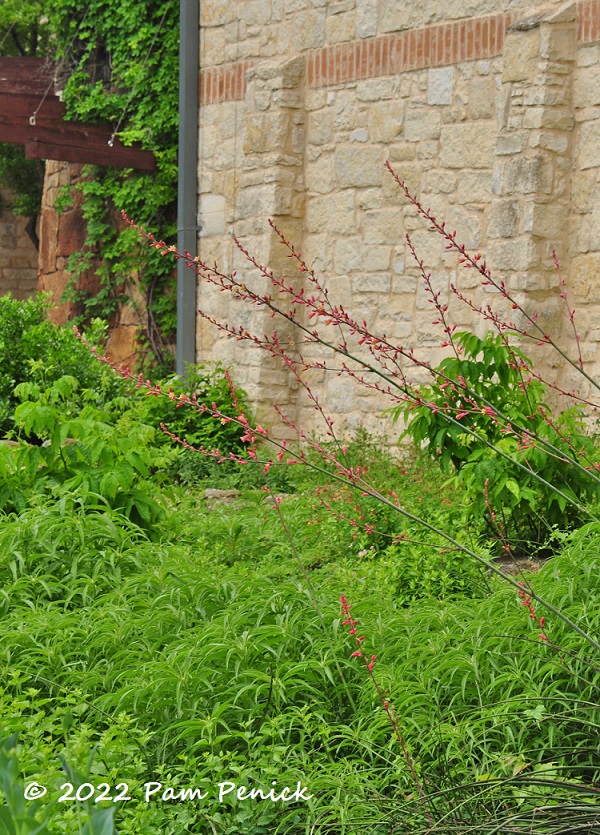 Long flower spikes of red yucca call out to hummingbirds.
Savanna Meadow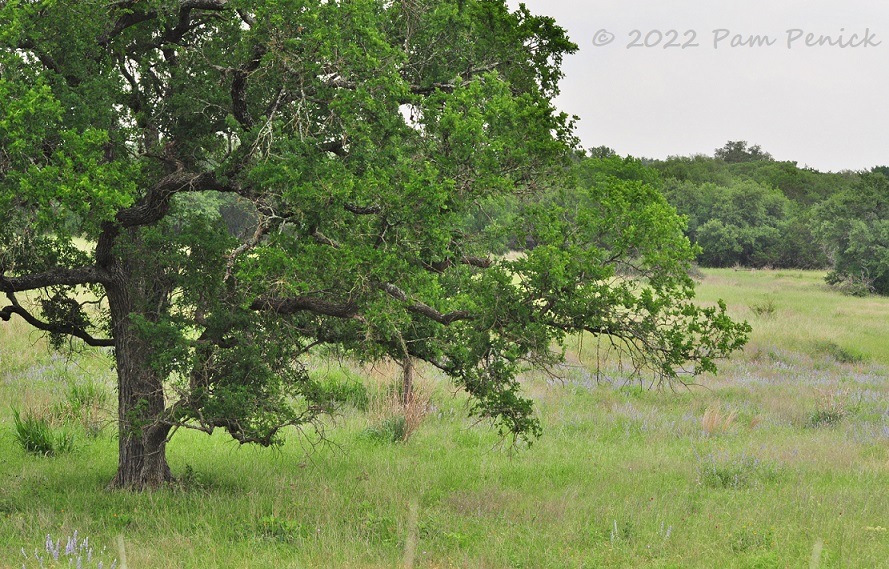 The big meadow lacks wildflower color this year because it's been so dry since last fall. But even its subtler hues are lovely.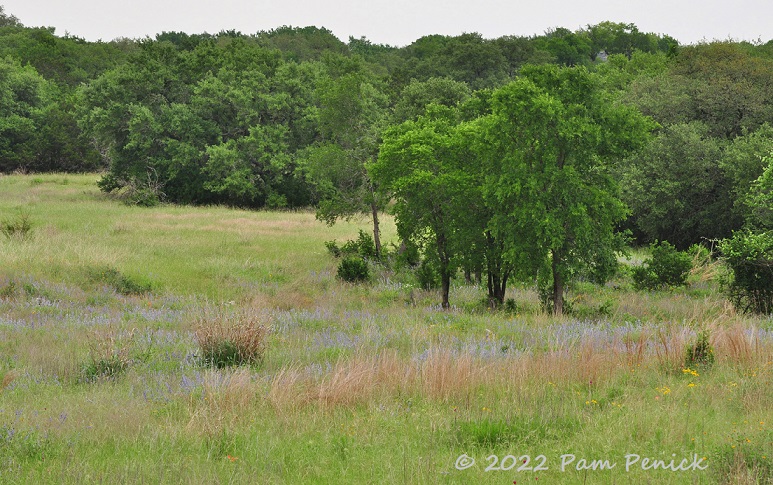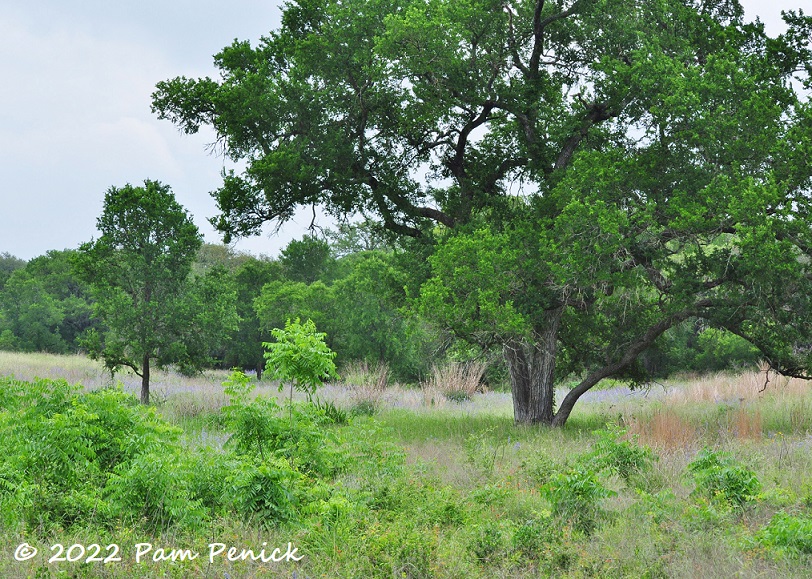 Observation Tower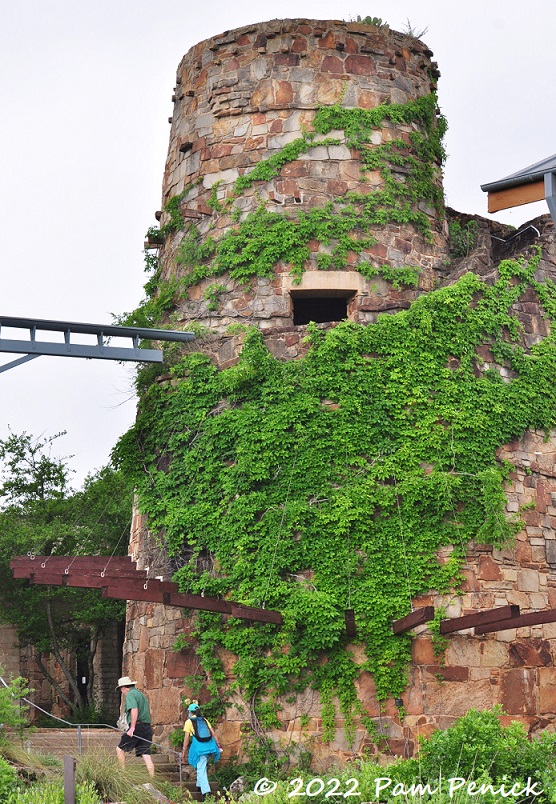 The cistern tower is a must-see with visitors. We climbed to the top and took in the 360-degree views.
Seed Silo Garden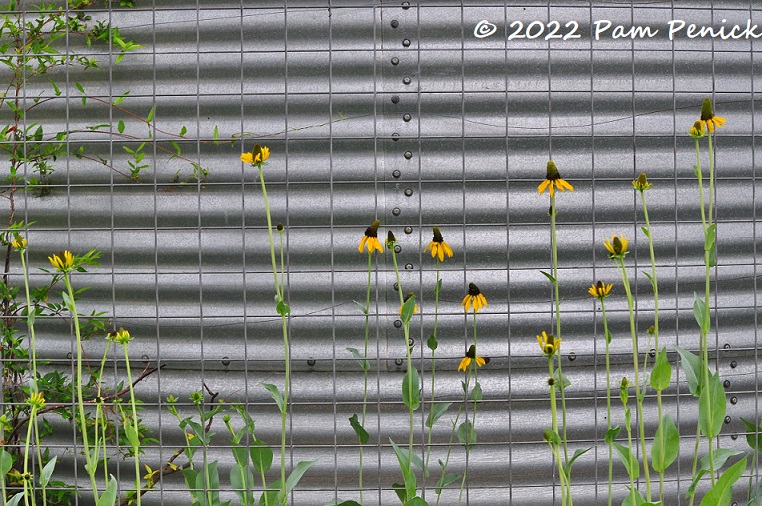 In the main garden, a wire trellis curving around the seed silo supports giant coneflowers coming up.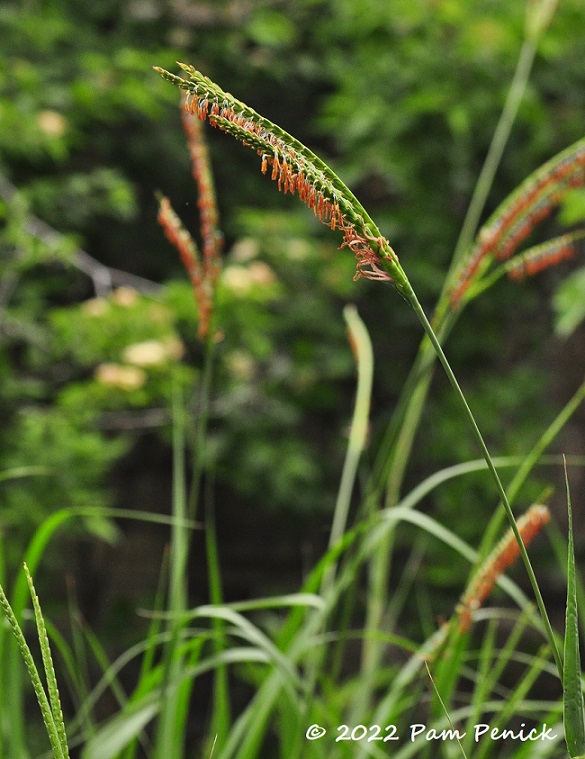 Grassy goodness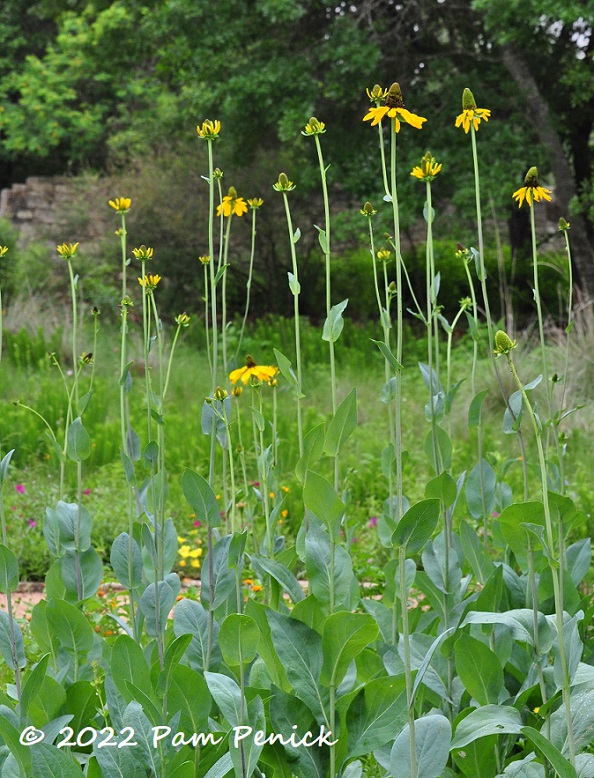 And more giant coneflowers. I love the glaucous leaves almost as much as the giraffe-like flowers.
Hill Country Meadow Garden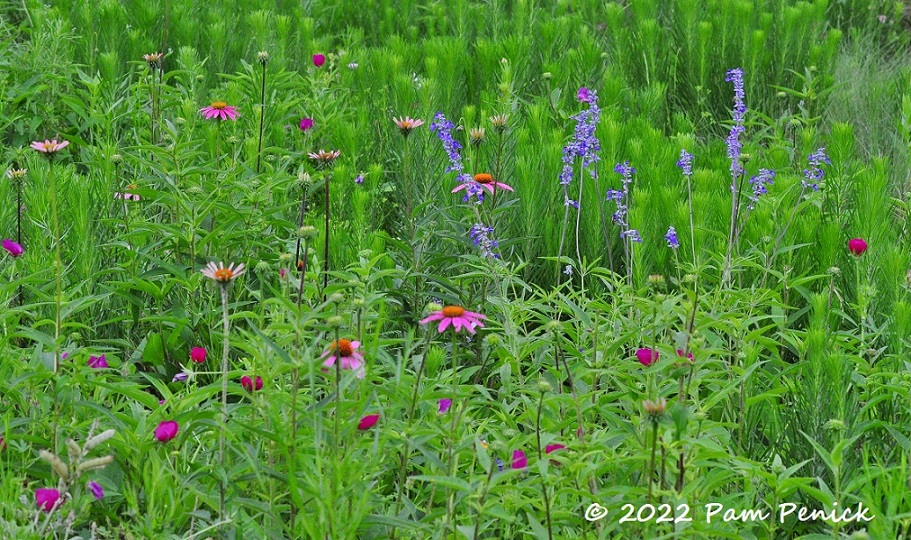 The meadow garden was sprinkled with hot-pink purple coneflowers and hanging-on winecups, plus more salvia.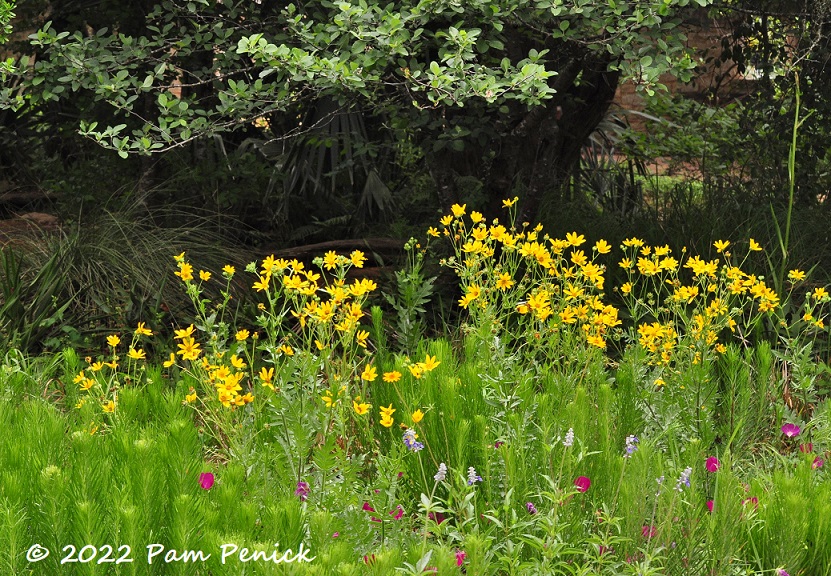 And a nice stand of…yellow something. Sorry, there are just too many yellow wildflowers to keep them all straight.
Courtyard Garden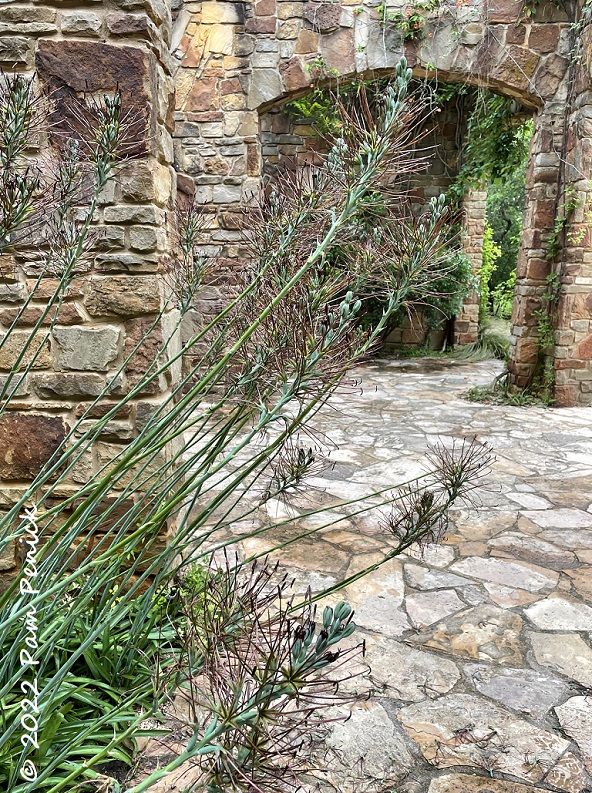 Along the entry walk we gushed over a Dr. Seussian stand of manfreda (Manfreda maculosa) flowers. Those seafoam-green stems! Those bottlebrush-like flowers! The way they bounce in the breeze. Plus they have purple-spotted, fleshy leaves, which you can't really see in this photo. It's all so good.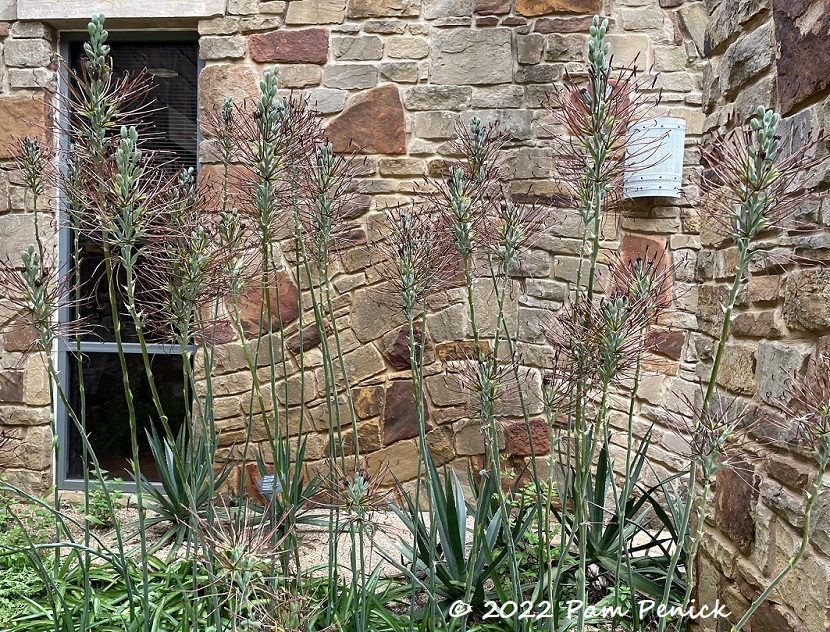 A mass planting is the way to go. And maybe build a rusty-maroon stone wall to show them off against, for good measure.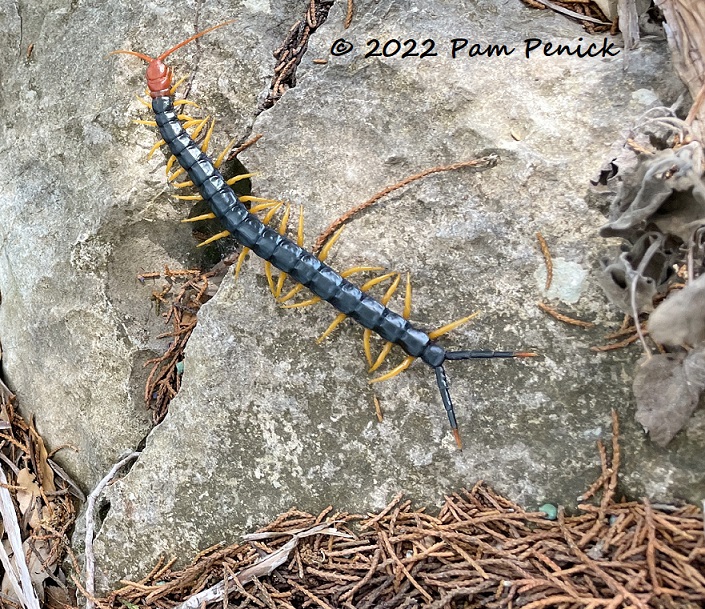 Another cool sighting: a big old centipede. A giant redheaded centipede, to be exact. They have a venomous bite, so no touching. I'd never gotten a photo of one, and I was excited to see it up close.
Gift store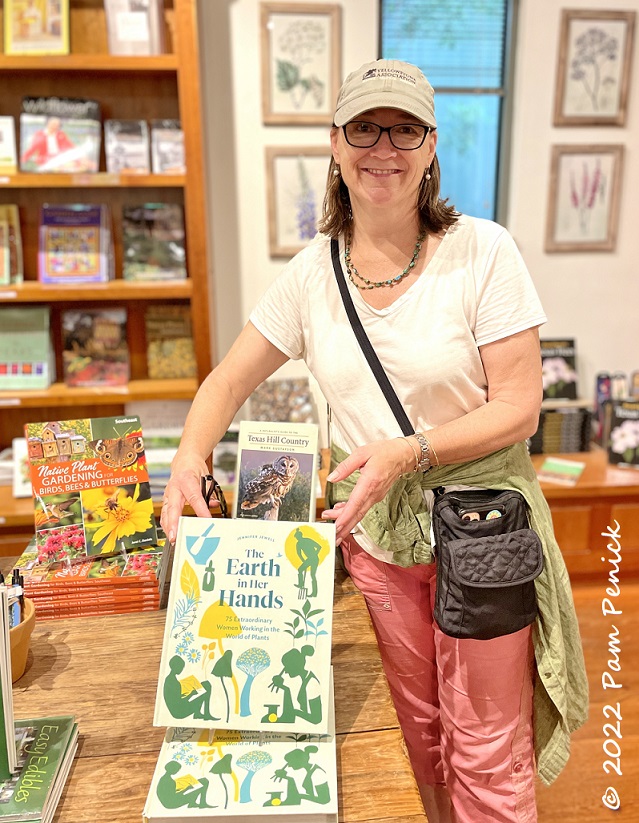 Jennifer and I checked out the gift shop before we left, and we immediately spotted one of her books prominently displayed — yay! Not mine, alas.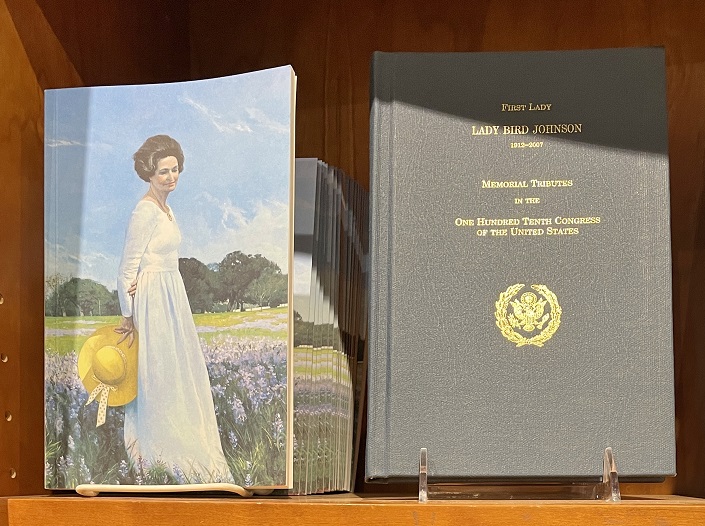 Books on Lady Bird Johnson, the visionary founder of the Wildflower Center
Garden Spark talk with Jennifer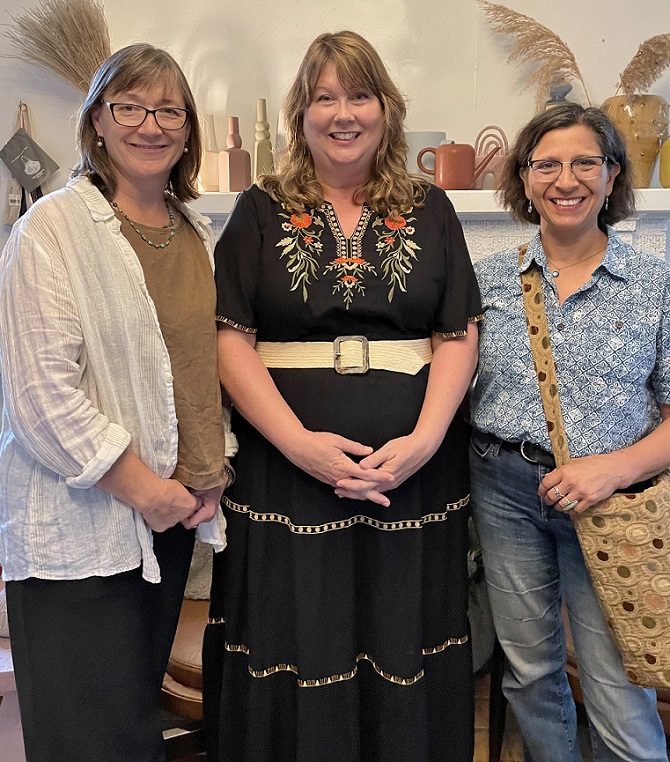 That evening, Jennifer was my featured Garden Spark speaker at Barton Springs Nursery. Andrea DeLong-Amaya, director of horticulture at the Wildflower Center, attended the talk, and I was honored to get a photo with two such inspirational women in the world of plants.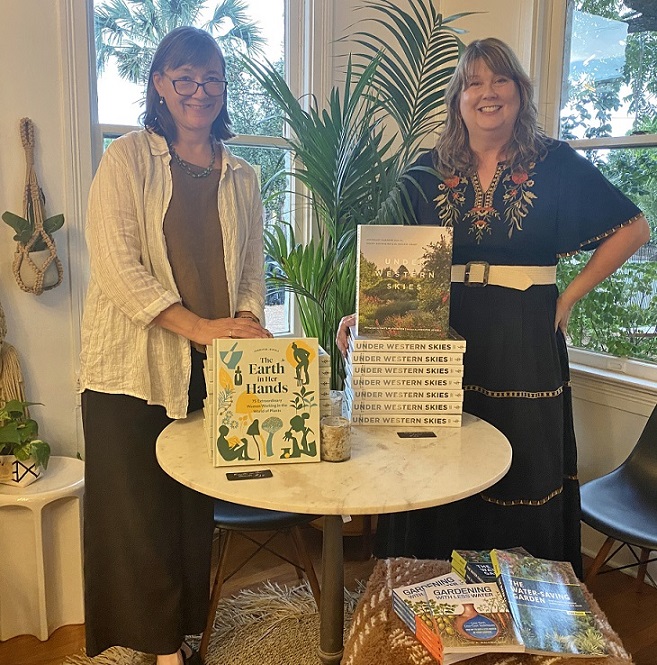 Jennifer held a book signing before her talk. If you don't already know about her books, The Earth in Her Hands and Under Western Skies, I recommend you check them out. I've reviewed both, and you can read those reviews here and here.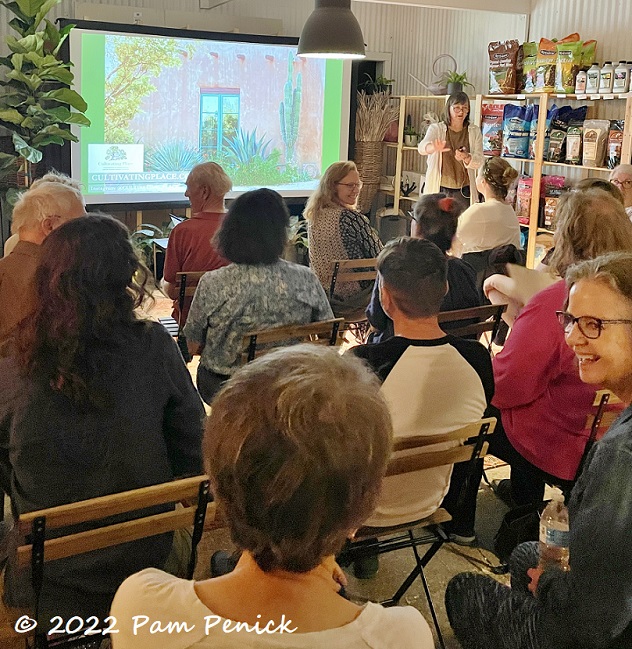 Jennifer then gave an utterly inspiring talk about the power of gardening, and how each of us can make a difference, through the important work of gardening, in our rapidly changing world. If you missed her talk, you missed a good one! Be sure to join Garden Spark's email list to be notified when Season 6 kicks off this fall. Simply click this link and ask to be added. I'm lining up a great roster of speakers and can't wait to share them with you.
I welcome your comments. Please scroll to the end of this post to leave one. If you're reading in an email, click here to visit Digging and find the comment box at the end of each post. And hey, did someone forward this email to you, and you want to subscribe? Click here to get Digging delivered directly to your inbox!
__________________________
Digging Deeper
Join the mailing list for Garden Spark! Hungry to learn about garden design from the experts? I'm hosting a series of talks by inspiring designers, landscape architects, and authors a few times a year in Austin. These are limited-attendance events that sell out quickly, so join the Garden Spark email list to be notified in advance. Simply click this link and ask to be added. The 6th season kicks off in fall 2022.
All material © 2022 by Pam Penick for Digging. Unauthorized reproduction prohibited.