A courageous Andrew Moloney was unable to equal the world title-winning achievement of his twin Jason as he was brutally knocked out in the 12th round by Japan's Junto Nakatani in Las Vegas.
Moloney showed great toughness to get within 18 seconds of going the distance. after being knocked down in the second and 11th rounds of Saturday's fight for the vacant WBO junior bantamweight title. But just when it looked like the 32-year-old Australian was going to last the 12 rounds he was tagged by a perfect left hook to the head.
"That was as brutal a single punch as you will ever see," said one of the fight commentators and it was impossible to disagree. The referee didn't even bother to count as Moloney crashed to the canvas and needed some time and assistance to get back to his feet.
Moloney was floored by an uppercut early in the second but quickly bounced back to his feet. Not until a minute into the 11th Moloney put down again, this time by a straight left where he just beat the count.
Pre-fight favourite Nakatani 25-0 (19 KOs) enjoyed height and reach advantages and dominated when he managed to get some distance and land his hurtful uppercuts.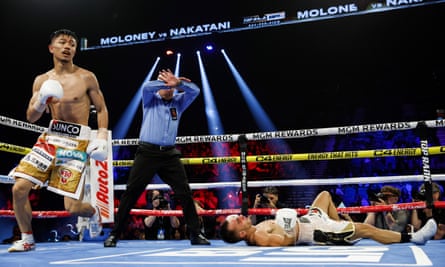 Moloney was attempting to emulate twin brother Jason Moloney's victory in his WBO bantamweight title fight in Stockton, California sevens days earlier.
The former WBA interim super flyweight champion was marked on the head in the second round by Nakatani. In return, an accidental head clash opened up a cut over former WBO flyweight champion Nakatani's left eye early in the third but neither injury was a factor in the fight.
Moloney gradually worked his way into the tussle in the fourth and started to land more regularly in the middle rounds, as he closed the distance and worked his way inside. He did particularly well in the sixth, backing up his opponent and landing some good shots.
Moloney (25-3, 16 KOs) continued to score with some good inside shots in the seventh, though Nakatani also landed some decent blows. Nakatani reasserted himself from the eighth and dictated for the rest of the fight, landing from longer range as Moloney had less success in backing him up and applying pressure.