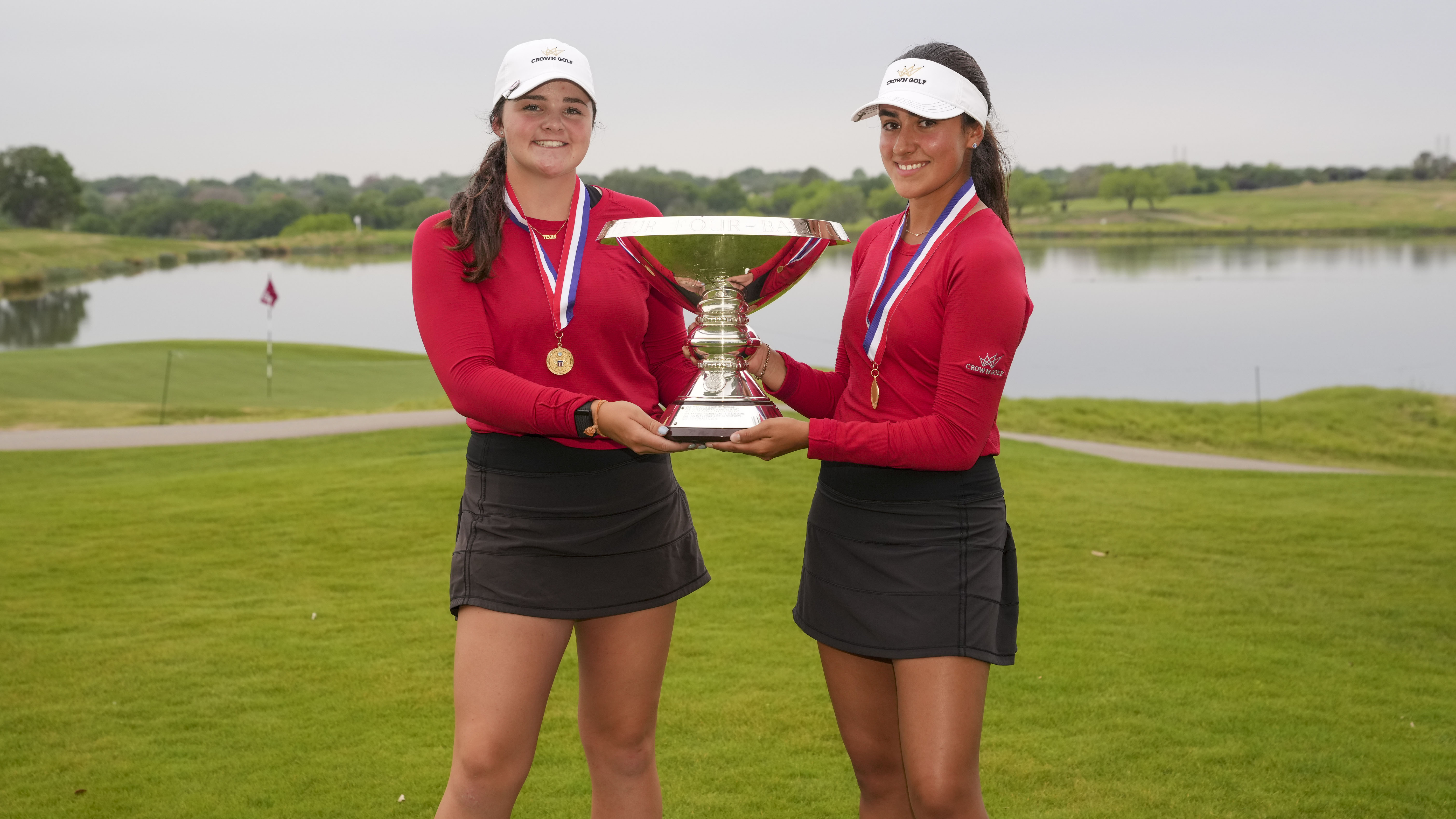 But it was a pair of unheralded 17-year-olds ranked in the 1,500s of the Women's World Amateur Golf Ranking® who walked away with the title.
Savannah Barber, of Fort Worth, Texas, and Alexa Saldana, of Mexico, who became roommates last year at the Arlington, Texas-based Crown Golf Academy 30 minutes from Maridoe, defeated Jillian Bourdage and Casey Weidenfeld, 5 and 4, in Wednesday's 18-hole championship match.
"This means so much," said Barber. "It's really special."
Barber (No. 1504 in the WAGR) and Saldana (No. 1582) completed 36 holes of stroke play with a score of 1-over-par 145, earning the No. 26 seed. But as their match-play wins piled up, so did their confidence.
"We've been preparing for this for a few weeks," said Saldana, "and we [thought we] had a good chance of winning."
For Floridians Weidenfeld, 18, of Pembroke Pines, and Bourdage, 19, of Tamarac, the loss was disheartening. They had hoped to avenge their 2019 championship-match loss to Erica Shepherd and Megan Furtney (both now at Duke University). It was triple disappointment for Bourdage, who also was the runner-up in the 36-hole final of the 2019 U.S. Girls' Junior to current Stanford star Lei Ye at SentryWorld in Stevens Point, Wis., where she barely missed a chance to force extra holes.
"This means so much. It's really special." – Savannah Barber
She joins a list of golfers who have gone 0-for-3 in USGA finals without a title, a group that includes 2021 USGA Bob Jones Award winner Bob Lewis Jr. (1980 U.S. Amateur and 1981 and '84 U.S. Mid-Amateurs), who recently died of cancer, Kerry Postillion (1997, 2005, '07 U.S. Women's Mid-Amateur) and Margaret Gavin (1915, '19 and '22 U.S. Women's Amateur).
"Obviously, it's not the best feeling in the world," said Bourdage, "but that's just what comes along with the game of golf. You're either going to win or you're going to lose. I was trying to take each shot one at a time and keep my head in the game for as long as I could."
But the Ohio State freshman (Bourdage) and incoming Auburn University freshman (Weidenfeld) could never get anything going in the final after taking a 1-up lead on the opening hole with a birdie. Their downfall was four bogeys over a seven-hole stretch that began on No. 7. When Barber and Saldana took the lead for good with a par on the eighth hole, it was the first time all week that Bourdage and Weidenfeld trailed, a span of 75 holes.
A long birdie putt by Saldana on No. 10 pushed the lead to 2 up, and after the two sides matched birdies on the par-5 11th, Saldana and Barber won Nos. 12 and 13 with pars to go 4 up. Saldana closed out the match with a 16-foot birdie on the par-3 14th hole.
The semifinals earlier on Wednesday saw a championship first: two extra-hole battles. Bourdage and Weidenfeld saw their 4-up lead through 11 holes evaporate before finally surviving on the second extra hole, the par-5 11th at Maridoe, against top-seeded Paris Hilinski, 17, of Palm Beach, Fla., and 2018 U.S. Girls' Junior runner-up Alexa Pano, 16, of Lake Worth, Fla. Hilinski and Pano posted winning pars on Nos. 12, 13 and 18 – the latter forcing extra holes – while adding a winning birdie on the par-5 16th.
Saldana and Barber also were taken to 20 holes before prevailing against co-medalists and No. 3 seeds Gianna Clemente, 13, of Warren, Ohio, and Avery Zweig, 14, of McKinney, Texas, who also happened to be the youngest side in the field. Clemente and Zweig rallied from a three-hole deficit to force extra holes.
Image of Barber and Saldana: USGA/Darren Carroll
© Golf Australia. All rights reserved.