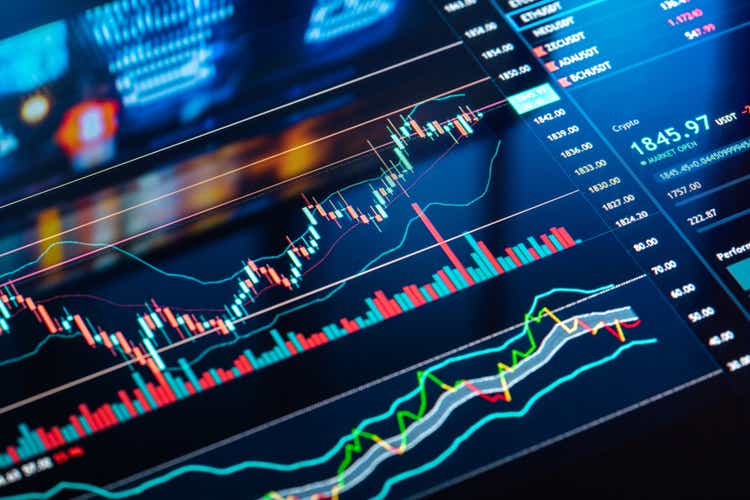 This article was first released to Systematic Income subscribers and free trials on Mar. 13
Welcome to another installment of our BDC Market Weekly Review where we discuss market activity in the Business Development Company sector from both the bottom-up – highlighting individual news and events – as well as the top-down – providing an overview of the broader market.
We also try to add some historical context as well as relevant themes that look to be driving the market or that investors ought to be mindful of. This update covers the period through the second week of March.
Be sure to check out our other Weeklies – covering the CEF as well as the preferreds/baby bond markets for perspectives across the broader income space. Also, have a look at our primer of the BDC sector with a focus on how it compares to credit CEFs.
Market Action
The BDC sector was down about 2% this week – an unusually weak result given the sector's resilience this year. Prior to this week the sector was flat year-to-date.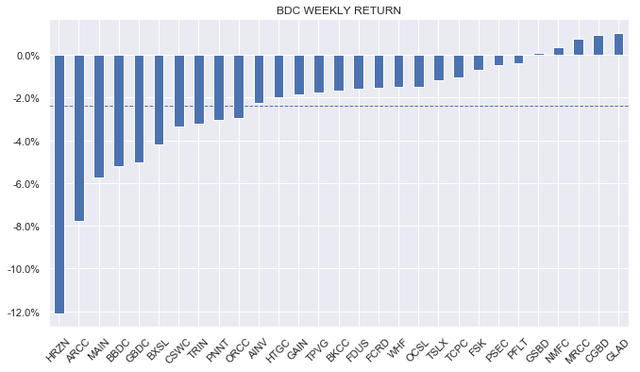 Underperformers this year are typically of two flavors. The first group have either idiosyncratic reasons such as the Blackstone Secured Lending Fund (BXSL) which continues to face lock-up expiration pressure as well as the Horizon Technology Finance Corp (HRZN) which had a large public offering this week.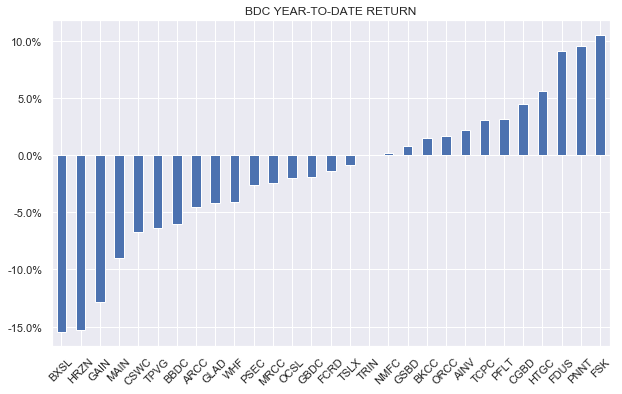 The second group are largely higher-valuation BDCs which have tended to underperform this year as the following chart shows.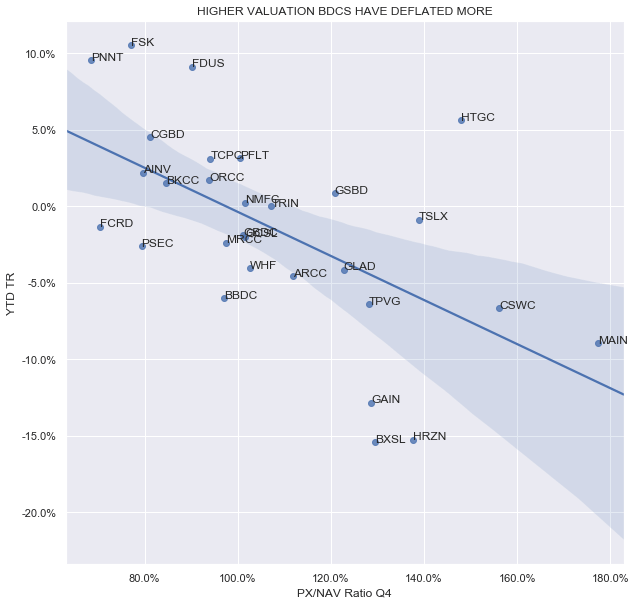 This sharp valuation underperformance for the higher-valuation BDCs in a relatively calm period for the sector is relatively unusual but it does continue to highlight the lower margin of safety available in some of these names.
Market Themes
Recently we came across some third-party commentary that suggested that 7 of 9 BDCs by largest net assets and 8 of 10 BDCs by largest market cap are "best of the best" – something that didn't make a ton of sense to us. Surely, 80% of the largest BDCs can't possibly be "best of the best" otherwise the phrase "best of the best" loses its meaning, even if we include the entire BDC space of 40+ entities.
Ultimately, "quality" is what most income investors are after in their portfolio allocation. However, because there is no one objective quality metric, most often investors have to turn to proxies of quality. In this section we take a look at some of these proxies and see whether they can provide a reasonable approximation of "quality".
Even if we don't agree with the quantum of the conclusion above let's see if looking to size in gauging quality BDCs is a sensible way of going about it. There is some intuition to support this. Larger BDCs will tend to have larger staff to analyze new deals and help their portfolio companies. They should also have a larger network to identify attractive opportunities. And historic success would have allowed them to grow their asset base more easily via unrealized and realized gains as well as more readily received public offering of new stock.
However, if we look at the chart of BDCs by net assets (x-axis) vs. 5Y Total NAV returns below we struggle to make out any pattern at all. It is true that a number of BDCs that are commonly regarded as "better" do tend to fall into the larger bucket such as ARCC, MAIN, GBDC and others, however there doesn't seem to be an obvious pattern in this plot linking size to better book value (including dividends) returns. If there were, the scatter plot would be diagonal – running from lower left (smaller size / lower historic returns) to upper right (larger size / higher historic returns).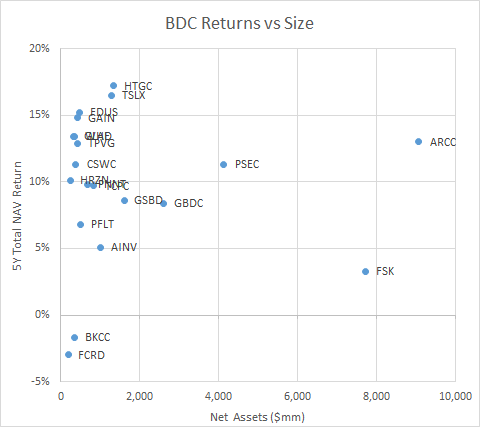 Some investors may quibble with using 5Y Total NAV returns as a sanity check here but it surely can't be useless. In other words, a BDC that is regarded as "one of the best" should also have delivered strong book value returns (including dividends) over the past 5 years.
And, in any case, if we look closely at the BDC sorted by size then within the top five BDCs we see PSEC and FSK that are regarded by many investors as uninvestable (outside of tactical allocations, perhaps). What this tells us is that gauging any kind of quality characteristic from BDC size is too inconsistent to be very useful so we can discard it.
Another suggestion is to use valuation. The idea here is that the "best" BDCs trade at significant premiums. If we glance at the chart of valuation (x-axis) vs. 5Y total NAV returns there does look to be a clear association – BDCs with higher 5Y total NAV returns tend to boast higher valuations.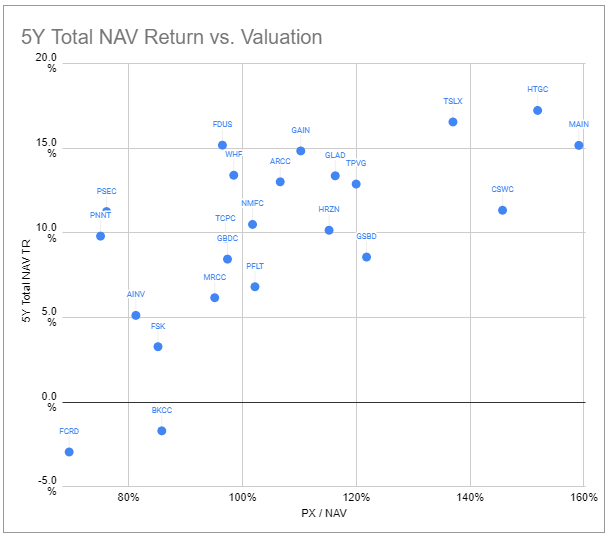 However, what's interesting is that this association is not terribly consistent. For example, MAIN at a 159% valuation has delivered the same 5Y total NAV return as FDUS which trades at a 96% valuation and CSWC which trades at a 146% valuation has underperformed ARCC which trades at a 107% valuation by 1.7% per annum in total NAV terms. The underperformance on price would have been even worse because of the valuation impact on historic dividends if purchased at current valuations.
Of course, there are, arguably, other reasons for the elevated valuation of MAIN and CSWC besides total NAV returns. However, the focus on valuation doesn't really answer the question of how high a valuation is too high? Is the MAIN valuation gap of 54% (i.e. 159% vs 105%) relative to the average BDC too high or too low or just right? And if everything is priced "just right" why are we even going through the motions of trying to allocate to the "best" BDCs if everything is priced correctly by the market. Hanging our hat on valuation doesn't really get to the heart of the quality question since it doesn't tell us how much is too much to pay for quality (is MAIN at 200% too high?). Plus, it also has a circular feel to it – the price is high because the quality is high and the quality is high because the price is high.
NAV growth (i.e. ex-dividends) is often pitched as a key metric to follow, however, it's skewed by different dividend policies of BDCs as well as the size of the equity allocation. BDCs with more conservative dividend policies will tend to retain more income and, hence, show a higher NAV trajectory. Moreover, the timing of special dividends will make a big dent in the NAV. Whenever tracking NAVs are recommended by other analysts it always comes with a disclaimer of "except ignore BDCs A, B, C, D and E because of large specials" which is not particularly useful. Separately, moves in equity markets will often filter into marks of private equity positions so a BDC with a relatively high equity allocation will look better during an equity market uptrend and worse during a downtrend – not exactly the consistency we are going for.
Coverage ratio is sometimes carted out as a key quality metric but it's obviously skewed by a discretionary choice of where to set the dividend. A way to show a great coverage ratio is to simply drop the dividend. A feature of the BDC that is entirely at the discretion of its managers surely can't be a great measure of quality.
Diversification is another metric of quality often highlighted by analysts. However, the experience of the last few years surely shows that it is BDCs with lower allocation to cyclical sectors like Retail and Energy (i.e. those that are, arguably less diversified) that have moved through 2020 with fewer dings in their portfolios. Diversification can also easily lead to overdiversification where managers are adding low-conviction positions to the portfolios. Finally, a BDC like PSEC that holds not just first-lien loans but has also "diversified" into real estate and CLOs is, arguably, much more diversified relative to the average BDC and yet few investors would put it at the top of the quality list.
Ultimately, in our view, there are no simple answers to the quality question. Gun to our head we would highlight metrics such as through-the-cycle total NAV returns, NAV resilience over market shocks, cumulative unrealized and realized gains, historic non-accrual levels and several more. In short, investors have to rely on a number of different metrics to gauge BDC quality. This may be more difficult, however, the upside of the process is that it should result in higher-conviction portfolios.
Market Commentary
HRZN took a tumble of 12% this week on the back of the large public offering at $14.35. The issuance is going to be accretive to the NAV given its high valuation. The company intends, in part, to pay off its credit facility with the money. This will lower leverage and also lower NII per share. It feels like an odd time to be paying off debt when loan discount margins have improved significantly.
HRZN valuation is now 115% and this has been deflating for some time. It could very well see a pop here as it's going to screen cheap based on RSI and recent valuation metrics. In our view, however, it would be a good idea to see if it can turn around its below-average performance.
On the valuation / performance chart HRZN does not look obviously attractive. There are many other BDCs that have delivered a similar or stronger 5Y total NAV returns that trade at lower valuations. Other tech-focused BDCs (HTGC, TPVG) have delivered much stronger results.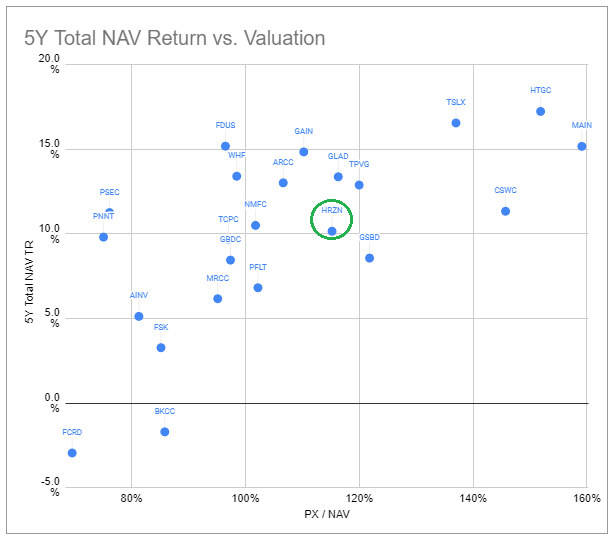 GBDC has moved to a sub-100% valuation. GBDC is a first-lien focused, lower-fee, low debt expense BDC with decent historic returns. It has tended to underperform the broader sector and this is likely due to its relatively low-yielding portfolio rather than any losses – realized/unrealized gains have been positive. Adjusted NII has been creeping up and if this continues the company should be able to raise its dividend back to its pre-COVID level.
ARCC has fallen fairly quickly, now at a 107% valuation. It's not particularly cheap yet but it's worth watching along with TRIN at 107% – two of the higher-performing BDCs whose valuations have continued to reverse. Closer to 100-105% would make them more attractive for an entry position.
Stance And Takeaways
The recent fall in BDC valuations as shown below could just be noise. However, it could also be a pricing in of lower Fed hike expectations which would result in lower NII in the sector than expected earlier. For instance, Chair Powell took a 50bp hike off the table in his testimony and the escalation of the European geopolitical crisis has increased the likelihood of a recession which would further reverse earlier hiking expectations. This valuation reversal could also be due to continued pressure from broad-based weakness across both public equity and credit asset prices.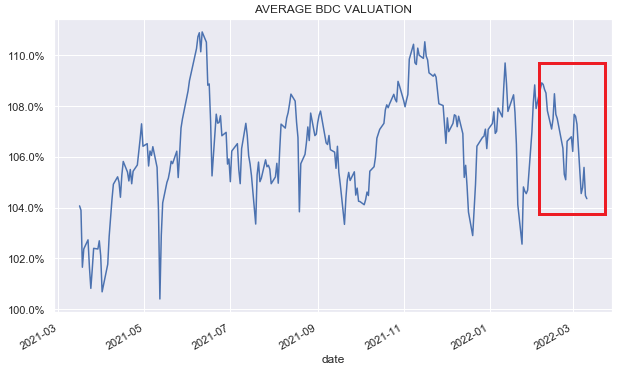 If this is true then some of the recent valuation compression is simply a fair-value response to these two factors. While we remain cautious on the broader sector we do see value in the Fidus Investment Corp trading at a 11.01% total dividend yield and a 96% valuation, the Golub Capital BDC trading at an 8.08% dividend yield and a 97% valuation and the TCP Capital Corp (TCPC) trading at a 8.61% dividend yield and a 97% valuation.