7.19am EST
07:19
Updated
at 7.19am EST
7.15am EST
07:15
On an island not known for its snow or ice, something is stirring. Not so long ago when Team GB turned up at the Winter Games, they left with their medal cupboard looking barren or bare. Sure, there was the occasional highlight – and those of a certain age will see Robin Cousins, Torvill and Dean and Rhona Martin in their mind's eye – but as a winter sports country, Britain carried a distinct whiff of Eddie the Eagle: harmless and a little bit hapless.
Updated
at 7.21am EST
7.12am EST
07:12
Updated
at 7.20am EST
7.08am EST
07:08
Updated
at 7.14am EST
7.04am EST
07:04
This year's Winter Olympics is also a game of competing narratives. China's slogan is "Together for a Shared Future", but opponents draw attention to the country's human rights record.
Last night, US Speaker Nancy Pelosi, US's top Democrat in Congress, highlighted Beijing's actions in its own Xinjiang region, saying the country's treatment of its Uyghurs population is "horrible" and "diabolical". She also called the camps – which the Chinese call vocational education and training centres – in Xinjiang "slave labour".
The US and some of its closest allies – including the UK – have staged a diplomatic boycott. Attendees to the Winter Games in Beijing tonight include Russia's Vladimir Putin, Saudi Arabia's Mohammed bin Salman, Kassym-Jomart Tokayev of Kazakhstan and Poland's Andrzej Duda.
6.57am EST
06:57
Of all the sport I watched in the 1970s nothing – not Gordon Banks's save in Mexico, the Rumble in the Jungle or Emlyn Hughes hugging Princess Anne on a Question of Sport – made such an impression on me. Thinking about it now I realise something: I remember the whole of Franz Klammer's run at Innsbruck in vivid colour. Odd, because I know for a fact that the television I watched it on was black and white.
6.50am EST
06:50
The opening ceremony of the Beijing Summer Olympics began at 8.08pm local time on 8 August 2008; the Chinese believe eight is an auspicious number. That evening, Chinese-American Kaiser Kuo was watching from the balcony of his apartment in eastern Beijing. "It was meant to be impressive, and watching as a Chinese person, it certainly was: all the pageantry of history, the flawless performances, the grand scale," Kuo says.
"But watching through my western eyes, this spectacular event also played into a sense of fear: the robotic juggernaut and machine-like rise. It was intimidating."
Updated
at 6.55am EST
6.43am EST
06:43
The opening of the Games featured prominently on national broadcaster CCTV's main evening news bulletin. Tonight, the programme began with a long segment on the Xi-Putin meeting, which was held this afternoon, and ended with a bird's-eye view of the Birds Nest, where the ceremony is about to be held.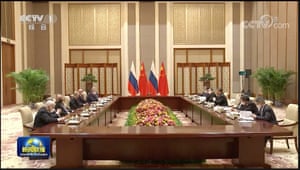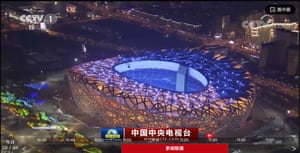 Updated
at 6.54am EST
6.40am EST
06:40
Over the 17 days of the 2008 Summer Olympics in Beijing, more than 70% of the American population tuned in to watch on NBC, which has owned the exclusive US broadcast rights since 1988. The official audience figure of 215m domestic viewers far exceeded guarantees to advertisers and represented the apotheosis of the network's star-driven storytelling ethos under longtime NBC Sports chairman Dick Ebersol, one of the last high-profile sports TV impresarios.
But as the Olympics return to the Chinese capital less than 14 years on, the awareness and general buzz around the Games stateside, while impossible to quantify with any precision, has never felt lower.
6.17am EST
06:17
Updated
at 6.24am EST
6.10am EST
06:10
Preamble
Updated
at 6.14am EST