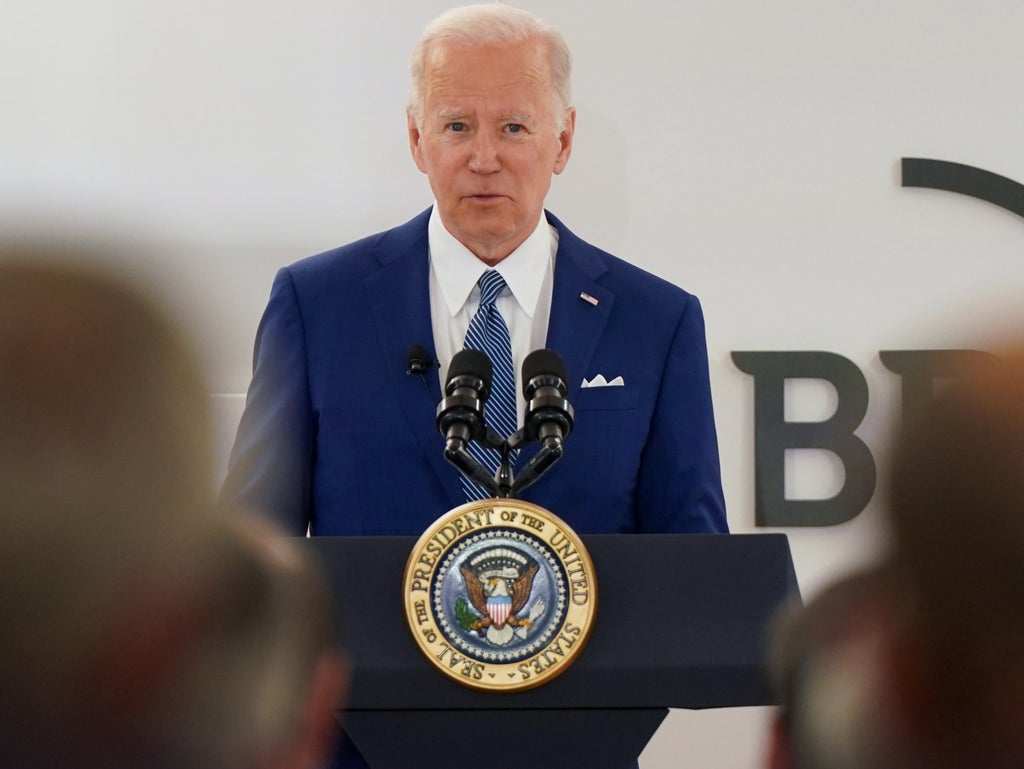 Joe Biden talks about 'new world order' in Business Roundtable address
Joe Biden has inadvertently drawn the attention of conspiracy theorists with remarks he made at the end of a speech about the implications of Russia's assault on Ukraine.
Speaking at a meeting of the Business Roundtable lobbying organisation, Mr Biden declared: "Now is a time when things are shifting. We're going to — there's going to be a new world order out there, and we've got to lead it. And we've got to unite the rest of the free world in doing it."
The "new world order" conspiracy theory dates back decades, and holds that a nefarious elite led by the United Nations and other shadowy forces is planning to install a single transnational global government via the use of force – possibly with the involvement of US agencies including the Federal Emergency Management Agency, which some believe is preparing to put Americans in concentration camps.
Meanwhile, Mr Biden is planning a trip to Poland to shore up his administration's commitment to it and other Nato allies in eastern Europe. The visit comes after the US rejected a proposal under which Poland would have supplied Ukraine with MiG-29 jets via a US airbase in Germany.
1647977232
Jimmy Kimmel teases Republicans over Ketanji Brown Jackson hearings
On his late-night show Jimmy Kimmel Live!the host joked that the hearings "give a number of our Republican senators a chance to compete in one of their favourite events: the subtle racism jamboree".
Oliver O'Connell22 March 2022 19:27
1647975913
Biden outlines goals of Europe trip
In a series of tweets, President Joe Biden has spoken about the goals of his trip to Europe.
"Tomorrow, I'm traveling to Europe to meet with our allies and partners exactly one month after Putin accelerated his brutal war in Ukraine," he says. "My first stop is Belgium where I'll meet with our NATO Allies, G7 Leaders, and European Union leaders to discuss our efforts to support Ukraine and impose severe costs on Russia for its invasion."
He continues: "Then I'll travel to Poland to hold a bilateral meeting with President Andrzej Duda. I look forward to discussing our response to the humanitarian and human rights crisis Russia has created in Ukraine."
Mr Biden adds: "On this trip we will make clear that the West is united in our defense of democracy. Putin thought he would divide us, but we are stronger than at any time in recent history. We stand with Ukraine and we will continue to ensure Putin pays a heavy economic price for his actions."
Oliver O'Connell22 March 2022 19:05
1647974713
Eric Trump mocked for Biden bike comments
Eric Trump was quickly ridiculed after he criticised Joe Biden for going for a bike ride while spending the weekend at his beach house in Delaware amid the ongoing Russian invasion of Ukraine.
People were quick to point out the enormous amount of time his father spent on the golf course as president.
Oliver O'Connell22 March 2022 18:45
1647974505
Polish proposal to expel Russia from G20 met with 'positive response' from US
A proposal by Poland to expel Russia from the G20 has been met with a positive response from the US according to Minister of Economic Development and Technology Piotr Nowak.
"The matter is to be handed over to President Biden."
Oliver O'Connell22 March 2022 18:41
1647974128
Russian cyber attack could trigger collective response from Nato
A cyber attack by Russia could trigger a collective response from the US and Nato allies, National Security Adviser Jake Sullivan told the White House press corps at today's briefing.
"That is absolutely something where we and other countries could bring capabilities to bear to help a country both defend itself and respond to a particular cyber attack."
Oliver O'Connell22 March 2022 18:35
1647973453
NSA: Further sanctions coming for Russia
On his trip to Europe this week, President Joe Biden will "announce joint action on enhancing European energy security and reducing Europe's dependence on Russian gas," Jake Sullivan says.
He will also "join our partners in imposing further sanctions on Russia" and pledge new humanitarian aid, he says.
Oliver O'Connell22 March 2022 18:24
1647973333
Fox News anchors thank Pentagon for saving correspondent
On Tuesday, Department of Defence Press Secretary John Kirby appeared on Fox & Friends to discuss the ongoing war in Ukraine. The interview covered potential diplomatic developments and Russia's ongoing siege of several Ukrainian cities.
Just before the interview ended, the Fox News hosts expressed their gratitude to the Defence Department for helping to rescue one of their journalists, Benjamin Hall. Mr Hall was severely injured by a mortar in Ukraine that killed two other Fox News journalists.
Oliver O'Connell22 March 2022 18:22
1647973260
NSA Jake Sullivan says 'war will not end easily or rapidly'
National Security Adviser Jake Sullivan told the White House press corps he does not believe the Russian war on Ukraine will end easily or rapidly.
"This war will not end easily or rapidly," he says. "There will be hard days ahead and Ukraine, hardest for the Ukrainian troops on the front lines, and the civilians under Russian bombardment."
Oliver O'Connell22 March 2022 18:21
1647973060
Psaki praises colleague for stepping in
Having tested positive for Covid-19, White House Press Secretary Jen Psaki praised her colleague Chris Meagher, deputy press secretary, for stepping in to handle the daily briefing at a moment's notice.
She tweeted: "A complete professional and great colleague. Thanks to @chrismeagher46 for jumping in today with hardly any notice. (Also sorry the podium is so low)."
Mr Meagher began the briefing by saying: "As you can see things are moving quickly around here today… which is why I'm here."
Oliver O'Connell22 March 2022 18:17
1647972013
Kamala Harris repeats same expression four times in speech loop
Kamala Harris has once again been mocked by Republicans and meme-creators for saying the same expression four times in succession.
The vice president, who was speaking on Monday in Sunset, Louisiana, repeated the same phrase, "the significance of the passage of time", four times in a row.
Oliver O'Connell22 March 2022 18:00