Eleven Republicans joined the vote to strip Marjorie Taylor Greene of committee assignments
Mr Biden's $1.9 trillion economic stimulus plan showed signs of moving forward but Senators blocked suggestions of increasing US minumum wage during the pandemic.
Speaker Nancy Pelosi said that in spite of this, Democrats would continue to try to raise the wage to $15 (about £11) an hour.
Eleven Republicans joined the Democrats to pass the motion and expel Ms Greene from two committees.
In a speech Ms Green retracted previous claims that the 11 September 2001 attacks were staged, but did not apologise for her racist or anti-semetic comments.
Meanwhile, US President Joe Biden delivered a major foreign policy speech from the State Department declaring: "Diplomacy is back at the centre of our foreign policy."
Mr Biden went on to add that the days of the US "rolling over" to Russia are over.
The speech outlined several foreign policy initiatives. These included a freeze of troop withdrawals from Germany, an end to military operations in Yemen and a review of the number of US troops stationed overseas.
The US president also set out an executive order to restore the country's refugee admissions program after Donald Trump lowered the refugee cap.
1612520791
Voting on Biden's economic recovery plan moves forward
President Biden's economic stimulus plan moved ahead on Thursday with the Senate kicking off voting in a bid to approve the $1.9 trillion rescue package.
Republicans staunchly opposed a proposal to increase minimum wage to $15 (almost £11) per hour and this was blocked by the Senate.
Almost 900 amendments have been drafted and those that have been passed include:
An amendment to provide grants to food and drinking establishments.
An amendment to bar undocumented immigrants from receiving a stimulus check.
An amendment to prevent "upper-income taxpayers" from getting a direct payment.
An amendment to assure state and local authorities cooperate with federal law enforcement failed in a party-line vote of 50-50.
None of these were made into law.
Eleanor Sly5 February 2021 10:26
1612517583
Native Americans are dying from Covid at twice the rate of white Americans, says report
The findings reveal that one in 475 native Americans has died from coronavirus since the pandemic began. This compares to one in 825 white Americans and one in 645 black Americans.
Where 121 white Americans have died of Covid per 100,000 people, native Americans have figures almost double that, with 211 deaths for every 100,000.
Eleanor Sly5 February 2021 09:33
1612515858
US Representative Steny Hoyer condemns Marjorie Taylor Greene's social media posts in furious speech
Steny Hoyer condemns Marjorie Taylor Greene's social media posts in furious speech
Eleanor Sly5 February 2021 09:04
1612514577
What Joe Biden means when he says American diplomacy is back
The vision of America's place in the world presented by Joe Biden was starkly, and predictably, different from that of Donald Trump, with a focus on undoing the damage done in the last four years as a leading role is reclaimed in the international scene.
Biden reassured allies of support, but also warned that it would not be unconditional. He put adversaries on notice, lauded international cooperation, and insisted that core liberal democratic values would be the linchpin on which US global strategy will be based on his watch.
Diplomatic Editor Kim Sengupta writes: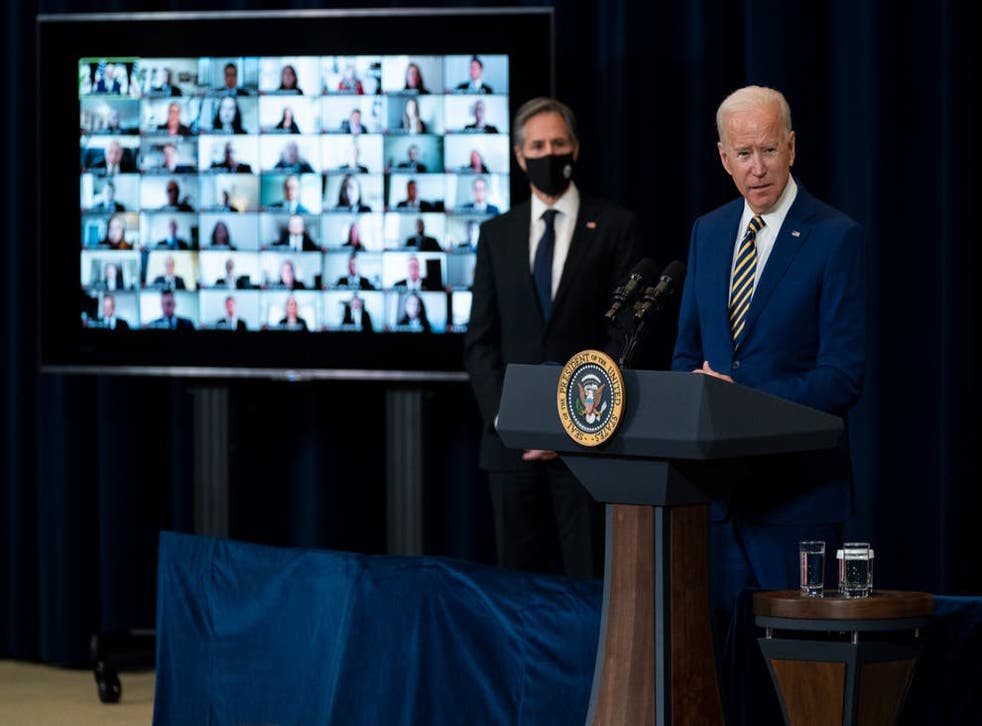 President signals sharp break with his predecessor but warns support of allies will not be unconditional
Eleanor Sly5 February 2021 08:42
1612513673
Eleven Republicans vote to throw Marjorie Taylor Greene off committees
Eleven GOP House members have joined Democrats in voting to remove Marjorie Taylor Greene from her committee assignments over past comments supporting QAnon conspiracy theories.
Illinois representative Adam Kinzinger was among the first to cross the aisle to turn on his colleague in the 230 to 199 vote.
Justin vallejo explains here:
The result effectively removed any influence she may have had on committees instumental to oversight and legislation
Eleanor Sly5 February 2021 08:27
1612512642
Good morning
Welcome to The Independent's coverage of Joe Biden and everything going on in the White House…
Eleanor Sly5 February 2021 08:10