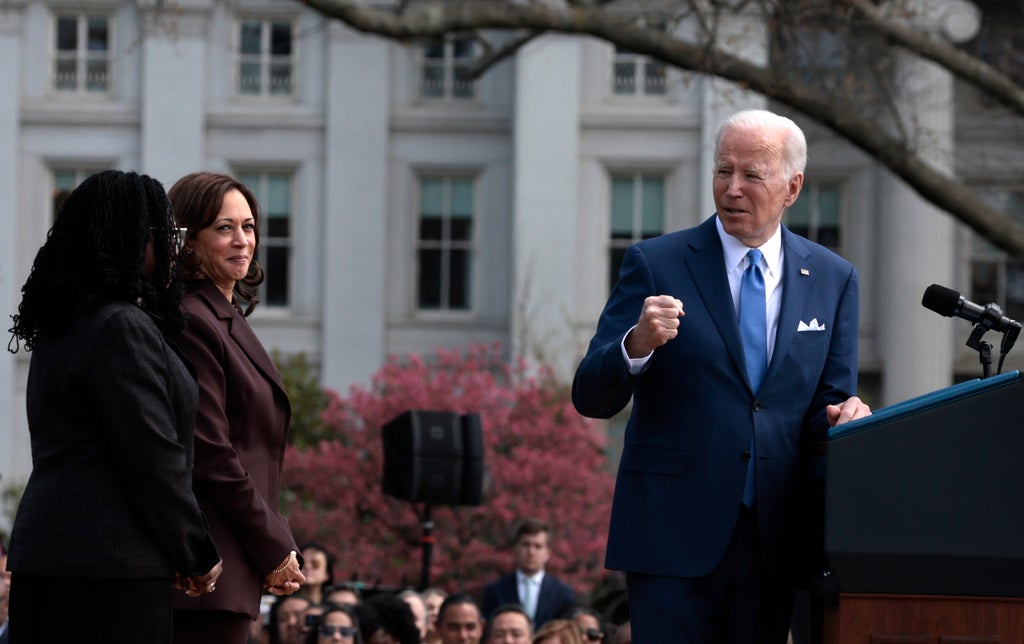 War in Ukraine 'far from over', says Joe Biden
President Joe Biden announced new gun regulations on Monday to rein in so-called "ghost guns" – privately made firearms without serial numbers that have been used in several high-profile violent crimes.
Mr Biden also nominated Steve Dettlebach, an Obama-era US attorney, to run the Bureau of Alcohol, Tobacco, Firearms and Explosives, making the announcement at an event in the grounds of the White House.
The ceremony was attended by survivors of and family members left bereaved by mass shootings including the Parkland school massacre and the shooting at the Pulse nightclub in Orlando.
Also on Monday, the president held a virtual bilateral meeting with Indian Prime Minister Narendra Modi. The pair discussed a wide range of issues including touching on Ukraine and hinted at meeting in person in May at the Quad nations summit in Tokyo.
Mr Biden and Vice President Kamala Harris have both tested negative for Covid-19, according to the White House, meaning they have so far escaped something of an outbreak among the DC political class. Among those recently testing positive are White House Press Secretary Jen Psaki, House Speaker Nancy Pelosi and Democratic Senator Raphael Warnock.
Follow live updates below
1649744753
Joe Biden's approval rating drops to lowest point in presidency
According to the latest poll by CBS and YouGov, President Joe Biden's approval rating has dropped to an all-time low — with 58 per cent of respondents disapproving of the way he has handled domestic and foreign affairs while in office.
Read the full story here:
Maroosha Muzaffar12 April 2022 07:25
1649742969
Biden shows off ghost gun at Rose Garden event, demonstrates how easy it is to assemble
President Joe Biden on Monday showed off one of the gun kits for sale on the internet and pointed out that anyone can purchase one and have a gun assembled in under 30 minutes.
He lifted the gun during the event at the Rose Garden saying "this is the gun", adding: "It's not hard to put together with a little hand drill at home. It doesn't take very long. Anyone can order it in the mail. Anyone."
He continued: "A felon, a terrorist, and a domestic abuser go from one gun kit to a gun in less than 30 minutes."
President Joe Biden unveiled his proposed new gun regulations on Monday to rein in so-called "ghost guns" – privately made firearms without serial numbers that have been used in several high-profile violent crimes.
Maroosha Muzaffar12 April 2022 06:56
1649741411
Tucker Carlson says anyone talking about ghost guns is a 'propagandist'
Tucker Carlson, reacting to the Biden administration's plan to tackle "ghost guns" — unlicensed, homemade firearms without a serial number — said on Monday that anyone who uses the term "ghost guns" is a "propagandist" for the Biden administration.
President Joe Biden unveiled his proposed new regulations on Monday, taking action after police and AFT statistics showed large rises in the number of such firearms being recorded in the past year.
Despite those widely-available figures, Carlson described the phenomenon as "something he [Biden] made up".
"Just to be clear: There is no such thing as a ghost gun," Carlson said. "It's a made-up phrase, and anyone you see on television or print repeating that phrase is a propagandist working on behalf of the forces of oppression: the Biden administration."
The Fox News host continued: "As Joe Biden has explained, your constitutional rights extend precisely as far as he says they do. In other words, you have no rights. He'll tell you what your rights are. As he put it, 'No amendment is absolute,' Biden lectured us. And that's particularly true with the Second Amendment."
Maroosha Muzaffar12 April 2022 06:30
1649739356
Biden to visit Iowa on Tuesday to sell rural plan
President Joe Biden is heading to Iowa on Tuesday with a stop in Menlo — which is one of Iowa's smaller towns with a population of 345.
Mr Biden heads back to Iowa for the first time as president at a time when he's facing depleting approval ratings and inflation at a 40-year high. Democrats also face the prospect of big midterm election loss.
The White House said that the president will discuss his infrastructure plan's impact on rural America and fuel price hikes after the Russian invasion of Ukraine.
Maroosha Muzaffar12 April 2022 05:55
1649738400
Analysis: How Washington gave up on the pandemic
The Independent's senior Washington correspondent Eric Garcia has been reporting on the rash of Covid-19 diagnoses among the DC power elite in recent days, and has this analysis to offer.
Oliver O'Connell12 April 2022 05:40
1649735965
Biden's Covid tsar not "excessively concerned" about rising cases
Joe Biden's coronavirus response coordinator, Dr Ashish Jha, has said he is not "excessively concerned" about the trajectory of the Covid-19 pandemic despite a notable rise in the number of cases, which he said is being driven largely by the BA.2 variant.
"It is incredibly contagious, even more contagious than the original subvariant of Omicron, and it caused a substantial spike in cases in Europe," he told MSNBC.
Oliver O'Connell12 April 2022 04:59
1649733325
Readout of President Biden's call with Prime Minister Modi of India
President Joseph R. Biden, Jr. spoke today with Prime Minister Narendra Modi of India to inaugurate the fourth US-India 2+2 Ministerial Dialogue. Together, they committed to strengthening the US-India relationship through cooperation on clean energy, technology and military cooperation, and expanded economic and people-to-people ties. They also committed to continue cooperation – bilaterally and multilaterally – on ending the Covid-19 pandemic, strengthening global health security, advancing global food security, and ensuring a free and open Indo-Pacific. They emphasized their shared commitment, as leaders of the world's largest democracies, to respect for the sovereignty and territorial integrity of all nations in the Indo-Pacific and beyond. The two Leaders also discussed the destabilising impacts of Russia's war against Ukraine, with a particular focus on global food supply. President Biden and Prime Minister Modi looked forward to meeting in person later this spring, in Tokyo, for the Quad summit.
Oliver O'Connell12 April 2022 04:15
1649730625
Biden's sister defends his son Hunter
President Joe Biden's sister Valerie Biden Owens defended her nephew and the president's son Hunter in an interview with CBS News, saying the attacks were an attempt by former president Donald Trump to bring her brother down.
Ms Owens appeared in an interview with CBS News' Gayle King to promote her memoir about growing up with her brother, whose campaigns she has closely advised. Ms King asked about whether the president's sole surviving son Hunter Biden, whom Republicans are targeting and who is currently under a federal investigation, is a liability.
Eric Garcia has the story.
Oliver O'Connell12 April 2022 03:30
1649727925
White House goes after 'ghost guns'
President Joe Biden announced a series of actions to regulate so-called "ghost guns", as congressional action to regulate firearms looks next to impossible.
The president announced the regulations in the Rose Garden at the White House when discussing the danger that the guns posed. Ghost guns are often ordered in kits that people have to assemble and lack serial numbers, making it difficult for law enforcement to track them.
Oliver O'Connell12 April 2022 02:45
1649725225
Voices: Buttigieg's old campaign manager knows how to turn red states blue. Will Democrats listen?
As demographics changed, the left focused too much on suburbanites and not enough on the working class. But as unions gain traction across the country, it's clear the tide is turning — and members of the Democratic Party needs to listen, writes Skylar Baker-Jordan.
Oliver O'Connell12 April 2022 02:00