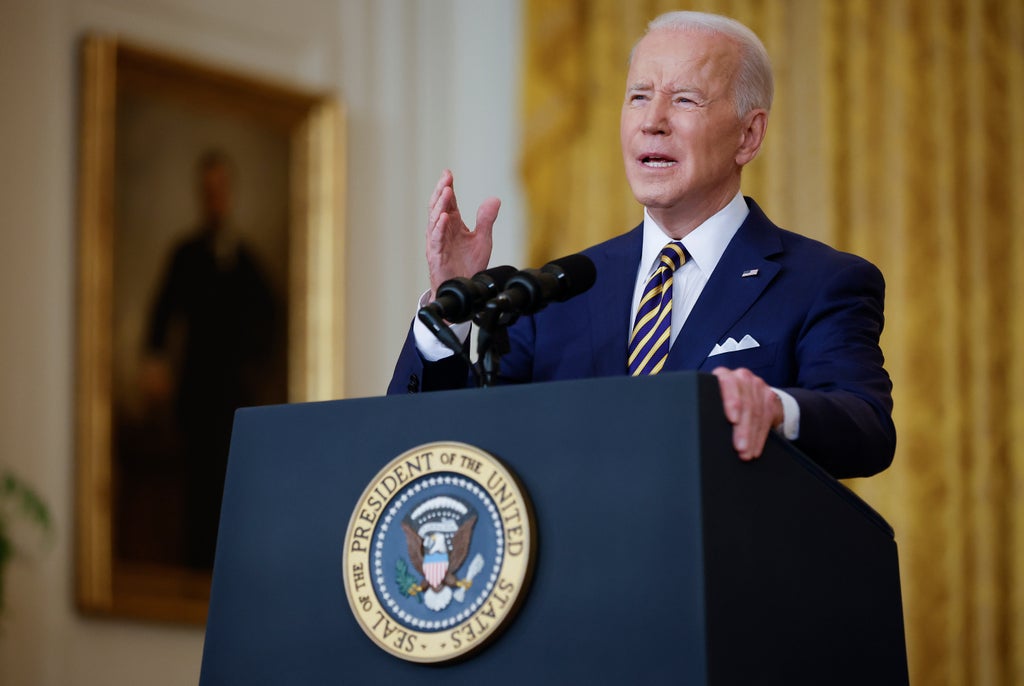 Biden thinks Putin does not want 'full blown war' but will 'significantly' test the West
President Joe Biden has given his first press conference of 2022 in which he promoted his administration's achievements over its first year.
The almost two-hour presidential question-and-answer session came as Mr Biden's approval rating is sitting at just 40 per cent on the eve of the one-year anniversary of his inauguration.
A new poll from Morning Consult/Politico showed that 56 per cent of respondents disapproved of his job performance so far, while 68 per cent also felt the US was moving in the wrong direction.
Defending his stalled agenda, Mr Biden said he did not feel he had over-promised and is confident that big chunks of his "Build Back Better" package could still pass Congress.
Mr Biden took a dig at the GOP, asking "what are Republicans for" as they continue to obstruct progress on his agenda and are beholden to Donald Trump.
On Russia, Mr Biden said he did not think Vladimir Putin wants a full-blown war but he thought that he may move in on Ukraine and would be made to pay a price for any move.
Shortly after the press conference wrapped up, the announcement came from the Supreme Court that in an 8-1 decision, the justices turned down former President Trump's request to block the release of files relating to the January 6 Capitol riot from the National Archives.
1642661894
Biden leans over microphone and slowly whispers response
In an unusual sight, president Joe Biden on Wednesday replied to a journalist by leaning into his microphone during the press conference, in what appeared to be an attempt to underline his concern.
The journalist had asked Mr Biden's response to the "parents that are at odds about closing schools and remote learning"
In a normal tone, the president says: "First of all I will put into perspective what you asked," he said.
He then leaned over the microphone and whispered: "Very few schools are closing."
"I don't think it's deliberate on your part, but you phrase the question so that anyone watching the television will think 'my god, all these schools must be closing. What are we going to do?'"
Arpan Rai20 January 2022 06:58
1642660195
Biden says he doesn't believe in polls as his ratings drop
Joe Biden said he does not trust the public opinion polls which have been suggesting that his approval ratings are on a downward trend among moderates and independents.
"I don't believe the polls," Mr Biden said after he was asked about his plans to again woo the moderates and independents who elected him to power in 2020 but are not impressed with his job performance.
The latest Gallup figures show the president's approval rating has dipped from 61 per cent to 33 per cent in the year since he took office in January 2021.
Several reasons have been pointed to for the drop, including rising Covid-19 cases, a surging inflation rate and the chaotic withdrawal from Afghanistan led by the US military.
The ratings have now reached a point where they match the ratings of his predecessor Donald Trump at the same time in his term.
Mr Biden has the second-lowest approval rating of any president after one year in office. Only Mr Trump reached a lower figure.
Arpan Rai20 January 2022 06:29
1642657380
Five Republicans secretly back Democrat agenda, says Biden
President Joe Biden asserted on Wednesday that five GOP members of the US Senate who have told him privately that they would support parts of his agenda were it not for their fears of primary challengers supported by former President Donald Trump.
The president said that the problem was an example of how Mr Trump was "intimidating an entire party".
"I've had five Republican senators…who have told me they agree with whatever I am talking about for them to do. 'But Joe, if I do it, I am going to be defeated in the primary.' We have to break that. It's got to change," he explained.
Oliver O'Connell20 January 2022 05:43
1642656960
Biden's first press conference of 2022 was quietly devastating
In this Voices piece, Holly Baxter explains what Wednesday's news conference can teach us about Joe Biden's relationships with the likes of Republican Mitch McConnell — and Russia's Vladimir Putin.
Arpan Rai20 January 2022 05:36
1642654860
Trump claims Biden was reading his answers — he wasn't
Mr Biden spoke for almost two hours as he touted his successes during a "year of challenges" and said that his administration had made "enormous progress."
But that was not good enough for his predecessor, who put out a bizarre statement criticising Mr Biden and the journalists taking part.
Oliver O'Connell20 January 2022 05:01
1642652322
Biden moving too slow on Middle East peace, says Palestinian minister
A top Palestinian minister has criticised Joe Biden for moving too slowly in reversing harmful Trump-era policies concerning the Israel-Palestine conflict, and not using the US's ties to pressure Israel into rowing back "its rejection of a two-state solution and peace negotiations".
Foreign minister Riad Malki told the UN Security Council that the end of Donald Trump's administration and Israeli prime minister Benjamin Netanyahu's administration signalled hopes that they would be "enough to pave the way for renewed momentum for peace".
Mr Malki accused the Biden administration of acting slowly in reversing several "unlawful and ill-advised" policies of his predecessor. He added that Mr Biden had been slow on acting on the US commitment to reopen the US consulate in east Jerusalem that can restore Washington's primary diplomatic mission for the Palestinians in the disputed city.
The Palestinians thought, the minister said, that after Mr Biden entered the White House a year ago, he "could try to move the Israeli position toward us".
"But we have seen that the Israeli position has been able to move the American position a little bit towards them — and this is really what troubles us very much."
Mr Malki added that Washington is yet to pressure the current Israeli government into renouncing its colonial policies and abandon its rejection of the two-state solution and peace negotiations.
"This is an unacceptable stance that should neither be tolerated nor excused and must be reversed," he said.
Arpan Rai20 January 2022 04:18
1642652138
Biden defends agenda as voting rights heads for a likely failure
President Joe Biden defended his first year in office at a press conference as Democrats' voting rights bill is set to fail because of objections within his own party.
As Mr Biden was delivering a news conference in the East Room, Senate Democrats' plan to enact a talking filibuster as a means to end the stalemate on passing a new version of the Voting Rights Act was headed to a failure because of the objections of Sen Joe Manchin of West Virginia.
Mr Manchin's opposition to Mr Biden's proposed Build Back Better act effectively killed the bill in the iteration that passed the House of Representatives.
Oliver O'Connell20 January 2022 04:15
1642651402
Biden on the Senate vote on voting rights: 'Disappointed — but not deterred'
President Biden on Thursday released a statement on the senate vote on voting rights.
He said: "At the core of our democracy is a basic principle: the right to vote, and to have that vote counted. That principle was assaulted one year ago, when a violent mob attempted a coup seeking to overturn the will of the people. And today, in state after state, Republican state legislatures are engaged in an unprecedented effort to suppress the sacred right to vote and subvert the American bedrock of free and fair elections.
"In the face of those threats, I am profoundly disappointed that the United States Senate has failed to stand up for our democracy. I am disappointed — but I am not deterred.
"My Administration will never stop fighting to ensure that the heart and soul of our democracy — the right to vote — is protected at all costs. We will continue to work with allies to advance necessary legislation to protect the right to vote. And to push for Senate procedural changes that will protect the fundamental right to vote.
"As dangerous new Republican laws plainly designed to suppress and subvert voting rights proliferate in states across the country, we will explore every measure and use every tool at our disposal to stand up for democracy. The Vice President will continue to lead this effort, as she has for the past year."
Arpan Rai20 January 2022 04:03
1642649438
Biden shrugs off question on 'mental fitness'
President Joe Biden shrugged off a right-wing television reporter's question about a recent poll showing that many Americans are questioning whether he is mentally sharp enough to be president.
Speaking at his second White House press conference since taking office on Wednesday, Mr Biden was asked by Newsmax White House reporter James Rosen about a recent poll conducted by Politico which found 48 per cent of respondents disagreeing with the statement: "Joe Biden is mentally fit".
In response, Mr Biden quipped that he would let the press corps "make the judgement of whether they're correct".
Andrew Feinberg has the story.
Oliver O'Connell20 January 2022 03:30
1642646678
Supreme Court allows release of Trump White House Capitol riot docs
Donald Trump can't block the release of White House documents about the 6 January riot at the US Capitol, the Supreme Court ruled on Wednesday.
The House committee investigating the insurrection has been battling the former president for access to the records, which include diaries and visitor logs.
Mr Trump had argued the materials, now stored in the National Archives, should be kept confidential under executive privilege.
Oliver O'Connell20 January 2022 02:44