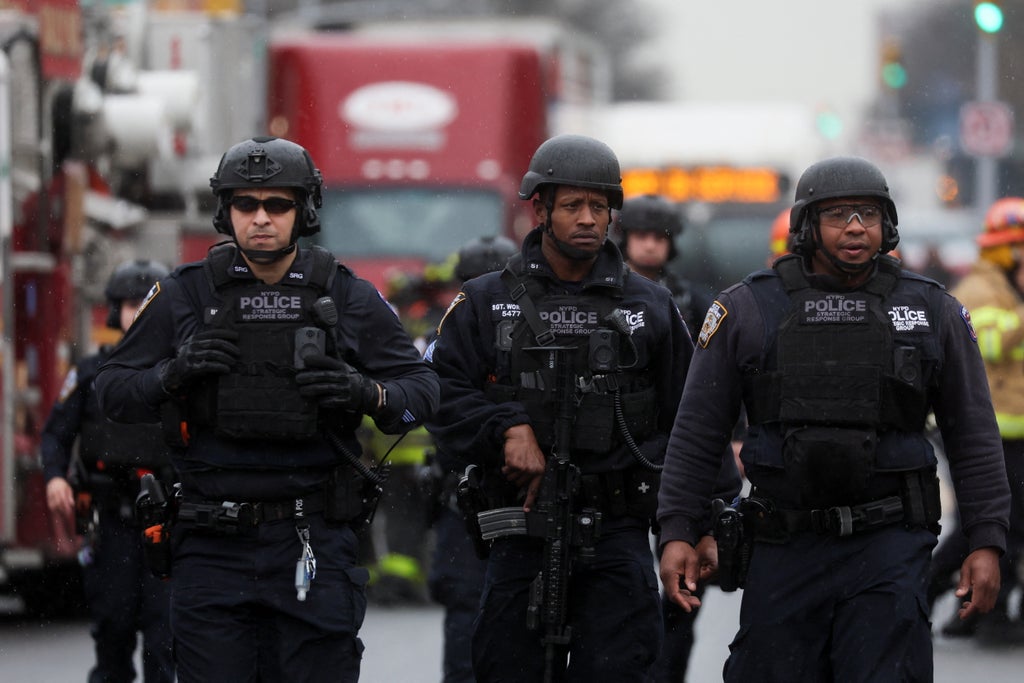 President Joe Biden praised first responders who responded to a gunman who opened fire on a crowded subway in New York City.
"Jill and I — my wife and I are praying for those that are injured in all of those touched by the trauma," he said. "We are grateful for all of the first responders who jumped into action, including the civilians. Civilians who did not hesitate to help their fellow passengers and tried to shield them."
White House Press Secretary Jen Psaki had previously said the president "has been briefed on the latest developments" with respect to Tuesday's shooting.
Mr Biden said his team was "in touch with" New York City Mayor Eric Adams and Police Commissioner Keechant Sewell and are willing to offer offer assistance.
"They're going to continue to stay in close contact with New York authorities as we learn more about the situation over the coming hours and days, something could have broken between now and the last hour, but I have not heard the news," he said.
Earlier on Tuesday, a lone gunman allegedly fired several shots from a handgun onto a crowded subway platform at the 36th Street subway station, located in the Sunset Park area of Brooklyn.
Police responding to reports of smoke found 10 people suffering from gunshot wounds and at least 18 others with various injuries but none appeared life-threatening.
As of 3.30pm a manhunt is still underway for the suspected gunman, who was seen wearing a gas mask and a green construction safety vest.
Later on Tuesday aboard Air Force One, Ms Psaki told reporters the investigation into the shooting is a local matter and is being overseen by the New York City Police Department counterterrorism unit is working with the US Bureau of Alcohol, Tobacco and Firearms and Federal Bureau of Investigation, and stressed that federal agencies "would assist in every appropriate way".
She added that Mr Biden has ordered that Mr Adams and Ms Sewell be given access to "anything they need" and "anything they want" to conduct the investigation.
The NYPD issued a description of the suspected gunman as a Black male about 5'5", 180 pounds and wearing a gray sweatshirt. A gun, magazines, gas canisters and fireworks were recovered from the scene, with the investigation suggesting the gun may have jammed.
Police also said they are searching for a U-Haul van with Arizona plates numbered AL31408.
As the manhunt continues, authorities have come under scrutiny for the suspect's escape as Mayor Adams confirmed that surveillance cameras in the 36th Street station malfunctioned and thus did not capture the attack.
Officials said the attack began as an N train was waiting to enter the station when a man donned a gas mask and deployed gas from a canister before opening fire inside the train and on the platform.
Graphic photos posted to Twitter showed injured commuters covered in blood. A video posted to Twitter showed terrified commuters getting off a subway car as it pulls into the 25th St station with smoke billowing from the carriage. Several appear overcome with smoke inhalation.