March 14, 2021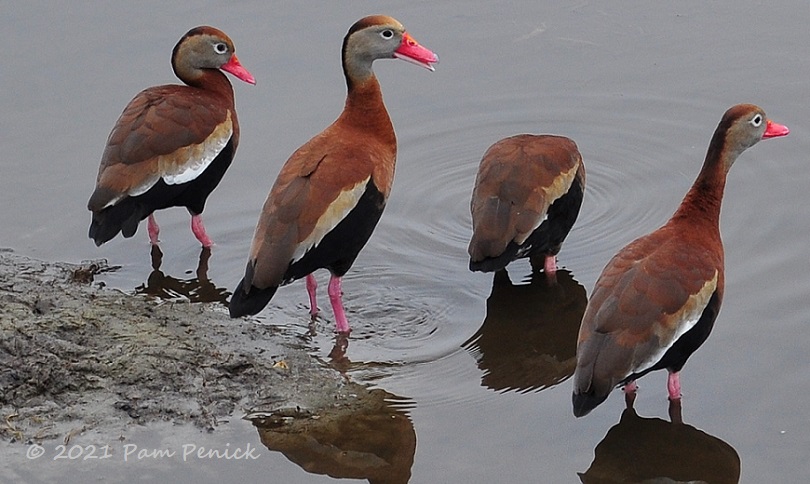 I'd planned a weekend trip to South Padre Island before the snowpocalypse hit, for a chance to walk on the beach and see migrating birds and just enjoy the outdoors (the only kind of trip I'm comfortable with right now). Once the snow and ice melted and electricity and clean drinking water were available again, I was more ready than ever to get away.

So we packed our masks and flip-flops and drove 6 hours to the southeastern tip of the state, just 20 miles north of the Mexico border. At the end of February, before spring-breaking throngs of college students arrived, the island was pretty quiet with mostly seniors and young families. On sandy, brown beaches stretching for miles to the north and south, a chilly, cottony fog rolled in across the waves each afternoon, reminding us of Oregon beaches in the summer. A cool beach beats a hot beach any day. It was delightful.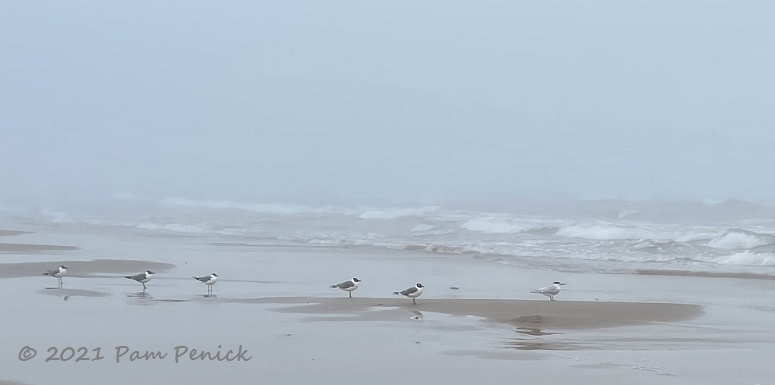 I'd never been to South Padre (not even as a Texas college student), but this 113-mile-long barrier island — the world's longest — is said to have the best beaches in the state. It's also famous for being on the migratory path for all kinds of birds traveling between Central and South America and their summer homes in the U.S., as well as numerous year-round shorebirds and wetland species.
South Padre Island Birding Center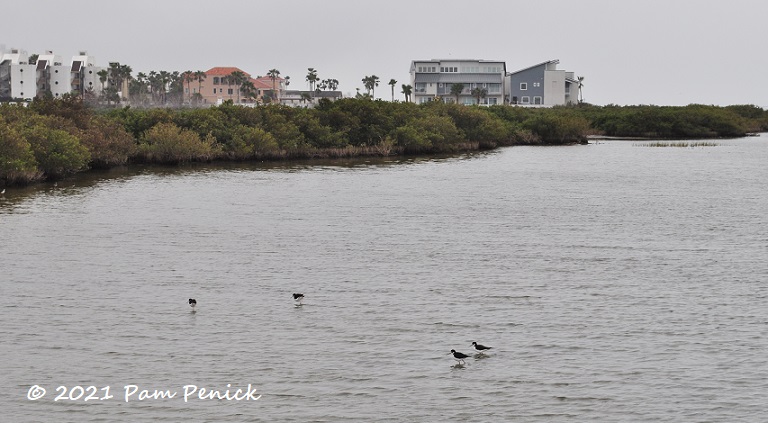 One morning we visited the South Padre Island Birding, Nature Center & Alligator Sanctuary, which overlooks Laguna Madre, the shallow lagoon between the island and the mainland. The hyper-saline water averages just 3-1/2 feet deep in the lagoon, and we saw birds and fishermen walking far out to fish in even shallower water.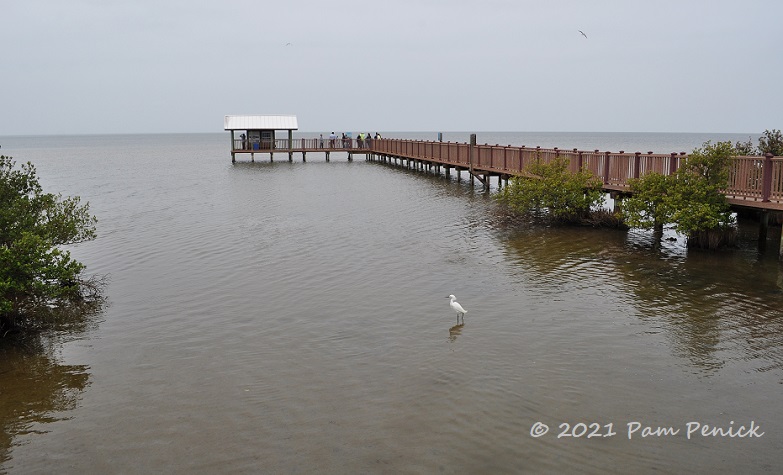 Elevated boardwalks at the center allow passage through dense mangroves and marshy areas, and even out into the lagoon, offering terrific bird-watching opportunities. We didn't see any wild alligators, but they're out there too.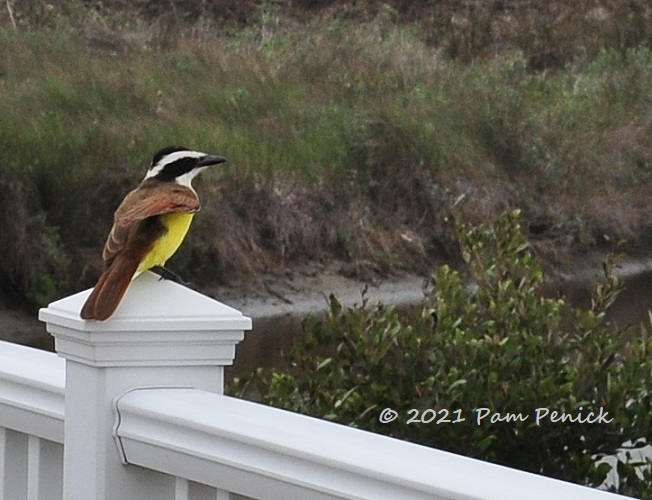 The birds enchanted us, like this great kiskadee, a yellow-bellied flycatcher with a zebra-striped head that lives in southern Texas, Mexico, and South America.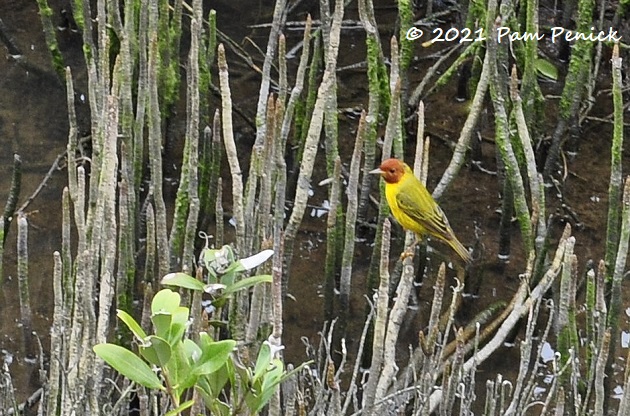 And a mangrove yellow warbler, a furtive golden bird with a rusty-red head that was hunting for insects amid stalk-like mangrove roots.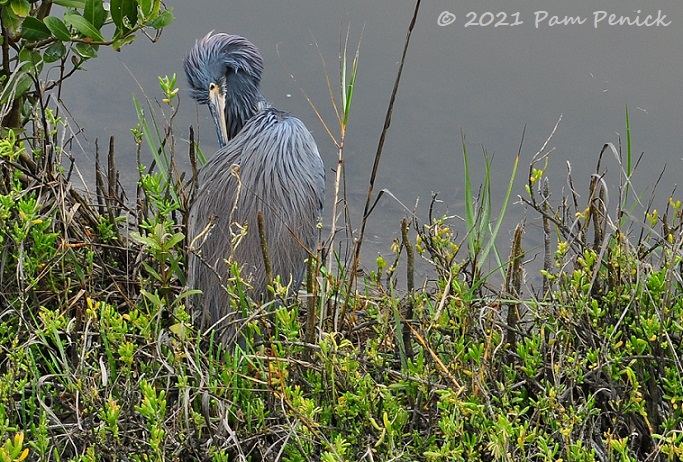 We saw lots of herons. I think this may be a tricolored heron instead of a great blue?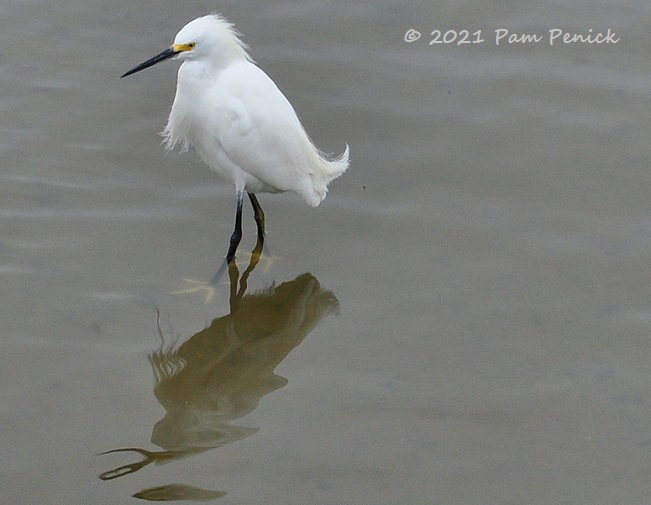 Snowy egret with yellow feet and stiletto-like beak, hunting in the shallows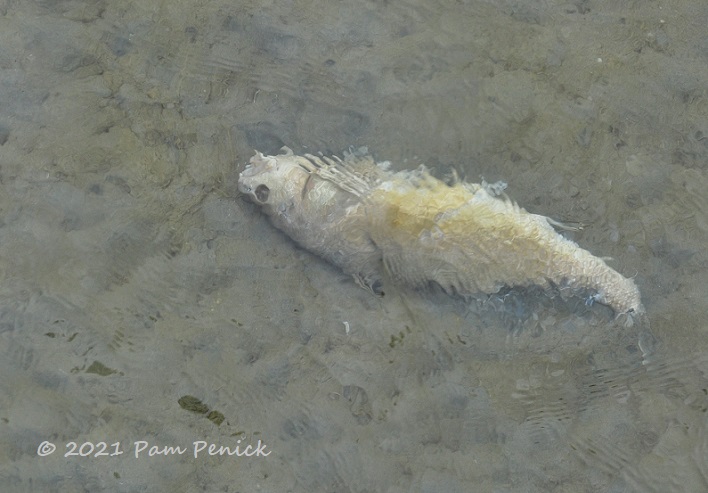 Dead fish littered the shallow marsh and lagoon, casualties of the Texas deep freeze, which reached all the way down to South Padre, browning palms and mangroves and killing thousands of fish. Locals had been working to remove piles of dead fish from canals, and the fish kill seemed mostly cleaned up when we arrived. We also saw landscaping crews busily pruning away freeze-bleached palm fronds everywhere we went, making it all go away.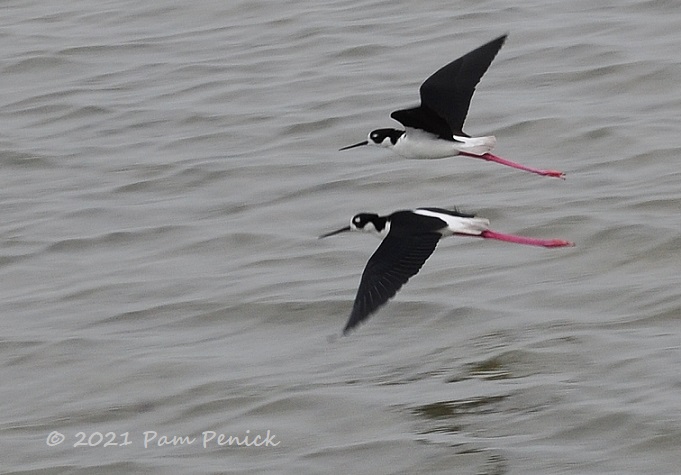 Birds like these black-necked stilts seemed to ignore the dead fish, looking for fresher meals.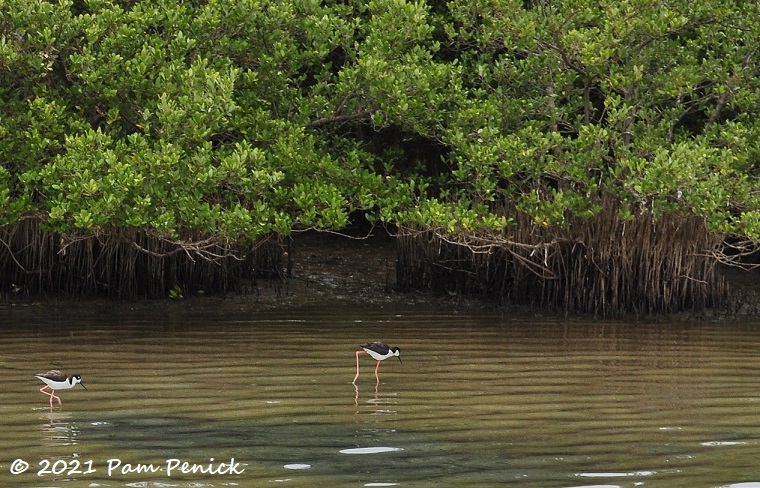 Stilts hunting in the shallow water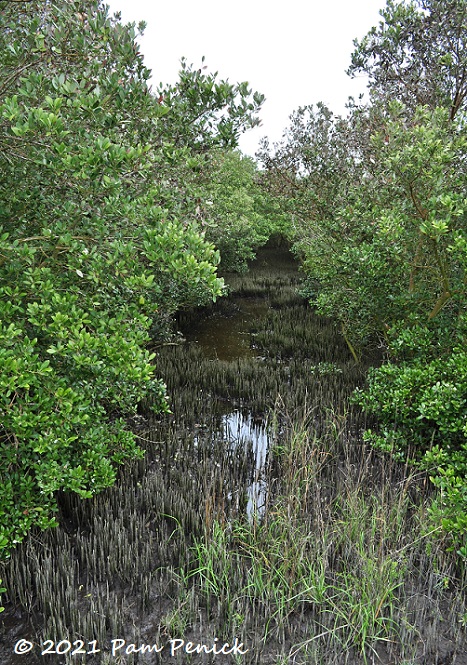 The mangrove thickets are dense and twisty, with root-clogged "rivers" of brackish water running through them. They brought back memories of mangroves we saw in the Florida Everglades a decade ago.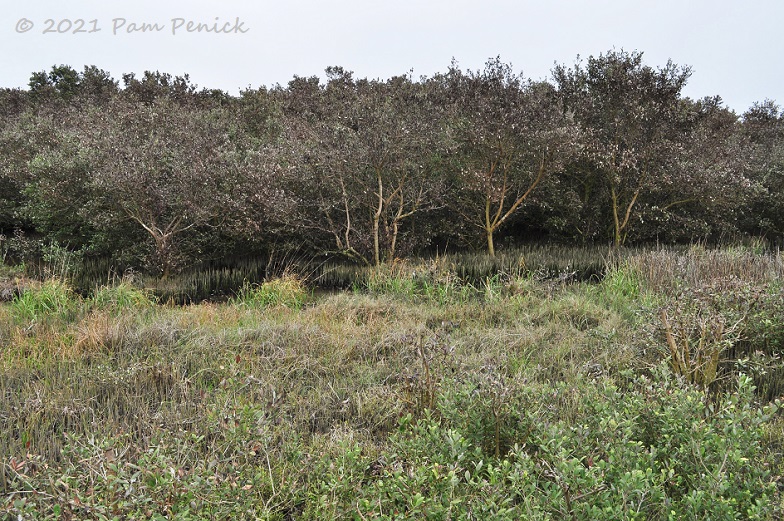 These mangroves are freeze-damaged but alive.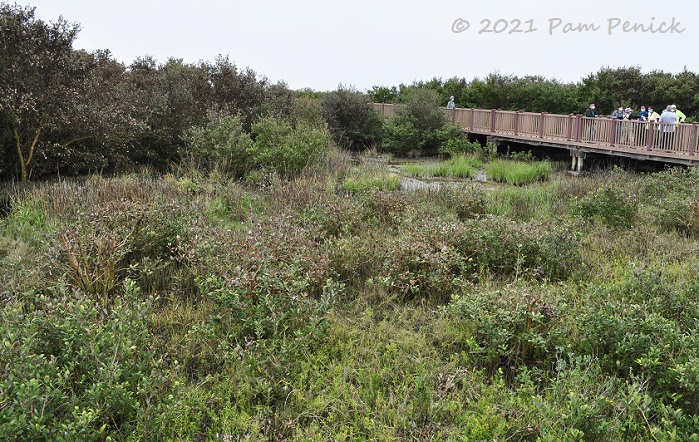 Guides were leading birding tours, but we explored on our own.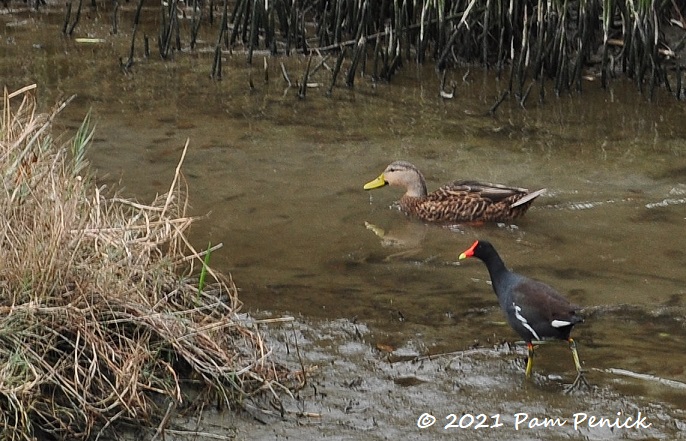 There were plentiful ducks, as you'd expect, including mottled ducks. The new-to-me common gallinule (with red bill and forehead shield) looks like a duck (and walks like a duck?) but is more closely related to cranes and rails.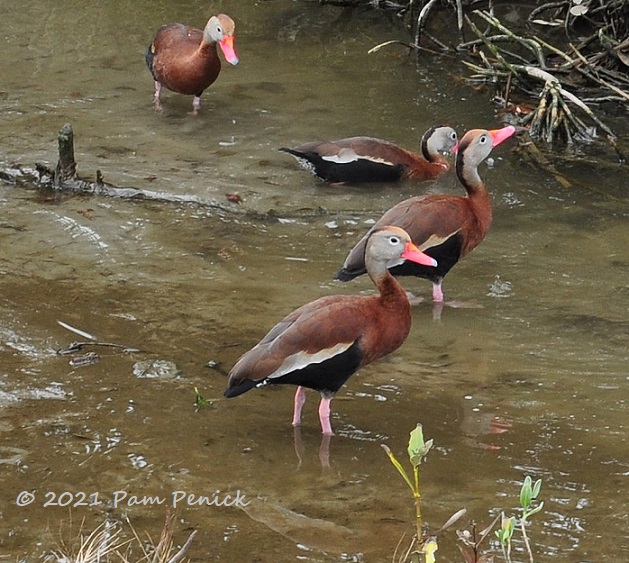 Most charming were flocks of black-bellied whistling ducks with neon-pink bills, dusty-pink legs, and inquisitive expressions.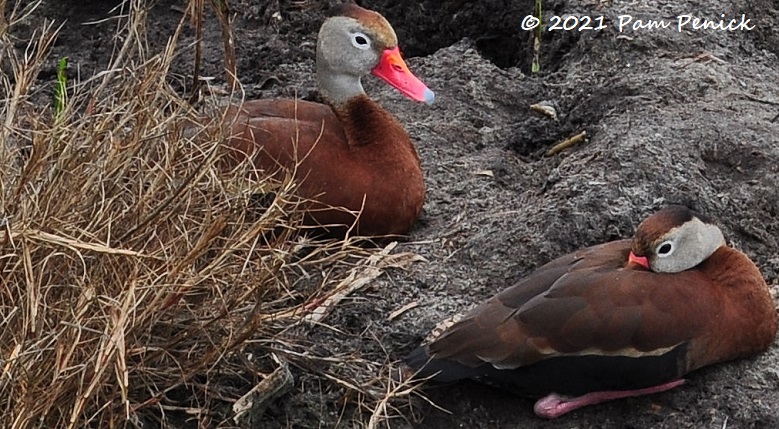 So cute, even when sleepy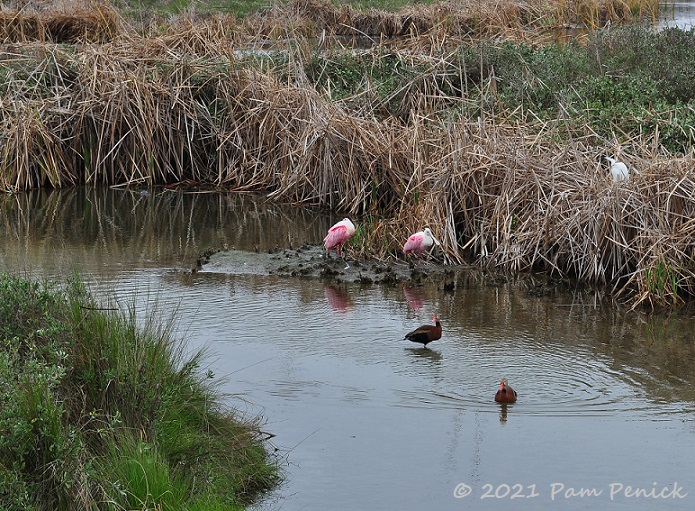 My most thrilling bird sighting was a pair of roseate spoonbills! I spotted their distinctive pink feathers from a distance and hurried along the boardwalk for a closer look. They were taking a siesta on a muddy sandbar surrounded by tall marsh grasses, with a couple of whistling ducks and a snowy egret for company.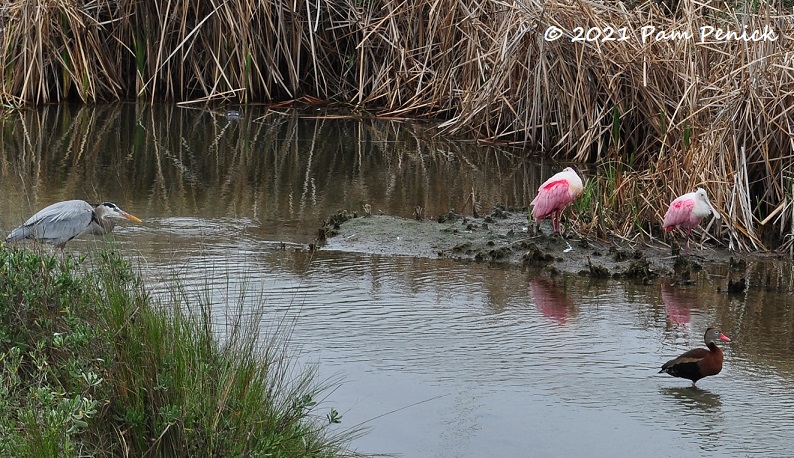 Disturbing their slumber, a great blue heron stalked toward them…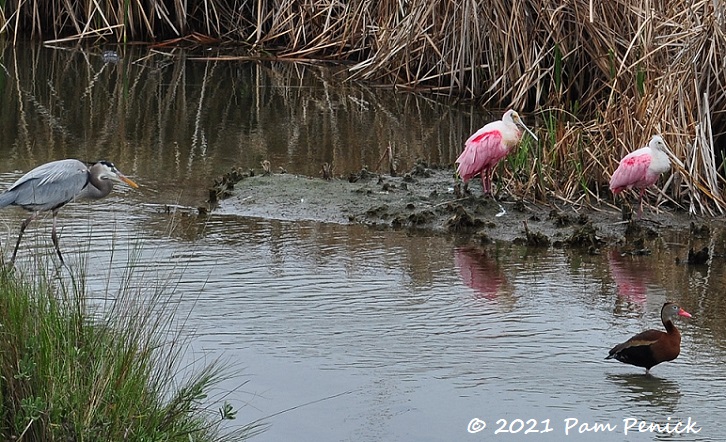 …closer and closer.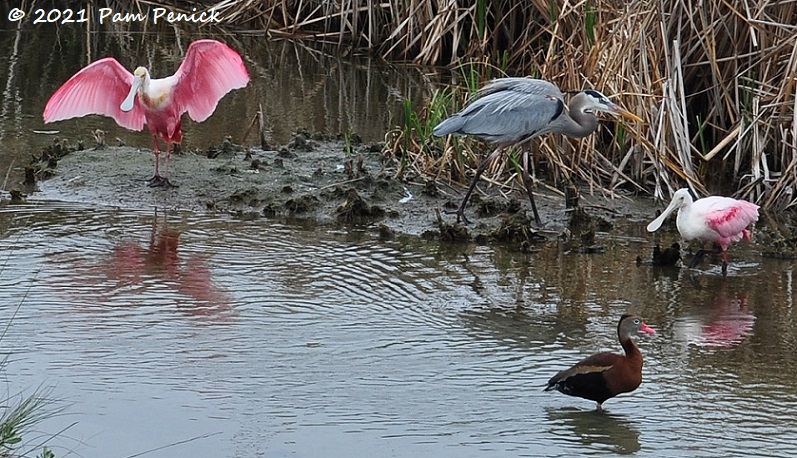 One spoonbill, awoken from dreamland, flapped its wings in irritation. The heron ignored him.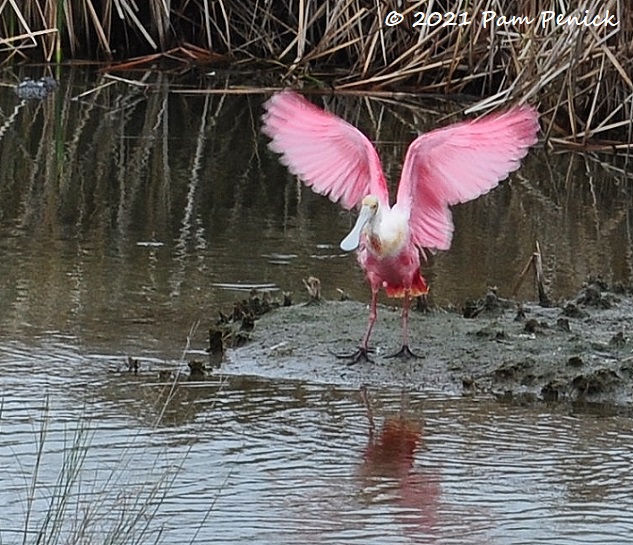 But the spoonbill was quite put out.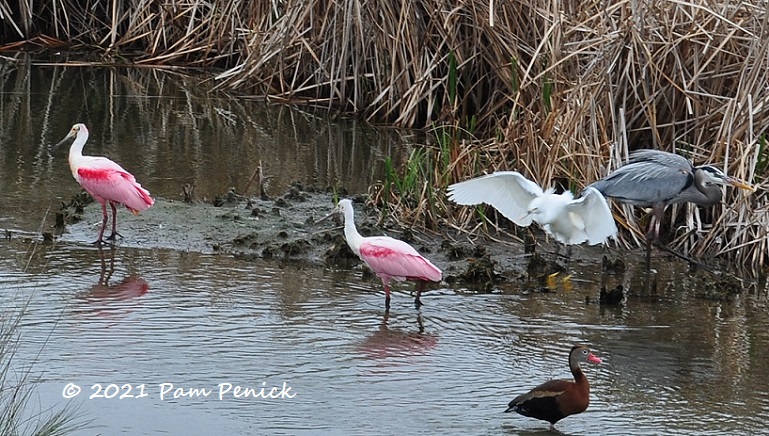 As the heron implacably marched on, the snowy egret awoke too and flew down to join the irritated spoonbills.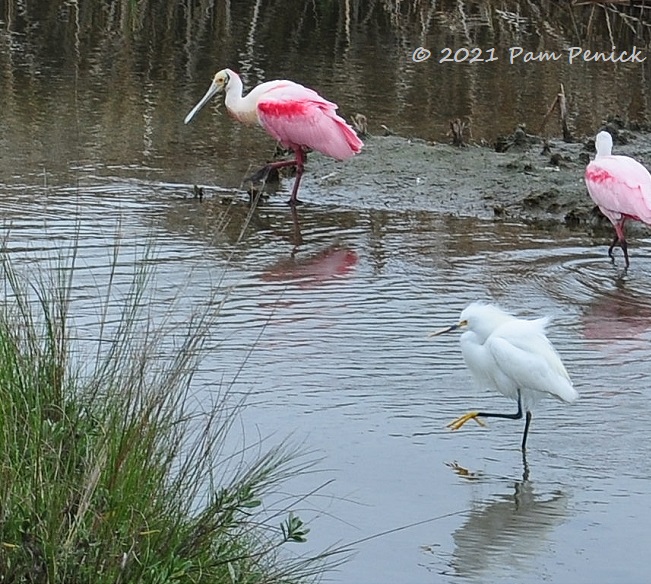 High-stepping ensued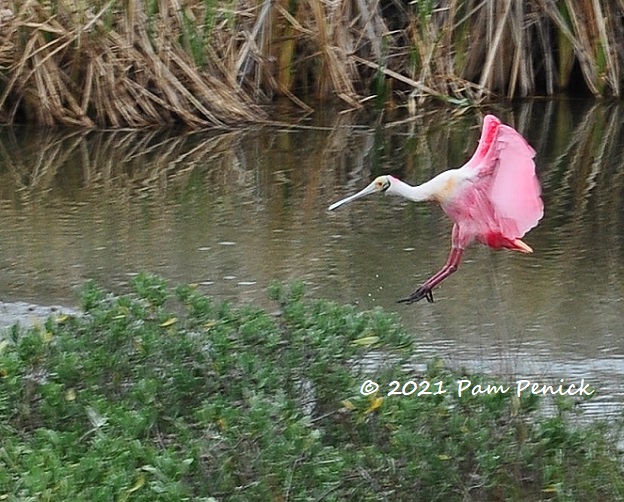 The agitated spoonbill suddenly had had enough and took a great hop away from everyone.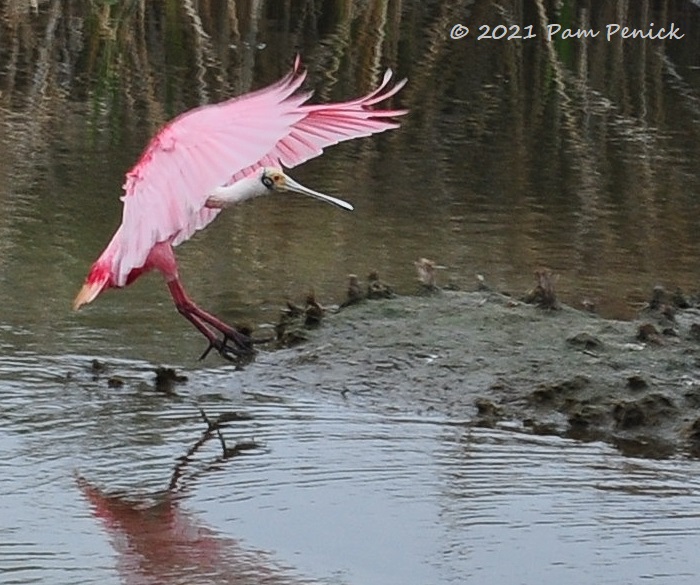 Aaaaaand then he flew right back because clearly this mud flat is the best spot for a nap.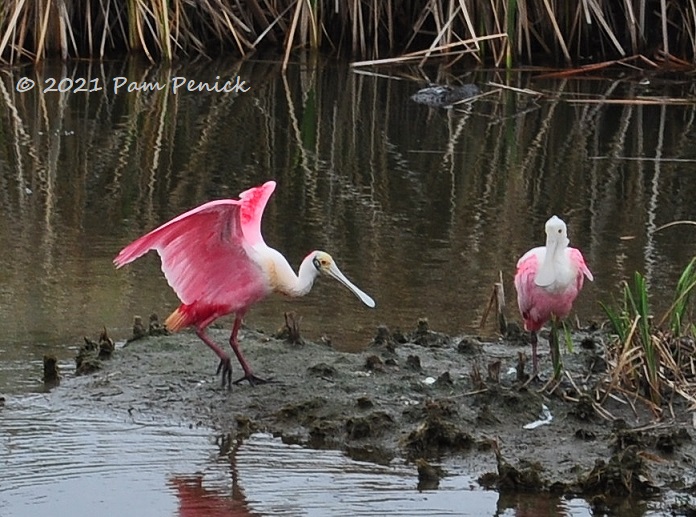 After a little fussing, as his partner calmly watched, he settled down again. Also, there's something in the water behind them that looks like an alligator head. I don't remember thinking it was one at the time, but now I'm not so sure. It might just be a patch of muddy ground though.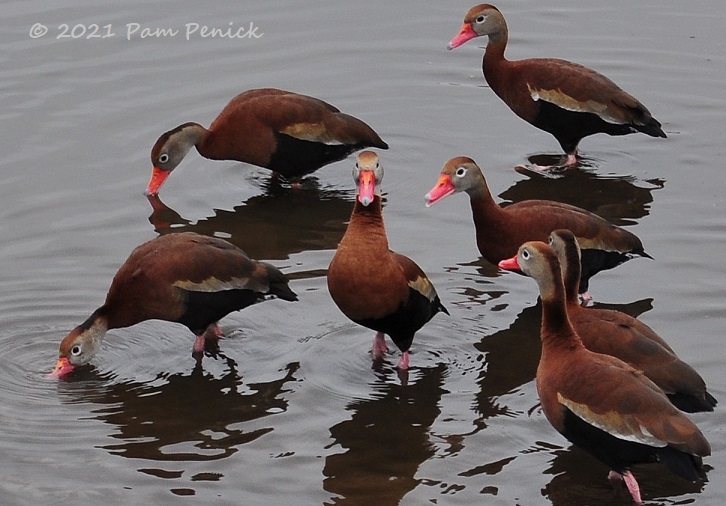 Amid a chirping gaggle of companions, one whistling duck looked bemused by the whole spoonbill routine.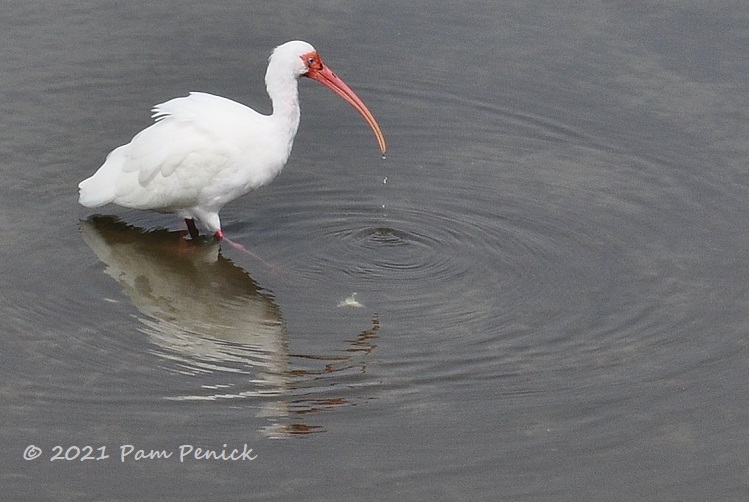 I was also excited to spot a white ibis, with its distinctive long, curved beak.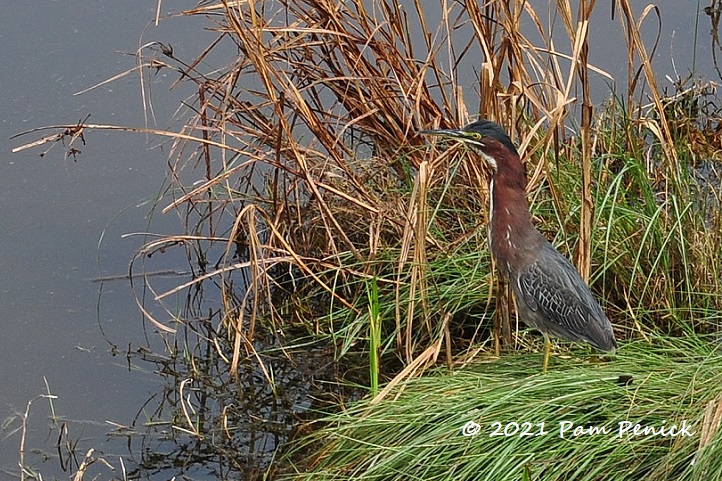 A green heron peeking out of the reeds reminded me of the one that fished my stock-tank pond one summer.
Alligator sanctuary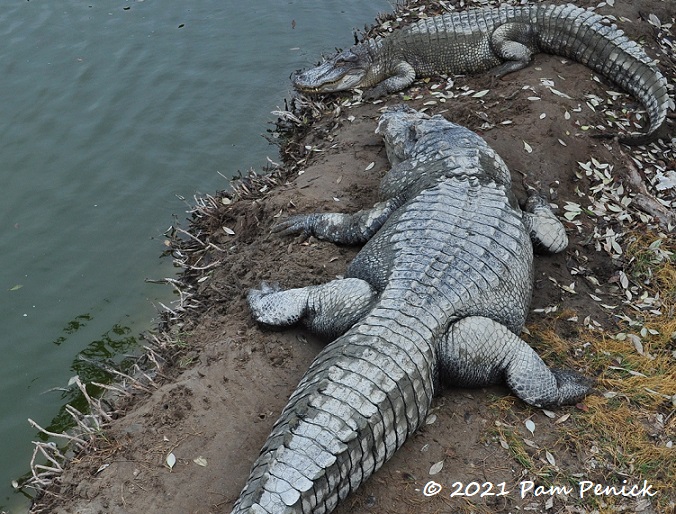 While we didn't definitively spot any wild gators, we did see quite a few "nuisance" or injured animals, now living in a fenced alligator sanctuary at the birding center. Big Padre — at 12-1/2 feet by far the biggest of the bunch — was brought here from Port Arthur, where he was a well-fed boat-dock regular. He found easy pickings in the fish scraps that fisherman tossed into the water, a practice that habituated him to humans and taught him to expect food. The locals didn't mind him, we were told, but he scared a boating tourist when he swam right up and laid his enormous head on the side of the boat. The tourist reported the incident to Texas Parks and Wildlife, which caught and relocated Big Padre. Wild relocation of nuisance alligators isn't possible because they'll travel up to 100 miles to find their way back.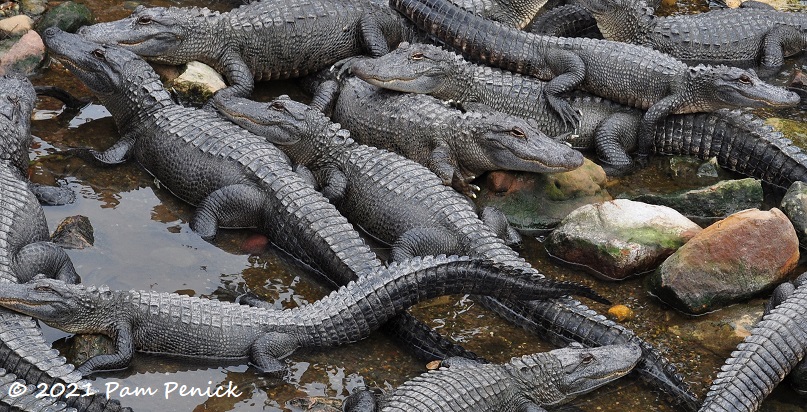 In a separately fenced pond from Big Padre's, dozens of juvenile alligators were using each other as pillows for a mid-morning nap.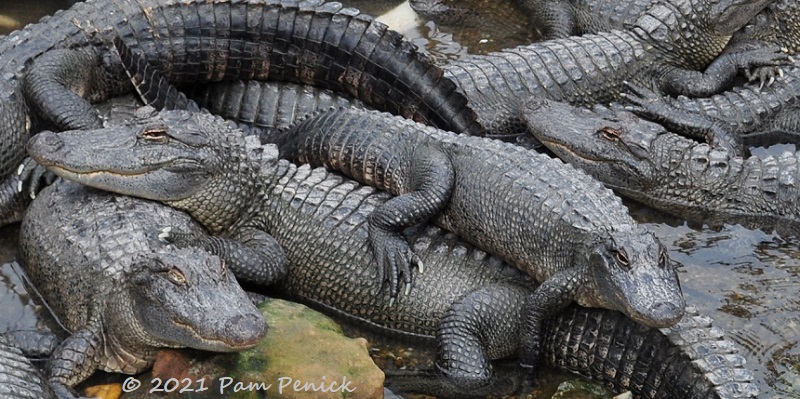 Cuddling up with each other, wearing Mona Lisa smiles, they actually looked kind of cute.
Grackle time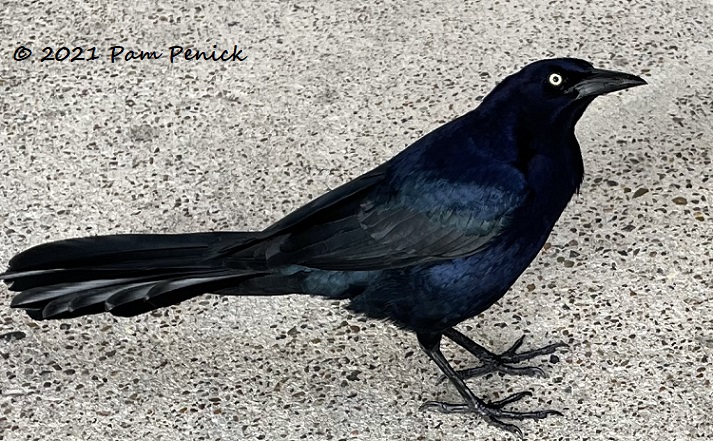 Grackles are usually either loved or loathed by Texans, and I kind of like them. They're handsome and intelligent-looking birds. This one was eyeing our French fries at lunch one day.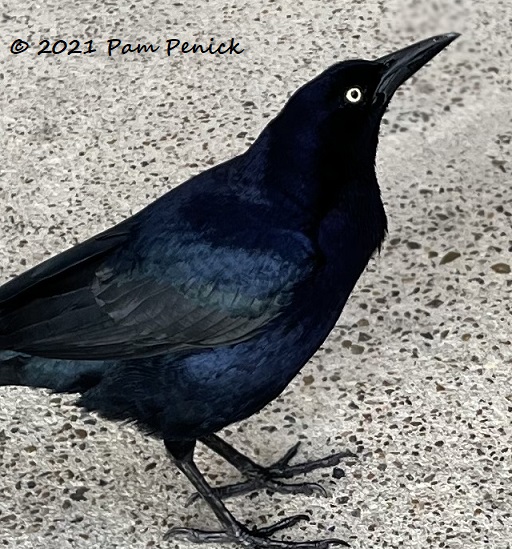 Look at those iridescent, blue-black feathers — like an oil slick on an asphalt parking lot. Ha!
Beaches and sand dunes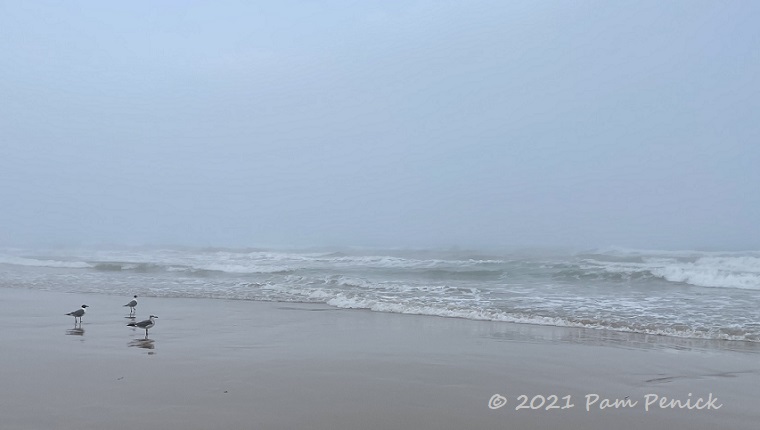 We spent part of both days at various beaches, just watching the waves, hunting for seashells, and watching birds and people go by.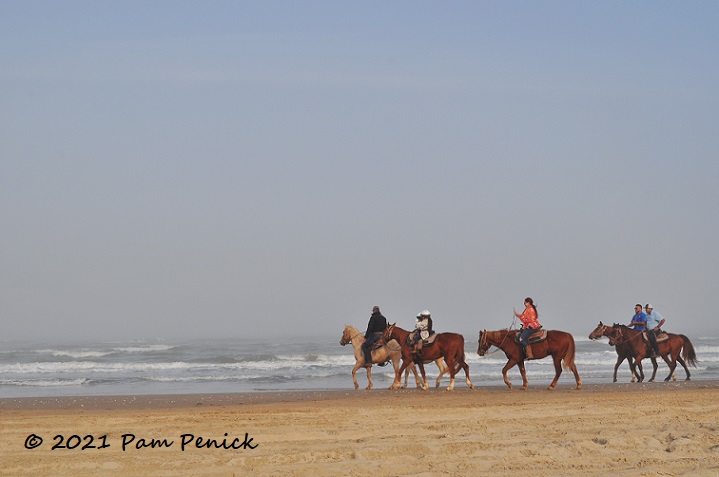 A horse ride on the beach looked fun.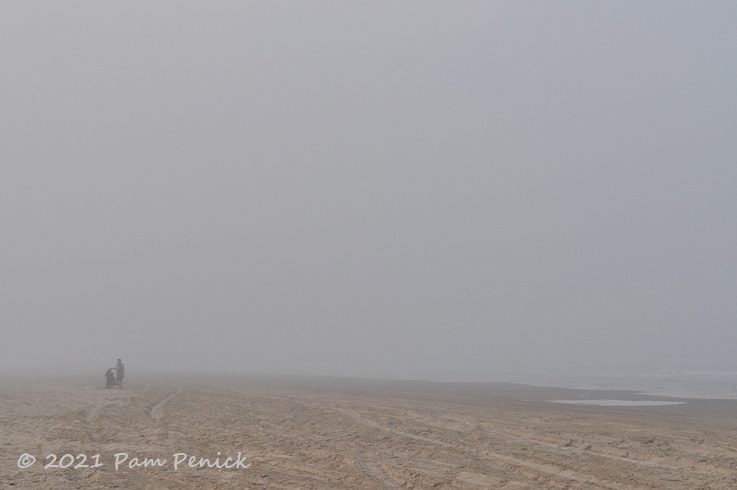 Time for the fog to roll in.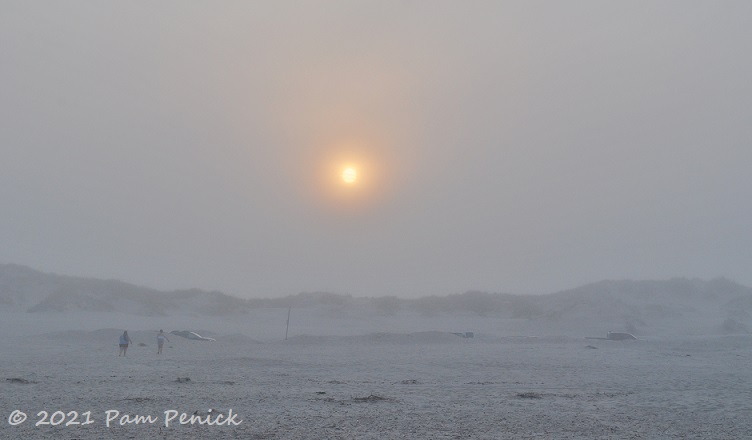 It quickly blurred out the sun and turned the distant dunes into an Arrakis landscape.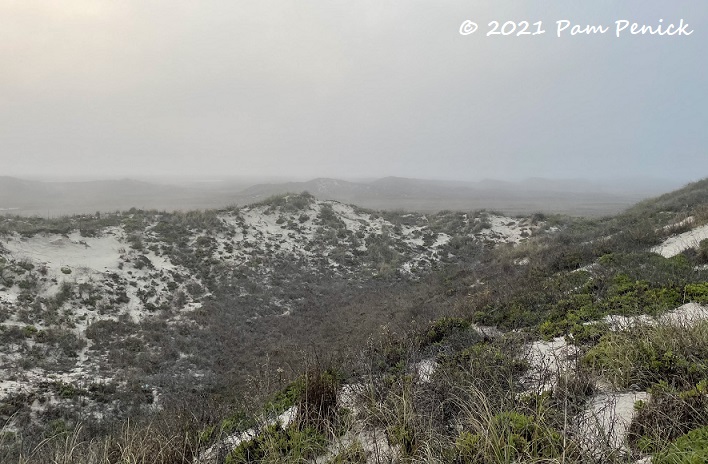 At the north end of the island, we followed a trail up a tall dune and were treated to this otherworldly view of sand and fog.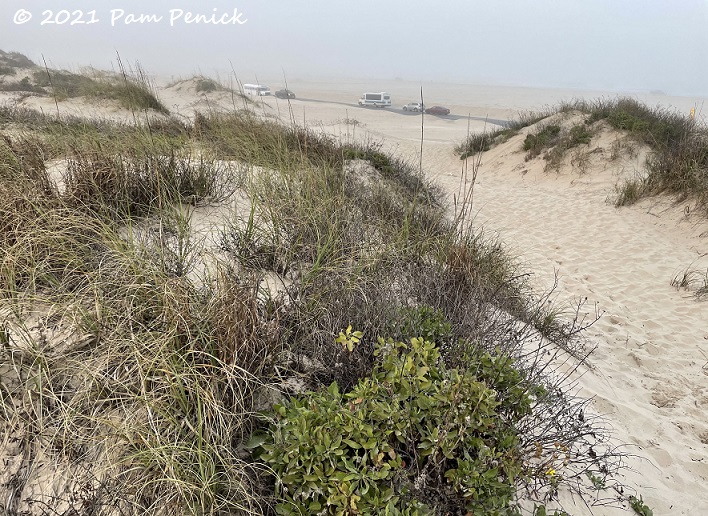 I'm glad I finally saw South Padre in all its wild beauty.
For more about birding in South Texas, check out my post about Quinta Mazatlan, a birding center in McAllen.
I welcome your comments; please scroll to the end of this post to leave one. If you're reading this in a subscription email, click here to visit Digging and find the comment box at the end of each post.
_______________________
Digging Deeper: News and Upcoming Events
Join the mailing list for Garden Spark! Hungry to learn about garden design from the experts? I'm hosting a series of talks by inspiring garden designers, landscape architects, and authors a few times a year in Austin. (While in-person talks are currently on hiatus due to the pandemic, I plan to resume again as soon as possible.) Talks are limited-attendance events that sell out quickly, so join the Garden Spark email list to be notified in advance. Simply click this link and ask to be added.
All material © 2021 by Pam Penick for Digging. Unauthorized reproduction prohibited.