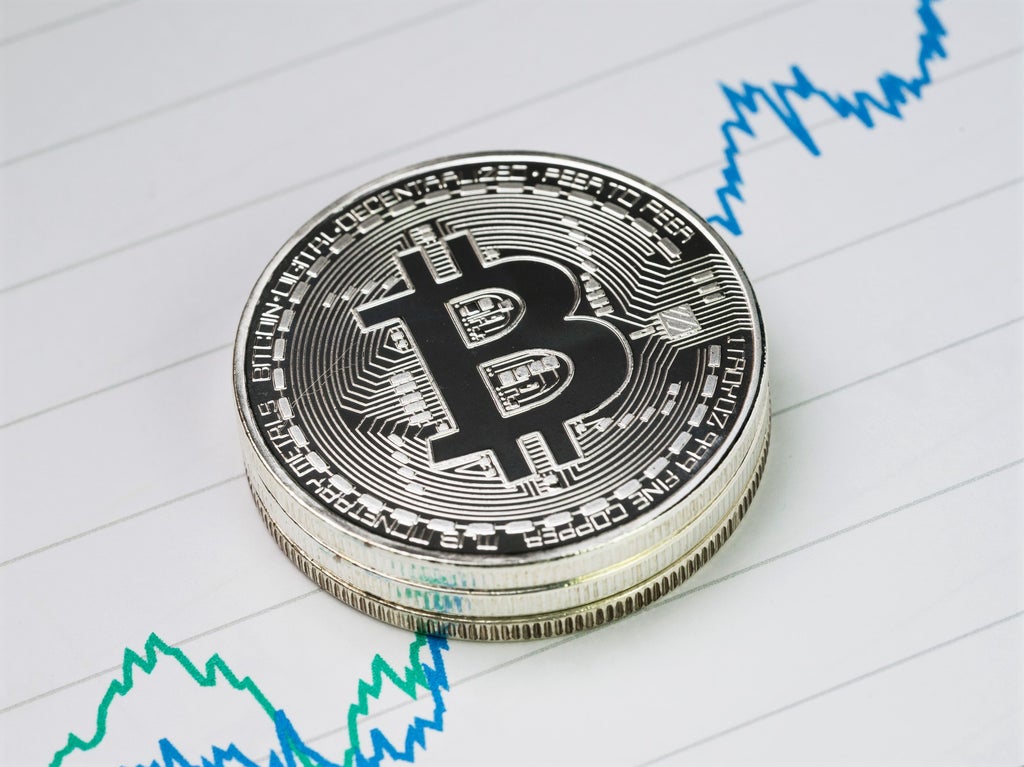 Bitcoin has steadied on Tuesday after a brief surge at the start of the week spurred on by comments from Elon Musk about his crypto holdings.
The tech billionaire confirmed that he bought a significant amount of bitcoin, Ethereum (ether) and dogecoin, though denied owning any other altcoins like Shiba Inu or Floki Inu.
The two meme-inspired cryptocurrencies fell in price following the tech billionaire's revelation, though remain up by more than 450 per cent 50 per cent respectively since the start of October.
The price boost for bitcoin, ether and dogecoin helped push the overall crypto market above $2.6 trillion on Monday, taking it to within a fraction of a per cent away from the all-time high it experienced last week.
BTC is around $4,000 away from its record price high, with some analysts predicting new all-time highs before the end of 2021.
We'll have all the latest news, analysis and expert price predictions in our live coverage of the crypto market below.
1635267552
Bitcoin price prediction model still on track?
Bitcoin's refusal to shift very far from the $63,000 mark as October comes to a close fits with a forecast made back in June.
The pseudonymous crypto analyst PlanB, who has gained more than a million Twitter followers over the last year as a result of his highly-regarded Stock-to-Flow model, made a prediction four months ago about what bitcoin's price would be for each remaining month of 2021.
He predicted BTC's closing price for both August ($47,000) and September ($43,000) to within a fraction of a per cent, and puts October's price at $63,000. The final couple of months will prove the most eventful, according to his prediction, reaching six figures by Christmas.
You can read more about PlanB's price prediction model here.
Anthony Cuthbertson26 October 2021 17:59
1635265006
Bitcoin expert says 'this week will be key' for crypto market
With bitcoin continuing to hover around the $60,000-$64,000 region, one crypto industry figure has described the next week as being "key" to determining the direction of the market over the next few months.
Tim Frost, CEO of decentralised finance platform Yield App, tells The Independent that market momentum could shift in Ethereum's favour over the coming days if BTC fails to build further on its October gains.
"Ethereum is perhaps at that mythical moment of 'the flippening' where it moves higher than bitcoin in terms of price momentum," he says.
"This week will be key to see if that in fact transpires, as it will be to see whether or not bitcoin will push through its previous all-time high for anything more than two minutes. The bulls are still gunning for a three-figure end to the year, although somewhere between the range of $70-$90,000 is likely more realistic, with three figures potentially transpiring towards the end of Q1."
Anthony Cuthbertson26 October 2021 17:16
1635243941
China reconsidering bitcoin ban?
One of the driving forces behind bitcoin's spectacular price crash between April and July was China's crackdown on crypto mining.
Now reports suggest China could be reconsidering its ban, which cryptocurrency experts say could supercharge BTC's price rally. One industry figure tells The Independent that it would "almost certainly act as a significant catalyst for bitcoin's price and the crypto market as a whole".
The collapse of China's bitcoin mining share, as this graph shows, mirrored the price drop of the cryptocurrency in mid 2021, as miners were forced to shut down operations.
So how likely is a reversal of this policy, and could China introduce more favourable regulation for bitcoin trading? You can read the full story here.
Anthony Cuthbertson26 October 2021 11:25
1635240155
Mastercard embraces bitcoin and crypto with new partnership
Mastercard has partnered with digital assets firm Bakkt to allow any bank or merchant on its network to embed bitcoin and other cryptocurrencies into their products.
The partnership with Bakkt will allow banks, fintechs or merchants to introduce the option for customers to buy, see and hold cryptocurrency, as well as earn reward in crypto.
Anthony Cuthbertson26 October 2021 10:22
1635238428
Bitcoin price steadies as crypto market continues to consolidate
The price of bitcoin continues to hover around $63,000 this morning, moving by less than a tenth of a per cent since this time yesterday.
The overall crypto market appears to be in a period of consolidation after nearly a month of steady gains.
Since the start of October, the total cryptocurrency market cap has risen by more than $700 billion to $2.63 trillion to hit new all-time highs.
Most other leading cryptocurrencies remain relatively steady, with Ethereum (ether), Binance Coin, Cardano (ada), Ripple (XRP), Polkadot and dogecoin all moving by between 0-2 per cent since yesterday.
Anthony Cuthbertson26 October 2021 09:53
1635218207
The prices of several cryptocurrencies, including Bitcoin, Ethereum, and Solana have grown in the last 24 hours.
Bitcoin has risen in value by over a per cent in the last day while Ethereum (ETH) and Cardano (ADA) have grown by about 2.5 per cent compared to their values 24 hours earlier.
The global crypto market has grown by more than 2 per cent in the last day and is currently valued at close to $2.63 trillion.
Vishwam Sankaran26 October 2021 04:16
1635179995
BREAKING: Solana price hits new all-time high
Amid a resurgent crypto market, Solana (SOL) has just hit a new all-time price high.
The cryptocurrency reached above $2.18 on Monday afternoon, according to CoinMarketCap's price index, pushing its market cap above $65 billion. Its total gains for 2021 now top 12,000 per cent.
Solana's founders claim its real competition is financial markets, rather than just other cryptocurrencies.
"Literally the goal of Solana is to carry transactions as fast as news travels around the world – so speed of light through fibre. Who we're competing with is Nasdaq and the New York Stock Exchange," Solana Labs CEO Anatoly Yakovenko said last month.
You can read all about Solana and its astonishing rise right here.
Anthony Cuthbertson25 October 2021 17:39
1635166242
Bitcoin price prediction model hints at 'months of record gains'
Pseudonymous Dutch analyst PlanB has shared the latest update to his much-vaunted Stock-to-Flow price prediction model for bitcoin.
The latest all-time high means the chart has returned to the red zone, which can typically mean months of new record highs.
"When bitcoin is in all-time high mode (colour turns red), it usually stays in ATH mode (red) for a couple of months," he previously tweeted.
According to PlanB's analysis, bitcoin is on track to hit six figures before Christmas and could eventually command a market cap of $100 trillion.
Anthony Cuthbertson25 October 2021 13:50
1635160543
Dogecoin price responds to Musk comments
Dogecoin has shot up more than 15 per cent following Musk's comments about his crypto holdings, which he followed up with a succession of tweets specifically about the meme-inspired crypto.
He described it as "the people's crypto", revealing that "lots of people" on the production lines at Tesla and SpaceX own Doge. He also offered advice on how to improve dogecoin and make it more suitable for use as a mainstream form of payment.
"What matters imo is lowering fees, decreasing block time and increasing block size," he said. "A single layer network with exchanges as de facto layer 2 seems like the simplest solution for a medium of exchange."
Musk's exact dogecoin holdings are unknown, though he previously said his crypto stash was the only thing of "significant value" that he owns, beyond SpaceX and Tesla stock. He is currently the wealthiest person on the planet, with a net worth in excess of $250 billion. Jeff Bezos, his closest rival, is worth less than $200bn, according to the Bloomberg Billionaires Index.
You can read the full story about how Elon Musk became fascinated with dogecoin right here.
Anthony Cuthbertson25 October 2021 12:15
1635158379
Elon Musk confirms bitcoin, Ethereum and dogecoin holdings
Elon Musk has confirmed his personal crypto portfolio includes bitcoin, Ethereum (ether) and dogecoin – but no Shiba Inu or Floki Inu.
"Out of curiosity, I acquired some ascii hash strings called 'Bitcoin, Ethereum and Doge'. That's it," he tweeted. "As I've said before, don't bet the farm on crypto! True value is building products and providing services to your fellow human beings, not money in any form."
As the CEO of Tesla, Musk became the most high-profile executive to invest company cash reserves into BTC earlier this year, buying $1.5 billion worth of the cryptocurrency. The electric car maker has benefitted massively from the price rally, with its investment nearly doubling over the last few months.
Anthony Cuthbertson25 October 2021 11:39