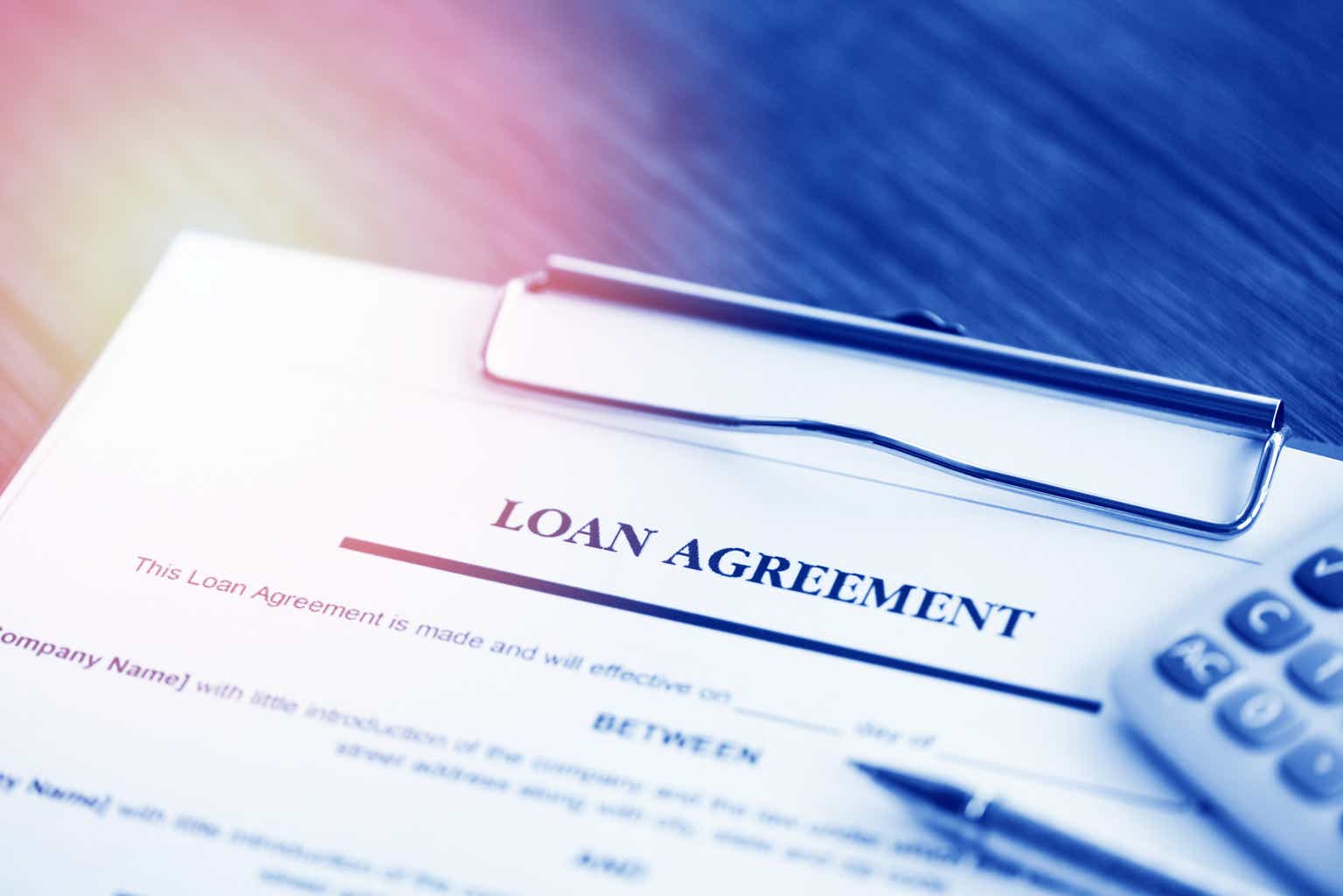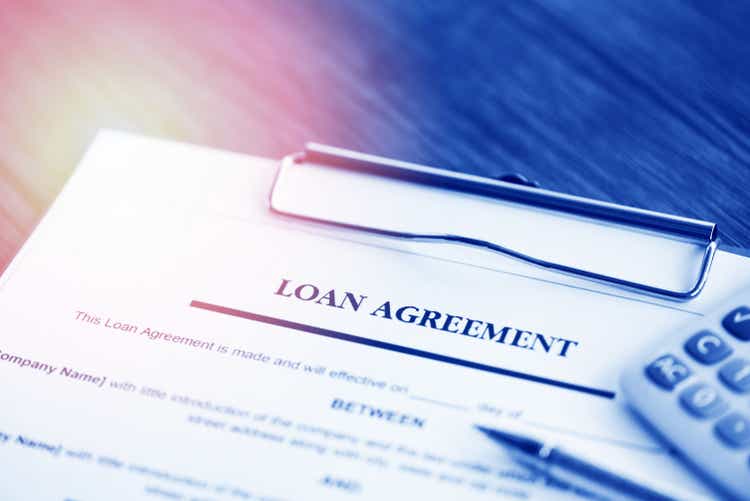 (This article was co-produced with Hoya Capital Real Estate)
Introduction
A reader mentioned the Blackstone/GSO Long-Short Credit Income Fund (BGX) as a Closed-End-Fund worth taking a closer look at since I was doing a series of articles on different Fixed Income strategies to consider as the Federal Reserve Board pushes up interest rates to fight inflation.
The name and underlying strategy of BGX made it worth taking a deeper look. I was surprised that none of the recent documents or other Seeking Alpha reviews I checked showed them holding any short positions, despite the word "Short" in the fund's name. Without any Short positions, now or in the recent past, BGX seems to be a typical secured loan CEF. Investors looking for a traditional secured loan CEF wishing to capitalize on a shrinking discount might take a look.
Understanding the Blackstone/GSO Long-Short Credit Income Fund
The Fund's Prospectus Supplement lists the following as BGX's Investment Strategies:
The Fund seeks to achieve its investment objectives by employing a dynamic long-short strategy in a diversified portfolio of loans and fixed-income instruments of predominantly U.S. corporate issuers, including secured loans and high-yield corporate bonds of varying maturities. The Fund long positions are typically rated below investment-grade.
Source: blackstone.com prospectus.pdf
Seeking Alpha describes this CEF as:
Blackstone/GSO Long-Short Credit Income Fund is a close-ended fixed income mutual fund launched by The Blackstone Group LP. The fund is managed by GSO / Blackstone Debt Funds Management LLC. It takes both long and short positions to invest in the fixed income markets of the United States. The fund seeks to invest in stocks of companies operating across diversified sectors. BGX started in 2010.
Source:seekingalpha.com /BGX
Blackstone's prospectus for BGX explains their investment strategy as:
In pursuing the Fund's investment objective with respect to the bond portion of the Fund's portfolio, the Adviser intends to utilize a proprietary model (the "Model") as it deems appropriate. The Model incorporates fundamental balance-sheet information, real-time information embedded in equity and options markets, and a database of historical defaults. The Adviser uses a variety of risk-management tools to produce risk measures for investments that are monitored in "real-time," providing potential early-warning capabilities and a large investment universe from which the Adviser can shape the Fund's bond portfolio. The Model seeks to identify the most liquid, positively mispriced credit issues while minimizing exposure to systematic credit risks. The Adviser seeks to actively diversify exposure in an attempt to mitigate idiosyncratic risk in the Fund's bond portfolio. folio. If using long and short exposures, the Model selects potentially undervalued and overvalued credits to go long and short, respectively.
Source: blackstone.com BGX Prospectus
Added strategy points include the following:
The fund benchmarks the performance of its portfolio against a composite index comprised of 70% S&P/LSTA Leveraged Loan Index and 30% Barclays US High Yield Index.
The investment seeks to provide current income, with a secondary objective of capital appreciation.
It employs fundamental analysis using a research-driven credit approach to create its portfolio.
It primarily invests in loans and fixed-income instruments of corporate issuers, including first and second lien secured loans and high-yield corporate debt securities of varying maturities.
The fund seeks to invest in securities rated below investment grade.
BGX Holdings review
Some of the most recent data is from the end of February, which is not unusual for CEF's. The first chart shows their asset allocation.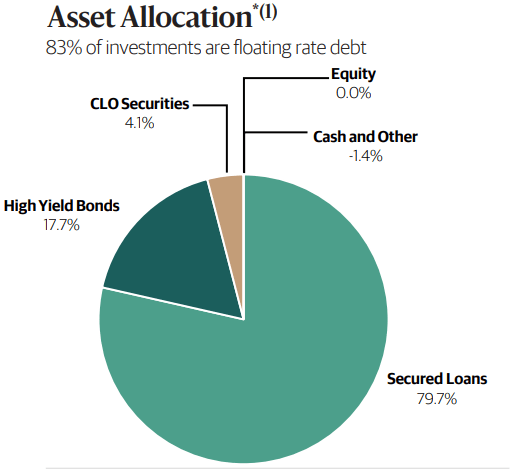 Secured Loans is by far the largest allocation. I suspected most of these would be bank loans, but the asset listing shows otherwise. The asset allocation does help explain BGX having a duration below 1 year, meaning a 100bps increase in interest rates should only drop BGX's NAV by 1%. Since late 2021, BGX has reduced its Secured Loans by a 10% allocation and increased their HY allocation by 5.5%, with small increase in CLOs and Cash/Other.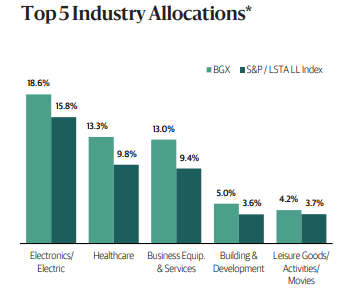 I chose to use this older data versus a 12/31/21 chart as it relates the BGX allocation to one of the benchmarks it follows, whereas the other doesn't. The allocations did not shift much between those dates.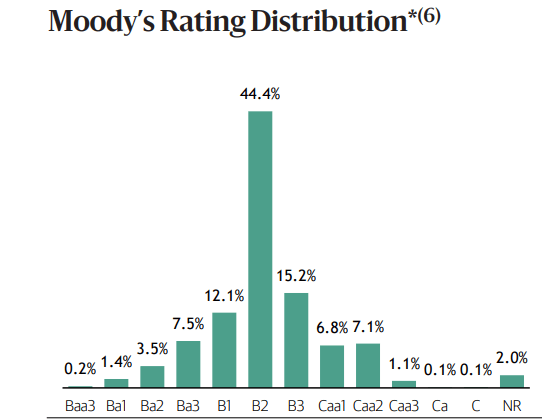 Only the Baa3 is considered Investment-grade debt and that is Moddy's lowest IG rating. Default risk jumps for debt rated below B3, which is about 15% of the portfolio.
Other portfolio statistics include:
Leverage: 38.10%
Average Asset Price: $98.32
Duration: 0.99 yr
Average Maturity: 5.5 yr
Average All-In Rate: 5.12%
Average Position Size: 0.24%
BGX Top Holdings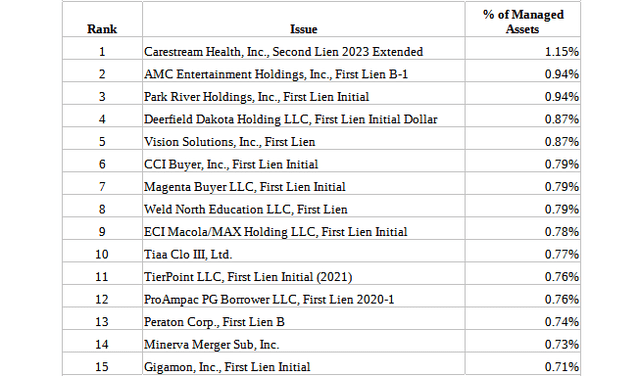 The above holdings are from 2/28/22 and BGX held 434 long positions, no short positions at that time. Using the above data, I was able to determine what Issuers BGX has the most exposure too since the CEF can own multiple assets from the same issuer.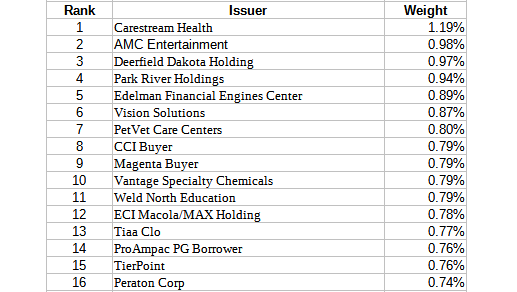 BGX has no more than three assets from the same Issuer. Over 90% of the assets are from US-based issuers.
BGX Distribution review
The Fund utilizes a "dynamic" distribution strategy that is based on the net income earned by the Fund. The Fund declares a set of monthly distributions each quarter in amounts closely tied to the Fund's recent average monthly net income. As a result, the monthly distribution amounts for the Fund typically vary quarter-to-quarter.

Monthly payouts have been dropping steadily since 2019, with the current quarter set a $.073, down from $.078 in the first quarter of 2022, and $.11 when COVID hit. Hopefully, portfolio turnover will soon reverse this as new loans are bought with higher coupons than the maturing ones. At the end of January, 9% of the assets matured over the next 3 years, 47% within five. All the payouts are listed as Ordinary Income.
BGX Price and NAV review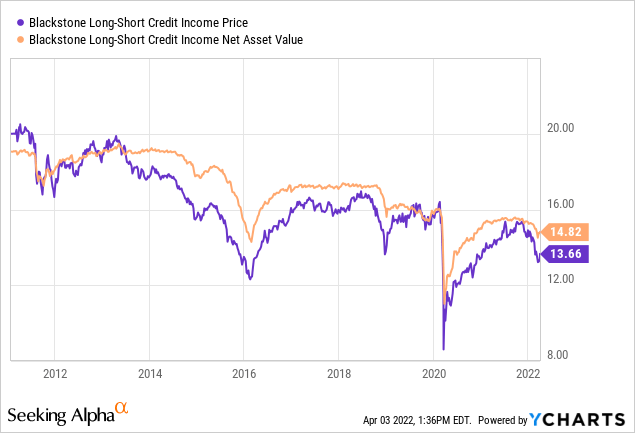 BGX has seen its price fall 31% and NAV 22% since it launched. It seems that each recovery in NAV has peaked below the where it stood before each big drop.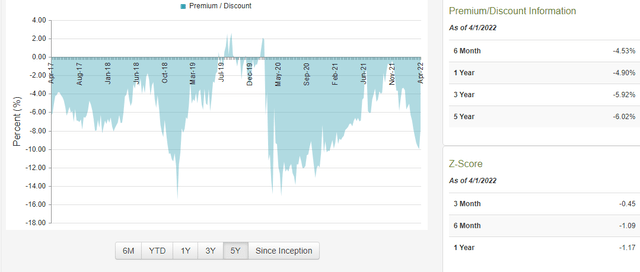 Since 2013, BGX has mostly sold at a discount to its NAV, with the current 7.8% one of the deepest since COVID hit. It almost went premium last November so that opens up the possibility it could again.
Portfolio Strategy
One part of any due diligence is seeking out similar funds to compare risk and returns. Seeking Alpha has a Peers function that can be a good starting point. Here are the funds it picked for comparison. I removed one as it shows no data.


While BGX has the best CAGR since 2013, it is lagging behind all but the ETF over the recent three-year period. BGX does fare well when risk/reward is measured by the two ratios. Price wise, only the Apollo Senior Floating Rate Fund (AFT) has a deeper discount.
Final Thoughts
Based on recent history of not Shorting any positions, personally I believe BGX can be compared against other CEFs that only invest in long positions, which the above funds do. If BGX's discount movement mimics its sister CEF, the Blackstone/GSO Senior Floating Rate Term Fund (BSL), whose discount shrank 8% in recent weeks, there is the potential for excess return.
These five funds are but a small subset of the thousands available in the Fixed Income world, but provide a good starting point afteras the investor, you know what goal you have in mind for this, or any, investment.