April 11, 2022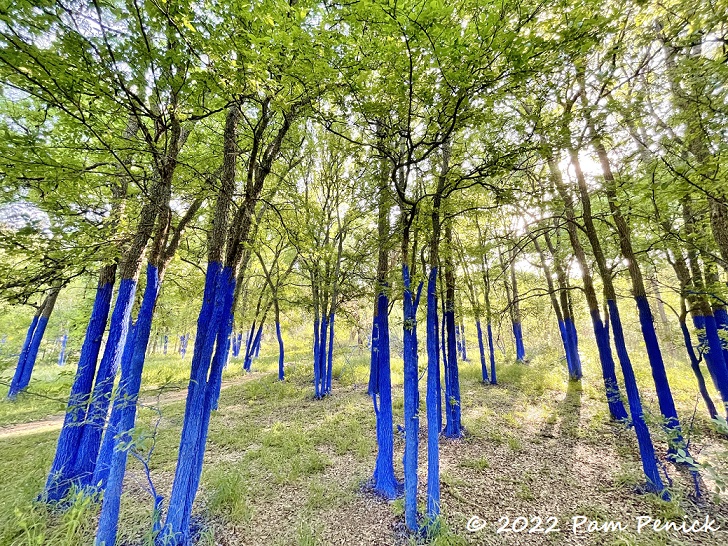 If you've visited Kingsbury Commons at Austin's Pease Park lately, you may have encountered a startling and surprisingly beautiful sight: clusters of trees with Majorelle blue trunks and limbs. The Blue Trees is a temporary environmental art installation by New Zealand artist Konstantin Dimopoulos. It brings our attention to the crises of deforestation and climate change by transforming local trees with a harmless temporary color that slowly washes away.
The Blue Trees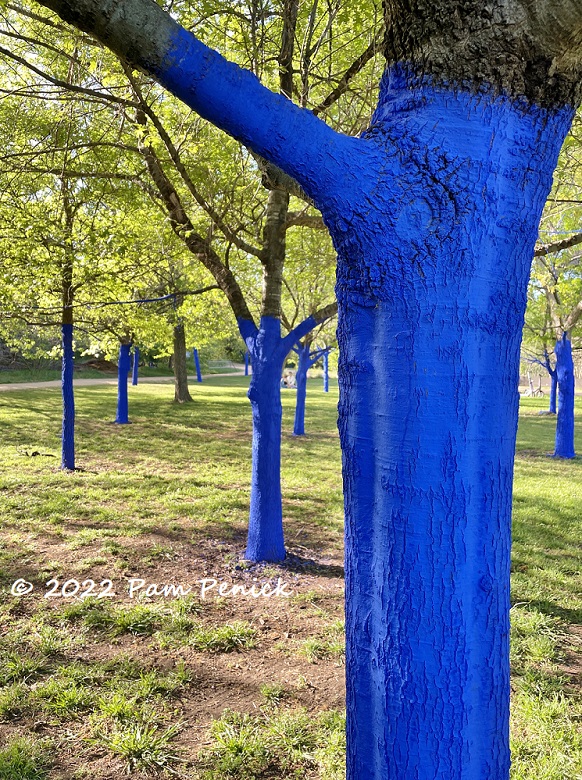 In the artist's own words:

"In…The Blue Trees, the colour and the Tree come together to transform and affect each other; the colour changing the Tree into something surreal, while the Tree, rooted in this earth reflects what we may lose. This change highlights ecological issues, such as the ecocide of our forests and climate change, and effects a transformation in the psyche of people by raising our social consciousness referencing how individually and collectively we shape the world we inhabit. The Blue Trees has a strong regenerative aspect to it, an organic work that is continually changing and evolving. From season to season the trees grow through the cycles of nature and the colors begin to change and disappear. Time passing is a part of the concept; time that determines our own existence is measured through these trees." 

https://kondimopoulos.com/the-blue-trees/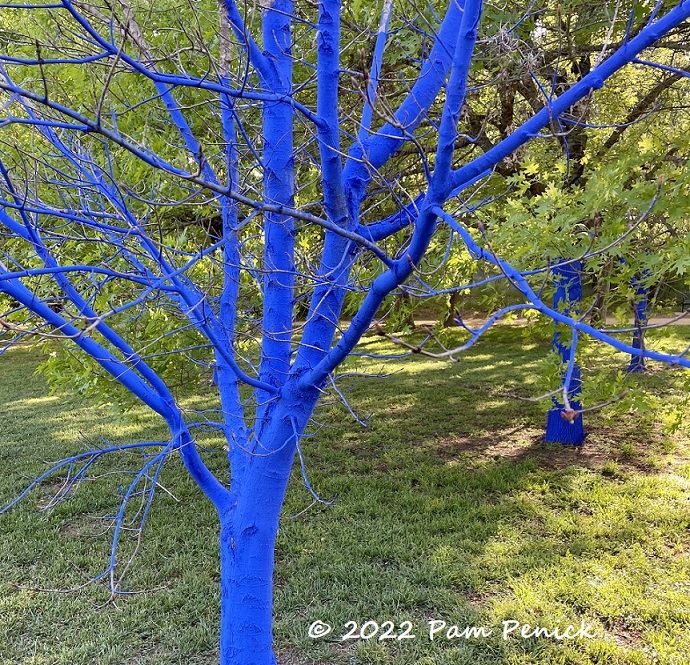 Dimopoulos has created Blue Trees at sites around the world, inviting local volunteers to help him color trees with his non-paint mixture of chalk and water. Why the otherworldly blue? Because it makes you look. As the saying goes, sometimes we can't see the forest for the trees. By drawing attention to individual trees, Dimopoulos hopes to get people thinking about the importance of forests, not just in Austin but around the world. We need forests to help combat climate change, but there's so much deforestation going on.
I visited Pease Park on April 6th with a visitor from Canada, Patterson Webster, who'd come to Austin to give a presentation for my garden-design speaker series, Garden Spark.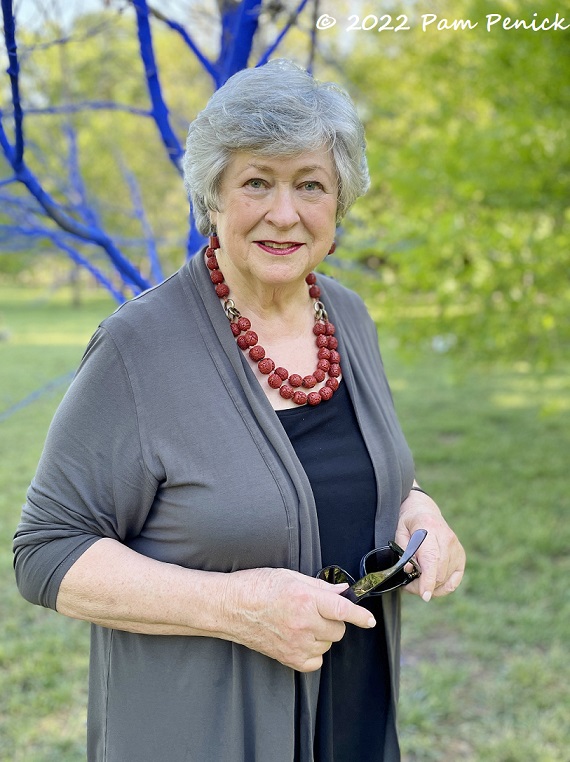 Pat is an artist herself, one whose often large-scale sculptural works incorporate trees and fields and reflect on the passage of time. She was an ideal companion with which to explore The Blue Trees.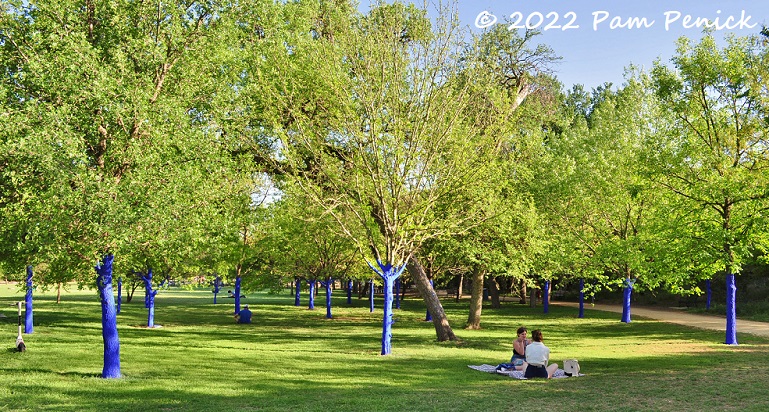 Some of the blue trees are upright, regularly spaced specimens in a lawn. People were picnicking and lying beneath them in a scene right out of Georges Seurat's A Sunday Afternoon.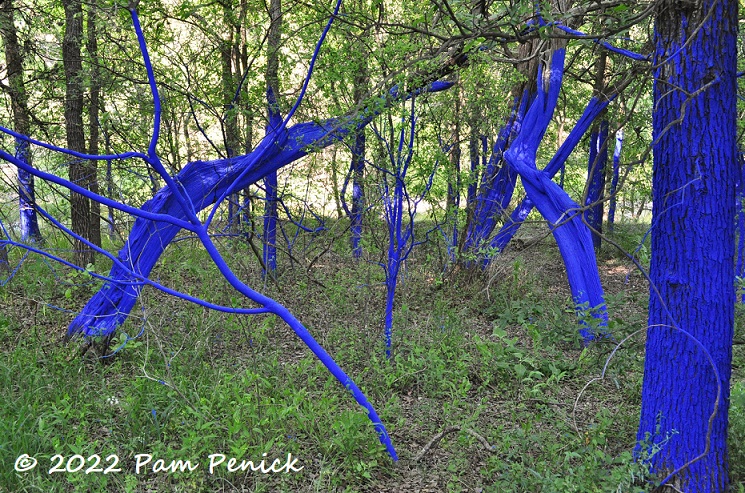 Other blue trees are wilder looking. Bent and twisted junipers seem to dance with young saplings in a wooded area along the trail.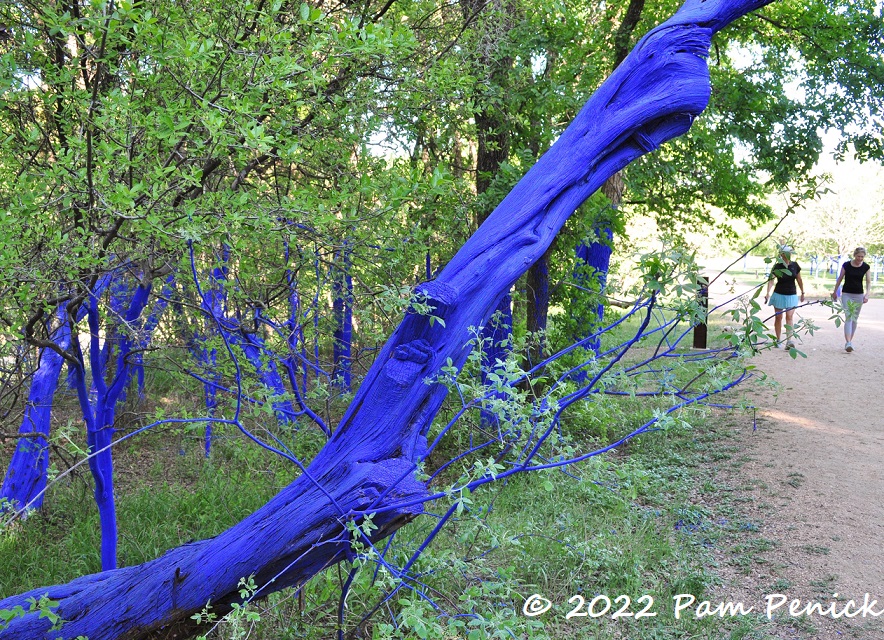 The ultramarine blue makes the texture of each tree's bark stand out.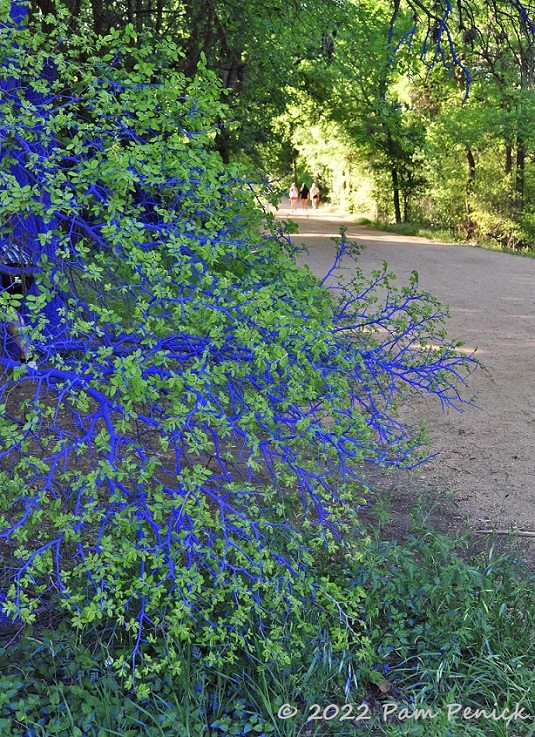 This shrubby tree astonished me, with each twiggy branch painstakingly highlighted with blue, and new green leaves glowing against it. How long must it have taken someone to carefully color each branch?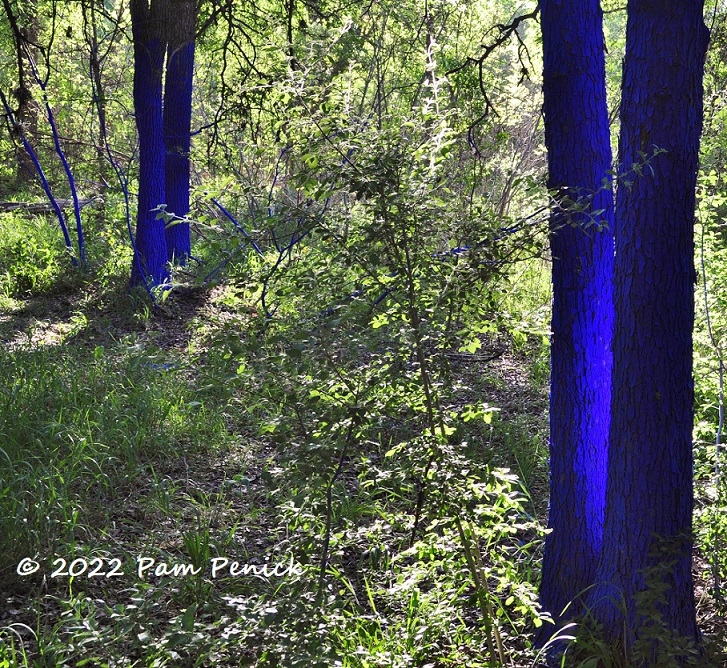 And check out this pair of blue trunks. The late afternoon sunlight created a blacklight effect.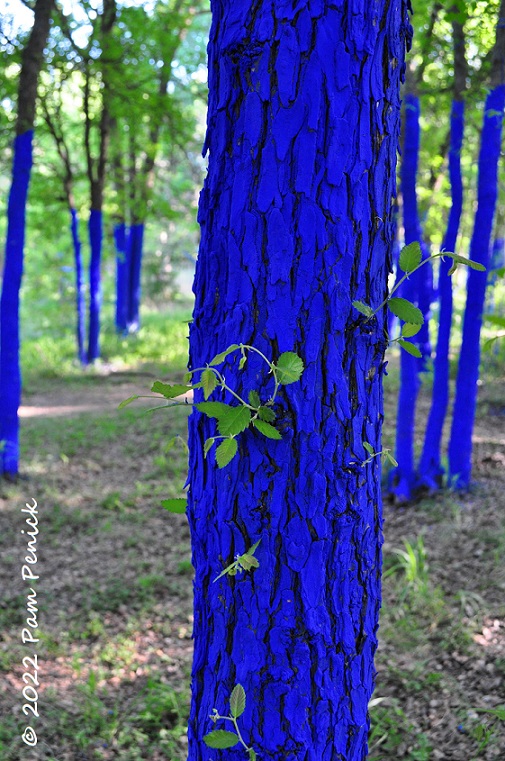 Bark texture and new green leaves coming to life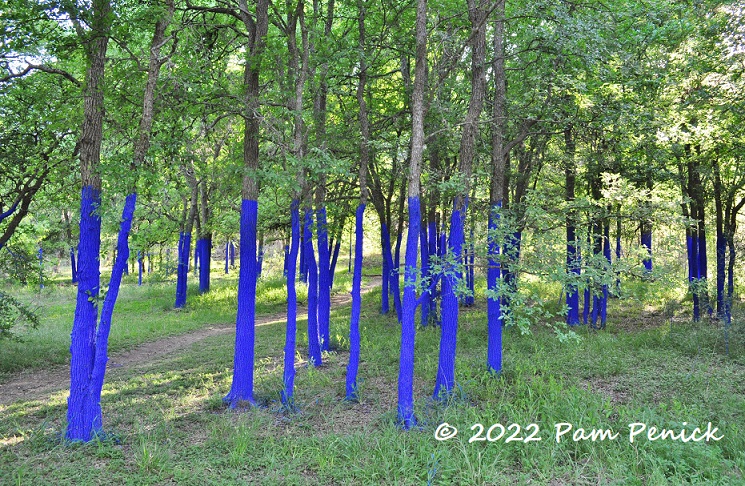 The blue coloring should last a couple of months, but go soon to see them in full ultramarine glory.
Texas mountain laurel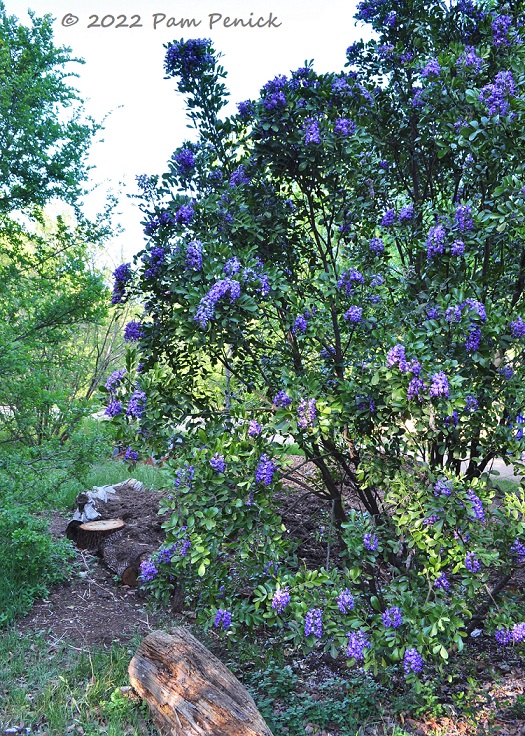 After we'd explored the blue trees we found a purple tree — a Texas mountain laurel still in full bloom. I was happy Pat got to smell the grape Kool-Aid fragrance of this Central Texas native.
The Treehouse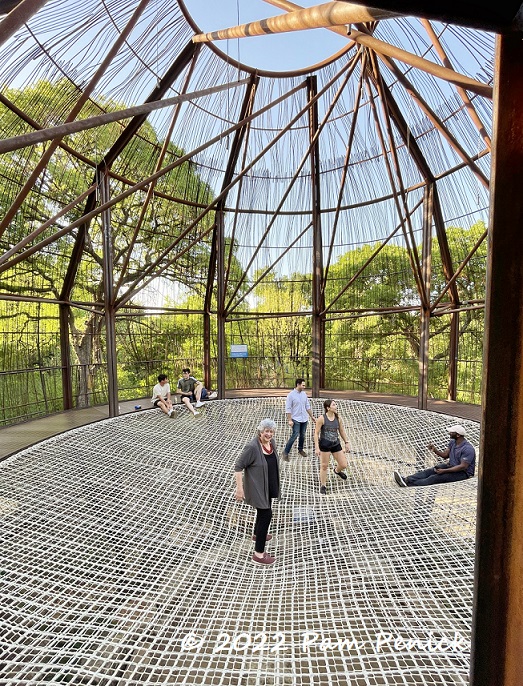 I also showed Pat the Treehouse, a two-story rebar-and-steel sphere with a net floor. Pat showed an adventurous spirit by walking right out onto the bouncy net, which supports you about 12 feet above the ground.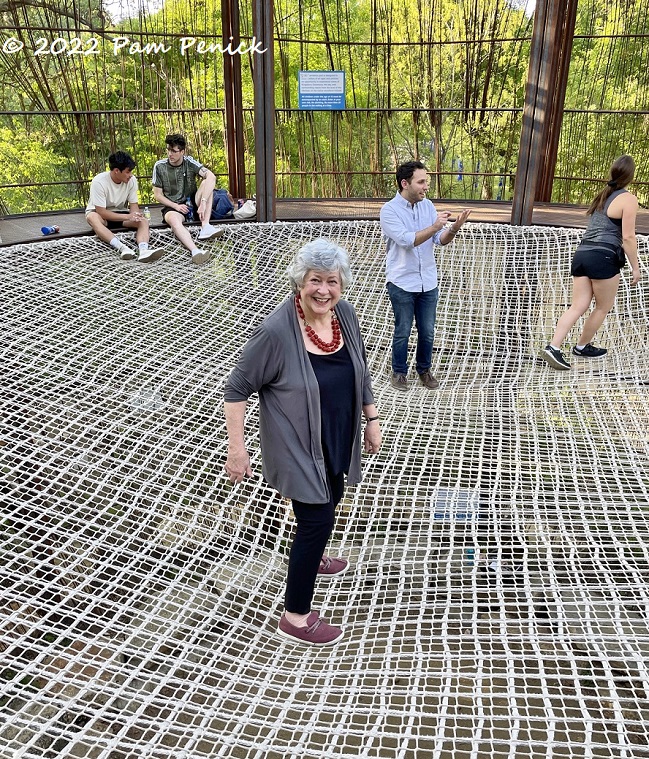 Right off the airplane, and here she is, having fun like a local.
Under the Radar with Christine Ten Eyck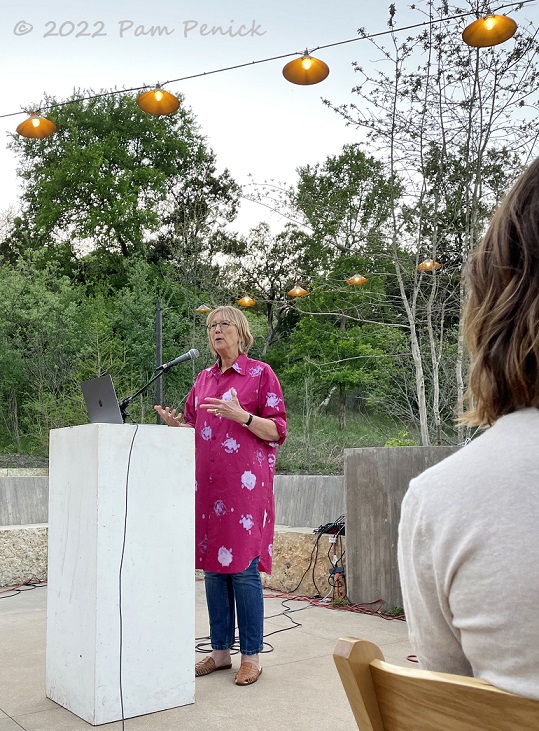 We also had tickets to an AIGA Under the Radar presentation at Pease Park by landscape architect Christy Ten Eyck. She talked about her work in designing the revamped Kingsbury Commons section of the park, as well as other projects throughout the Southwest. Her stories are so inspiring about bringing water, native plants, and new life into over-paved, unwelcoming spaces and turning them into places people and wildlife want to be, places that celebrate the "sacred path of water."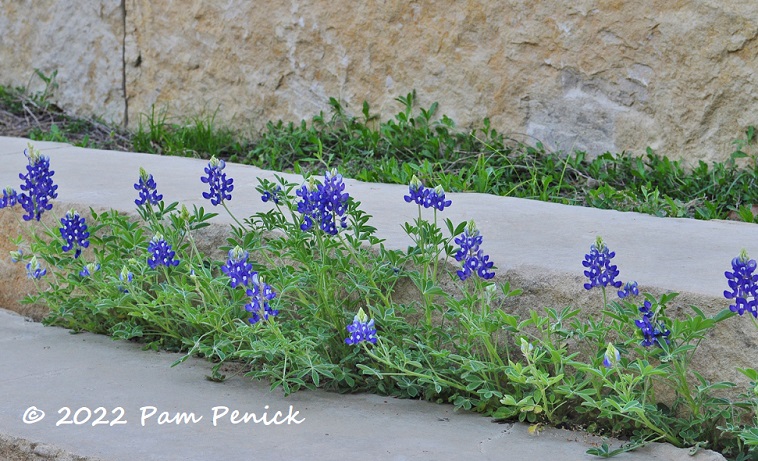 There's much inspiration to be found in people like Christy and Pat, and in places like Pease Park and artwork like The Blue Trees. Pat spotted her first Texas bluebonnets here at Pease Park, and we'd see more in the days ahead at the Wildflower Center and on a wildflower drive out to Brenham. I'll have pics to share soon!
I welcome your comments. Please scroll to the end of this post to leave one. If you're reading in an email, click here to visit Digging and find the comment box at the end of each post. And hey, did someone forward this email to you, and you want to subscribe? Click here to get Digging delivered directly to your inbox!
__________________________
Digging Deeper
Explore the Surreal Garden at Zilker Botanical Garden. For two consecutive weekends, the public is invited to attend evening soirées at Zilker Botanical Garden, including botanical-themed neon surrealism, interactive art sculptures, local-favorite foods, craft cocktails, live music, costumes, dancing, and more! A portion of the proceeds benefits the ZBG Conservancy. Tickets are $40 in advance, $50 at the door (plus fees & tax). Dates are April 22-23 and 28-30 from 6 pm to 10 pm. Get tickets here.
Join the mailing list for Garden Spark! Hungry to learn about garden design from the experts? I'm hosting a series of talks by inspiring garden designers, landscape architects, and authors a few times a year in Austin. Check out the 2021-22 schedule. These are limited-attendance events that sell out quickly, so join the Garden Spark email list to be notified in advance. Simply click this link and ask to be added.
All material © 2022 by Pam Penick for Digging. Unauthorized reproduction prohibited.