April 16, 2021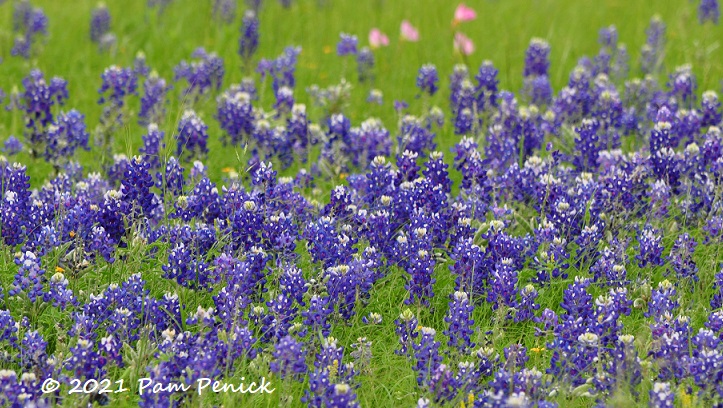 I kept hearing that bluebonnets were a bit of a no-show in Central Texas this year due to a dry fall and winter, not because of the February freeze. Friends who'd gone west into the Hill Country looking for denim-blue fields came back disappointed, and my own excursion south of San Antonio in early April turned up more yellow, pinks, and whites than our famous blues.
Then I heard Washington County, east of Austin, was putting on a good bluebonnet show. My mom and I took off on a second wildflower safari on Tuesday, cruising the back roads around Round Top and Brenham. Right away we found several good fields of blue. Hooray, my spring ritual is complete!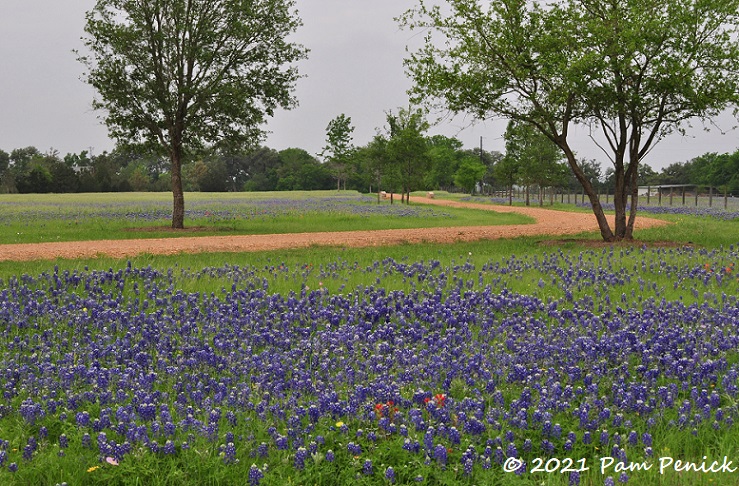 Here are my favorite images from a pleasant day of flower peeping. Skies were sullen, and it was sticky and warm, but bluebonnets lift your spirit no matter the weather.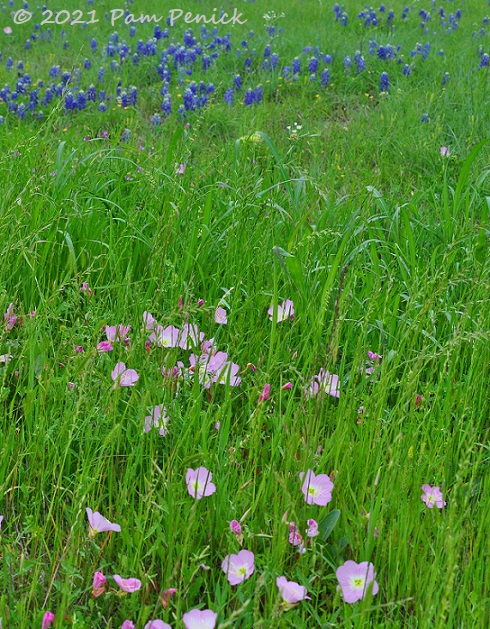 Pink evening primrose plays hide-and-seek with a cluster of bluebonnets amid tall grasses.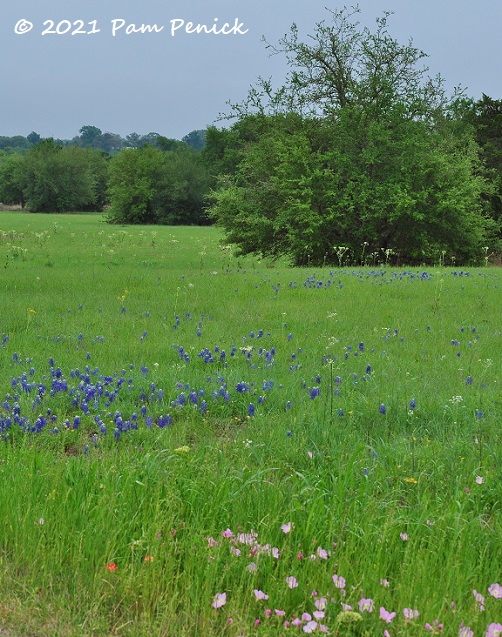 A little wider for context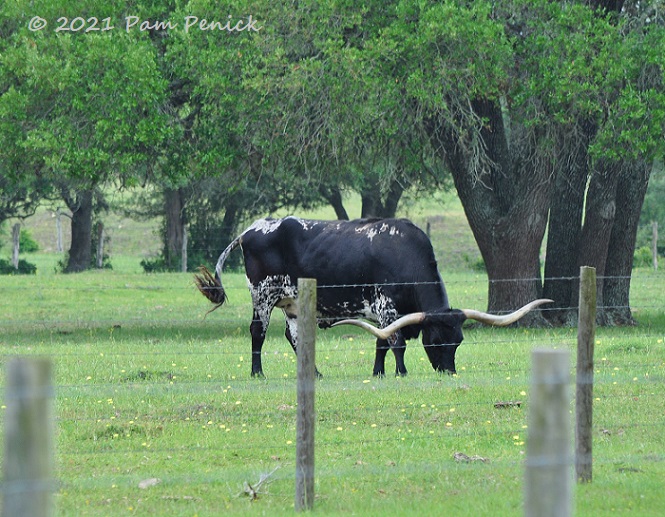 What is a Texas scene without a longhorn?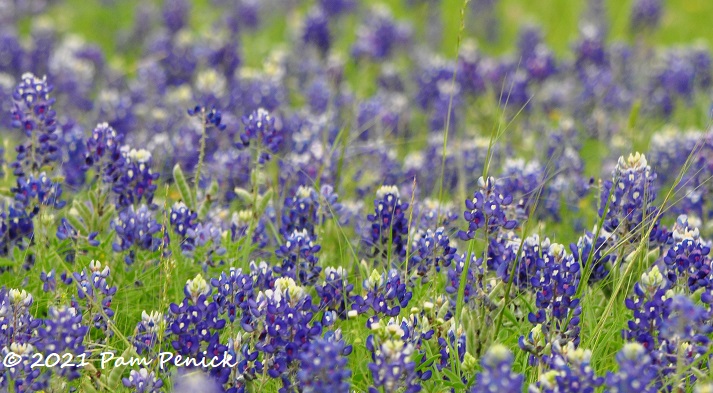 More blues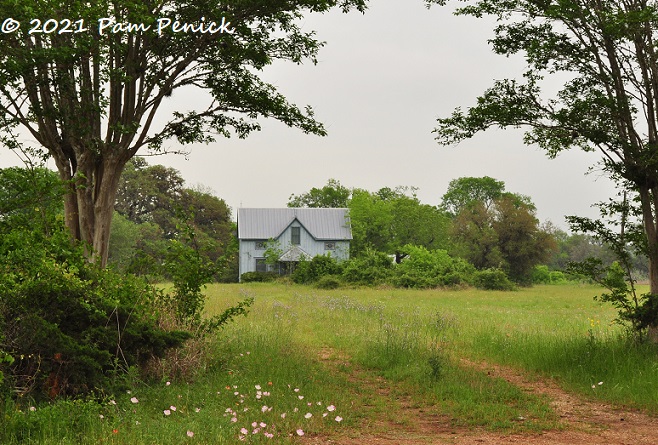 "This old house here by the road"
Cow Lounge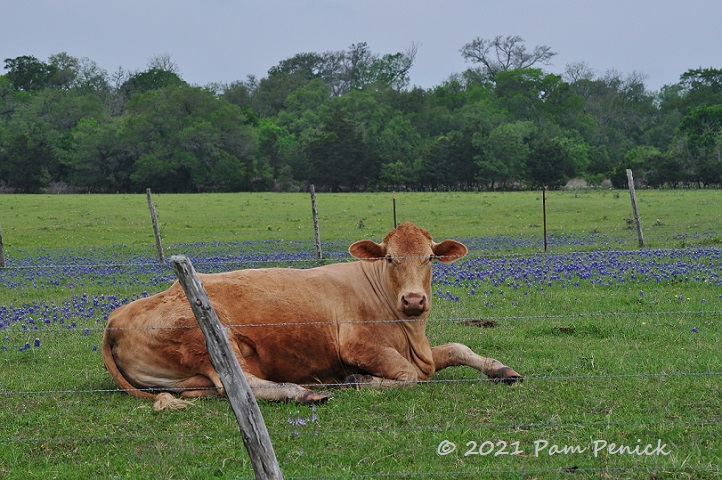 Along one quiet lane it was just us and a few cows lounging in the bluebonnets.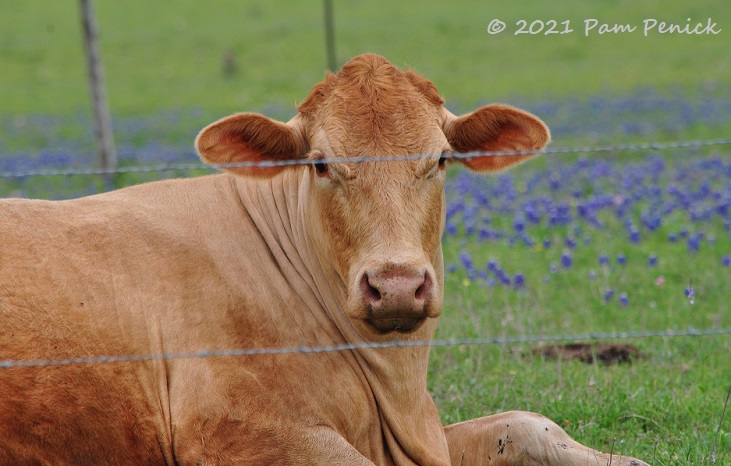 Hello there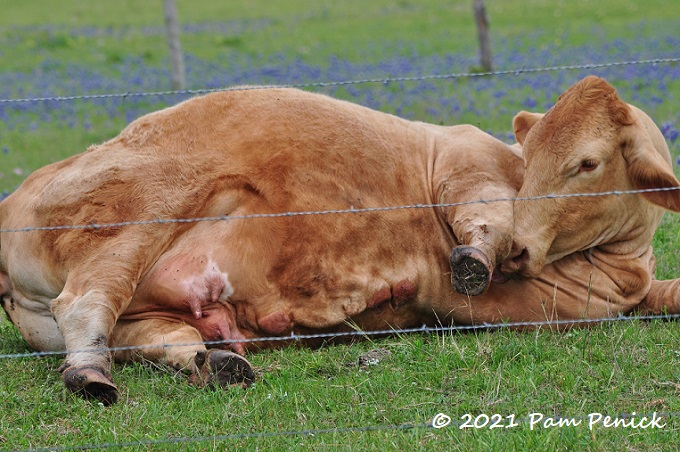 Brings to mind memories of odalisque paintings in art history class.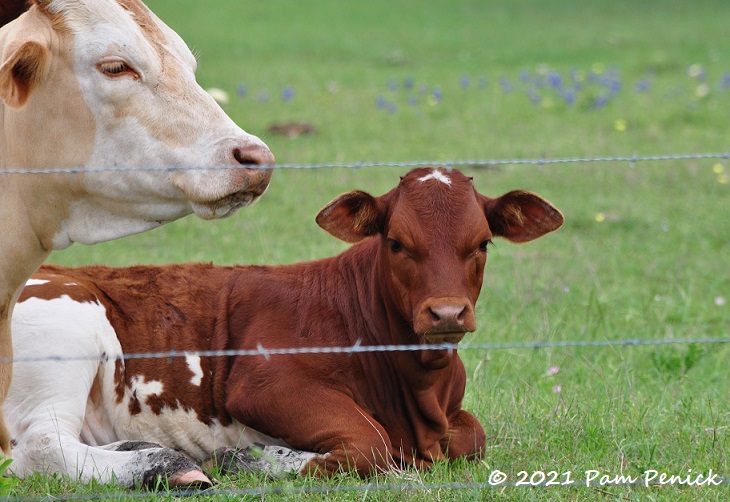 There were a few sweet calves too, just as placid as their mamas.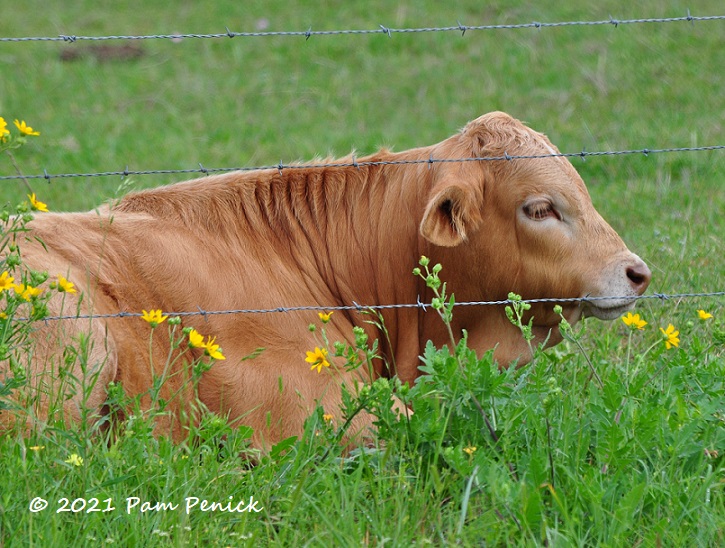 Rancho Pillow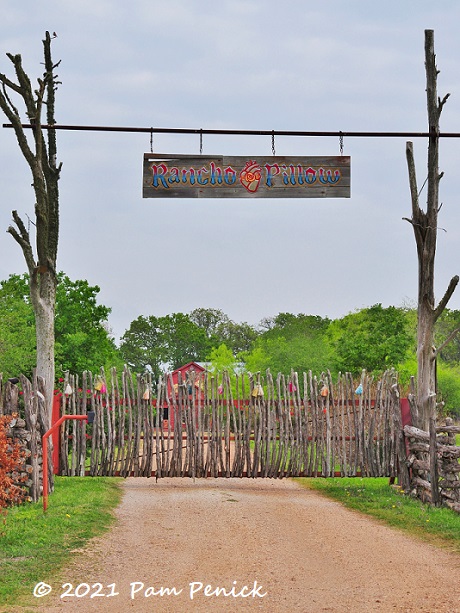 I follow a place called Rancho Pillow on Instagram, and I decided to do a drive-by.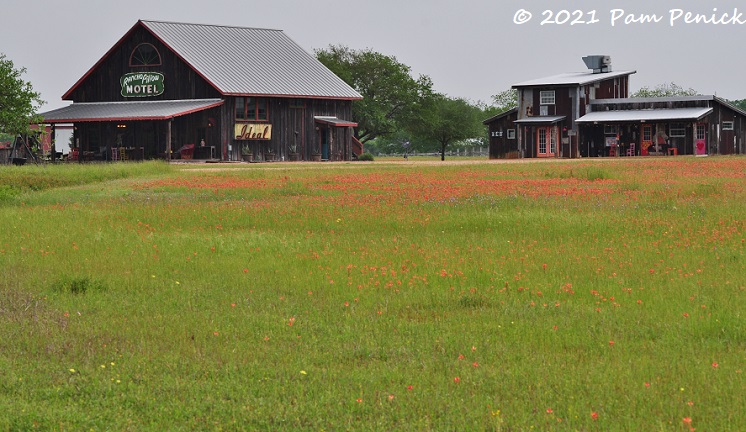 A field of orangey red Indian paintbrush echoed the orange trim of dark-wood buildings.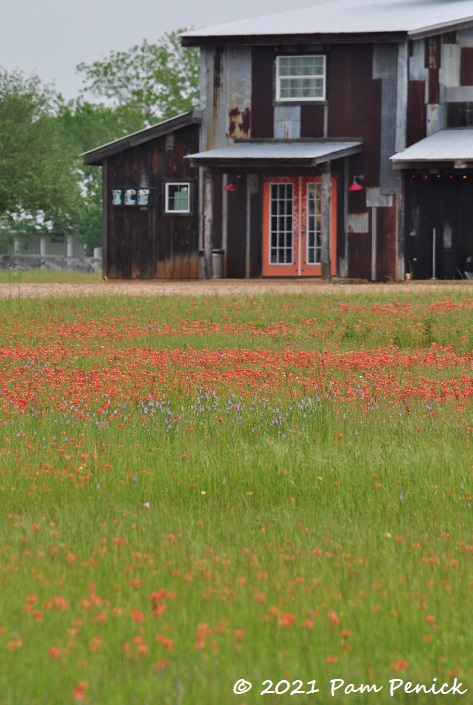 A perfect match!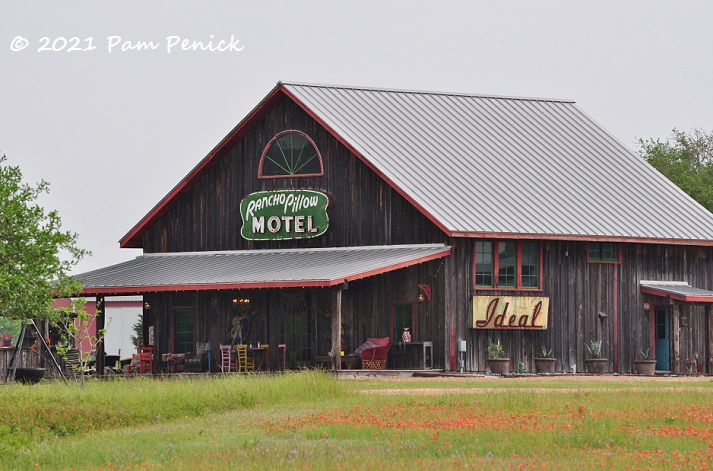 Rancho Pillow is a 20-acre rentable compound that hosts events like Feasts in the Field. One day I'd love to attend.
Round Top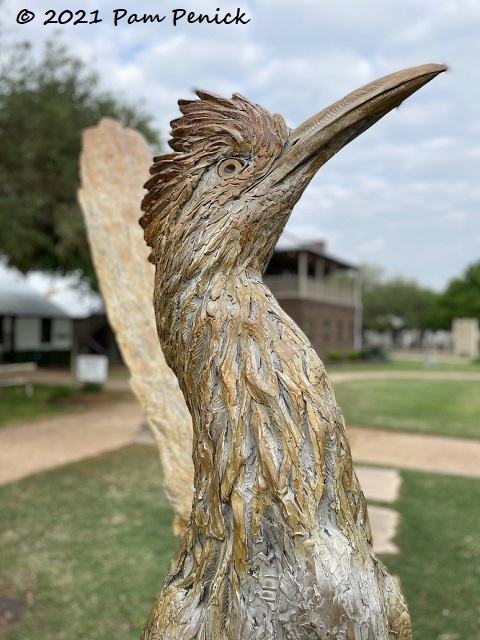 The tiny hamlet of Round Top, famous for its twice-a-year antiques market, is a ghost town on a Tuesday. The charming shops and restaurants in the town square are only open Wednesday through Sunday. But we stopped anyway to stretch our legs and admire a giant roadrunner sculpture.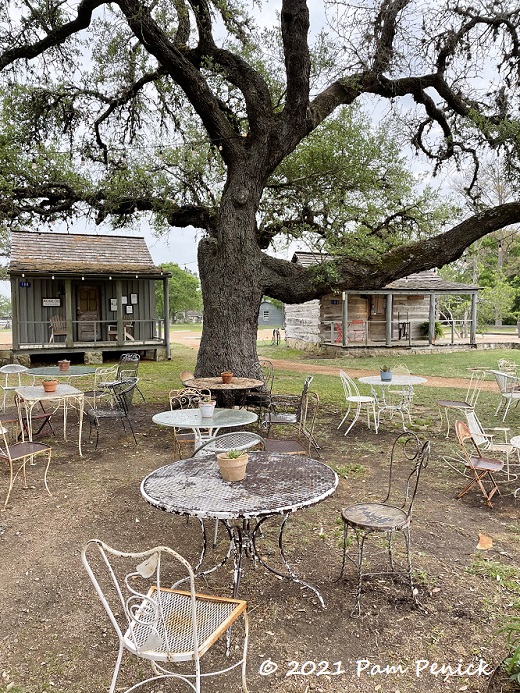 The place is so adorably rustic and set up for a party that I immediately was kicking myself for never having spent much time in Round Top before. An omission I must rectify post-covid.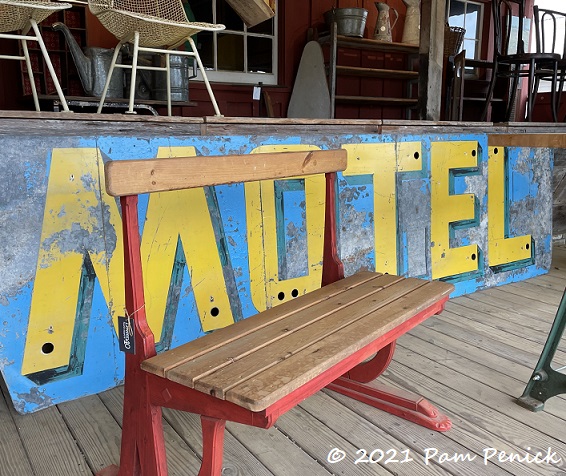 An old motel sign and bench for sale at an antiques shop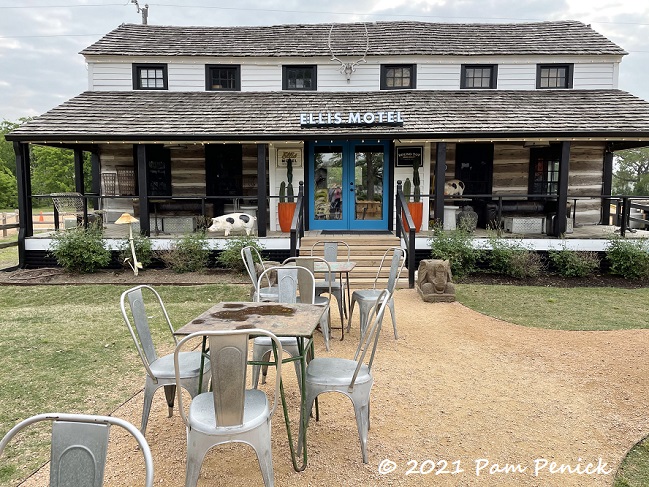 Even the motel is a log cabin.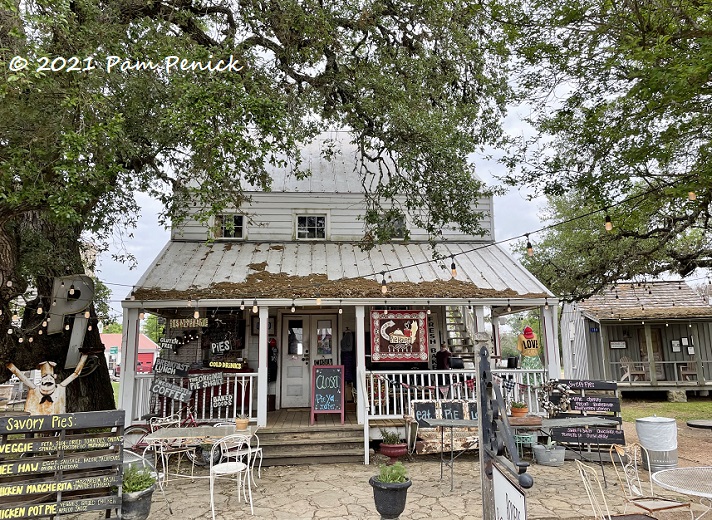 Mmm, a pie shop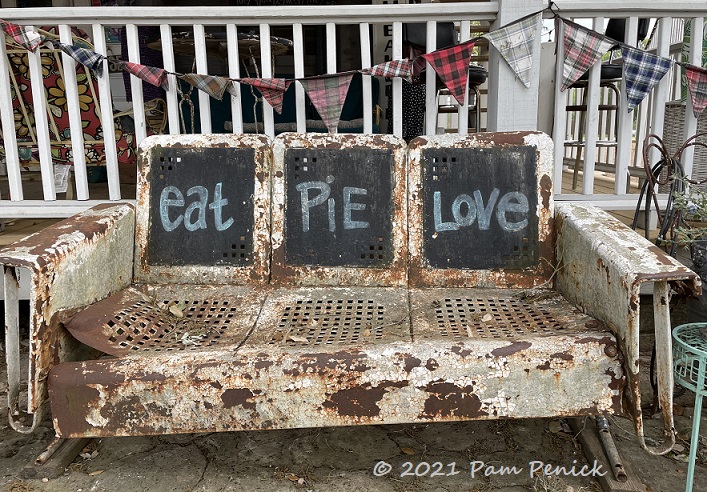 Eat. Pie. Love. Or Eat pie. Love?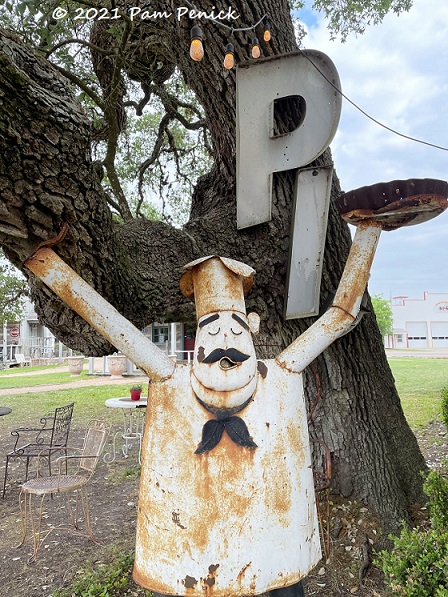 Pi gets math lovers involved.
Back on the bluebonnet hunt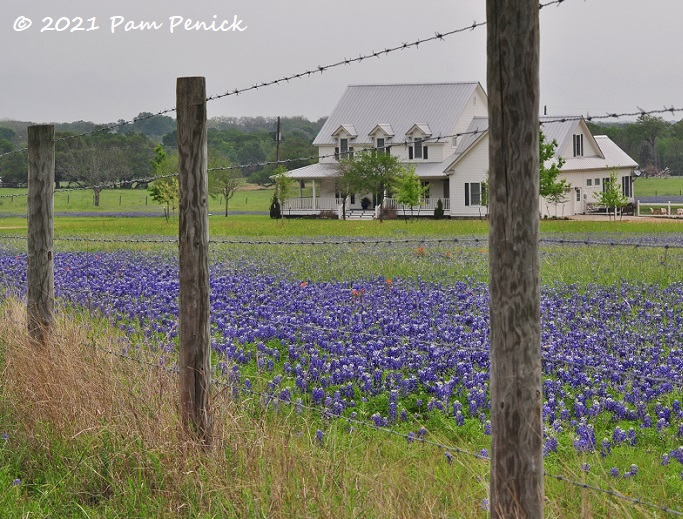 From Round Top we drove the back roads to Brenham, about an hour and a half east of Austin, and spotted this lovely field of bluebonnets in front of a white farmhouse.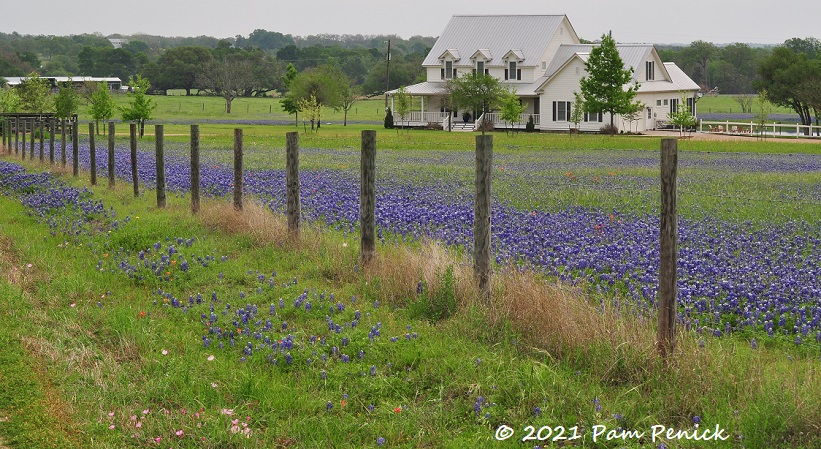 What a pretty front-yard view.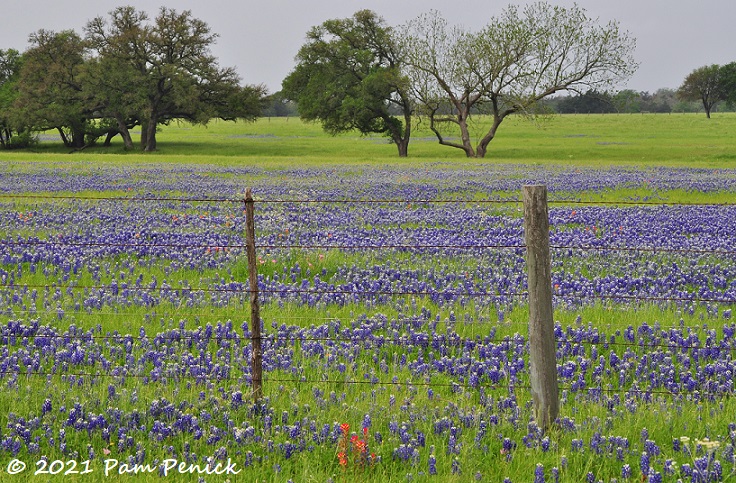 Bluebonnets abounded in electric-green fields.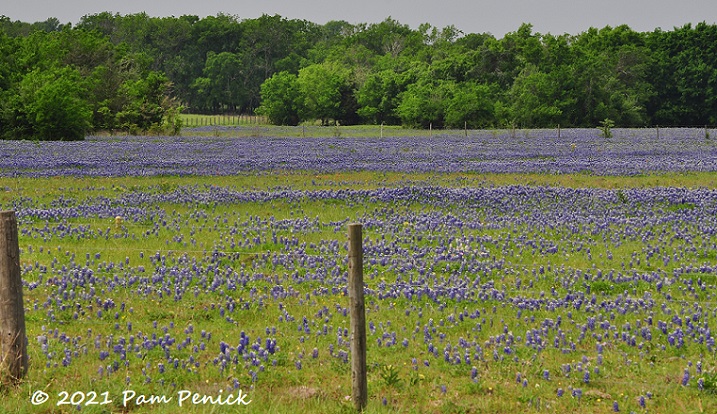 The Antique Rose Emporium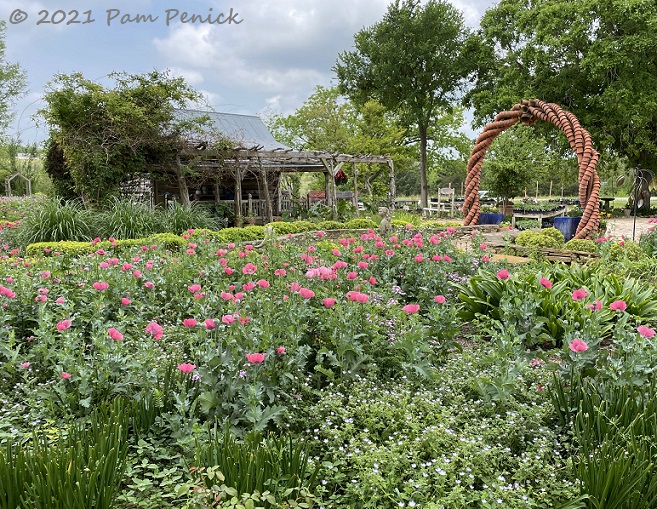 You can't end a trip to Brenham without stopping at The Antique Rose Emporium. The nursery was stocked with dozens and dozens of roses and a good mix of annuals and perennials, and we did a little plant shopping, of course. But I was really there for the display gardens, where pink poppies were stealing the show.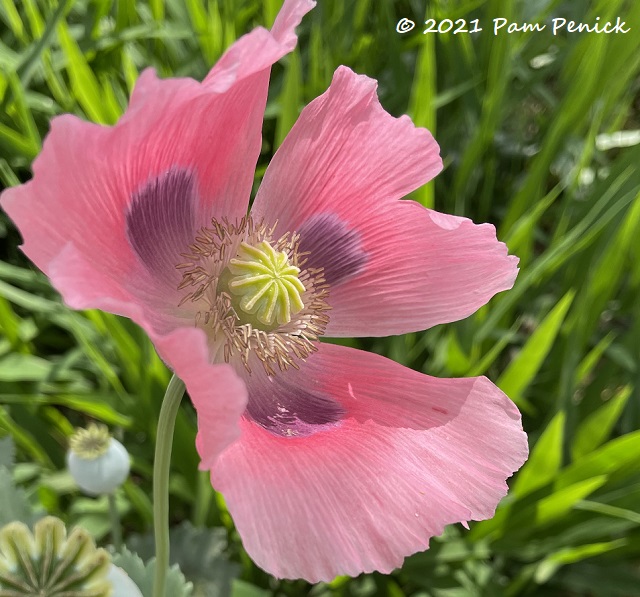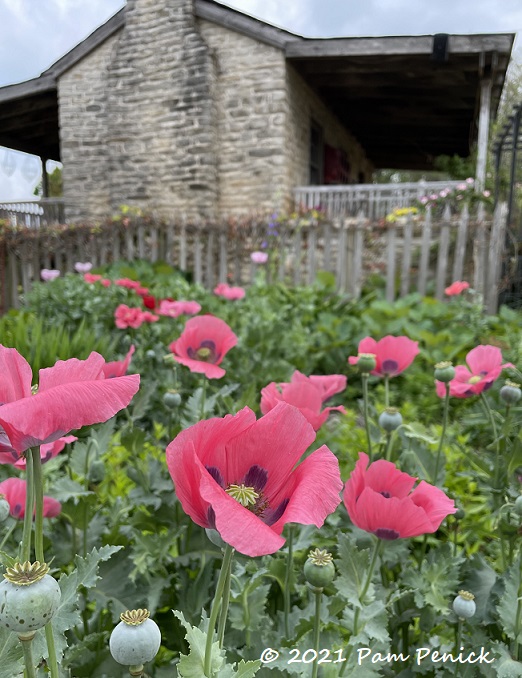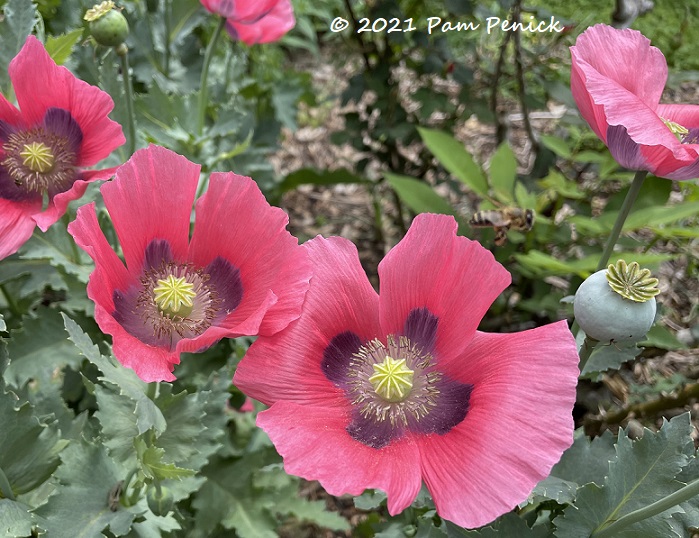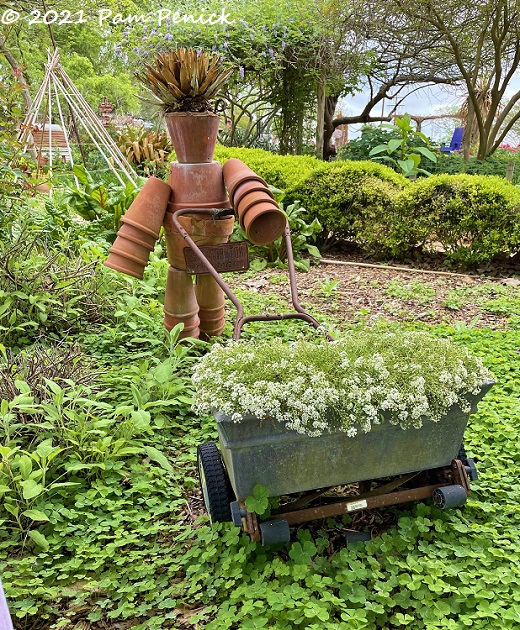 The children's garden always makes me smile.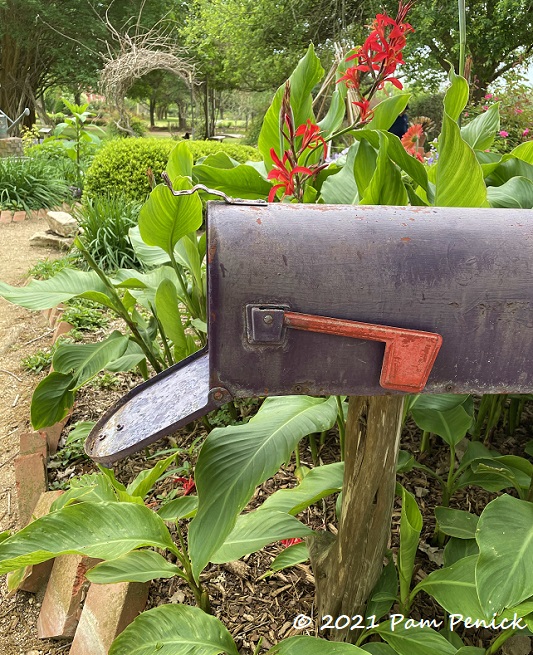 Like every other garden in Texas, they'd sustained some damage from the February freeze, but mostly it was lush and green, roses were blooming — and cannas, as seen above — and annual flowers were unfazed.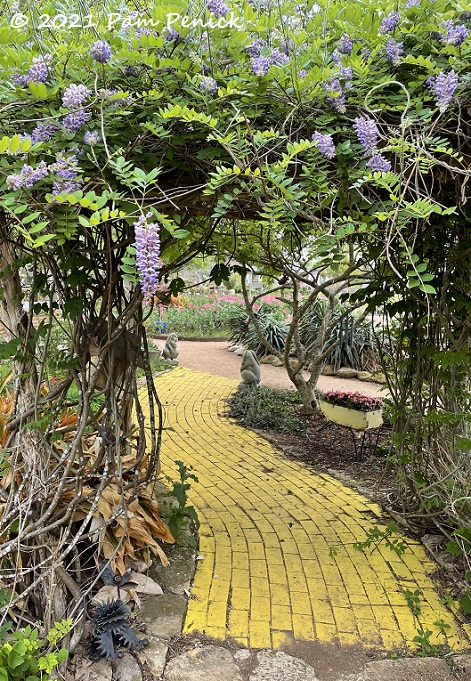 I followed the yellow brick road under a fragrant wisteria arbor.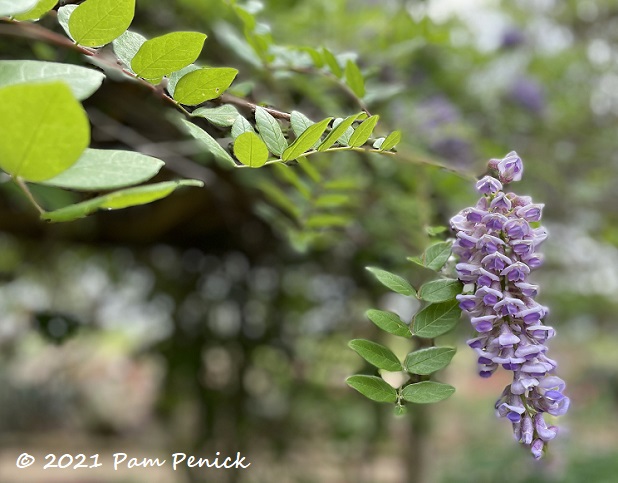 Toto, I have a feeling we're not in Kansas anymore.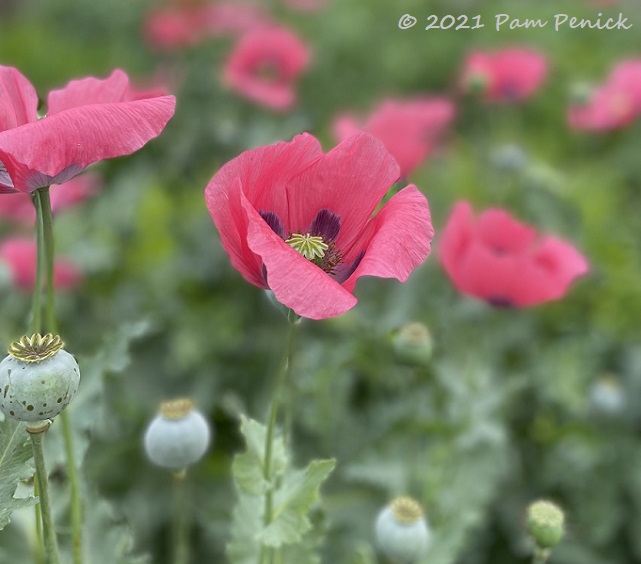 On the road again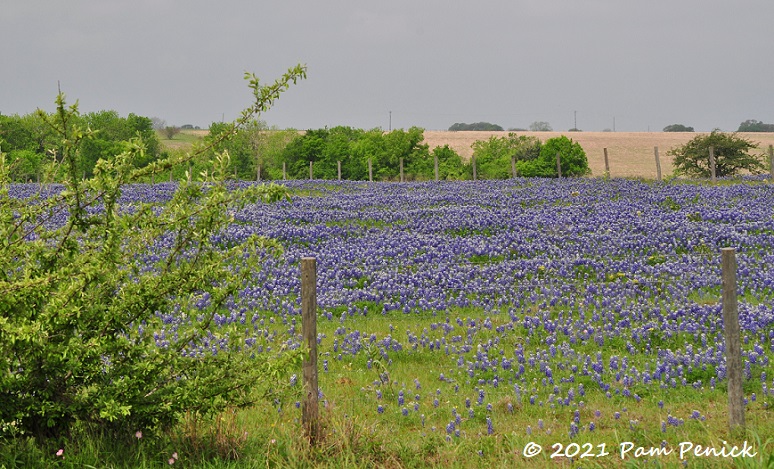 After that it was time to head home. I'm grateful for two opportunities to see Texas wildflowers this year. There's still time to see bluebonnets if you go this weekend and ramble the back roads of Washington County.
I welcome your comments; please scroll to the end of this post to leave one. If you're reading this in a subscription email, click here to visit Digging and find the comment box at the end of each post.
_______________________
Digging Deeper: News and Upcoming Events
Join the mailing list for Garden Spark! Hungry to learn about garden design from the experts? I'm hosting a series of talks by inspiring garden designers, landscape architects, and authors a few times a year in Austin. (While in-person talks are currently on hiatus due to the pandemic, I plan to resume again as soon as possible.) Talks are limited-attendance events that sell out quickly, so join the Garden Spark email list to be notified in advance. Simply click this link and ask to be added.
All material © 2021 by Pam Penick for Digging. Unauthorized reproduction prohibited.