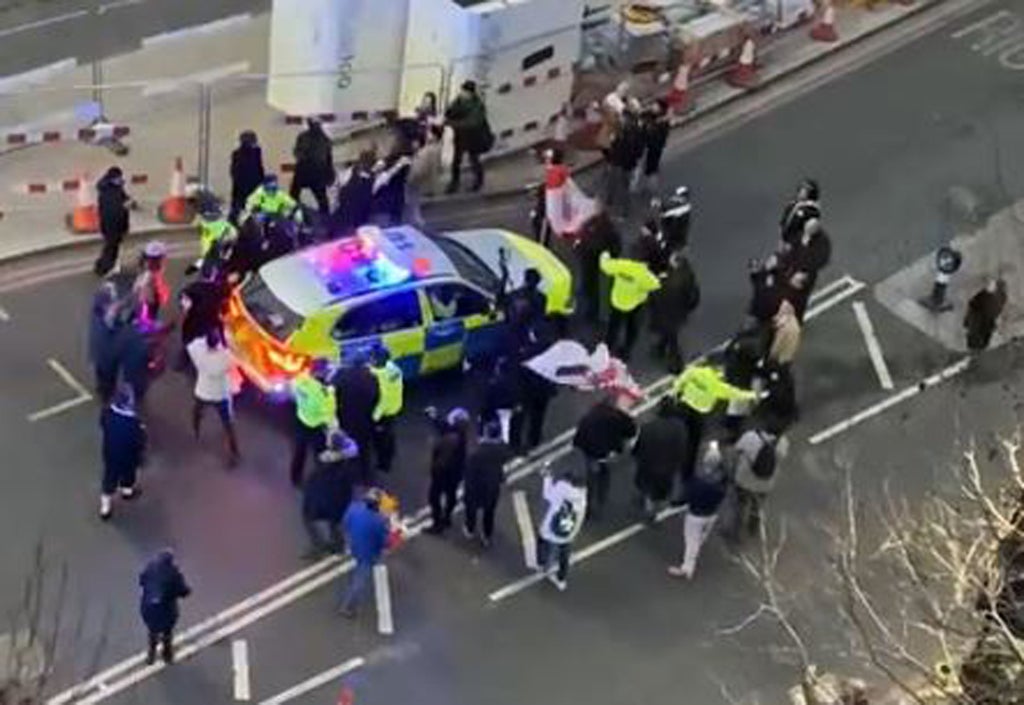 Keir Starmer bundled into police car after being swarmed by protesters shouting Savile slurs
Furious MPs tonight demanded that Boris Johnson apologise to Keir Starmer after a mob accosted the Labour leader and repeated Jimmy Savile smears made by the PM last week at the despatch box.
Senior Tory Sir Roger Gale called for Mr Johnson to make a Commons apology on Tuesday and Tobias Ellwood, the Conservative MP who chairs the Commons Defence Committee, said a drift towards a "Trumpian style of politics" must end.
Earlier on Monday evening Metropolitan Police officers stepped in to protect the Labour leader as the group followed him and shadow foreign secretary David Lammy near parliament.
A police spokesperson said two people were arrested at the scene for assault of an emergency worker, after a traffic cone was thrown at an officer.
Last Monday, Mr Johnson falsely accused Sir Keir of failing to prosecute Savile while he was director of public prosecutions, prompting his former policy director Munira Mirza to resign.
Responding to the attack this evening, Mr Johnson said the abuse hurled at his political opponent was "absolutely disgraceful".
1644289920
French far-right leader Eric Zemmour says Boris Johnson is his role model
French far-right presidential hopeful Eric Zemmour has nominated Boris Johnson as the world leader he feels he has the most in common with.
Mr Zemmour said he was "without doubt" closest to the UK prime minister "culturally, intellectually".
Like Mr Johnson Mr Zemmour is a former journalist who has ridden a tidal wave of populist support – emerging as a challenger to Emmanuel Macron in this year's election.
France will go to the polls in April to elect its next president, with centrist Mr Macron facing three challengers from the far-right to right wing of French politics.
Our policy correspondent Jon Stone reports.
Joe Middleton8 February 2022 03:12
1644286320
Boris Johnson believes changes within Downing Street will save him – but is he right?
Advisers can come and go, says Rob Merrick, but does it matter if a political leader will not take their advice?
Joe Middleton8 February 2022 02:12
1644282720
Boris Johnson: Government setting 'tough targets' for NHS to deal with backlog
Joe Middleton8 February 2022 01:12
1644279000
Scottish Labour leader says PM should be 'ashamed of himself'
The leader of Scottish Labour has said "Boris Johnson should be absolutely ashamed of himself" after Sir Keir Starmer was forced to take refuge after a mob confronted him near Parliament.
Sir Keir faced baseless allegations of "protecting paedophiles" and chants about Jimmy Savile from protesters before being bundled into a police car for protection.
Anas Sarwar told BBC Scotland's The Nine programme: "We have a deliberate attempt from politicians in power to increase hate, to increase division, in order to distract from their failures.
"So Boris Johnson should absolutely be ashamed of himself.
"He knew exactly what he was doing by throwing that dead cat strategy around the Jimmy Savile trial.
"(There's) no remorse at all, no thinking about the impact on the families impacted by that directly. It was deliberately targeted to create anger, to cerate a distraction, and to protect his own job.
"The best thing we can do for this country is to get that charlatan out of Downing Street, get that liar, that corrupt individual out of Downing Street, and get honesty and truth back into our politics."
Joe Middleton8 February 2022 00:10
1644275537
PM's new spin doctor lobbied former chief of staff not to ban Huawei in the UK
Boris Johnson's new spin doctor lobbied a former chief of staff in No 10 not to ban Huawei in the UK, leaked documents suggest.
Guto Harri, hired by the prime minister as part of his shake-up in Downing Street, asked Sir Eddie Lister which ministers could receive a "nudge" for his client in 2020, The Sun reported.
The communications chief was said to have been representing lobbying firm Hawthorn Advisors during the 25-minute video call including Huawei executives on June 2 that year.
After The Sun reported the leaked minutes, a No 10 spokeswoman said: "In full compliance with appropriate guidance, government officials met with a number of interested parties, including Huawei, following the change in US policy.
"After a technical review by the National Cyber Security Centre in response to the US sanctions, the Government then banned the purchase of any new 5G Huawei equipment and is in the process of removing all Huawei equipment from 5G networks.
"The Prime Minister always acts in the best interests of the UK when dealing with China which allows us to manage disagreements, defend our values and preserve space to tackle challenges including on security."
Joe Middleton7 February 2022 23:12
1644274550
Keir Starmer rescued by police after angry mob shouts Savile slurs
Joe Middleton7 February 2022 22:55
1644273495
Nicola Sturgeon: If Boris Johnson has any decency at all he will say sorry
Nicola Sturgeon tonight said if Boris Johnson "has any decency at all" he would say sorry for "choosing to weaponise online conspiracy theories against opponents".
The prime minister has come under fresh pressure over the Jimmy Savile smear he aimed at Sir Keir Starmer after the Labour leader had to be rescued by police from a mob near Parliament.
The First Minister tweeted on Monday: "Any politician choosing to weaponise online conspiracy theories against opponents knows fine well that they risk stirring up the kind of hate and abuse that Keir Starmer experienced today.
"If he has any decency at all, the PM will now apologise unreservedly."
Joe Middleton7 February 2022 22:38
1644272495
Families using foodbanks speak out over Kirstie Allsopp comments
Families who have relied on foodbanks despite being in work have spoken out Kirstie Allsopp's "unsympathetic" comments on house buying.
The Location, Location, Location presenter said many young people could afford to buy a home if they made more sacrifices.
The response to her remarks on social media and in the press has been highly critical.
Struggling families have responded with bewilderment.
Joe Middleton7 February 2022 22:21
1644270983
MPs call on PM to apologise to Starmer for Jimmy Savile smear
MPs have tonight called on Boris Johnson to retract and apologise for his Jimmy Savile smear directed at Keir Starmer after the Labour leader was surrounded by a mob on Monday evening.
Senior Tory Sir Roger Gale demanded that Mr Johnson makes a Commons apology on Tuesday over the abuse which he feared could be the result of Mr Johnson's "deliberately careless" Savile allegation.
"It has, I'm afraid, played into the hands of some rather unpleasant people," the MP, first elected in 1983, told PA.
"I think what he ought to do … is to go to the despatch box tomorrow to condemn the way Keir was treated and apologise."
Tobias Ellwood, the Conservative MP who chairs the Commons Defence Committee, told the prime minister "apologise please".
"Let's stop this drift towards a Trumpian style of politics from becoming the norm," he added.
Chris Bryant, the Labour MP who chairs the Commons Committee on Standards, said: "This is what happens when a Prime Minister descends into the gutter and recycles lies from hard-right conspiracy theorists. Political poison has an effect. Johnson has no moral compass."
And Conservative MP Julian Smith said: "What happened to Keir Starmer tonight outside parliament is appalling. It is really important for our democracy & for his security that the false Savile slurs made against him are withdrawn in full."
Joe Middleton7 February 2022 21:56
1644269973
Patients will lose out as ministers toy with targets the NHS can't meet
The NHS is unlikely to be able to meet any new waiting time targets, as Rebecca Thomas explains.
Joe Middleton7 February 2022 21:39