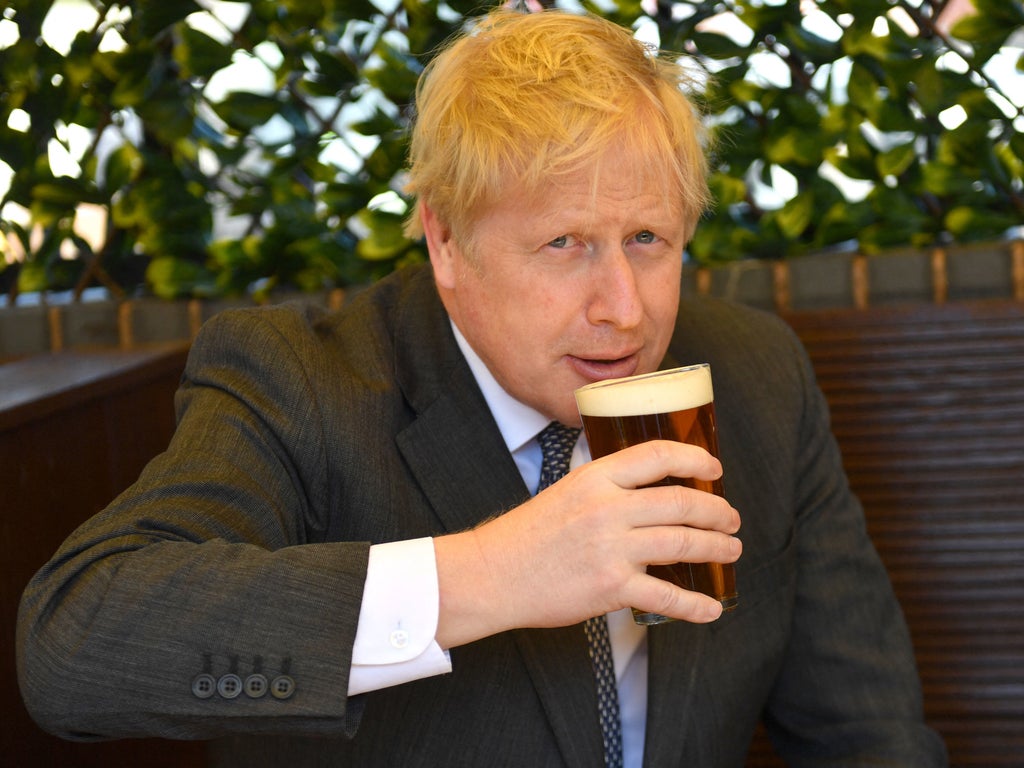 Boris Johnson 'toxic' even to his allies, says Malcom Rifkind
The growing Tory rebellion Boris Johnson's leadership over the No 10 parties saga is partly a "Remainer plot" to "reverse Brexit", Nadine Dorries has suggested – a claim later described by a fellow Conservative MP as "predictable rubbish from a predictable source".
Long-serving former schools minister Nick Gibb became the 15th Tory MP – just seven of whom publicly backed remaining in the EU – to publicly call on the prime minister to resign on Friday, hours after Red Wall MP Aaron Bell did the same.
It came after The Mirror reported that a photograph of Mr Johnson drinking a can of Estrella beer at a birthday event held for him in No 10 is among the 300 images handed to the Metropolitan Police.
As No 10 insiders warned the increasingly isolated PM is becoming "unpredictable and erratic", his Cabinet appeared to be descending into squabbles, with one minister calling for Mr Johnson to sack Rishi Sunak and two others accusing the chancellor of being "on manoeuvres" for the leadership, according to The Times.
1644080402
Johnson and Macron agree to fight 'malicious Russian activity'
The UK and its allies will work to combat Russian aggression "wherever and however it might occur", Boris Johnson's spokesman said today.
The prime minister had a call with president Emmanuel Macron to update him on his visit to Kiev this week, where he met Ukrainian President Volodymyr Zelensky.
"They agreed that finding a diplomatic solution to the current tensions must remain the overriding priority," a No 10 spokesman said.
"The Prime Minister and President Macron stressed that Nato must be united in the face of Russian aggression.
"They agreed to continue to work together to develop a package of sanctions which would come into force immediately should Russia further invade Ukraine.
"The leaders discussed their work to strengthen Nato's Eastern flank, ensuring that allies are fully defended against malicious Russian activity, wherever and however it might occur."
Mr Macron is set to visit Moscow on Monday and Kiev on Tuesday, while German Chancellor Olaf Scholz will travel to Kiev on 14 February and Moscow the following day. British Foreign Secretary Liz Truss is also due to travel to Moscow soon.
Lamiat Sabin5 February 2022 17:00
1644078471
Opinion | Sunak's main appeal is that his personal style is the opposite of PM's
And here's another snippet from John Rentoul's Sunday column where he suggests that, while Rishi Sunak's succession nothing like as certain as Gordon Brown's was in 2007, it is becoming more certain by the day". He writes:
No one knows exactly what a Sunak government would be like, but its main policies are unlikely to change. Sunak might strike what he would describe as a more realistic pose on net zero than Johnson in order to appease the doubters in his selectorate, but his main appeal is that he is the opposite of Johnson in his personal style.
Sunak as prime minister wouldn't solve all the problems facing the government, but he promises a calmer and more predictable approach to them, conforming to the pattern of leadership alternating between the flamboyant and the steady: Thatcher, Major, Blair, Brown, Cameron, May, Johnson and next, the anti-Johnson.
Read his full analysis here:
Andy Gregory5 February 2022 16:27
1644077511
Former BBC chief criticises 'gleeful' Partygate coverage
A former head of the BBC has criticised the broadcaster's coverage of the Partygate scandal.
Speaking to the Daily Telegraph, Lord Michael Grade: "What I don't like is the tone. Take the BBC's coverage of the current political crisis. It's the lead story, of course – I'm not questioning their news values.
"Nor am I questioning the BBC's objectivity, and the reason I don't is that if you talk to Jeremy Corbyn… he would think the media were a nest of vipers because they gave him a hard time, and very rightly, over anti-Semitism.
"The BBC was on that story in the same way they're now on the Partygate story. But the tone is too aggressive. It's so gleeful and disrespectful. 'Are you lying to the British public?' It makes them sound as if they've made up their minds, which I don't think they have, but it's: 'We've got a story – we're going to nail this b*****'.
The broadcaster is "right to hold the prime minister to account", he said, adding: "But there seems to be a sense at the BBC that if you ask difficult questions politely, your colleagues are going to say: 'You let him or her off the hook'. It's a macho culture. It's unnecessary, and I don't like it."
Andy Gregory5 February 2022 16:11
1644076535
Rishi Sunak making 'blatant' efforts to position himself as replacement PM, minister says
My colleague Adam Forrest has more detail on the story in The Times, in which a Cabinet minister has called for Boris Johnson to sack Rishi Sunak.
An unnamed cabinet minister told the newspaper that Mr Sunak was making "blatant" efforts to position himself as a replacement PM. "Once the May elections are out the way there will be a reshuffle. Sunak has to go. I don't see how he [Mr Johnson] can keep someone who is so openly on manoeuvres."
A fellow cabinet minister was quoted as saying Mr Sunak was being "sly" and "looking at the future and can see the end of Boris on the horizon", while another criticised the chancellor's advisers for "encouraging him to stir things up".
Andy Gregory5 February 2022 15:55
1644074769
Opinion | Tory MPs are asking themselves, 'What would a Rishi Sunak government be like?'
In his Sunday column, our chief political commentator John Rentoul suggests that "we are at the last-moment doubts stage of the defenestration of Boris Johnson". He writes:
Conservative MPs have decided that the prime minister must go. What is holding them back is not knowing what will happen next.
They think Rishi Sunak would win the leadership election, but they cannot be sure.
And they worry that a Sunak government would soon find itself in almost as much trouble as the present one.
You can read his analysis of the possible roads ahead for the Tory Party – and the country – in full here:
Andy Gregory5 February 2022 15:26
1644073338
Black civil servant handed six-figure payout amid warning of 'systemic' race issues in Whitehall
A Black civil servant was handed a six-figure settlement by the government over allegations of racial discrimination in Whitehall – with the deputy cabinet secretary warning there was a "systemic issue" in the Cabinet Office, The Independent can reveal.
Kay Badu, 36, said he had been subjected to bullying at the hands of white managers over the course of three years in the Cabinet Office that left him with symptoms of post-traumatic stress disorder. At one stage, he contemplated suicide.
Mr Badu, who joined the Government Digital Service in 2018 as an Executive Assistant, said he was held back from promotion, a managers used the N-word and he was asked in front of colleagues: "Why do some Black people play the race card when they get into trouble?". After raising complaints, Mr Badu later found himself subject to an investigation.
Black civil servant handed six-figure payout over Whitehall 'race discrimination'
You can read the full article, from our race correspondent Nadine White, here:
Andy Gregory5 February 2022 15:02
1644072648
Nadine Dorries says new laws would 'hold Netflix to account' over Jimmy Carr's Holocaust joke
Here's more from Nadine Dorries' interview on BBC Breakfast this morning.
The culture secretary suggested new laws would hold to account streaming sites from airing jokes such as those made by Jimmy Carr about the travelling community and the Holocaust.
In a widely-shared clip from his one-hour Netflix special, His Dark Material, Carr joked about the horror of the Holocaust and "six million Jewish lives being lost" before making a disparaging remark about the deaths of thousands of gypsies at the hands of the Nazis.
Ms Dorries said: "We are looking at legislation via the Media Bill which would bring into scope those comments from other video on-demand streaming outlets like Netflix. So it's interesting that we're already looking at future legislation to bring into scope those sort of comments."
Pressed that she had previously claimed "left-wing snowflakes are killing comedy", Ms Dorries said: "Well, that's not comedy", adding that the comments were "abhorrent and they just shouldn't be on television".
Andy Gregory5 February 2022 14:50
1644071634
No 10 situation 'disappointing and embarrassing', says Treasury minister
John Glen, a junior Treasury minister, said the situation with No 10 was "deeply uncomfortable, disappointing, and embarrassing", Adam Forrest reports.
Writing in his local newspaper The Salisbury Journal, the MP did not call for Boris Johnson to resign.
But Mr Glen said the culture in No 10 "fell short of what the country had a right to expect, and responsibility must be taken for the mistakes that were made".
He said he spoke to the PM this week "and I took the opportunity to tell him in person how frustrated and let down we all feel".
Andy Gregory5 February 2022 14:33
1644070779
'No government in my lifetime has ever imploded in this way,' Tory MP says
The assistant editor of The Spectator – the magazine of which Boris Johnson was editor from 1999 to 2005 – reported this week that the consensus among all of the Tory MPs she had spoken to in the wake of No 10's staff exodus was that "it is definitely a case of when Boris goes, not if".
The magazine reported on Thursday night that "everyone" agrees that Munira Mirza's departure "ups the dial for Boris" and that while it has "felt fatal for about a week now, things are speeding up".
A formerly pro-Johnson MP – who is yet to send a no confidence letter – is reported to have told the magazine: "The staff are always the last to leave! They're normally there in Downing Street crying as the PM finally quits, they're thinking about the resignation honours list.
"No government in my lifetime has ever imploded in this way."
Andy Gregory5 February 2022 14:19
1644069832
Erratic PM will 'make a mess… then play the victim when it blows up in his face'
A No 10 insider told The Independent Boris Johnson's mood has been swinging wildly amid the turmoil in Downing Street.
"He's been erratic. Boisterous and confident one moment and then bleak and full of recriminations the next," said the source, speaking anonymously.
"It's becoming a pattern. He was difficult to handle after he'd had Covid, and after Dom [Cummings, his former top adviser] left, but now he's even worse. He'll make a mess, like Savile, Peppa Pig, the early lines on parties – against the clearest advice – and then play the victim when it blows up in his face."
Laurie Churchman5 February 2022 14:03