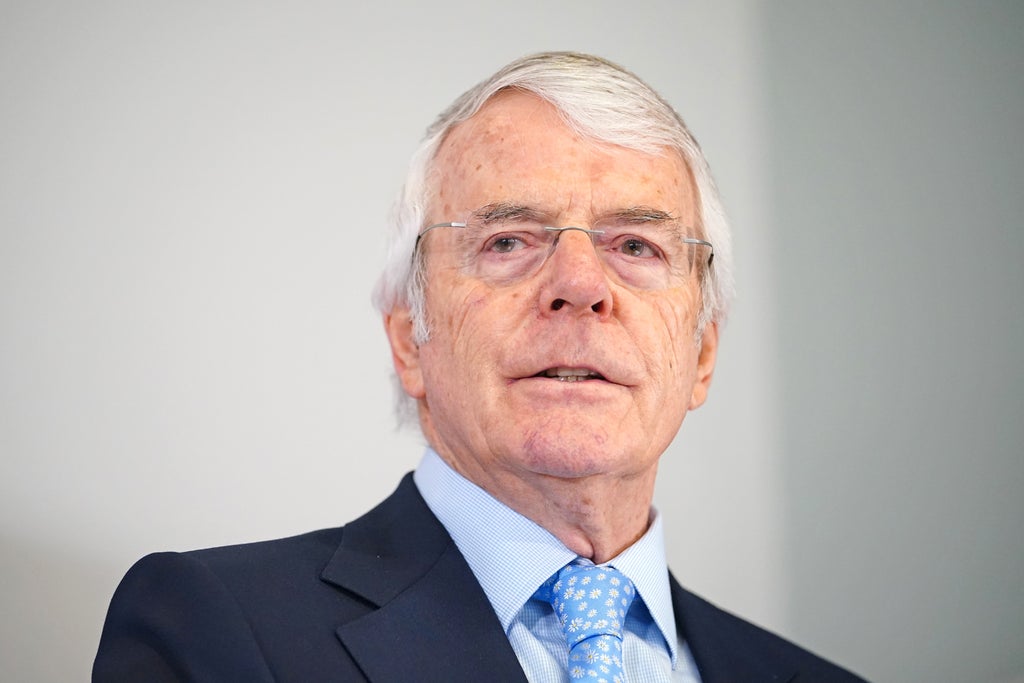 Boris Johnson refuses to say if he will resign if found to have broken law
Tory MPs should remove Boris Johnson from office sooner rather than later, according to a former Conservative attorney-general.
Dominic Grieve hit out at the MPs' "error of judgment" in allowing the prime minister to stay in post, adding: "I think as a matter of propriety and ethics, tolerating a prime minister who misbehaves in this fashion, including the lies that are associated with the misbehaviour, as well as the misbehaviour itself, is really rather chilling."
He warned the party was risking "catastrophic" consequences, including "complete electoral meltdown"
Just hours earlier, former Tory prime minister John Major said Conservative MPs may have to put the needs of the country first, by voting with the opposition to get rid of Boris Johnson should police discover he lied to parliament about Downing Street lockdown parties.
Speaking to The Independent after a keynote speech on democracy, John Major said he hoped "Conservative MPs would always put country before party, in all circumstances". Pressed on whether that included potentially rebelling against the government in a Commons vote of confidence, Sir John repeated: "In all circumstances."
The blistering attacks will be wounding to Mr Johnson, who has again brushed off questions about whether he lied to Parliament.
If Mr Johnson wins a probable no-confidence vote among his MPs, the only route to removing him will be a confidence vote on the Commons floor – which can only succeed if several dozen Tory MPs rebel.
Follow live updates below
1644550786
Labour MP accused of making racist remark to journalist
Neil Coyle, MP for Bermondsey and Old Southwark, has reportedly been banned from all bars on the parliamentary estate after an alleged incident in which he made a Sinophobic remark about the appearance of Henry Dyer, a Business Insider reporter.
Mr Dyer said the pair had been discussing Barry Gardiner, a Labour MP who received funds from a suspected Chinese spy, when Mr Coyle said his colleague had been "paid by Fu Manchu", a cartoon villain that draws on traditional Chinese stereotypes.
Alisha Rahaman Sarkar11 February 2022 03:39
1644525521
That's all for our live updates this evening. We'll be back with all the latest politics news tomorrow morning.
Katy Clifton10 February 2022 20:38
1644525014
I'd pull backing for PM if he kicked a dog, says Dorries
Culture secretary Nadine Dorries has reiterated her backing for Boris Johnson despite the torrent of criticism within his party and the police investigation into lockdown parties.
She said the only circumstance in which she would no longer support him would be if he kicked a dog.
Nadine Dorries says she would no longer support Boris Johnson if he 'kicked a dog'
Jane Dalton10 February 2022 20:30
1644523814
Starmer condemns Corbyn anti-war group
Sir Keir Starmer has condemned an anti-war group with links to Jeremy Corbyn, further distancing himself from the former Labour leader as he declared his party's "unshakeable" support for Nato.
The Stop The War coalition, which was initially launched to oppose US military action in response to the 11 September terrorist attacks in 2001, says it stands against what it describes as Britain's "disastrous addiction to war". But it has repeatedly come under fire for alleged anti-Western sentiments.
Mr Corbyn, now an independent MP, is a former chairman of the coalition.
In a stinging rebuke of its work, the leader of the opposition claimed the organisation is at best "naive", and at worst a force bolstering those who threaten democracies.
Sir Keir also said Mr Corbyn was "wrong" about Nato, and Labour's commitment to the alliance was "unshakeable".
In The Guardian, he wrote the likes of the Stop the War coalition "are not benign voices for peace".
He said to condemn Nato "is to condemn the guarantee of democracy and security it brings, and which our allies in eastern and central Europe are relying on, as the sabre-rattling from Moscow grows ever louder".
He added: "That's why the likes of the Stop the War coalition are not benign voices for peace. At best they are naive; at worst they actively give succour to authoritarian leaders who directly threaten democracies.
"There is nothing progressive in showing solidarity with the aggressor when our allies need our solidarity and, crucially, our practical assistance, now more than ever.
"The kneejerk reflex, 'Britain, Canada, the United States, France, wrong; their enemies, right', is unthinking conservatism at its worst.
Jane Dalton10 February 2022 20:10
1644522914
New law enabling Russian sanctions comes into force
Preparations to allow the UK to "toughen and expand" sanctions against Russia have come into force, the government has confirmed.
As Foreign Secretary Liz Truss met her Russian counterpart Sergei Lavrov in Moscow to seek a diplomatic solution to troops massing on the Ukrainian border, the Commons heard that a new law to "toughen and expand" sanctions against Moscow would be in place by the end of Thursday.
Ms Truss had promised MPs that a new sanctions law would be in place by 10 February but Labour questioned why MPs had not been given time to debate the new measures.
The Government confirmed that Foreign Office minister James Cleverly had signed off the "power to impose tough new sanctions against Russia" on Thursday evening.
Labour MP Chris Bryant said it was "autocratic" to publish legislation without scrutiny.
Ms Truss said: "The UK is resolute in its support for Ukraine's sovereignty and right to self-determination.
"We urge Russia to de-escalate and choose the path of diplomacy. If Russia persists with its aggression towards Ukraine the UK and its partners will not hesitate to act."
Jane Dalton10 February 2022 19:55
1644522045
Starmer: West Ham should drop cat-kicker Zouma
Sir Keir Starmer has said West Ham should drop "cruel" Kurt Zouma from the team as he criticised their response to the player dropping, kicking and slapping his cat.
The France international defender, who was selected against Watford in the Premier League on Tuesday night, is under investigation by the RSPCA.
But Sir Keir has criticised the club's response, saying it "needs to do the right thing, which is to drop him".
The Labour leader said: "I don't know what they were thinking in playing him the other night. That was just a mistake.
"It's such a bizarre thing to be so cruel like that.
"It's very, very odd, but I think the club needs to do the right thing, which is to drop him."
Jane Dalton10 February 2022 19:40
1644520066
Met chief Cressida Dick to quit
Breaking news: Metropolitan Police commissioner Cressida Dick is stepping down, London mayor Sadiq Khan has announced.
He had recently put the commissioner "on notice" following the exposure of racist and sexist messages sent by officers, and today said he was not satisfied with her response to the change "urgently required to rebuild the trust and confidence of Londoners in the Met and to root out the racism, sexism, homophobia, bullying, discrimination and misogyny that still exists".
Making clear she was forced out of the role, Dame Cressida said: "He has left me no choice but to step aside as Commissioner of the Metropolitan Police Service." Ashley Cowburn reports:
Jane Dalton10 February 2022 19:07
1644519914
Labour facing bankruptcy as union donor warns it could drop support
The Unite union general secretary has warned its "remaining financial support" for the party is "under review" because of a dispute between a Labour-run council and refuse-collection workers.
Sharon Graham stressed that Sir Keir Starmer's party needed to "act like Labour, be the party for workers" and accused Coventry council of "mistreatment" of members.
Sir Keir insisted the party would not be "influenced by threats". Jon Stone and Ashley Cowburn report:
Jane Dalton10 February 2022 19:05
1644519314
PM has 'shredded UK's standing over Partygate'
Boris Johnson broke lockdown laws and has "shredded" the UK's reputation over the Partygate scandal, John Major warned.
Rob Merrick has this new round-up of the PM's predecessor's scathing attack:
Jane Dalton10 February 2022 18:55
1644517814
Ukraine on precipice edge, says PM
Boris Johnson has warned the Ukrainian situation is "on the edge of a precipice" and that "things are as dangerous as I've seen them in Europe for a very, very long time".
On a trip to Poland , the prime minister warned there would be bloodshed if Moscow invaded.
"I think everybody should be in no doubt that were Russia to be so foolish as to make the catastrophic mistake of invading any part of Ukraine, the Ukrainian army – which themselves number about 200,000, maybe 150,000 in reserve – they will fight," he said.
"And there will be bloodshed, I think everybody in Russia must understand that and it will not be easy…
"So you've got 350 troops coming in from 45 Commando here to help the Poles and don't forget we've already been giving quite a lot of assistance on the border with Belarus because of the aggressive use of immigration by the Moscow-supporting puppet regime of (Alexander) Lukashenko.
"The importance of this is it's partly to show that we stand shoulder to shoulder with our allies in Poland, which we always do, but also to show that the West as a whole will strengthen Nato's eastern frontiers, rather than the reverse."
Declining to answer questions about questionnaires sent to No 10 staff over lockdown parties and about whether he misled Parliament, he said: "I think, today, February 10 2022, we stand on the edge of a precipice and things are as dangerous as I've seen them in Europe for a very, very long time.
"It's up to Vladimir Putin now to disengage, and to de-escalate and the way forward is diplomacy."
Jane Dalton10 February 2022 18:30