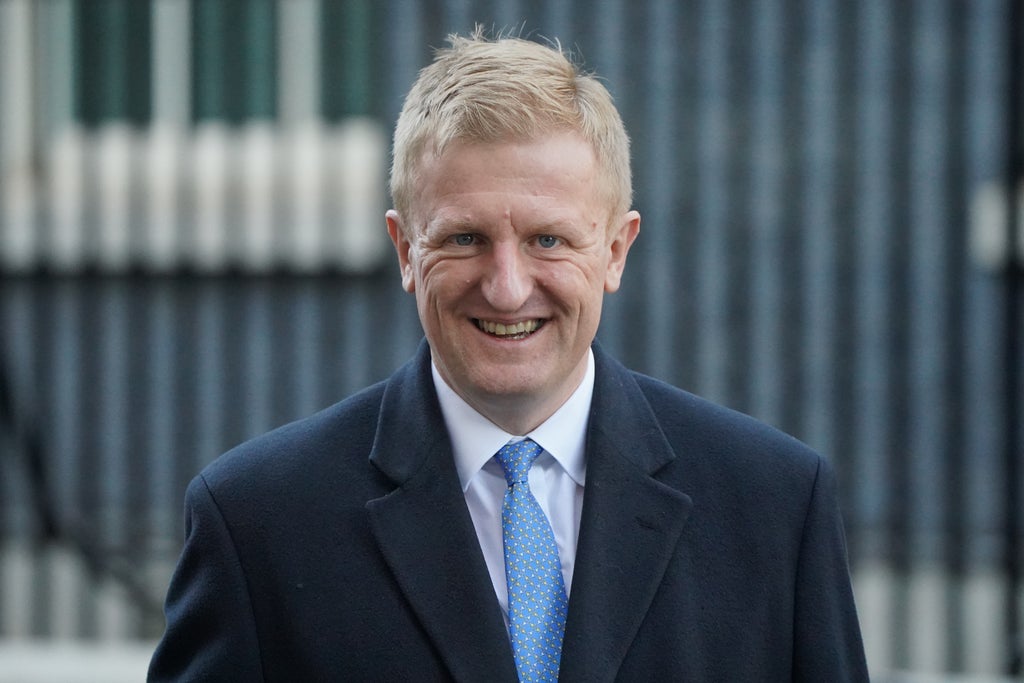 Boris Johnson receives legal questionnaire over partygate from police
Former health secretary Matt Hancock did not comply with a public sector equality duty when appointing Conservative peer Baroness Dido Harding and Mike Coupe to posts in 2020.
Lord Justice Singh and Mr Justice Swift granted a declaration to the Runnymede Trust on Tuesday after considering arguments at a High Court hearing in December.
Campaign group the Good Law Project joined the trust in making complaints – arguing that the Government had not adopted an "open" process when making appointments to posts "critical to the pandemic response" – but their claim was dismissed.
Meanwhile, Boris Johnson is expected to deny any wrongdoing in relation to the partygate scandal and argue that his presence at the No10 gatherings during lockdown was part of his working day.
The prime minister has until Friday to answer a questionnaire sent by Met Police who are investigating parties in Downing Street while the country was under strict Covid curbs.
Elsewhere, Conservative Party chairman Oliver Dowden has denounced what he claimed was a "painful woke psychodrama" sweeping the West as he gave a speech on so-called "cancel culture" hosted by a right-wing think tank.
Follow live updates below
1644941653
Good night
Thank you for following The Independent's live politics coverage today. We're pausing updates on this blog for the evening, join us again tomorrow for more news from Westminster and beyond.
Tom Barnes15 February 2022 16:14
1644940628
Russia ready to continue talks to avoid war in Ukraine, says Vladimir Putin
Russian president Vladimir Putin has said he does not want war in Europe and is willing to continue diplomatic discussions over the current tension over Ukraine.
But Mr Putin said that Nato had not delivered a "constructive" response to Russia's security concerns and said that "everything possible" must be done to resolve a "genocide" which he claimed was being conducted against the large Russian minority in the Donbass region of Ukraine.
The Russian president was speaking alongside German chancellor Olaf Scholz just hours after the defence ministry in Moscow announced that troops were being partially withdrawn following exercises near the Ukrainian border.
Our political editor Andrew Woodcock reports.
Joe Middleton15 February 2022 15:57
1644939454
Jobs market rebounds further but pay growth lags behind inflation
Joe Middleton15 February 2022 15:37
1644938057
Are death threats against Keir Starmer really a big deal, Richard Madeley asks
TV presenter Richard Madeley has appeared to downplay death threats received by opposition leader by Keir Starmer, asking whether they were "that big a deal".
In a segment on ITV's Good Morning Britain programme on Tuesday Mr Madeley discussed the fallout from Boris Johnson's discredited claims about Sir Keir and Jimmy Savile.
Jon Stone has the details.
Joe Middleton15 February 2022 15:14
1644937113
Russia attack 'would not stop at Ukraine' and could spread to Eastern Europe, warns Liz Truss
Russian military activity which Western leaders fear could spill over into war "would not stop at Ukraine", the British foreign secretary has warned.
Commenting on the implications of the Kremlin-instructed build-up of an estimated 130,000 troops along the Ukraine border, Liz Truss said an invasion would be seen as an "attack" on the wider region.
She told Sky News: "President Putin has actively questioned why other countries in eastern Europe are members of Nato … so this, I fear, would not stop at Ukraine."
Joe Middleton15 February 2022 14:58
1644936024
Boris Johnson says Russian troops near Ukraine border is 'not encouraging'
Joe Middleton15 February 2022 14:40
1644935360
Influential Tory MP warns of 'lies' over Russian withdrawal
People should not pretend "we can believe anything that is coming out of Moscow", the Tory chair of the Commons foreign affairs committee has said.
Asked on BBC Radio 4's World At One programme whether he thinks a de-escalation is possible, Tom Tugendhat said: "Well, I think it's far too early to tell … Don't forget he's announced the withdrawal of 10,000 troops just before Christmas.
"None of them went anywhere. And the build-up continued so, you know, let's not pretend that we can believe anything that's coming out of Moscow. They have lied and lied and lied, and surprisingly, are continuing to lie."
Mr Tugendhat also suggested people should be "cautious" when listening to the Russian Foreign Ministry, saying: "It's basically an irrelevance today, it ceased to have the importance that it did in the Soviet period, and is now simply the barking dog outside a house of a Mafia don.
"In that sense, it's just there to make a noise. If it ever shuts up, it'll be cut loose, but nobody really cares what it says, least of all the Kremlin."
Andy Gregory15 February 2022 14:29
1644934067
PM and Scottish Tories in 'absurd' position, says SNP
Kirsten Oswald MP, the SNP's deputy Westminster leader has said it is "utterly absurd that Boris Johnson and Douglas Ross believe that they can both remain in office", Adam Forrest reports.
It follows Mr Johnson's claim that "of course" both he and Mr Ross can lead the Tories into the next election – despite the Scottish Conservatives leader's call for him to resign.
"How can Ross and the Scottish Tories possibly fight an election under a leader they think is unfit for office and should resign," said Ms Oswald.
Ms Oswald added: "If Boris Johnson refuses to do the right thing and resign, then people will rightly question if they can take Douglas Ross seriously if he continues to limp on."
Andy Gregory15 February 2022 14:07
1644933065
Tory MP claims she criticised Boris Johnson for damaging UK's reputation by 'mistake'
Joy Morrissey, the Conservative MP who was appointed to be Boris Johnson's parliamentary private secretary in last week's reshuffle, has said she wrote a letter criticising him for damaging the UK's international reputation "in error".
The MP had argued in a letter to a concerned constituent that the government's cuts to international aid were "a mere drop in ocean compared with what the government is currently borrowing, and will do little to alleviate the current domestic economic crisis" but will "have a massive impact on the world's most vulnerable people".
When approached about the letter, in which she she says the cuts send "completely the wrong message", Ms Morrissey initially told the Daily Mail that it was a fake – before U-turning and admitting to writing the missive, but insisting it had been sent by "mistake".
Our policy correspondent Jon Stone has the full report here:
Andy Gregory15 February 2022 13:51
1644932027
New laws to tackle 'dirty money' will be brought forward, Boris Johnson says
The government's Economic Crime Bill will be brought forward in the next Queen's speech, Boris Johnson has said in the wake of today's Cobra meeting on the Russia-Ukraine crisis.
Asked about reported concerns from some of his Conservative colleagues that the government has not done enough to stop the flow of dirty money into the UK, he said: "I don't think that it's fair to say the UK hasn't done a huge amount on dirty money, whether it's from Russia or anywhere else."
He added: "What we want to do is strengthen now the package that we have, strengthen the measures we have against potential ill-gotten Russian money, whether here or anywhere for … which we have responsibility with new measures that will hit the companies and concerns that I've talked about.
"But also open up the Matryoshka doll, if you like – you know what I'm talking about  – so that we see … who really owns the companies that we're talking about, who really owns the properties that we're talking about, and those measures, yes, we will be bringing forward from the Economic Crime Bill."
Andy Gregory15 February 2022 13:33