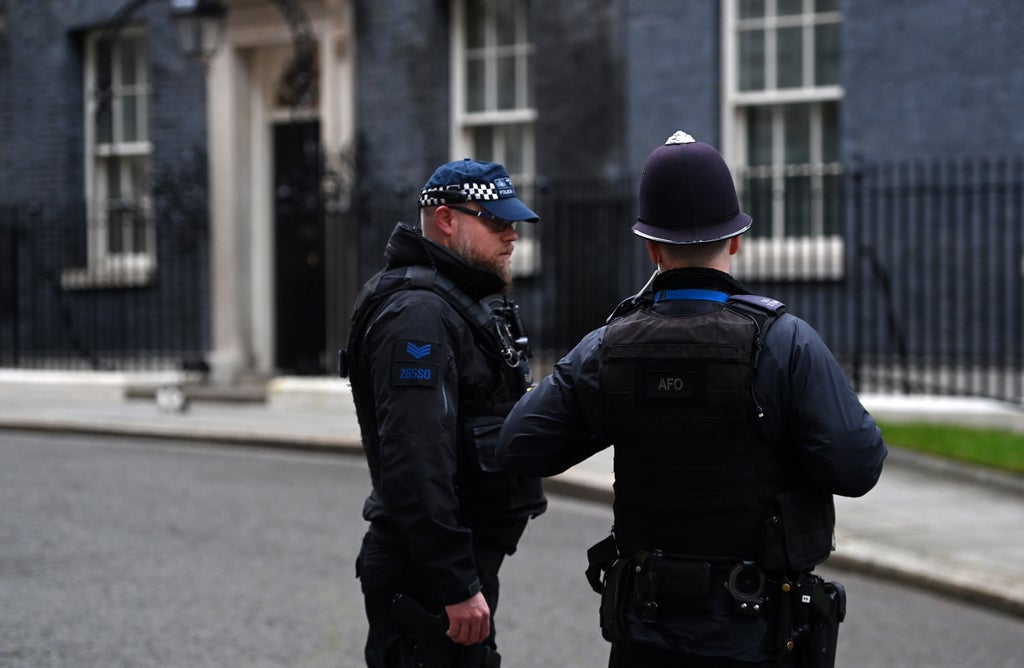 Met Police denies delaying publication of Sue Gray report
Boris Johnson is expected to soon receive a copy of a report into the parties held at Downing Street during lockdown.
The prime minister could receive the document, written by senior civil servant Sue Gray, as soon as this weekend – or in the coming week.
The Metropolitan Police said it had received the material requested from the Cabinet Office to support the investigation into possible Covid lockdown breaches in Downing Street and Whitehall.
Scotland Yard said officers would examine the material "without fear or favour" to establish whether any rules were broken, adding it had not delayed publication of the report.
Downing Street declined to comment on the Met's statement, and on whether the report would be published.
The idea that some of the report will be redacted due to the Met investigation is "simply wrong," Tory MP Tobias Ellwood said.
The chair of the Defence Select Committee chair was asked by LBC radio whether Ms Gray should "publish her report and ignore the Metropolitan Police are saying [about redacting it]?"
Mr Ellwood replied: "A hundred per cent."
1643460642
Boris Johnson discusses his 'brilliant strategy' for confusing media in 2006 resurfaced clip
'Make so many gaffes that no one knows which to concentrate on'
Liam James29 January 2022 12:50
1643459680
'Furious' public will not accept 'cover-up' of Partygate scandal, senior Tory MP warns
A furious public will not accept a "cover-up" of the Partygate scandal, a senior Tory MP is warning – amid a growing belief that crucial parts of Sue Gray's inquiry will never be revealed (Rob Merrick writes).
There are no plans to publish an unredacted version of the report, once the police have finished their investigation, which means the most serious aspects may never see the light of day.
Tobias Ellwood, the Tory chair of the Commons defence committee, said such an outcome would not satisfy the "deluge of fury" about the lockdown-busting gatherings in No 10, nor Conservative MPs.
"We must not forget this is all happening under the gaze of the nation and they're looking for evidence that we are going to change, that we want to rebuild trust, that we're fit to govern," he said.
"So this discussion, this talk, this suggestion, that somehow the Sue Gray report – which we've waited for for so long – might be redacted, or somehow watered down, will not go down well with colleagues.
"There remains a deluge of fury with the British public, appalled by what's happened, and they want to see that we're on the road to change – that the command, the discipline, the cultural changes, will actually be introduced to No 10."
Liam James29 January 2022 12:34
1643458236
Quick round-up of what Tories said today on Partygate so far:
Tobias Ellwood MP says it would be "simply wrong" for the Sue Gray report to be redacted on the police's request
Tom Tugendhat MP first to throw his hat in the leadership ring as Boris Johnson's reputation continues to crumble
Adam Holloway MP defended the PM, saying "I believed him when he said he didn't know it was a party"
Lamiat Sabin29 January 2022 12:10
1643454044
Sue Gray should 'ignore police and publish report in full' – Tory MP
The idea that some of Sue Gray's report into Downing Street lockdown gatherings will be redacted due to an investigation by Metropolitan Police is "simply wrong," Tory MP Tobias Ellwood said.
The chair of the Defence Select Committee chair was asked by LBC radio whether Ms Gray should "publish her report and ignore the Metropolitan Police are saying [about redacting it]?"
Mr Ellwood replied: "A hundred percent."
He suggested that failure to publish all the details would hinder any progress for "the culture of change that needs to come into effect".
Lamiat Sabin29 January 2022 11:00
1643452844
Peer who quit government 'very angry' over handling of fraud
A minister who quit last Monday over the "schoolboy" handling of fraudulent Covid-19 business loans said: "I didn't want to blow my top, but I was very angry."
Lord Agnew of Oulton resigned as the Tories' anti-fraud minister during a speech at the despatch box in the House of Lords.
He told peers he was quitting his Cabinet Office and Treasury posts because of the government's "egregious" failure in its handling of bounce-back loans.
Today, he told The Times that ahead of his speech, he "was nearly sick going into the chamber".
"This isn't natural for me, I took no pleasure from it but the failure of Government to tackle fraud felt so egregious, and the need for remedy so urgent, that I felt my only option left was to smash some crockery to get people to take notice," Lord Agnew added.
"In life one should try to stay inside the tent to win the arguments but ultimately there comes a breaking point."
Lamiat Sabin29 January 2022 10:40
1643451644
More Holyrood powers would be Starmer's 'early priority' as PM
Labour leader Sir Keir Starmer wants more devolved powers for Holyrood "quickly" if he becomes Prime Minister.
Sir Keir has asked former Labour PM Gordon Brown to recommend improvements to devolution across the UK to counter nationalist support for independence.
Speaking to the Daily Record, Sir Keir said giving the Scottish Parliament more powers would be an early priority for him, were he to become Prime Minister.
He said: "We need change without a referendum, but we need change quickly."
With Labour consistently polling ahead of the Conservatives, who are embroiled in sleaze scandals and the so-called partygate affair, Sir Keir has accused Boris Johnson's Government of being "paralysed".
Reflecting on his visit to Glasgow's Forge Market on Friday, the Labour leader said: "We've been in the market, we've been walking around the streets.
"Every single person who has come up to me has said 'you've got to get Johnson out'. Every single person.
"People recognise that we are now in a position to form a Labour government."
Lamiat Sabin29 January 2022 10:20
1643450444
MPs spend £100k on Big Ben bongs used just 10 times
A temporary bonging mechanism for Big Ben that cost the public purse almost £100,000 was used fewer than a dozen times, The Independent has learned.
The striking mechanism, which was used just 10 times at a cost of about £10,000 per round of bongs, was commissioned because MPs wanted the Big Ben bell to ring at New Year and for Remembrance Day.
Years-long renovations are still underway on the Elizabeth Tower that the bell is housed in. The works are expected to be finished this year.
Policy correspondent Jon Stone has all the details on this story:
Lamiat Sabin29 January 2022 10:00
1643447772
Tom Tugendhat says it would be 'huge privilege' for him to be PM
Tory MP Tom Tugendhat has said he would run for prime minister if there was a leadership contest soon.
The ex-soldier and Foreign Affairs Select Committee chairman told Times Radio: "I think I'm making it pretty clear that I think that it's up to all of us to put ourselves forward.
"And it's up to the electorate, in the first case parliamentary colleagues, and in the second case the party, to choose."
He said he had not been "canvassing support", but "of course you should have a go".
On whether he would still like to be PM, after expressing an interest in the past, he said: "It would be a huge privilege."
He added: "I don't think you should be embarrassed to want to serve your country."
Full story here by deputy political editor Rob Merrick
Lamiat Sabin29 January 2022 09:16
1643445644
'I believed Boris when he said he didn't know it was a party' – MP
Tory MP Adam Holloway defended Boris Johnson over lockdown-breaking party allegations.
The Gravesham MP told BBC Radio 4's Today programme: "This is a really remarkable guy who got an 80-seat majority and I believed him when he said he didn't know it was a party.
"He's the PM of a nuclear-armed state, operating in a Downing Street that at the time was (on) a war footing with 300-plus passholders virtually working, you know, 24/7.
"I mean, he's not the office manager. And if he's asked to go outside and thank some staff, I'm not sure what the crime is there.
"I mean, if I'd gone out and I'd seen people with glasses of wine, yeah, I would have sent them packing back inside. That was a mistake."
Lamiat Sabin29 January 2022 08:40
1643444444
Party leaders warn against 'cover-up' of No 10 gatherings
Leaders of opposition parties have called for a full disclosure of the events surrounding lockdown-busting parties at Downing Street.
Labour leader Sir Keir Starmer said: "I want to see the Gray report in full.
"Our country faces huge challenges and it's offensive that the Government's sole focus is on cleaning up after themselves.
"Britain deserves better. The Prime Minister is unfit for office and must resign."
SNP Westminster group leader Ian Blackford has tweeted: "No one will accept a Westminster cover-up. If the UK government refuses to publish the full unredacted report it will prove, yet again, that Westminster is utterly corrupt and broken beyond repair.
"It won't save Boris Johnson's skin. It will only add to the calls for him to go."
Liberal Democrat leader Sir Ed Davey said: "Anything short of the full report would be a Whitehall whitewash not worth the paper it is written on."
He added: "A stitch up between the Met leadership and Number 10 will damage our politics for generations and it looks like it is happening right in front of our eyes."
Lamiat Sabin29 January 2022 08:20