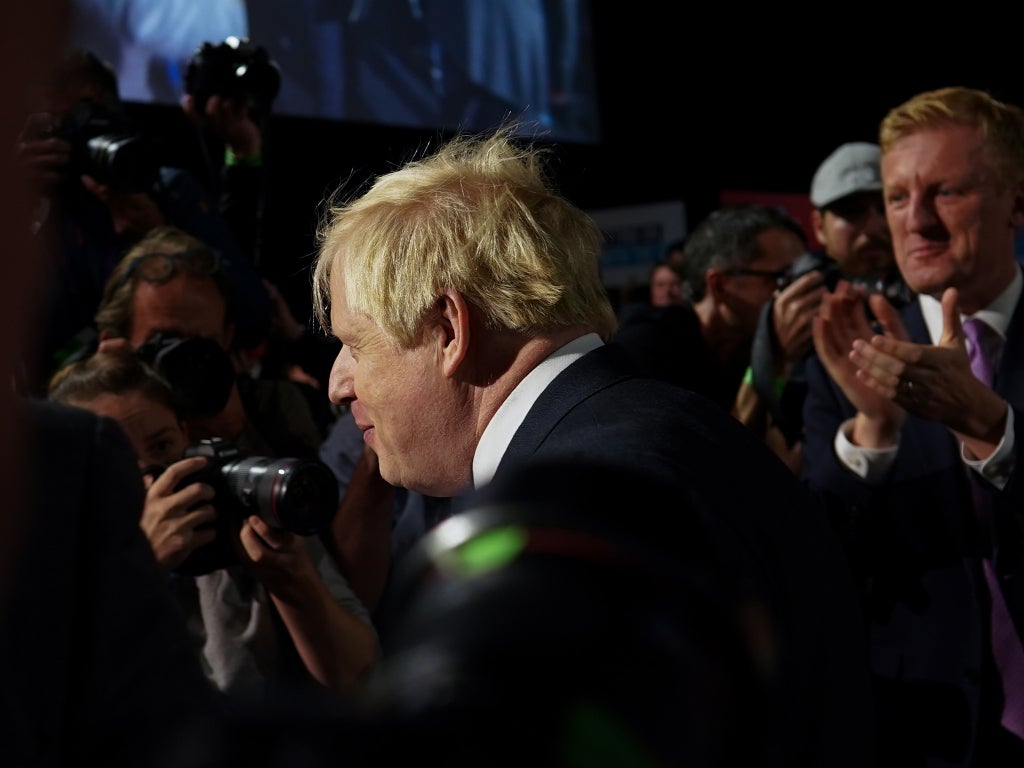 Boris Johnson jokes about number of children Jacob Rees-Mogg has during Tory conference
The EU Commission is not open to altering the Northern Ireland protocol, its vice president has confirmed.
This comes as Boris Johnson's government continues to blame this section of the Withdrawal Agreement for ongoing trade friction between Great Britain and the territory.
"We will not renegotiate the protocol as the UK requested," Maros Sefcovic told a virtual event on Thursday.
Elsewhere, the prime minister's conference speech about his vision for a "high wage economic revival" has been condemned as "economically illiterate" bluster by a leading think tank.
Amid severe staff shortages widely blamed on Brexit, Mr Johnson rebuked businesses for reaching for the "same old lever of uncontrolled immigration" and suggested British workers should be prioritised instead.
After he spoke to Tory delegates at his party's conference in Manchester on Wednesday, the free market Adam Smith Institute criticised his words as "vacuous and economically illiterate".
The organisation added that it was "reprehensible" for him to suggest that asylum seekers make the country poorer. "This dog whistle shows that this government doesn't care about pursuing evidence-based policies," it said.
1633600386
Council tax could jump by 5 per cent, IFS warns
Council tax bills could jump by as much as 5 per cent to pay for social care reforms and other government policies, the Institute for Fiscal Studies (IFS) has warned.
The research centre said that a minimum rise of 3.6 per cent was necessary over the next three years to keep services running.
Kate Ogden, a research economist at IFS, said: "The government has stepped up with billions in additional funding for councils to support them through the last 18 months, it is likely to have to find billions more for councils over the next couple of years if they are to avoid cutting back on services, even if they increase council tax by 4 per cent a year or more.
"The coming financial year is likely to be especially tough, with the likelihood of at least some ongoing Covid-19-related pressures, and a particularly tight overall spending envelope pencilled in," she added.
Rory Sullivan7 October 2021 10:53
1633599343
EU 'will not renegotiate' NI protocol, says Sefcovic
The EU Commission will soon publish its proposed compromises to ease trade difficulties between Britain and Northern Ireland – but rejected the UK's demand to renegotiate the protocol.
"We will not renegotiate the protocol as the UK requested," the Commission's vice president Maros Sefcovic told a virtual event on Thursday.
Boris Johnson's government has threatened to use Article 16 to suspend the protocol if the EU refuses to substantially renegotiate the agreed deal.
"A lot has been said by UK politicians about triggering Article 16. I do not think this has been helpful…It does not help us find solutions."
Sefcovic said EU proposals to ease trade barriers will be published by the "middle of next week" – predicting talks will continue with Brexit minister Lord Frost and his team throughout October.
We do not consider them take it or leave proposals," he said. But the EU chief admitted that if the UK government rejects those proposals then "we have a problem".
Adam Forrest 7 October 2021 10:35
1633598286
Consumer prices to rise, warns industry leader
Prices will rise for consumers as higher costs continue to bite businesses after Brexit, an industry leader has said.
Andrew Large, director-general at the Confederation of Paper Industries, said firms will need to recoup higher outgoings by upping their prices.
"This is a hugely inflationary situation for the British economy, and members will clearly be in a position where they have to try to pass those costs on to consumers where they can," he told the BBC.
Rory Sullivan7 October 2021 10:18
1633597206
Labour now the party of business, says federation
Labour – and not the Conservatives – are the only party with a "pro-small business policy", the Federation of Small Businesses has said.
Craig Beaumont, chief of external affairs at the group, told Times Radio: "Looking at this party conference season, there was one party of the two that came out with a pro small business policy.
"And I think, you know, the government should be looking at that and going: 'Well, maybe we've taken this group a bit for granted'. So now, what is that small business offer? What is their response? And at the moment there isn't much, so there needs to be a really strong response to the budget."
Rory Sullivan7 October 2021 10:00
1633596306
Economists cast doubt on PM's 'high wage' vision
Some economists have cast doubt on Boris Johnson's claim that the UK will have a "high wage" economy due to a reduction in "uncontrolled immigration".
Our economics editor Anna Isaacs takes a closer look:
Rory Sullivan7 October 2021 09:45
1633595106
Government should bear responsibility for supply chain woes, poll suggests
The prime minister has said the private sector must deal with post-Brexit supply chain issues itself.
But what does the public think of this suggestion?
According to a YouGov poll, 60 per cent of people believe Boris Johnson is wrong and are of the opinion that the crisis should be the government's responsibility.
Rory Sullivan7 October 2021 09:25
1633593906
'Get the jab', education secretary tells footballers
Education secretary Nadhim Zahawi has welcomed Tammy Abraham becoming the first England player to reveal that he is vaccinated against Covid.
Asked on LBC if he supported Abraham and wanted more footballers to get the vaccine, Zahawi said: "Totally – get the jab and get yourself and your family protected."
He added: "What I would urge every footballer … is to go on the NHS website. Look at Public Health England, look at our regulator, best in the world. Look at the data and the safety information. [Vaccines] safe your life and they protect you."
It follows the health secretary Sajid Javid saying he was "disappointed" after reports emerged that several England footballers were refusing to get vaccinated against Covid.
Adam Forrest 7 October 2021 09:05
1633593192
PM's position on business not 'particularly helpful', says Iceland boss
The prime minister's decision to blame businesses for labour shortages is not "particularly helpful", the boss of supermarket Iceland has said.
Richard Walker is among Brexit-backing business leaders who criticised Boris Johnson over the comments he made during his party conference speech on Wednesday.
He told BBC Radio 4's Today programme: "I don't think it's particularly helpful at the moment. I mean business is dealing with so much and so many different crises which has all compounded at once.
"So, pointing the finger and choosing us as the bogeymen for issues such as HGV driver shortages – which is multifaceted and systemic – is simply not helpful."
Mr Walker added that it is "inevitable" that prices will need to rise amid the current crises.
Rory Sullivan7 October 2021 08:53
1633591926
Inside Politics
Businesses have hit out at Boris Johnson for not supporting them amid severe staff shortages.
Here's Matt Mathers with a round-up of this and today's other leading politics stories:
Rory Sullivan7 October 2021 08:32
1633591086
Tory MP says £82,000 salary is 'pretty grim'
Tory MP Peter Bottomley has said that some parliamentarians are finding it "really grim" living off their £82,000 salary.
In an interview in the New Statesman, he described the situation as "desperately difficult" for new MPs.
He advocated increasing MPs' pay to over £100,000. "It's never the right time, but if your MP isn't worth the money, it's better to change the MP than to change the money," he said.
My colleague Lamiat Sabin has more details:
Rory Sullivan7 October 2021 08:18