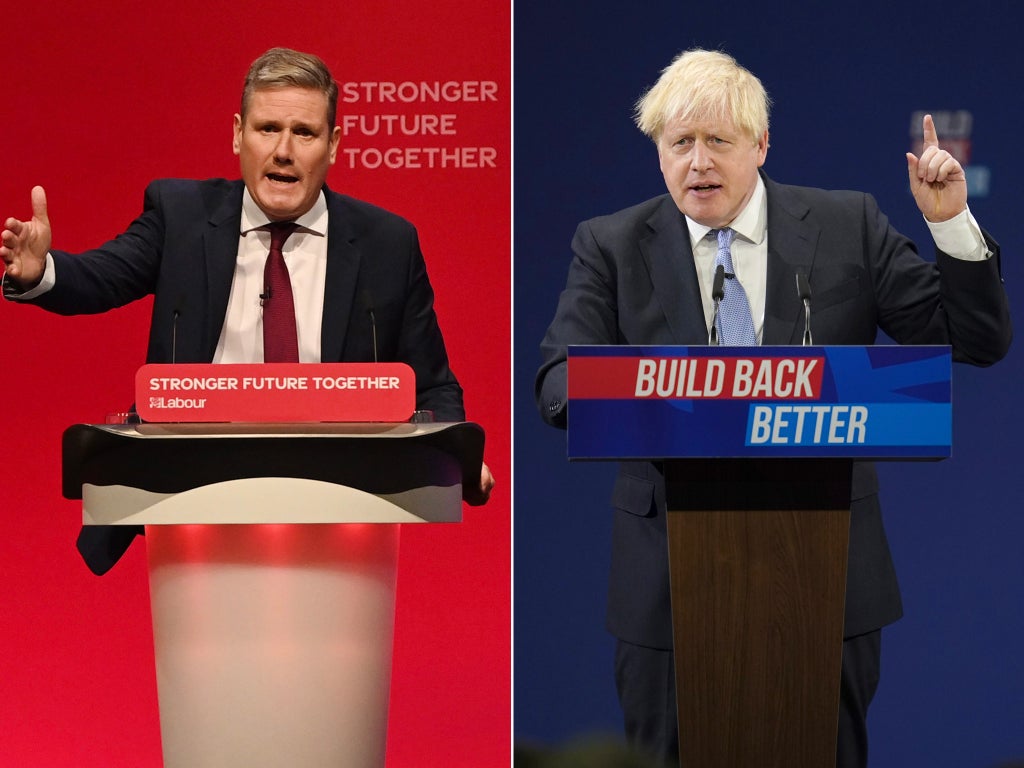 Keir Starmer accuses Tories of 'turning on the poorest' over Universal Credit cut
Keir Starmer has accused the government of alienating "the poorest" people in Britain, saying the decision to go ahead with cutting Universal Credit marked an end to the care people showed each each other during the pandemic.
The Labour leader said Boris Johnson's government was "effectively turning on the poorest in our society" by choosing to end the £20-a-week uplift awarded to millions of people when Covid hit and effected jobs and livelihoods.
Speaking on BBC Breakfast, Sir Keir said families "desperately need that uplift … to make ends meet". Pointing to the fact the cut – which came into effect on Wednesday – came "at the worst possible time because prices are going up", he added: "This is going to drive families and children into poverty and for the government to [go ahead with it] is just so wrong."
Meanwhile, ministers have been accused of "failing" schools after a leaked email showed ISS, one of the UK's largest canteen suppliers, had written to school catering staff advising them to "top up on long life, dried, tinned and frozen products" due to food availability being impacted by a shortage of HGV drivers.
Follow our live coverage below
1633692306
Starmer 'incredibly sad' over death of 'dedicated' ex-minister
Keir Starmer has paid tribute to the "thoroughly decent" former Northern Ireland secretary, as have other Labour figures.
"James Brokenshire was a thoroughly decent man, dedicated and effective in all briefs he held," Sir Keir tweeted.
"He fought his illness with dignity and bravery. I'm incredibly sad to learn of his death and send my condolences to his wife and children."
Ian Jones, a Labour councillor in Wiltshire, agreed, saying: "He wasn't just the best of them but the best of us all. Incredibly sad news. Such a dedicated public servant."
MP Jess Phillips wrote: "He was a very gentle man who would always try to sort out your cases with kindness. So much love to his family, friends and colleagues."
Jane Dalton8 October 2021 12:25
1633691748
David Cameron 'devastasted' by MP's death
Former prime minister and Conservative leader David Cameron wrote on Twitter: "Devastated to hear the heartbreaking news that James Brokenshire has died, well before his time.
"He was a hard-working and dedicated MP but, more than that, he was a thoroughly decent and lovely man, and devoted to his family. My thoughts and prayers are with them all today."
Jane Dalton8 October 2021 12:15
1633691562
Theresa May 'saddened' by Brokenshire's death
Theresa May, the former prime minister and Tory leader, tweeted: "Truly saddened by the death of James Brokenshire.
"He was an outstanding public servant, a talented minister and a loyal friend. My thoughts are with Cathy and his whole family."
Jane Dalton8 October 2021 12:12
1633690821
'Most committed public servant': Tributes for Brokenshire pour in
A flurry of MPs, Cabinet ministers and think-tank bosses have taken to social media to pay their respects to Tory MP James Brokenshire, who has died after suffering from lung cancer.
Prime minister Boris Johnson said:
Chancellor Rishi Sunak said:
Director of the Onward think-tank Will Tanner said:
Matt Hancock, former health secretary, said:
Newly-instated culture secretary Nadine Dorries wrote:
And Tory MP Saqib Bhatti said:
Sam Hancock8 October 2021 12:00
1633690236
Tory MP and former minister dies, aged 53
Here's Holly Bancroft with more on James Brokenshire's death:
Sam Hancock8 October 2021 11:50
1633689997
Statement from Brokenshire family
Following my last post, James Brokenshire's family released a statement to say:
"James died peacefully at Darent Valley Hospital yesterday evening with family members by his bedside. He had been in hospital since Sunday after his condition rapidly deteriorated.
"James was not only a brilliant government minister as both security and immigration minister at the Home Office and secretary of state at the Northern Ireland Office and Ministry for Housing, Communities & Local Government, but a dedicated constituency MP, first for Hornchurch from 2005 to 2010, and then for Old Bexley & Sidcup for the past 11 years.
"But most importantly, he was a loving father to his three children, a devoted husband to Cathy and a faithful friend to so many."
His family then thanked "all the NHS staff" involved in caring for Mr Brokenshire over the past three-and-a-half years.
"We would also ask that our privacy as a family is respected at this time," they added.
Sam Hancock8 October 2021 11:46
1633689834
Tory MP James Brokenshire dies of lung cancer
Former Northern Ireland secretary James Brokenshire has died at the age of 53.
The Conservative MP for Old Bexley and Sidcup died "peacefully" surrounded by loved ones, his family said in a statement.
Sam Hancock8 October 2021 11:43
1633689150
Broken transport networks 'crippling' jobs, think-tank warns
Broken public transport networks are having a "crippling effect" on access to jobs in towns and cities where Boris Johnson aims to "level up", a Conservative think-tank has warned.
In a new report, Onward reveals the areas where chronic transport connectivity puts employment opportunities out of reach and describes the "shocking transport gap" between North and South, reports our political correspondent Ashley Cowburn.
It comes after the prime minister delivered a keynote speech to the Conservative Party conference on Wednesday boasting about his election slogan to level up the country – but was criticised for being "vacuous" on policy.
Sam Hancock8 October 2021 11:32
1633688204
DUP 'welcomes' change in tone from EU on NI Protocol
A bit more on the Northern Ireland Protocol now. DUP leader Sir Jeffrey Donaldson said he is pleased with the EU's "change of tone" on the post-Brexit measure.
It comes after a meeting between him and Irish premier Micheal Martin in Belfast on Friday to discuss the latest proposals by the bloc to solve the ongoing impasse.
Sir Jeffrey told reporters:
"I welcome the change in tone, I welcome the change in the language being used. People are now solution-focused.
"They're now talking about negotiations. All of these things were off the table, even three months ago.
"I think that our actions have caused a sharper focus on the need to find a solution that removes the Irish sea border and restores Northern Ireland's place in the United Kingdom."
Sam Hancock8 October 2021 11:16
1633687604
Watch: Starmer says Tories 'turning on poorest' over UC cut
Keir Starmer accuses Tories of 'turning on the poorest' over Universal Credit cut
Sam Hancock8 October 2021 11:06