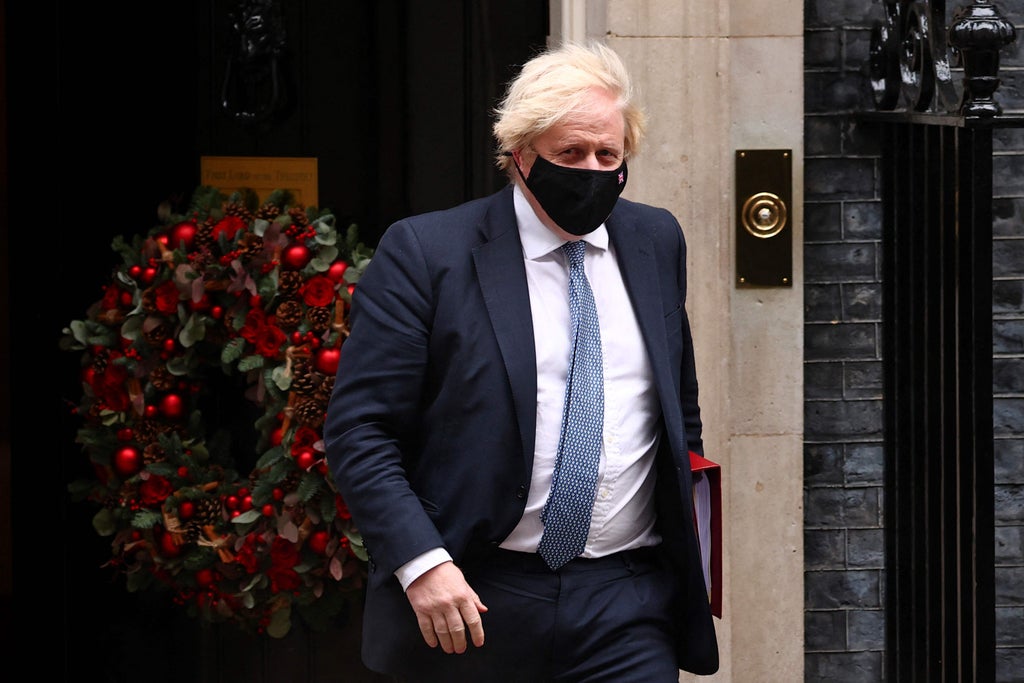 Sobbing Allegra Stratton resigns over No 10 party video
Tory backbenchers continue to mount pressure on Boris Johnson amid allegations of rule-breaking Downing Street Christmas parties last year while the nation was in lockdown.
The Prime Minister is facing anger from MPs after he hastily triggered a switch to his Plan B for coronavirus restrictions to tackle the omicron variant amid the party crisis that saw one of Mr Johnson's top aides, Allegra Stratton, resign.
Conservative backbenchers openly questioned the government's "credibility" in being able to enforce the rules while so many believed Downing Street had breached them.
Conservative former chief whip Mark Harper added: "What I am really concerned about is that it is unquestionably the case that over the last few weeks the Government's credibility, whether it is on Paterson or on the Christmas parties, has taken a hit."
It comes as the government is now facing accusations that ministers, aides and officials attended at least seven different parties while the nation was in lockdown last Christmas.
1639042503
Sign up to The Independent's Inside Politics newsletter
To keep up to speed with all the latest developments in Westminster sign up to our range of politics newsletters. From our weekly Brexit email to our daily Inside Politics and View from Westminster updates.
Newsletters
The latest breaking news, comment and features from The Independent.
Thomas Kingsley9 December 2021 09:35
1639041614
'Enough is enough': Gary Neville attacks Boris Johnson over 'constant mistruths'
Sports pundit Gary Neville has launched an attack on Prime Minister Boris Johnson by calling for his resignation and saying "enough is enough" amid "mistruths".
Neville's rant was published on Twitter in a video amid reports the PM will hold a press conference at 5.30pm to introduce more restrictions in England to help prevent the spread of the new variant omicron.
However, Neville has blasted the conference as "distraction tactics" after the reported Christmas party held at Downing Street last year was made public this week.
Our sports reporter, Sarah Rendell, has the full story:
Thomas Kingsley9 December 2021 09:20
1639040714
Sajid Javid 'not sure' why Allegra Stratton resigned amid Covid Christmas party claims
Sajid Javid said he is "not quite sure" why Allegra Stratton quit her role as a Downing Street spokeswoman after a leaked video showed her and other senior aides joking about a "fictional" lockdown party.
Speaking to BBC Radio 4's Today programme, the health secretary said: "You ask me why she resigned. Look, I wouldn't know, I haven't spoken to her about it.
"Perhaps it was because she was very embarrassed by the video and what happened and the way things looked. It may well be something like that.
"But it is important that this investigation now actually happens and that the cabinet secretary, Simon Case, gets to the bottom of this."
Thomas Kingsley9 December 2021 09:05
1639040114
Do the public believe there was no Christmas party last year?
A poll found that fewer than one in 10 British people believe Downing Street's claim that no Christmas party took place.
An Opinium poll for Sky News found 64 per cent think a party did take place, 9 per cent said it did not take place and 27 per cent did not know.
Thomas Kingsley9 December 2021 08:55
1639039214
Conservatives admit party took place at HQ during Covid restrictions last year
The Conservative Party has admitted that a party took place at its Westminster headquarters during coronavirus restrictions last December.
Tory staff danced and drank wine late into the night at a "raucous" party held in the basement of the office, The Times reported.
During the event on 14 December, London was under Tier 2 Covid restrictions – which meant that indoor socialising between households was banned. Matt Hancock had given a press conference just hours earlier saying the capital would soon move into Tier 3.
Our reporter Lamiat Sabian has the full story:
Thomas Kingsley9 December 2021 08:40
1639038614
Party could not have taken place if rules were followed, Javid says
If Covid rules were followed in Downing Street last December, then no party would have been able to take place, according to the health secretary.
Told on LBC radio that he had previously said there had been no Christmas party in No 10, Sajid Javid said: "And I would still tell you that I have received assurances that there were no rules that were broken, in terms of Covid rules, at any time in Downing Street.
"That means a party could not take place.
"If the rules were not broken, then a party could not take place.
"But having this investigation, having the cabinet secretary look into this, is the right response because this is the individual who can talk to anyone, can get the data, the evidence together and establish the facts."
Thomas Kingsley9 December 2021 08:30
1639038314
ICMYI: Met Police will not investigate 10 Downing Street Christmas party
Metropolitan Police have said they will not investigate allegations that Covid restrictions were broken at a party at 10 Downing Street on 18 December 2020.
In a statement, Scotland Yard said the decision was taken on the basis of the "absence of evidence" that rules were broken and in line with Met policy not to investigate historical allegations of breaches of Covid regulations.
But the police said that cabinet secretary Simon Case will pass on any further evidence which emerges as a result of the internal inquiry which Boris Johnson today ordered him to conduct into the allegations.
Our political editor, Andrew Woodcock, has the full report below:
Thomas Kingsley9 December 2021 08:25
1639037438
Fresh claims of seven Christmas gatherings while nation was in lockdown last year
The government is facing fresh allegations that ministers, aides and officials attended seven Christmas gatherings while the country was in lockdown, Politico reports.
Conservative former chief whip Mark Harper added: "What I am really concerned about is that it is unquestionably the case that over the last few weeks the government's credibility, whether it is on Paterson or on the Christmas parties, has taken a hit.
"Why should people at home listening to the Prime Minister and the secretary of state do things that people working in Number 10 Downing Street are not prepared to do?"
Tory MP Ben Bradley ruled out voting for Plan B which includes "discriminatory" vaccine passports, and former minister David Davis questioned "how are you going to prosecute people who don't obey it given the four previous parties?"
"I think the real issue is on the authority of the government to enforce a, as it were, a new lockdown because people look at this and say why should we? It's them and us again," Mr David told ITV's Peston.
Thomas Kingsley9 December 2021 08:10
1639037090
Sajid Javid withdrew from media interviews because he was 'upset' by leaked video of Allegra Stratton
Health secretary Sajid Javid said he withdrew from media broadcast interviews on Wednesday because he was "upset" by the leaked video showing No 10 senior aides joking about an alleged lockdown-busting Christmas party.
Asked why no government minister appeared on Wednesday morning, the cabinet minister replied: "I didn't appear because I saw that video – it upset me, it upset a lot of people I think across the country, it upset the Prime Minister."
Asked whether he "refused" to go onto the airwaves following the emergence of the footage, Mr Javid added: "No, it wasn't about refusing – I spoke to my colleagues in No 10 and we actually agreed it is best to take some time to respond to the video in the way that the Prime Minister has now, by ordering an investigation by the Cabinet Secretary."
Thomas Kingsley9 December 2021 08:04
1639036412
Boris Johnson faces pressure from own side as Covid party row claims
Boris Johnson continues to face pressure from within his own party over his bungled handling of allegations of a lockdown-breaching party at 10 Downing Street, as the crisis gripping his government forced the resignation of a top aide.
In a bid to draw a line under the debacle, the prime minister ordered an inquiry by his most senior civil servant into the events of 18 December, when up to 50 aides are reported to have enjoyed alcohol, food and a secret Santa at a time when London was under strict Tier 3 controls barring most indoor gatherings.
Our political editor Andrew Woodcock has more details below:
Thomas Kingsley9 December 2021 07:53