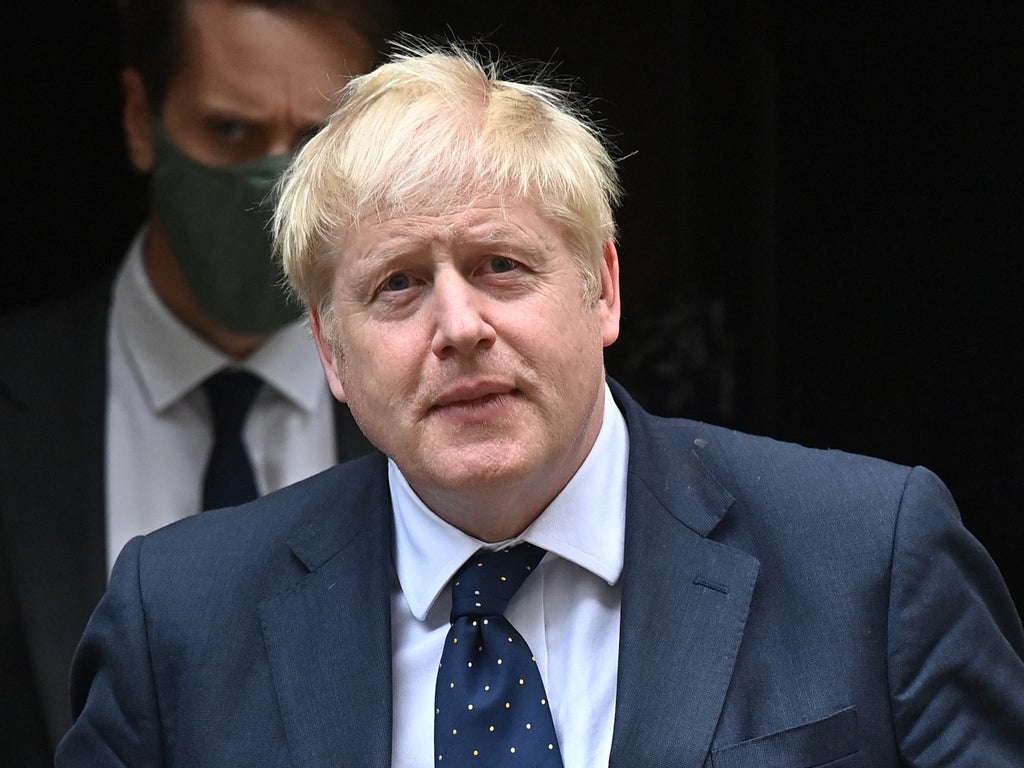 Minister admits 'embarrassing' blunder over Afghanistan veteran suicide
The prime minister is set to ignore widespread Conservative criticism with his social care rescue plan, set to hit workers and businesses with higher national insurance (NI) bills, insisting it is the only way to end "catastrophic" care bills.
Despite accusations that the move could punish the young and worse off, Boris Johnson will finally unveil the proposal he promised more than two years ago in an address to MPs on Tuesday afternoon.
"We must act now to ensure the health and care system has the long term funding it needs to continue fighting Covid and start tackling the backlogs, and end the injustice of catastrophic costs for social care," he is expected to say, confirming the much-anticipated NI increase of around 1.25 per cent – raising £10bn a year.
It comes as Labour leader Sir Keir Starmer said in a letter to Mr Johnson that his party would oppose the plan, arguing it will do untold damage such as impact businesses already crippled by the pandemic.
Acknowledging that his party agreed some kind of tax rise was necessary to fix the broken social care system, Sir Keir wrote that increasing NI "contributions isn't the right way to do it".
1630999446
Sturgeon to set out Holyrood's plans for year ahead
Nicola Sturgeon will on Tuesday set out the Scottish government's plans for the year to come.
In an address at Holyrood, marking Parliament's return after the summer recess, the first minister will announce her "programme for government" of upcoming legislation in a speech to MSPs.
With a particular focus on children and families, Ms Sturgeon is expected to announce the implementation of "wraparound childcare" for the poorest families – aimed at offering care before and after school for free to help parents get back into the workforce.
There will also be a big push towards supporting the key themes of the SNP's power-sharing deal with the Greens. That agreement includes pledges to reform the Gender Recognition Act, set up a National Care Service, and to hold a new referendum on independence.
Speaking ahead of the announcement as part of a visit to an after-school programme run by Indigo Childcare in Glasgow, Ms Sturgeon told the PA news agency: "I'll set out our proposals to deliver on our manifesto commitment, remember, a manifesto commitment that 72 out of 129 members of the Scottish Parliament were elected on, to give people in Scotland a choice over our future, to choose independence.
"It's not just that there's a mandate for that, but in a democracy that mandate should be respected. This is a decision that it should be for people not politicians to take, at this juncture in history as we recover from the pandemic, asking ourselves like countries elsewhere, 'what kind of society do we want to build and who do we want to shape the decisions that decide that?"'
When asked for more details on what could be expected, the FM said it would be for Holyrood to hear first.
Sam Hancock7 September 2021 08:24
1630998593
Zahawi refuses to say if PM's social care plan will work
Nadhim Zahawi, the vaccines minister, has said the PM is "determined" to succeed with social care reforms where past administrations have failed, but admitted it would be "presumptuous" to claim the new plan will definitely work.
Speaking to Sky News' Kay Burley this morning, he said: "Successive governments have attempted to come forward with plans and have never quite delivered. I think this prime minister is determined to actually fix the broken social care system."
Asked whether the reforms, due to be announced later today, would actually work, the Cabinet minister said the government had "to at least have a really good go" at trying.
He told Ms Burley: "The right thing to do is deliver the reform and the investment into social care – you've got to make sure that is operational. But I'm being respectful and cautious and not being arrogant to say 'of course, yes, everything will be fixed in five minutes' – it won't, in terms of the NHS backlog."
Turning to next steps, Mr Zahawi said for the issue to be tackled properly "it will increase before it gets better".
"But we are putting the resources, the money that we announced yesterday – the additional £5.4bn, taking the total for this year alone of additional support for the NHS to £34bn – will go some way to addressing the backlog," he added.
Sam Hancock7 September 2021 08:09
1630997925
Johnson to address House of Commons at 1pm
The Parliamentary schedule for Tuesday has been released and it shows that Boris Johnson will update MPs on his social care plan at the Commons around 1pm.
Before that, the PM will conduct a Cabinet meeting before visiting a care home in London this morning.
We'll bring you more on his movements as they day progresses.
Sam Hancock7 September 2021 07:58
1630997688
Labour opposes NI tax hike, Starmer tells PM in letter
Sir Keir Starmer has told the PM his party will oppose plans to increase national insurance to fund social care.
In a letter to Boris Johnson, seen by the PA news agency, Sir Keir said: "The taxes that pay for social care should be fair across the generations and all forms of income. Those with the broadest shoulders should pay more – not the working families now set for an unfair tax rise."
He added: "We've said that this additional investment will need to be funded through tax rises – but increasing national insurance contributions isn't the right way to do it.
"It would hit working people hard, including low earners and young people, and would place a huge burden on businesses just as they're trying to get back on their feet."
Reports have suggested that lifetime contributions on care will be capped at about £80,000 and national insurance will be increased by 1.25 per cent to raise between £10bn and £11bn per year.
But the reported proposals have faced backlash from Tory backbenchers among others.
Former Conservative leader Sir Iain Duncan Smith recently told The Telegraph the plans were a "sham" because they did not reform the social care system. While Rachel Harrison, GMB union national officer, said: "We all know our crumbling social care system desperately needs more cash. But raising regressive national insurance – which takes money from the pockets of the lowest-paid workers, is not the way to do it."
Sir Keir added that Labour would work with the government on a long-term plan if it would "genuinely fixes the crisis in social care and has a fair funding model".
Sam Hancock7 September 2021 07:54
1630997262
PM to finally unveil social care plan – angering Tories in process
In the Commons on Tuesday, Boris Johnson will hail the expected national insurance increase of around 1.25 per cent, raising £10bn a year, as evidence that he will not "duck the tough decisions needed" to "fix our broken social care system".
"We must act now to ensure the health and care system has the long term funding it needs to continue fighting Covid and start tackling the backlogs, and end the injustice of catastrophic costs for social care," he is expected to say.
The Commons statement and afternoon press conference will come despite Tories from all wings of the party attacking the plan as unfair and likely to backfire.
Our deputy political editor Rob Merrick has the full report:
Sam Hancock7 September 2021 07:47
1630996928
Good morning, and welcome to The Independent's rolling UK politics coverage. Stay tuned for the latest updates as Boris Johnson prepares to unveil his long-awaited plans for social care reform.
Sam Hancock7 September 2021 07:42