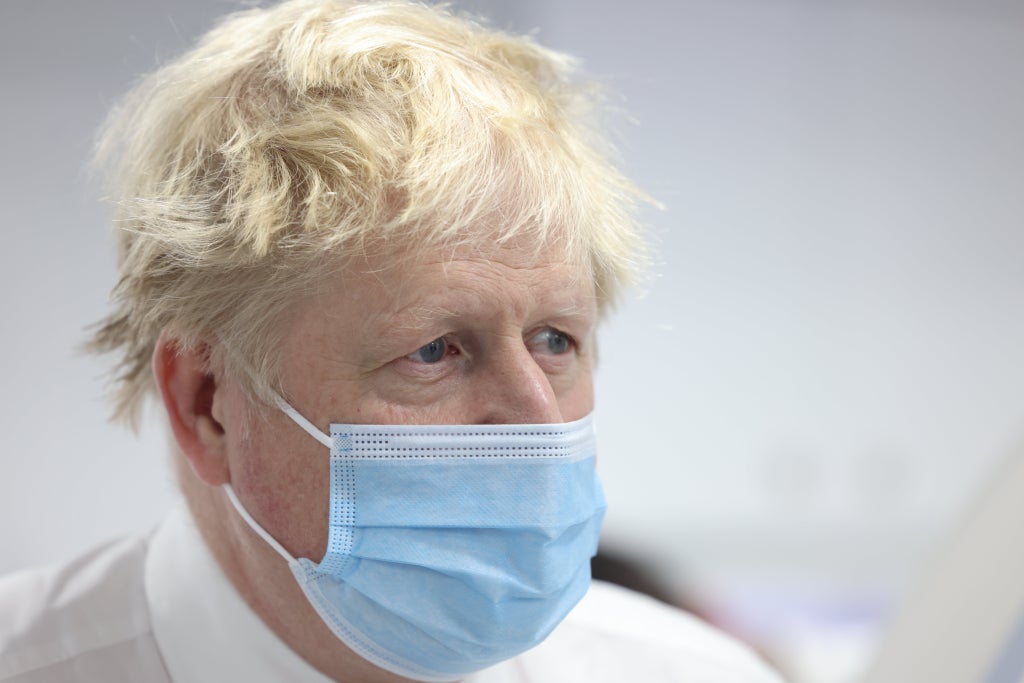 Tory minister says people 'furious' over 'partygate' but should await investigation
As Boris Johnson prepares to face Keir Starmer at PMQs later today, he is threatened by a growing rebellion from Tory backbenchers over the partygate scandal.
It is thought that roughly 20 more Conservative MPs could submit letters of no-confidence in the prime minister to Sir Graham Brady, the head of the influential 1922 Committee, on Wednesday.
A vote on Mr Johnson's future as leader will be triggered if Sir Graham receives a total of 54 letters, equivalent to 15 per cent of all Tory politicians.
The likelihood of this scenario grew on Tuesday, following reports that a large number of the 2019 Tory intake had met to discuss ousting him, in what has been dubbed the "pork pie plot".
In an attempt to ward off this threat, Mr Johnson tried to appear more contrite on Tuesday. "I deeply and bitterly regret that that happened," he said, referring to a Downing Street party the night before Prince Philip's funeral.
This is unlikely to appease public anger though, with a poll commissioned by The Independent showing that 73 per cent of Britons are furious about the repeated parties in No 10 over lockdown.
1642587770
Government will continue to bring eligible Afghans to the UK 'indefinitely'
The Armed Forces minister has said the UK will continue to bring Afghans to the UK "for as long as people who are eligible want to come" as troops who airlifted more than 15,000 people from the country are set to receive a medal for their efforts.
James Heappey told LBC the Ministry of Defence (MoD) continued to bring around 250 people a week out of Afghanistan, mostly through Pakistan, despite the winding down of Operation Pitting in August last year, and that this would continue "indefinitely".
The MoD announced on Wednesday that personnel will receive the existing Operational Service Medal Afghanistan, featuring a new clasp reading "Operation Pitting", recognising their contribution to the evacuation of Afghan and British nationals.
But Mr Heappey insisted the effort was not over, despite troops having left Kabul.
Chiara Giordano19 January 2022 10:22
1642586735
No confidence vote could be triggered this week, says Tory backbencher
One Tory backbencher has said he expects enough Conservative MPs will submit letters this week to trigger a confidence vote in Boris Johnson.
Andrew Bridgen, one of seven MPs to have publicly declared they have written to the chairman of the backbench 1922 Committee, Sir Graham Brady, calling for a vote, said he expects at least 20 more letters to go in on Wednesday from MPs newly elected in 2019.
Under party rules, there will be a confidence vote if 54 Conservative MPs submit letters to Sir Graham.
Mr Bridgen told the PA news agency; "I heard first-hand last night that another 20 from the 2019 intake will be going in today.
"I would have thought that will encourage a considerable number of others who are wavering to put their letters in. I think will we get to threshold of 54 this week."
Chiara Giordano19 January 2022 10:05
1642586135
Boris Johnson should resign if inquiry finds he misled parliament, says minister
Armed forces minister James Heappey signalled he thinks if Sue Gray's report shows Boris Johnson misled parliament he should resign.
Speaking to BBC Radio 4's Today programme, he said: "The prime minister has my trust, he has my confidence, he stood at the despatch box the other day and he gave an account of himself that I can understand and that I accept.
"If Sue Gray comes out and says something different then we're in a different place and I'm happy to come back and reflect on my feelings then."
He added: "The ministerial care code is clear: the highest responsibility that any minister has is to be accurate in what they say to the House of Commons. That is the very foundation of our parliamentary democracy."
Chiara Giordano19 January 2022 09:55
1642585535
Boris Johnson can 'wriggle out' of resignation, experts say
Boris Johnson has ways to "wriggle" out of the 'partygate' crisis even if the inquiry suggests the Commons was misled over the No 10 party, constitutional experts say.
Academics in constitutional law have told The Independent of possible escape routes for Mr Johnson, as he waits the verdict of Sue Gray, the civil servant probing the controversy.
Our deputy political editor Rob Merrick has the full story:
Chiara Giordano19 January 2022 09:45
1642584635
Tories too distracted by scandal to sort out cost-of-living crisis, says Keir Starmer
Labour leader Sir Keir Starmer tweeted: "The Conservatives are too distracted by scandal and infighting to sort out the cost-of-living crisis.
"Labour's plan would give security by keeping bills low – saving most households £200, with extra support for those who need it most."
Chiara Giordano19 January 2022 09:30
1642584035
No 10 staff should've partied in pub, says Wetherspoon boss Tim Martin
The Brexit-supporting boss of Wetherspoon, who once called Boris Johnson a "winner", has said that, if Downing Street staff had been able to attend pubs in May 2020, his employees would have dealt with their alleged "high jinks".
Tim Martin also said the CCTV installed in the company's central London pubs could have helped with inquiries into what happened.
It came as Wetherspoon reported a 16.6% drop in sales over the 12 weeks to the middle of January, as the impact of the Omicron variant of coronavirus struck the hospitality industry.
The business warned it would make a loss in the first half of its financial year.
Chiara Giordano19 January 2022 09:20
1642583135
Environment secretary says he has confidence in Boris Johnson
UK environment secretary George Eustice has said he would not be submitting a letter of no-confidence in the prime minister.
He told BBC Good Morning Scotland: "I've got confidence in the prime minister. Clearly the revelations that have been coming out are damaging and it's unsettled parts of the Conservative parliamentary party, there's no denying that.
"I think the prime minister was right to apologise but I support him because I do think the important agenda that he's got around levelling up our country, bringing our union together after a number of difficult years, arguing over things like Brexit, I think he is the right one to do that, and he has my support to carry out that important agenda that he was elected to."
Chiara Giordano19 January 2022 09:05
1642582535
Minister 'sincerely hopes' Boris Johnson did not mislead parliament over partygate
Defence minister James Heappey has said he "sincerely hopes" Boris Johnson did not mislead parliament about the drinks party in the No 10 garden during the first Covid lockdown in May 2020.
In a message to MPs considering sending a letter to the 1922 Committee of Tory backbenchers, Mr Heappey told Sky News: "This doesn't feel like the time to be changing prime minister, if you ask me."
My colleague Adam Forrest has more on this story:
Chiara Giordano19 January 2022 08:55
1642581935
Now is not the time to be changing PM, says minister
James Heappey warned his colleagues to keep "cool heads" as he said now was not the time to change prime minister.
The Armed Forces minister told BBC Breakfast: "What's going on in the world right now, whether it be from a security perspective where there's incredible instability in a number of regions of the world where the UK has great interest, or economically where as we've discussed inflation is rising as the global economy recovers from the pandemic.
"Or from the pandemic itself, which whilst I think the UK has weathered the Omicron surge well, by the way, that's in no small measure of thanks for the decisions the prime minister has taken, we're not out of the woods yet, and there's still work to be done.
"This doesn't feel like the time to be changing prime minister to me."
Chiara Giordano19 January 2022 08:45
1642581172
Armed Forces minister denies drinking culture in Westminster
The Armed Forces minister has denied there is a drinking culture in Westminster.
James Heappey told BBC Breakfast: "I think it's quite hard to answer that in a straight way because what I reflect on having worked both in Downing Street and in the MoD (Ministry of Defence), both departments where an awful lot of people have to work extraordinarily long hours, because they are dealing with real-time operational issues, and I don't know that colleagues who get to the end of a very, very long day, and maybe have a glass of wine at their desk before they go home, is that a drinking culture different to those who finished work earlier in the evening and go for a drink with friends outside work?
"The fact is that I haven't reflected that there is a drinking culture.
"I see people who work very hard and work very long hours, and very occasionally have a glass of wine together at the end of work.
"I think that there does need to be some reflection about the amount of alcohol that appears to be consumed and how regularly, not just the No 10 but in a number of departments of state, and I know that all secretaries of state and the Prime Minister and the senior civil service are quite seized at whether or not this reflects on a culture that needs to change."
Chiara Giordano19 January 2022 08:32