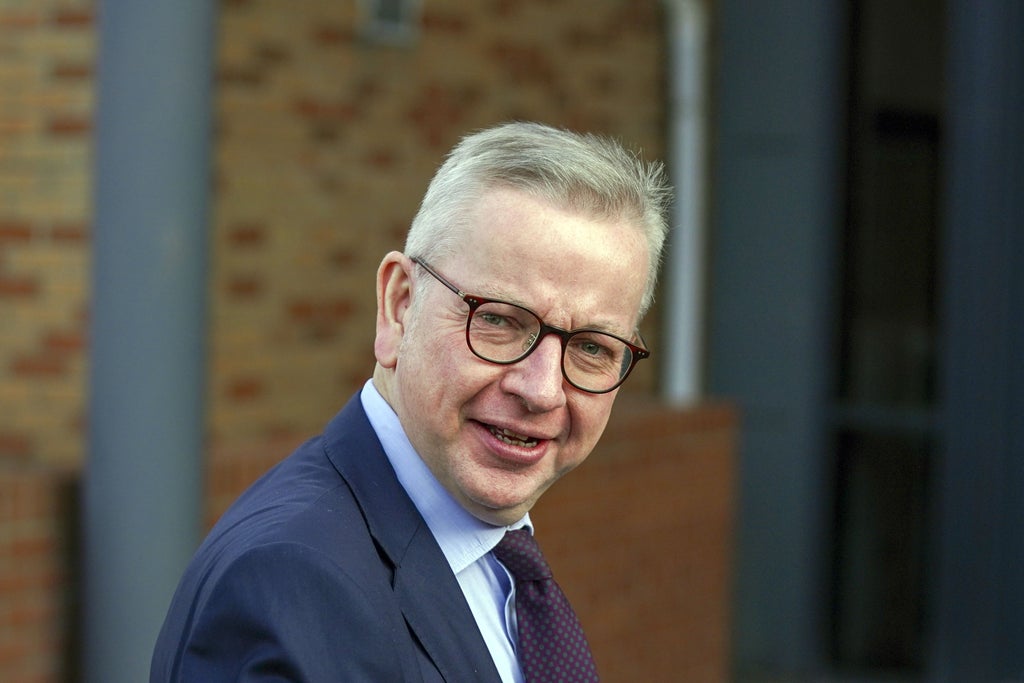 Michael Gove misses BBC interview slot after getting stuck in lift
Boris Johnson will not face further inquiry into over controversial flat refurbishment, Downing Street said.
In a letter, Kathryn Stone, who oversees the code of conduct and rules for MPs, told the prime minister she will not launch a fresh inquiry into the refurbishment, which cost approximately £112,000, paid in part by donations from Lord Brownlow.
It is believed that she agrees with No 10's view that the declaration of the funding arrangements for the refurbishment fall under the ministerial code – and not Mr Johnson's declarations to parliament.
Meanwhile, the PM has also refused to say whether he attended an alleged drinking session in Downing Street's garden during the first Covid lockdown.
According to The Sunday Times, the prime minister and his wife Carrie were among those who attended a 'bring your own bottle' bash on 20 May 2020.
Asked on Monday if he and Carrie attended, Mr Johnson said: "All that, as you know, is the subject of a proper investigation by Sue Gray."
1641827522
The Help to Buy scheme has only pushed house prices up
According to a damning retrospective from the House of Lords, Help to Buy has made it even more difficult for those on low and middle incomes to secure a home, writes Hannah Fearn.
Joe Middleton10 January 2022 15:12
1641825648
Ben Houchen: PM's woes 'recoverable'
Boris Johnson can recover from a number of recent scandals that have seen his and his party's ratings tumble, Ben Houchen believes.
The Tees Valley mayor told Times Radio he thinks the prime minister can claw back ground in red wall seats if he is seen to be delivering on levelling up.
"They need something tangible to be able to point to to say that it was right decision to go against the generational kind of Labour vote we have, particularly in the north," he said, when asked if Labour voters in his region who switched to the Tories in 2019 were likely to back Mr Johnson again at a future general election.
"So it's doable, because all people need to see is a signifier or an indication towards it [levelling up]. It doesn't need to be complete – they just need to see progress is being made."
Matt Mathers10 January 2022 14:40
1641824459
Full report: Johnson refuses to say if he attended No 10 lockdown party as new claim emerges
Boris Johnson has refused to say whether he attended a lockdown breaking party at Downing Street, after new claims emerged.
The prime minister on Monday morning dodged questioning about whether he and his wife Carrie attended the gathering in May 2020.
The get-together was allegedly organised by Mr Johnson's principal private secretary Martin Reynolds – who it was reported on Sunday might be lined up to be the "fall guy" for the episode.
Our policy correspondent Jon Stone has the full story:
Matt Mathers10 January 2022 14:20
1641822856
No 10 urges 'restraint' over potential MP pay rise in April
Downing Street has urged "restraint" over any pay rise proposed for MPs this year.
MPs are currently paid £81,932 and usually see their pay rise annually in line with average public sector salary increases.
Last year, the rise was suspended due to the economic impact of the pandemic, and the Independent Parliamentary Standards Authority (Ipsa) – which sets the level of pay – stopped what would have been a £3,300 hike after coming under pressure from MPs.
This year, if the rise goes ahead, MPs would enjoy a 2. 7 per cent increase of more than £2,000.
The PM's official spokesman said Ipsa was "independent of government and they haven't set out any proposals yet which I've seen".
But he added: "I would say we would expect restraint on matters like this given the current circumstances, but beyond that I think it's right that we let Ipsa set out their proposals as an independent body."
Labour leader Keir Starmer said he is against any pay rise: "I think that MPs do not need a pay rise and we should all be saying that we don't need that pay rise and it shouldn't go ahead.
"The mechanism is independent but I think it's for me, as Leader of the Opposition, to say that I do not think we should have that pay rise."
Matt Mathers10 January 2022 13:54
1641821442
Keir Starmer says action on cladding is 'welcome' but 'very late'
Labour leader Sir Kier Starmer has welcomed the latest action on the cladding scandal but said it was "very late".
He also called for legislation in place of "more promises".
He said: "Anything that helps the people who are in this awful position in relation to cladding is welcome.
"It's very late – it's four years or more since the Grenfell disaster, there have been many, many broken promises along the way.
"So anything now that moves this forward is welcome, of course it is.
"I would prefer there was a plan rather than just a promise, because the terms of what's going to happen are still very vague."
She glover10 January 2022 13:30
1641821101
Spokesman 'doesn't recognise characterisation' of Dan Rosenfield
Downing Street today faced questions about the alleged behaviour of the prime minister's chief of staff who was reported by The Sunday Times to have driven various female staff to quit.
Dan Rosenfield, who was appointed by Mr Johnson, allegedly ordered the women buy sandwiches for his lunch, to collect his dry-cleaning and to buy presents for him.
Asked if the report was true, the spokesman said: "I absolutely don't recognise that characterisation" – a form of words chosen that stops short of calling the claims untrue.
She glover10 January 2022 13:25
1641820837
Students want to be Covid-safe but the government keeps letting them down
It would be inexcusable to allow Covid to run wild on campuses once again. Students, staff and all other members of university communities deserve better, writes Matt Western MP
Read Matt's full piece below:
Matt Mathers10 January 2022 13:20
1641820501
Johnson hopes to see evidence for cutting isolation period 'soon,' a spokesman said
Mr Johnson hopes to see the scientific evidence that would allow the government to cut the Covid isolation period from 7 days to 5 days "soon," a spokesman said.
"If it is possible to go further, we would want to act quickly," he told journalists.
"But it needs to be based on the latest evidence and that work is still ongoing. We certainly have not received any further updated advice."
She glover10 January 2022 13:15
1641820016
What does the PM think of Novak Djokovic?
What does the prime minister think of the behaviour of Novak Djokovic, still locked in a battle to enter Australia to defend his tennis title because of his refusal to be vaccinated against Covid?
His spokesman said he would not "comment on individuals" – but went on to make No 10's view of a top sports star holding out against the jab pretty clear, nonetheless.
"It is important to note that those individuals that are refusing to get vaccinated are putting themselves at risk. We have the hard data to back that up – and they're putting others at risk as well," he said.
She glover10 January 2022 13:06
1641819937
If you're young and in the northeast, wealth inequality bites hard
A typical family in the southeast of England is halfway towards achieving millionaire status. In the northeast, by contrast, median household wealth is £168,500, writes Hamish McRae.
Read his full piece here:
Matt Mathers10 January 2022 13:05