3 min read
Exclusive: The Prime Minister has been accused of a "lack of transparency" over his failure to detail his links with a project to build a new "Dubai" in Libya.
Labour have urged Johnson to be "straight with the public" about his knowledge of the project to build a new "Dubai" in the war-torn city of Sirte after it was revealed the development company had direct links with the Conservative Party.
Shadow cabinet office minister Fleur Anderson told PoliticsHome the timing of Boris Johnson's incendiary comments about "dead bodies" in the city raises "serious questions" about his knowledge of the project when he was Foreign Secretary.
Last week, PoliticsHome reported that Lord Lister, one of Johnson's closest advisers, and Conservative MP Sir Paul Beresford had been directors of a firm looking to "hire" a large portion of the land surrounding Sirte, with an aim to turn it into a "Hong Kong" rented out to British companies.
Both Lord Lister and the Mole Valley MP became directors of Eribi Holdings in October 2018, almost a year after Mr Johnson spoke about the project.
The revelation of the directorships has prompted questions about Boris Johnson's knowledge of the plan as then-Foreign Secretary. At the Conservative Party Conference in October 2017 he praised the "wonderful guys" who wanted to invest in Sirte and that "the only thing they have got to do is clear the dead bodies away".
His comments followed a trip to Libya in August 2017 where Johnson unveiled a £9m aid package for the country for counter terrorism and anti-trafficking operations, including £4m to support the removal of mines and improvised explosive devices, particularly in Sirte.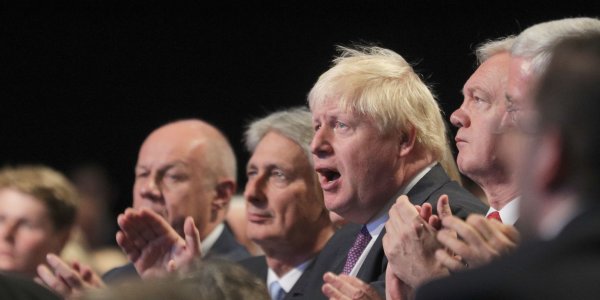 "Suspect links, conflicts of interest, a failure to declare – and utterly crass and heartless language seems to be the order of the day for this Prime Minister," Anderson said.
"The lack of transparency coming from the Conservatives raises serious questions on how much the Prime Minister knows about this project, and whether potential conflicts of interest may not have been declared.
"The Conservatives must be straight with the public and clean up the sleaze and secrecy surrounding their government."
It comes after Lord Lister told Politico he had declared his involvement with Eribi while serving as a non-executive director at the Foreign Office, despite the department refusing to disclose his register of outside interests, saying only he had declared "relevant interests" during his time on the board.
Lister, who stepped down as the Prime Minister's Special Envoy to the Gulf last week, told the website he had "never ever" had any discussions about Libya while in government and that Eribi "was declared at the Foreign Office. They were aware of that".
Downing Street have also repeatedly declined requests to set out how Boris Johnson became aware of the project, or whether he had any contact with his Conservative colleagues about the plan.
Meanwhile, Mole Valley MP Sir Paul Beresford is facing questions about his involvement with the project given his comments about the plans which were made in a Commons debate in March 2017 – almost a month before Eribi Holdings was registered with Companies House.
The Tory MP had pressed then-International Development Secretary Priti Patel for details on what action was being taken to remove Daesh forces from Sirte, saying the information would be of "considerable interest".
"I have an interest in a potentially large humanitarian action project going into Libya, so it would be of considerable interest to me if she could, either verbally now or in writing later, give me an update on action being taken to remove Daesh and its fellow travellers from Sirte and its surroundings," he said.
"What forces are taking that action?"
Sir Paul Beresford has been approached for comment.