7 min read
The Prime Minister's fightback against the "partygate" fiasco has further damaged his brand with voters, say pollsters, as he tries to stave off a no confidence vote.
Surveys suggest voters want a different Tory leader to contest the next election, but Boris Johnson is determined to stay and fight whatever Sue Gray and the Metropolitan Police's investigations into the Downing Street gatherings uncover.
Pollster Chris Curtis from Opinium said the PM "has the kind of approval ratings that it's somewhere between hard and impossible for a political leader to come back from", but in recent days his allies have been shoring up his position, with the so-called "shadow whipping" operation cautiously optimistic they have put down the potential rebellion.
Culture secretary Nadine Dorries, one of Johnson's biggest supporters, even went as far as mocking the so-called "pork pie plot" by MPs seeking to oust him on Twitter, showing there is confidence the PM could ride this controversy out.
But the reaction to that shows they are by no means out of the woods, as members of the 2019 intake briefed this had made them even more likely to put letters of no confidence into Graham Brady, chair of the backbench 1922 Committee.
"This has just poured petrol back on the fire," one said, while another claimed it had undone the work the whips had done to get MPs back on side.
While Westminster has been stuck in limbo this week waiting for Gray's report, Johnson's supporters have been pushing a two-pronged strategy to try and protect him.
Firstly, they have attempted to downplay the reports of various parties and pitch them in contrast to serious global matters like the crisis in Ukraine, making it seem the whole thing has been blown out of proportion.
Jacob Rees-Mogg, another of the PM's staunchest defenders – and notably the only minister who spoke to the media after Cabinet on Tuesday when Johnson failed to inform them the police were about to launch an investigation, made just that point, as have other senior Tories.
Secondly, they have been arguing the people who most want to see Johnson deposed are Labour, the Prime Minister himself drilling the message into his backbenchers at PMQs.
"Of course he wants me out of the way," he said, pointing at Sir Keir Starmer.
"He does, and – I will not deny it – for all sorts of reasons, many people may want me out of the way, but the reason he wants me out of the way is that he knows that this government can be trusted to deliver, and we did."
Those comments were made in a tub-thumping performance from the despatch box, a long way from his contrite apology earlier this month, counter-attacking Labour on "partygate" and elsewhere.
But James Johnson of JL Partners, who used to run polling for Number 10 under Theresa May, warned Tory MPs against putting too much stall in how Johnson fares within the confines of the Commons.
"When you're in the chamber, with how fast-moving the news is at the moment, if you're an MP you might be taken in by the idea he's still the party's biggest asset, he's the best person for the job etc," he said.
"The thing is, in the focus groups, in the public opinion work, the horse has bolted – the brand damage to Boris Johnson is really significant.
"And however much you might like that person in the chamber it's going to be very hard to change the public's opinion now about his overall brand and effectiveness."
He said there are two parallel situations going on; the "simulated world in Parliament, where some MPs are thinking "this is good, he's still the fighter, maybe he's still our man," and then the real world, where people "are angry, frustrated, they feel that Boris Johnson can't be trusted, isn't strong, can't get his commitments through."
Curtis agreed, telling PoliticsHome while voters have "never really trusted Boris Johnson," the thing "he's always been strongest on is being seen as the person who can, literally, quote unquote, get things done – whether that was Brexit or the vaccine rollout", but said that was now dissipating among the public.
This week a government whip said they were not focused on the issue of a no confidence vote, telling PoliticsHome they were getting on with the business of government – pointing to a raft of bills in last year's Queen's Speech they need to get done in this parliamentary session.
But over the past three weeks since Parliament returned from the Christmas recess the Commons has risen early on almost all of the normal sitting days, with many hours of potential legislating time lost.
It has led to accusations the government is in paralysis, but while Number 10 think this is an opportunity to suggest politics should be allowed to move on, pollsters say there is evidence they are getting blamed for this inaction too.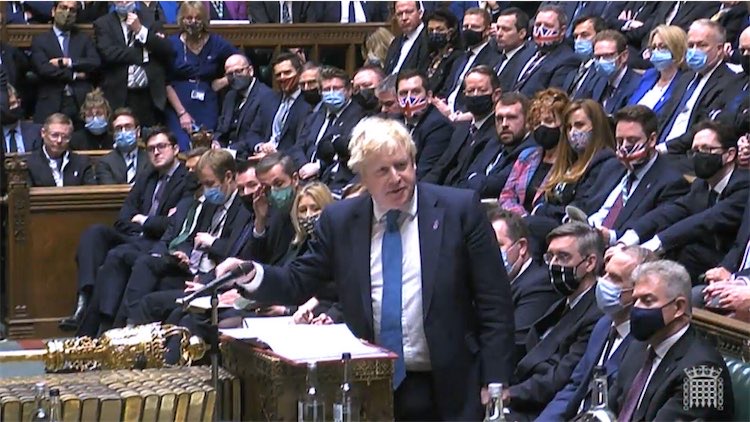 James Johnson said there is a sense of fatigue coming through in focus groups and "a desire to get on and talk about other issues", but the public are now questioning the Prime Minister's strength.
"They're talking about his ability to get things done, they're talking about his ability to deliver in the 'Red Wall' communities, and that's the damage that's been done long term," he said.
"And I think that's going to linger for quite some time after people stop talking about parties."
The same story is mirrored by other pollsters, with YouGov reporting 62% of people saying Johnson should resign, while his approval rating among just those who voted Conservative at the last election has gone negative for the first time, suggesting the mood among those who backed him last time round is shifting.
A new Ipsos MORI poll on Thursday reported the Prime Minister's satisfaction rating has hit a record low -46%, falling to the same level as his predecessor Theresa May's worst score in her final months.
The same research showed six in ten people now think the Conservatives should change their leader before the next election, including around half of Conservative voters in 2019.
Meanwhile Savanta ComRes took some 2019 Tory voters who are now undecideds, and made them watch PMQs this week.
Chris Hopkins, the firm's political research director, tweeted the results:
"Partygate has now pushed many away from the Conservatives, either to other parties or to being undecided.
"The cover-up being worse than the crime, and no longer being able to trust the Prime Minister, were common themes. Some said Partygate made them regret their vote in 2019."
Curtis agreed the debacle was affecting Tory voters, with "about half" in a focus group in Aberdeen this week saying they are not convinced to vote the same way at the next election.
"Half of your voters saying they'll probably not vote for you at the next election is not a good situation to be in," he added.
"If you want to talk about how a landslide election victory disappears quite quickly it's the kind of complacency when half your voters are saying that they're not convinced to vote for you again, and going well, this is probably all right, they'll come back, it's not as bad as it sounds.
"The people who start making those sorts of arguments are usually the people who are going to lose the next election."
PoliticsHome Newsletters
PoliticsHome provides the most comprehensive coverage of UK politics anywhere on the web, offering high quality original reporting and analysis: Subscribe