Great Britain arrived at the Tokyo Olympics two years ago as heavy underdogs with low expectations. Not only were they an extremely young and experienced group, but they had to ignore ample criticism about the team composition following the omission of Becky Downie. At the end of a chaotic, unforgettable night in Tokyo's team final, though, the team brilliantly held their nerves and emerged as surprise bronze medallists.
The British team have continued to be the revelation of the last three years. Gymnasts can sometimes struggle to replicate such lofty successes, but a year later the Great Britain team further established themselves as one of the strongest in the world by winning a first world team silver medal on home soil in Liverpool. This year, they became European champions for the first time and second place finish in qualifying here showed that they have not let up.
On Wednesday they will be among the favourites to win another team medal behind an imperious US team, which scored 171.395 to lead Britain by more than five points in qualifying. As Britain looks to solidify its spot at the top of the sport, Simone Biles will look to take her first step towards becoming the most decorated gymnast of all time.
Biles, already the most decorated gymnast at world championships, currently holds 32 medals at Olympics and world championships combined. She will draw level with Vitaly Scherbo's count of 33 should the United States finish on the podium as expected.
Britain's success has been driven by the core duo of Alice Kinsella, who at 22 years old is the oldest member of the team, and Jessica Gadirova, who continues to establish herself as one of the very best gymnasts in the world. But the tightly-knit group have also shown their depth with numerous gymnasts contributing to their success over the past three seasons. Ondine Achampong, Georgia Mae Fenton and Ruby Evans will each play key roles in any further success on Wednesday night.
The competition, meanwhile, is only getting tougher. Once one of the top powers in women's gymnastics, China had fallen away in recent years but they have shown significant improvements this week, finishing just half a point behind Great Britain. Brazil, meanwhile, qualified just a point and a half behind China, their success driven by the genius of Rebeca Andrade, last year's all-around champion, and a solid group around her. Italy also have the potential to compete for medals despite a disappointing qualifying performance.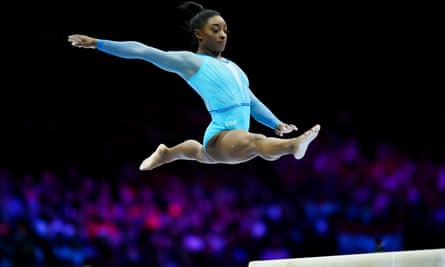 Everything is different in the final. While four gymnasts compete on each apparatus and the best three scores count in qualifying, in the team final, three gymnasts compete on each apparatus and all three scores count. There is no margin for error. The British team has shown that they can not only handle the pressure that comes with this format, but actually thrive in it. China, Brazil and Italy will try to catch up.
The absence of the men's and women's Olympic champions, Russia, banned following Russia's invasion of Ukraine, remains conspicuous. Despite significant opposition from other national federations, the International Gymnastics Federation said it would begin allowing individual Russian and Belarusian athletes to compete "under strict conditions" from the start of 2024 provided they are not involved or associated with the Russian or Belarusian governments.
It seems unlikely that Russian gymnasts would be able to fulfil even the most abstract definition of "neutrality". Almost every member of the Russian gold medal teams has already attended pro-war rallies, they have worn Z symbols in public, some train at clubs affiliated with the Russian military, others are members of the National Guard and the men's gold medal team bought a drone for Russian troops. Russia's most prominent active gymnast, the former world all-around champion Nikita Nagornyy, is head of the Young Army Cadets and a key figure in the Russian state's efforts to spread its propaganda to the youth.