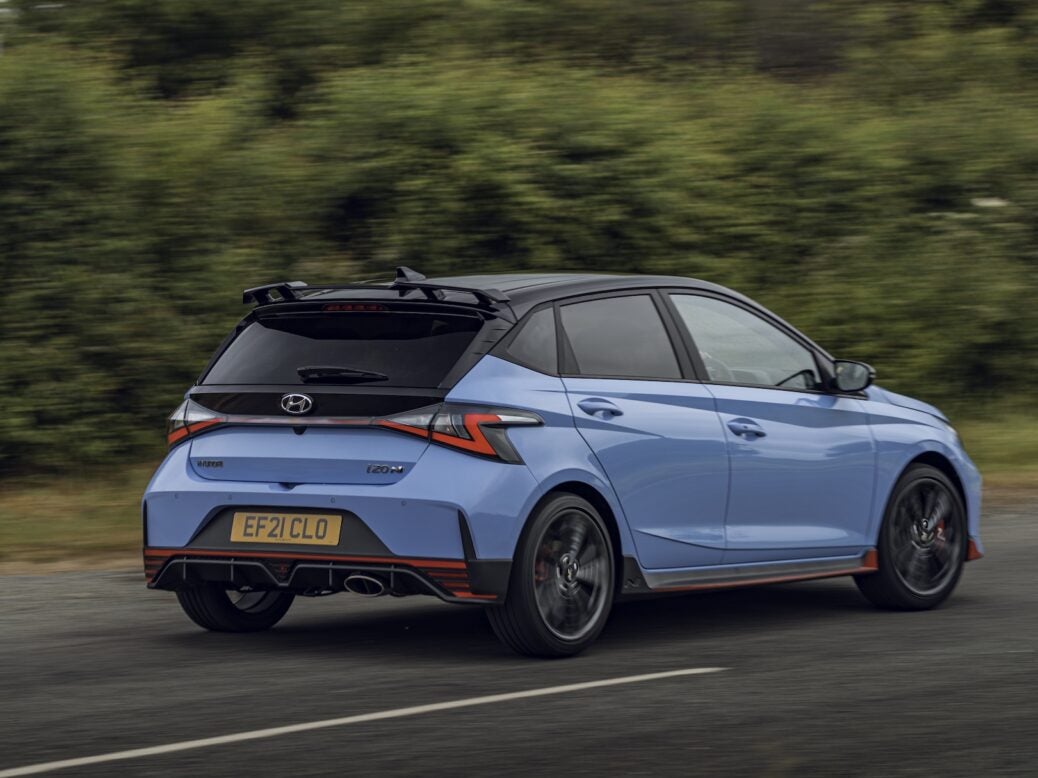 Might the i20 N, one of the most fun small hatchbacks on the market courtesy of low weight and sharp handling, also be the Hyundai sub-brand's first and last such car? Even though it's still fairly new, the Korean brand is already dropping strong hints that N won't be ICE-only for much longer.
Hyundai has just revealed not only two N concepts but confirmation of all those rumours surrounding a sports version of the Ioniq 5. Although no official specifications have been disclosed, the top-spec and fastest variant is on the way for the worldwide roll-out in 2023.
The pair of prototypes which debuted as part of 'N Day' not only couldn't be more different than the sub-brand's existing models but also from one another. The first is a new take on a previous retro-themed homage to the 1974 Hyundai Pony, only this time, at almost five metres long, it's larger and much, much wilder.
Called N Vision 74, the wide-body coupe is claimed to pack more than 500 kW and 900 Nm, all that power and torque going solely to the back axle. Hyundai has even simulated the sound of manual gearshifts – perhaps something we'll see in future N electric cars.
Joining the retromod on stage at the brand's N Day presentation was the RN22e, clearly an extreme take on a future Ioniq 6 N. There's nothing official about such a car being due for launch but surely it's coming in 2023 or 2024.
The N version of the Ioniq 6 will also have a lot of performance, its two-motor powertrain likely carrying over to a production model. Outputs are a combined 430 kW and 740 Nm and there's all-wheel drive. Even if that's detuned, acceleration will be spectacular.
One of the challenges faced by all makers going all-in with EVs, is giving the cars a comparable degree of character to the best IC-engine sports models. Porsche seems to have cracked it with the Taycan and BMW's done a terrific job with the way the i4 goes around corners.
What Hyundai really needs to make sure it doesn't mess up is the dynamic feel of its best current N models. The i30 remains the strongest example of how the company can get a sports hatchback so right in just about every way, while there isn't too much wrong with the Kona N either. How about the i20 N?
Starting at how it looks, there's a lot to like about the littlest N. The basic car's Lexus-like multitude of creases somehow work together to form a cohesive whole, the effect being a distinctive car from every angle.
The N spices things up even further, with its (optional, at GBP500) dark roof and trailing wing, big wheels, lowered suspension, rear trim low down and aggressive front. Plus the sub-brand's signature light blue works just as well on the i20 as it does on the i30 N and i30 N Fastback.
Hyundai has given the seats, dashboard, steering wheel and door trims sports touches too, the effect being that of a pricier car thanks to the use of certain high-quality materials.
Ahead of the driver is a cluster of digital gauges although there are also quite a lot of analog controls elsewhere, including various buttons adjacent to the steering wheel, one of which is bright red and marked REV. Press this and rev-matching on downshifts is activated, while a light blue N switch controls the driving mode choices. You can also customise the sound of the exhaust, which, it has to be said, is a great thing as the standard note isn't that great.
Something else which could do with improvement is the ride. This is the i20 N's sole serious fault and while tight cornering is fun, there's too much of a trade-off in terms of stiffness at normal speeds on even fairly smooth surfaces.
If the damping and springing could benefit from a little more refinement, there's absolutely nothing wrong with the level of grip from the front tyres. Much of that is thanks to a standard limited-slip differential.
As for performance, it's a quick little thing, 0-62 mph taking just 6.2 seconds using launch control. That's thanks not only to the mechanical LSD but also to well spaced gear ratios in the six-speed manual gearbox. Power and torque of 150 kW (204 PS) and 275 Nm are just about right too. Any more and the front tyres might start struggling to keep things in check.
Conclusion
A bit more refinement in the ride department and this, the company's first attempt at a car to beat the Polo GTI and Fiesta ST, might have done just that. As it stands, the i20 N comes a not too distant third to those two class champions and as a bonus, is priced below both.
Hyundai i20 N costs GBP25,250 before options. Top speed is 230 km/h (143 km/h) and CO2 is 158 g/km.