Remote Work Trials and Tribulations: Is Blended Learning The Best Solution?
This article is part of a series exploring the concept of blended learning for remote and on-site workers. What you are about to read is a fable. The company, AshCom, is fictional but the learning challenges faced by Kathryn, AshCom's CLO, and her team are real and commonly shared by learning teams in large organizations. It is our hope that you will be able to connect with the characters, their challenges, and the solutions they discover. We also invite you to read the first eBook in the series.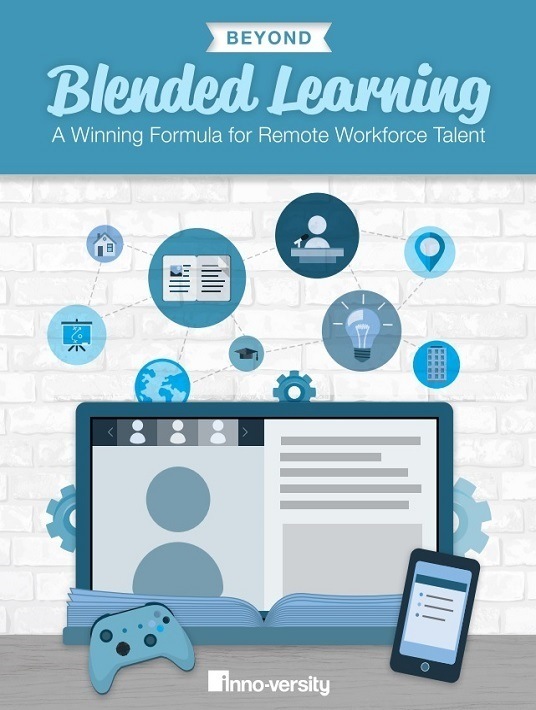 eBook Release
Beyond Blended Learning: A Winning Formula For Remote Workforce Talent
Follow along as fictional company AshCom faces L&D challenges and rethinks traditional blended learning strategies using an innovative formula for success.
The Accolades Wall
CLO Manager of the Year 2016…Leading Learners Forward 2018…Learning Express CLO 2019…Distinguished Dewey 2020. The wooden-framed certificates and crystal glass awards lined the back wall of Kathryn's office. Kathryn excelled at her job as Chief Learning Officer at AshCom, a manufacturing company with a team of 7,000 in multiple states but headquartered in Minneapolis, Minnesota. Her learning team rose to the challenge when AshCom acquired Globex, a smaller competitor in the area. They were essential in bringing the two teams together.
When the sales team needed a cutting-edge learning solution for their new sales system, Kathryn's team developed custom authoring tools and produced an app that enabled the account executives to not only learn the new system but also enable them to use it with clients. Sales went up, to the joy of the leadership team and owners of AshCom.
When the Chief Financial Officer wanted AshCom's managers to gain a much deeper understanding of financial management, Kathryn's team built a true game with full competition as various managers took their turn at leading the financial team in the game.
Although not her first concern, she was aware that her reputation and that of her team had become higher profile. They were known as people who solved thorny business problems. As good leaders do, Kathryn was quick to direct any praise she received to her team. They appreciated her humility and her honesty.
Tuesday Morning Meeting
Kathryn gathered her team each week at 10 a.m. on Tuesday. She chose this because Mondays always seemed too hectic, and Tuesday was close enough to the beginning of the week to make any corrections needed for the week.
Being a person of precision, Kathryn began promptly at 10 a.m. and ended at or before 10:45 a.m. There was an agenda and notes were taken. Personal comments were kept to a minimum because the team worked in close proximity at the office, and these conversations were not necessary during this brief time. Kathryn was almost all business.
On this Tuesday morning, Kathryn sent out an email telling her team that they would be meeting 15 minutes longer than usual. She had to cover two topics that had come to her attention. No one read her email as ominous. They had worked with her long enough to know she had most likely had a challenge on her mind.
The team moved through their normal business, covering the stages and times of various learning projects in process. As usual, they spent the last 10 minutes of their normal meeting time talking through upcoming projects and where they would fit into their existing workload.
At precisely 10:45 a.m., Alishia, the youngest member of the learning team, said, "So, are you going to tell us about the two topics? You know that's what we've all been sitting here wondering about."
Laszlo's Two Challenges
"I appreciate your enthusiasm for what's new," said Kathryn. "I don't want us to get distracted from the work already in front of us, but I've had a conversation with Laszlo, and he handed me two challenges."
Everyone in the room knew Laszlo not only in his role as AshCom's Chief Human Resources Office but also as a fine leader who wanted to see people succeed at their jobs.
Kathryn stood and walked to the large whiteboard in the conference room. On the left she wrote "Skills Gap" and on the right, she wrote "Remote Work."
"Did Laszlo connect these somehow?" asked Amy, a consultant on the learning team with years of experience in large companies. Amy was Kathryn's expert on benchmarking what other organizations were doing in learning.
"Not really," said Kathryn. "Although he did wonder about it. These two challenges came to him from different directions. Let me walk you through them and see what you think."
Can The Best Blended Learning Solutions Bridge Skills Gaps?
"Let's start with the Skills Gap," continued Kathryn. "This challenge was brought to Laszlo by Akihiko, our Chief Operating Officer. Apparently, they have a drink now and then. I'm sure that would be an interesting conversation. Two very bright people. The way Laszlo presented it to me, there are three pressures on our operations and profitability. All three are being driven by global competition."
Under "Skills Gap," Kathryn wrote "Tool Utilization," "Reduced Expenses," and "Reduced Defects."
"Can I take a shot at describing these?" asked Amy.
"All yours," said Kathryn.
"I've been seeing this for several years now. AshCom's competitors are global which means that we cannot rest on improvement in our key metrics. Tool utilization means the amount of time a machine is in production. Expense reduction is something every manufacturer faces so that they can compete in the global market in pricing. And defect reduction means that we produce fewer bad parts. I did a study of defects a few years ago and was shocked by the expense related to sorting, finding, storing, and then either fixing or scraping bad parts. It is an enormous cost that many people simply don't see because they think it is only a few parts here and there."
"All correct," said Kathryn, "but those are only the drivers. Laszlo's concern is more specific to our company. In the middle of these global challenges in our setting, we have some unique problems."
"Laszlo sees a true crisis in manufacturing. Just when we are moving to more technology and complexity in our manufacturing, two trends are troubling. The first is that each technician that retires from our production line means that a lot of knowledge and skills are leaving."
"Baby boomers," said Michael, the only baby boomer in the room. Retired from a career spent in higher education, Michael was Kathryn's trusted advisor on strategy. Everyone in the room smiled when he said it.
"Yep," said Kathryn. "People who can't be easily replaced are leaving in increasing numbers. I read a report from the National Association of Manufacturers that between now and 2030, there will be 4 million technician jobs in the US alone that open up because of retirements."
Everyone sat for a moment, digesting this number. "The news gets worse. According to that same study, 2.1 million of these jobs will remain unfilled. Manufacturers all over sense this same crisis coming. Seventy-seven percent of manufacturing leaders say they believe they will have ongoing problems filling open positions. All of this, according to the research, will cost manufacturing $1 trillion in 2030 alone."
Alishia sheepishly said, "I know I'm the youngest here," looking directly at Michael, "but I can't say I know a lot of people my age hoping to have a career in manufacturing."
Recruiting New Team Members
Maggie, who had been with AshCom more than 20 years, agreed. "I was on the HR team early on before there was a learning team. When I started at AshCom, it sure seemed like it was a lot easier to recruit new team members. A lot of the people who are retiring learned their skills through the old apprentice system. Many of them came in some mechanical skills they learned from their parents. Of course, we were a much smaller company back then."
Martina, one of the most creative and artistic members of the team, responded, "OK, so we need to figure out how to fill this gap, in the face of global competition, by giving people learning experiences faster with less time on the machines we use to do that?" She had a way of summing things up.
Adeena, another member of the team, usually didn't say much in these meetings other than to report on the progress of her projects. But while the others in the room were still thinking about Martina's summation, Adeena said, "Maybe you should tell us the other challenge. I can't tell if you started with the most difficult one or not."
Kathryn grinned. "Fair enough. The Skills Gap was Laszlo's first problem. The second is something he has been hearing about for more than a year."
Remote Working
Again, she stood and walked to the right side of the whiteboard and circled "Remote Work."
"As you might know," Kathryn continued, "Laszlo has a Monday call with all the members of the HR team at the various plants."
"It's at some weird time, right?" said Maggie.
"It either starts at 9:13 and lasts 17 minutes or starts at 9:17 and lasts 13 minutes. Either way, he listens for problems that come up frequently. He's been hearing a growing chorus of calls for remote work. It started in recruiting conversations where talented potential new hires were asking about the possibility of working remotely or having much more flexible schedules."
"They aren't alone in that," said Amy. "I'm hearing this in almost every company where I am a consultant."
"More than that," said Kathryn, "some current team members are asking about it. Laszlo's concern is that it is both a recruiting and a retention problem. He has some anxiety that as we have more challenges finding great people, we will also have struggles keeping the great people we already have."
"What does that have to do with our learning team?" asked Martina.
"Great question," said Kathryn. "Laszlo has a lot of other metrics to consider, but he asked me how we could be able to onboard people remotely or in situations where their time onsite might be limited. He asked about a couple of other key learning opportunities like our leadership development program. As you know, that is heavily reliant on face-to-face experiences. How could that be done remotely?"
Follow-Up Meeting
Just as Kathryn finished speaking, Darryl's cell phone alarm went off. It was 10:05, five minutes past their scheduled time. Darryl silenced the alarm as quickly as he could, but the sound made everyone look at the time. They were engaged in the conversation and lost track of their schedule.
"Somewhere you need to be?" asked Kathryn teasingly.
"Yes," said Darryl. "I have a call in ten minutes with a subject matter expert for one of the projects I'm assigned to. I really need to be on that call."
"Of course," said Kathryn. "I wasn't so much looking for solutions at this point. You are all bright people and I wanted to get these two challenges in front of you so you could do a little reading and thinking about how we might help Laszlo address them."
As they stood up to leave, Darryl hung back for a few moments until only he and Kathryn remained in the conference room.
"You were uncharacteristically quiet today," said Kathryn.
"I obviously don't have time now, but this has my head spinning. I'm not saying I have answers to either of these things. But I think I might have a direction I'd like to explore. Do you mind if I do a little more thinking and set up a time with you in a few days? If possible, it would be helpful if you left up what you have on the whiteboard. That will be a good place to begin."
"When people get quiet, it's usually because they are deeply troubled or thinking deeply. I assumed it was the latter with you. Let me know when you are ready. I look forward to hearing what's on your mind. And I'll put up a note to keep what's on the whiteboard."
"Blended learning," was all Darryl said as he walked out the door on his way for his conference call. After he left, Kathryn walked to the whiteboard and wrote those two words at the top.
Conclusion
Download the eBook Beyond Blended Learning: A Winning Formula For Remote Workforce Talent to discover how AshCom overcomes its L&D challenges using innovative blended learning strategies. Also, join the webinar to uncover valuable insights that will help you improve your L&D planning and learning delivery.
Inno-Versity
Inno-Versity's mission is to transform, empower, and inspire learners around the world. They create world-class learning experiences for onboarding new employees using exceptional creativity, the best of learning science, and innovative technology.