The Canadian women's football team captain, Christine Sinclair, has said that the team is on strike over pay equity issues and budget cuts.
In a joint statement published by the Canadian Soccer Players' Association (CSPA) on Friday, national team players said they are "outraged and deeply concerned" by Canada Soccer's reported funding cuts, adding: "The time is now, we are taking job action."
Sinclair retweeted the statement with the caption "enough is enough" and later told TSN's Sportcentre that "until this is resolved, I cannot represent this association." Players from the men's national team have also released a joint statement backing the women's side.
Sinclair said: "Some of us trained today with our shirts inside out, but the fact we haven't heard from [Canada Soccer] since we put in our demands, they haven't even had the courtesy to reach out to us to schedule an emergency call, as a team we've decided to take job action."
"From this moment on we will not be participating in any [Canada Soccer] activities until this is resolved – whether that's training, whether that's games. That's very hard to say as an athlete who wants to compete, who wants to represent Canada, but enough is enough at this point."
Sinclair's fellow international, the former Manchester City player Janine Beckie, added: "At this point we will not be training, we will not be attending meetings. Any scheduled activity with the national team in the near future we will not take part in.
"If we get to next Thursday evening and this is not resolved, we will not be taking the field against the United States in the SheBelieves Cup [on 17 February]. This is the men and women's team together taking action against a federation which has mistreated us for far too long, and we have been far too nice for far too long."
In their response to the earlier statements, Canada Soccer said it "has a proven track record of supporting women's soccer. Pay equity for our women's national team is at the core of our ongoing player negotiations. [We] will not agree to any deal without it."
Canada Soccer also claimed to have "already issued a mutually agreed retroactive payment" and "presented an equity-based proposal to our national teams several months ago" – claims that the players' associations are yet to respond to at time of writing.
The statement accepted "there is more to do" with regard to gender equity, adding: "we need to have a collective bargaining agreement in place, to responsibly plan for the future." The governing body added that it will meet with the women's national team in Orlando on Saturday "as agreed … to continue our discussions."
The Canadian football's governing body concluded their statement by saying: "we want to get this resolved, for both of our national teams, and for soccer in Canada."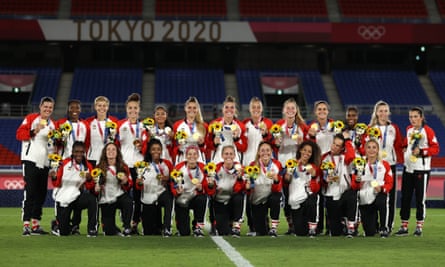 In their earlier collective statement, Canada's women's team players claimed their "preparation for the World Cup … '[is] being compromised by Canada Soccer's continued inability to support its national teams."
"Despite our strong track record of success … we continue to be told there is not enough money to adequately fund our program and our youth teams," the statement continued. "We are left feeling frustrated and, once again, deeply disrespected by Canada Soccer."
"We are tired of constantly having to fight for fair and equal treatment, and for a program that will give us a chance to achieve what we know this team is capable of achieving," the players added. "We need a federation that operates and supports us at the level at which we are expected to deliver — world class."
"The national teams cannot afford to be the only ones fighting for our success any longer. Enough was enough a long time ago. We are demanding immediate change. Canada Soccer must live up to its public commitment to gender equity and its obligation to advance the sport, not drag it down."
"We expect and deserve nothing less than to be treated equally and fairly and to have our program and our World Cup preparations funded appropriately," concluded the statement, signed by "the players of the Canadian women's national team."
The statement was quickly followed by a message of solidarity from the men's team, who were embroiled in their own pay dispute with Canada Soccer before the 2022 World Cup. The message was posted by a number of men's international players including the current captain, Atiba Hutchinson.
"The Canadian men's national team players are, once again, deeply disappointed by the actions of Canada Soccer, and wholeheartedly support the women's national team players' statement made this afternoon," the statement said.
"Canada Soccer is claiming it does not have the funds necessary to provide the women's national team players the working conditions and games they need to prepare for the 2023 Women's World Cup," it continued. "That is outrageous and calls for an immediate and urgent response."
The men's collective statement also echoed the women's team in calling for a change of leadership if "Canada Soccer is not willing to take immediate action to respond to the players' demands and concerns."